SLEPT-ON WEEK
Thomas Andrew Doyle Thanks the Universe
By Katie Kurtz · August 07, 2023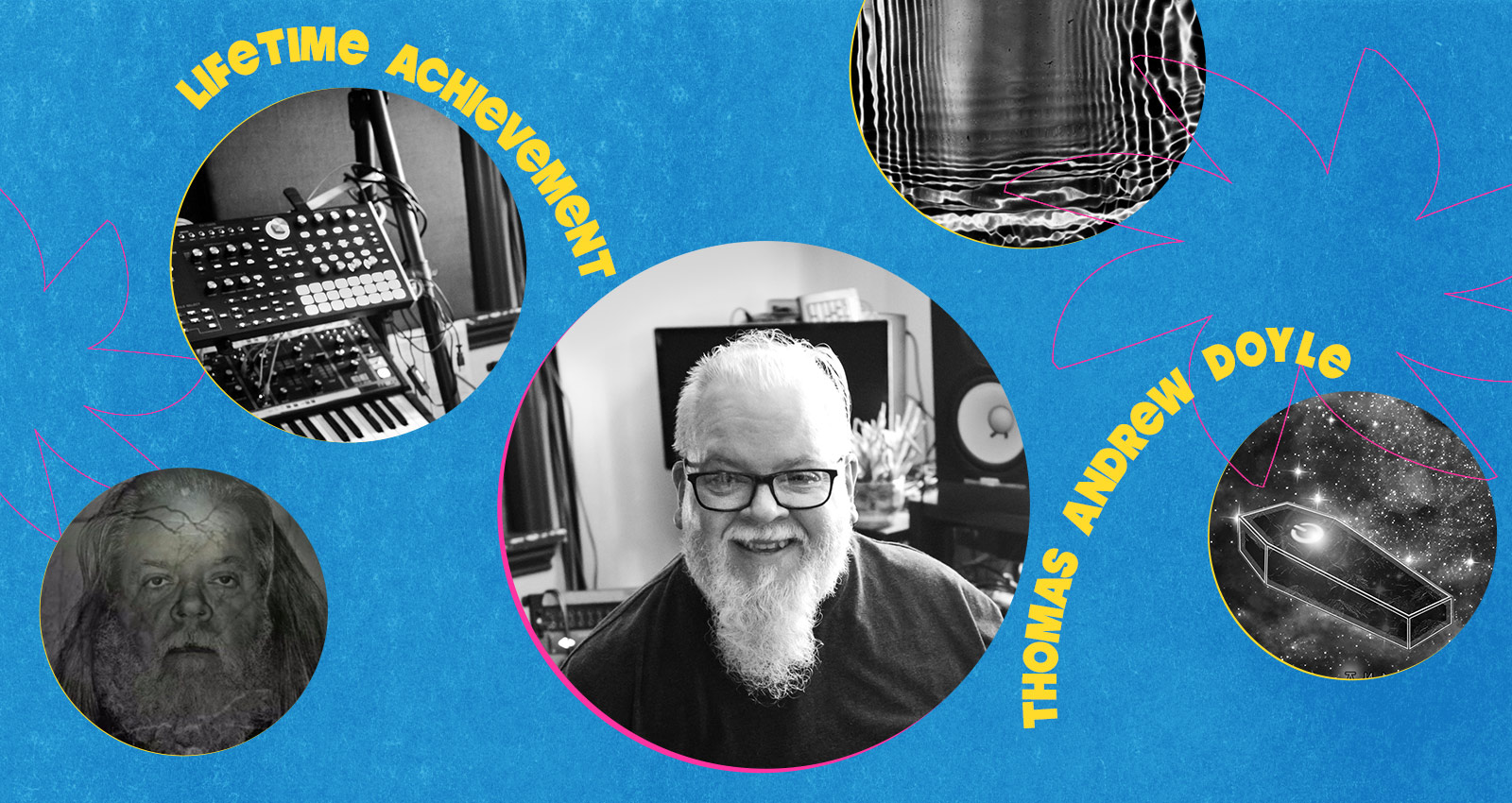 This feature is part of Bandcamp Daily's Slept-On Week, covering records, scenes, and artists we overlooked the first time around. Read more here.
---
Aging is a privilege, even more so for anyone involved in the Seattle grunge scene of the late 1980s and early '90s. Early and devastating deaths were contagious, not only claiming rising stars but also peripheral figures in the scene.
A few years into his 60s, Thomas Andrew Doyle—known as Tad—is a grunge-era anomaly. He's matured out of the resentments that fueled his early music with his first band H-Hour then the now-iconic TAD, and later, Hog Molly. Starting with Brothers of the Sonic Cloth (with his wife Peggy, aka Pegadeath), he's found his way to composing sonic environments that hint at the depths he had to plumb to rise back up to the surface again.
Doyle grew up the baby of the family with a sister and an older brother, and older than typical parents. His parents met in the Army—his mom was a communications officer in crypto, and his dad was a warrant officer. They were stationed all over the world during World War II before settling down in Boise, Idaho. Doyle wanted to play drums, but his parents directed him to the tuba they already had sitting in the attic, instead. "I was picked on in school. I was a loner. I was a fat kid carrying tuba to grade school without a case," Doyle says of the experience. He eventually learned the drums, studied classical and jazz music at Boise State University, and taught himself how to play guitar.
Despite how influential the band TAD (which Doyle thought of less as his initials and more as an acronym for Total Audio Destruction) was in the early days of grunge, the persistent question remains as to why they didn't break the same way as the Big Four (Nirvana, Pearl Jam, Soundgarden, and Alice in Chains). In the 2008 documentary Busted Circuits and Ringing Ears, the case is made by the likes of Kim Thayil from Soundgarden, photographer Charles Peterson, and other grunge era dudes that TAD is the ur-grunge band—but their sound was ultimately heavier and darker than the more commercial-friendly grunge that blew up internationally.
But TAD faced other roadblocks, as well: being beset by lawsuits over album covers and posters the band had nothing to do with (Bill Clinton with a joint, refashioning the Pepsi logo as TAD); an industry intent on propping up the hot guys; getting picked up then promptly dropped by big labels; and the drama that comes with friends in active addiction.
Doyle credits his longevity partly to the fact that TAD never ascended to the same level of fame as his contemporaries. In a conversation at his home in a suburb of south Seattle that stretched over four hours, Doyle admitted he probably would be dead if he'd gotten the same attention as Cobain and Cornell.
"People go through challenges and shit, and it's tough to lose people in the music scene that you know. It's tough. At the end of the day, you go, 'Why? Why didn't that happen to me? How did I dodge that bullet?' And I think largely from my standpoint is because I wasn't on MTV, being good looking, whatever the hell that meant. I mean, we were doing whatever. We were writing music that wasn't meant to be pretty."
The international rise of grunge fashion proved mystifying for people living in the Northwest. The long johns, flannels, and boots weren't cosplay but practical for the city and staples for anyone who grew up in a timber town or had a job splitting wood, like Doyle.
"I cut cordwood in Stanley, Idaho, for a couple of summers, and it's kind of like you work with an axe and a chainsaw, splitting cordwood, cutting down the larger logs and whatnot. And Kurt Danielson, who was also in TAD, the bass player, grew up in Stanwood, which is a logging town. So we just played that up. Both of us were wearing flannel because you layer up when you live here in Seattle."
Since getting sober on his own in the early 2000s, attending and eventually departing a 12-step program, and going to therapy, Doyle has developed his own brand of mysticism to guide his efforts. "I have a different form of prayer that I do. It's very cool. It's a petition and a thank you. It's like acting as if it's already happened. It's like visualizing thanking the universe for it happening and realizing it's already happened in your mind. You fool yourself. It's an emotional thing. And that's how everything has happened for me for a long time. I realize now it's always kind of been there, but I never really knew how to tap into it. And now I'm getting really good at it."
Doyle receives several interview requests a week but rarely grants one. He knows most of them are from writers digging for unsurfaced gems of grunge lore and have little to do with present-day Doyle. With all the reunion tours and 30th-anniversary albums over the past couple of years, fans naturally hunger for a TAD reunion. But the Tad of TAD is long buried.
"I'm not in that headspace anymore," he says. "Things that I felt were important to me at that time aren't now. And in fact, a lot less things are important. But yeah, to begin with, I don't want to sit down and have to learn all those songs again. I won't lie to you, there is a lot of pain surrounding a lot of those songs, places where I was in my life, and what was going on on a personal level as well as a public level. And I'm a very private person, I really am."
In 2006, Doyle started Witch Ape Studio out of his home "as an avenue for me to do something that would add to the musical richness of this area and also keep me from committing crimes, essentially." Since then, he's had a hand in mixing, recording, mastering, and restoring over 100 projects.
A consummate businessman with his ears geared toward the next thing, his recent albums function more or less calling cards for his pivot to scoring horror movie soundtracks. He did audio work on The Dark Odyssey 2 – Ice Nexis by rock photographer Michael Lavine and is lined up to score the soundtrack for dark horror movie Cara directed by Hayden Hewitt.
While he's not fond of rehashing the past, Doyle shared memories and details about his musical career through the lens of his current work.
---
Formed in 1981 in Boise, a few years after he finished high school, with Bob Harper (who passed away in 2015), Mike Fortin (of Fortin Amps), Jack Helton, Doug Weid, and Roger Bishop, the name H-Hour comes from the military designation for the time an operation is set to commence and is more commonly referred to as "Zero Hour." They played all ages shows in Boise, but by the time they moved to Seattle, the Teen Dance Ordinance (a draconian City ordinance that prohibited all ages shows from 1985 to 2002) was in effect.
"Where we came from, there was this one place to play in a bar for what we were doing. It was called The Crazy Horse, and it changed ownership a lot. If you played safer music, you could play at more popular clubs, two other places," remembers Doyle. "Boise basically had like three places and really only one for the type of music that we were doing. But all ages venues, we had to make our own. We rented out VFW halls and Moose lodges and shit like that. Now they make you get permits, and there's all kinds of licensing. You got to jump through hoops, so just we decided, man, we're not going to worry about that."
Merch for this release:
Vinyl LP, Compact Disc (CD)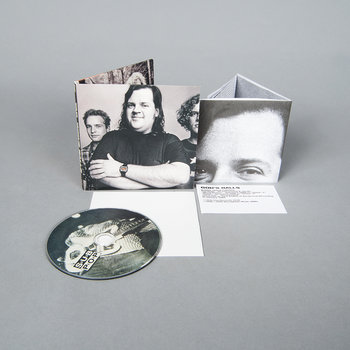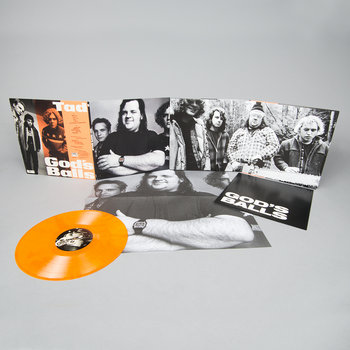 Formed in 1988, TAD was one of the first bands signed to Sub Pop. The original lineup included Doyle on vocals and guitar, Kurt Danielson from Bundle of Hiss on bass, Steve Wied of Skin Yard on drums, and Gary Thorstensen on guitar.
"I mean, musically, especially in the TAD years, it felt good to be with three other guys making this noise, this racket. I felt like I was one of them for the first time. Bands have always been that way for me. It's like, 'Oh, we're a unified thing. We're an ant hill.' And I felt that energy and I was able to amplify it, and I felt good about it, and somehow it came out as maybe looking aggressive."
Released ahead of co-headlining with Nirvana on the now-legendary Heavier Than Heaven 1989 European tour, TAD's debut album, God's Balls, was recorded and produced by musician (Skin Yard) and super-producer (Nirvana's first studio album Bleach, among others) Jack Endino.
Neither TAD nor Nirvana were known outside the Pacific Northwest when they embarked on the 42-day tour playing shows every night. Doyle talks about getting to know Novoselic and Cobain and saying to them, "Just remember us. Remember the little people when you get huge and famous." He says nobody thought they were going to get huge and famous.
The bands slept in their shared van for most of the tour, along with their Dutch tour manager, who also drove and did sound. "We had boxes of merch in the back, as well as our rented background backline for all of us in a Sprinter. Not very much room, and Novoselic is tall as shit, and I was a lot bigger than I am now."
The Heavier Than Heaven tour van entered Berlin just as the wall separating East and West Germany was coming down, heralding the end of the Cold War, but its significance was largely lost on the band members.
"We were in the van heading up some German autobahn and there were hundreds of these Soviet-looking cars lined up at a border to come into West Germany," remembers Doyle. "And Germans were throwing flowers down onto the freeway, and we were making jokes like, 'Hey, God dang, we're more popular than we thought here.' We didn't know until we got to the venue then we found out.
"It didn't really matter that we were there at all. People had been separated for a lot of years, and there was a lot of drinking going on and a lot of German singing, and it was exciting. It was fun. It was an amazing time to be there. Being an ugly American, I had no idea what was really going on socially. And I was complaining that I couldn't find a McDonald's or a Burger King. That was my mindset. And it all happened so fast."
Merch for this release:
Vinyl LP, Compact Disc (CD)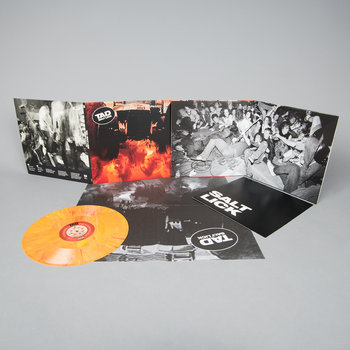 Salt Lick was recorded in two days while in the midst of a tour on a stopover in Chicago with Steve Albini and was quickly followed by 8-Way Santa. "We were always writing stuff. Sometimes it would be during sound checks and set up, and somebody would start a riff or whatever, and then we just all kind of fall in on it, have fun with it. We recorded the whole EP and a couple of songs didn't make it that wound up being singles for later," says Doyle.
Merch for this release:
Vinyl LP, Compact Disc (CD)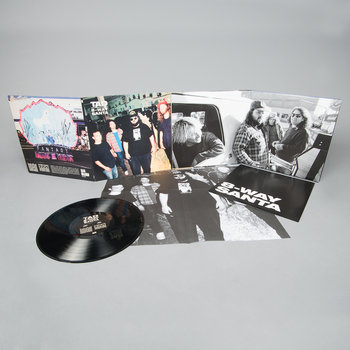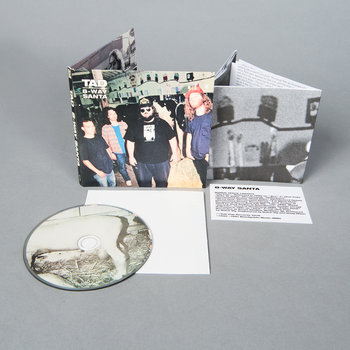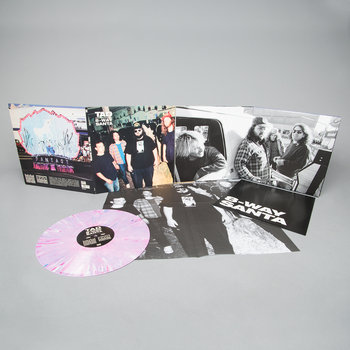 He calls "Axe to Grind" a "redneck anthem, talking about relationships being bad. That's something that Kurt Danielson and I both had mega experience with and probably because we were the problem. But yeah, that's all that was really playing into the mythos of the lumberjack action—you know, "axe to grind," metaphorically speaking, about being pissed off. There was a lot of testosterone in our music, which is really odd because [guitarist] Gary, he was probably the wisest of us all, had the least amount of issues and it was probably a mess for him having to deal with us all the time."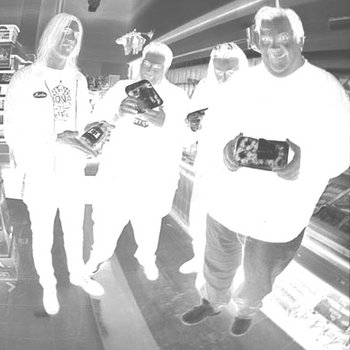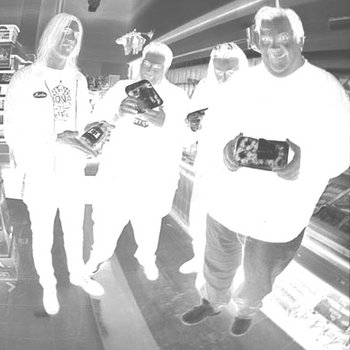 Hog Molly was a two-year project with Tyson Garcia (Willard and Ditch Witch), Marty Chandler (Panic and 50 Paces), and Jason Jacobs (Monster Truck Driver). The band put out one album and toured the West Coast and Midwest. Jack Endino produced the album and wrote in an email that "it was a fine but woefully overlooked record."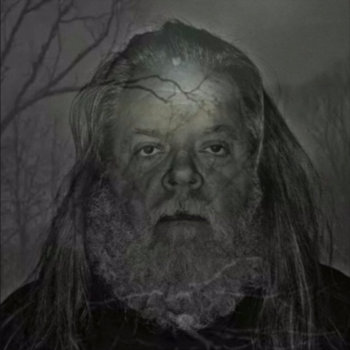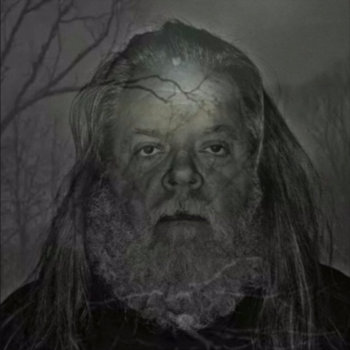 Doyle's scores are evocative of places no man is meant to go but goddamn do they keep trying: the loneliness of deep space or the moaning depths of the ocean. It's no accident that Doyle's solo music has a cinematic, soundtrack quality.
Like many of us, Doyle's anxiety spiked during 2020. He developed a horrible case of insomnia and would sleep for a couple hours then get up at 2 a.m. and start composing. "I wasn't sleeping because I'm going, 'I gotta fucking make music. I don't have time. I'm getting really old. I need to get this shit done.'" He entered therapy at Peggy's urging, started exercising, and is dialing back on Witch Ape Studio projects to focus on his own work.
"I'm so excited about this time in my life. That's what keeps me going. I visualized this for a long time, and I can smell it and taste it, and I can feel the emotion that it's bringing to me. I'm happy doing this stuff, this horrific dark music. It makes me happy," he says. "I laugh. When I did the first Incineration Ceremony record, I was laughing my ass off. I'd get up in the morning like, Peggy'd be at work, and I'm like, 'Oh, this is rich. This is so fun.' And come up with things. And then I'd play it to her when she got home, and she'd go, 'What the fuck, dude? What are you doing?' And I didn't know what she meant by that, but it didn't matter because I knew emotionally that's my job is to release emotion so I don't turn into a dried-up stick. I need to stay green and flexible."