SEVEN ESSENTIAL RELEASES
Essential Releases, August 4, 2023
By Bandcamp Daily Staff · August 04, 2023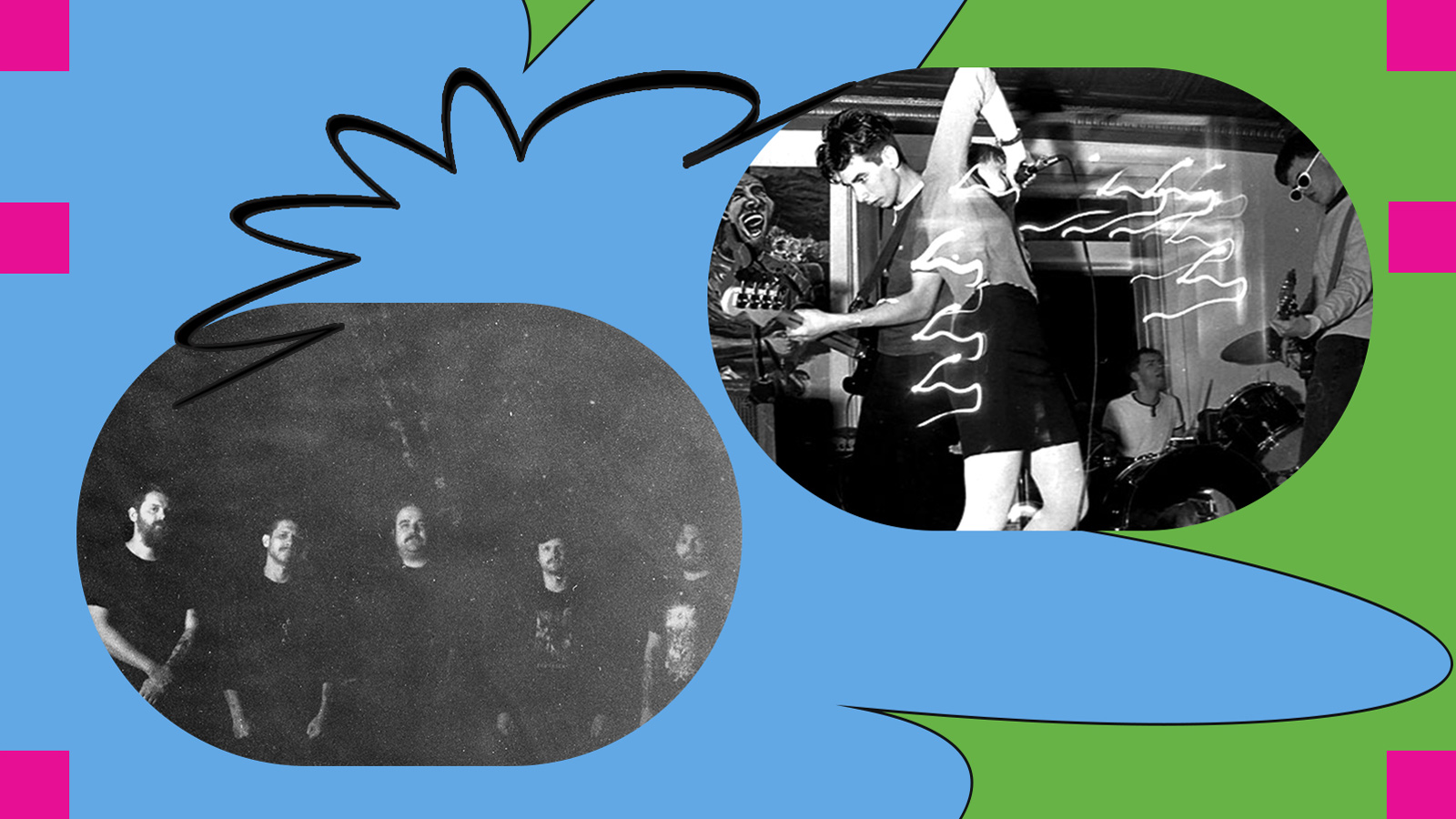 What the Bandcamp Daily editors are listening to right now.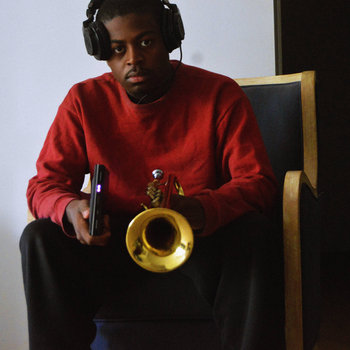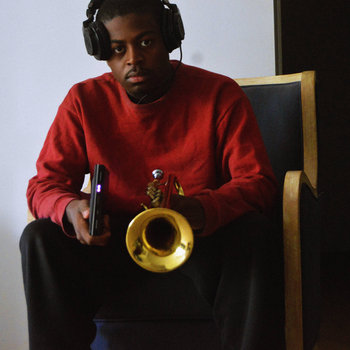 Merch for this release:
Vinyl LP, Compact Disc (CD)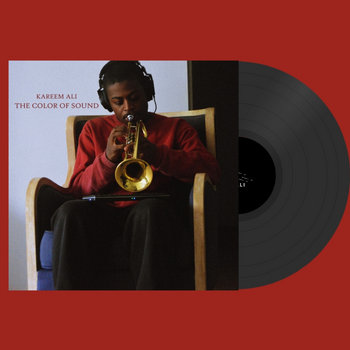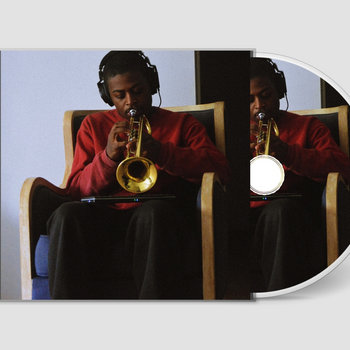 Kareem Ali is back with another album that solidifies his standing as the "Godson of House." Ali's signature deep house sounds explore the outer realms of the genre. This latest offering is a bit more on the easy-listening side with creative flourishes. The opener, "A Day in Zanzibar," is a jazzy and lush musical journey and it's followed by the smooth "Please Keep Me Near, Forever," which features Ali on trumpet. My other favorites include the upbeat "Rise Up" and the appropriately named "Word to Miles." Ali has a plethora of releases, and each one is a gem. What I like best about this latest release is the easy going feel of the melodies that are still crafted to get you to dance.
Merch for this release:
Vinyl Box Set, Vinyl LP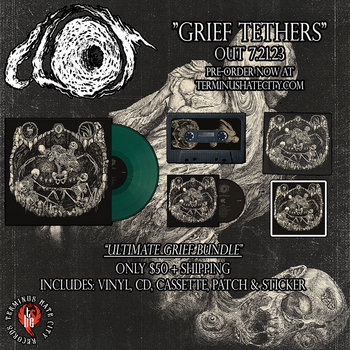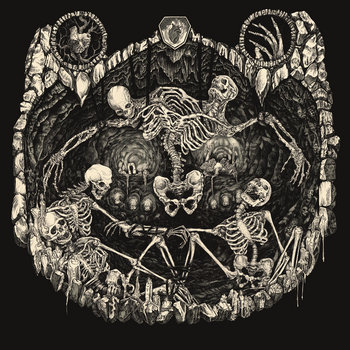 Clot's Bandcamp description consists of a single directive, five words, all in caps: "BURN THE CHURCH INSIDE YOUR HEART." I'll admit it, dear reader…my shallow, jaded ass initially wrote off the Atlanta band's introduction as your typical garden-variety metalspeak: badass and dramatic, but also nonspecific and melodramatic; hardly an attention-grabbing pitch for an upstart wrecking crew heading into their debut album. I suppose I'll be eating crow for the rest of the summer, though, because said debut, Grief Tethers, proves anything but redundant; a smoldering, highly textured collage of grindcore, death metal, black metal, harsh noise, and even jazz (saxophones and clarinets, anyone?) Rippers like "Deicidal Tendencies" and "Blood Faucet" offer a pretty good idea of the band's strengths: kickass riffs, fluid dynamics, airtight construction, and best of all, effortless reconciliations between ultra-technical, math-y fare and sludgy, grindy goodness. Clot's slogan could use a bit of workshopping, but their musical foundation is strong and sturdy. Don't be a bio snob. Underestimate them at your own risk.
Merch for this release:
Vinyl LP, Compact Disc (CD), T-Shirt/Shirt, Bag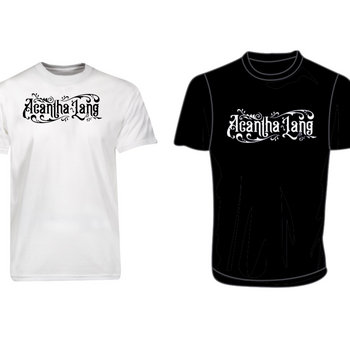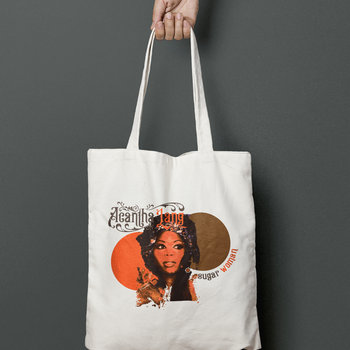 Acantha Lang is making old school soul. The New Orleans native is now based in London and the music on her debut album, Beautiful Dreams, run the gamut from modern soul to funk. The album stand out is "River Keep Runnin'," a powerful, anthemic tune that brings to mind Mavis Staples. It's followed by the slower and uplifting "It's Gonna Be Alright," where Lang reminds listeners that the "times are gonna change." The album closes with a "Ride This Train" that has shades of a '70s-era Aretha Franklin. It's another song filled with hope, which seems to be the album's overarching theme, where Lang sings, "We're gonna ride this train all the way to the end/and when it stops we're gonna start all over again." The song ends with a New Orleans brass band reprise, giving the album a fitting uplifting end.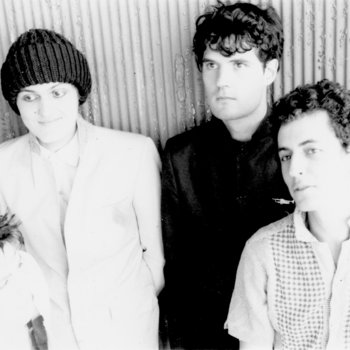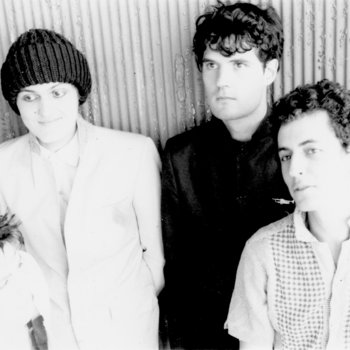 Merch for this release:
Vinyl LP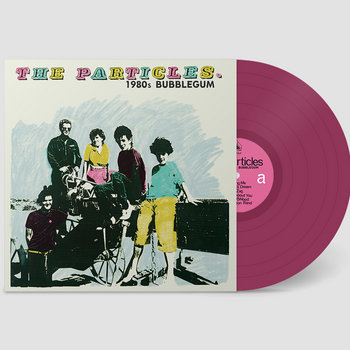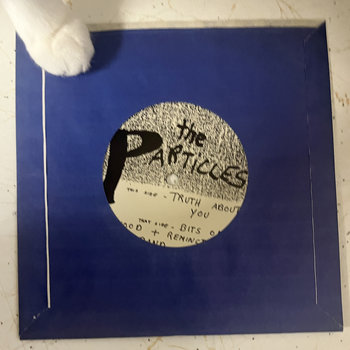 Another strong argument in favor of the "indie pop is punk rock" crowd, this truly essential compilation of singles, demos, and live recordings from obscure 1980s Australian group the Particles on Chapter Music restores the band's rightful place as twee pioneers alongside more celebrated groups like Dolly Mixture, Marine Girls, and Television Personalities. But even without the weight of history, these joyful, melodic pop songs have plenty of heft on their own, from the eccentric use of the titular horn on "Trumpet Song" to the melancholy post-punk breakdown in the middle of "Observation," guitarist Peter Williams and vocalist Astrid Spielman's talk-singing around each other over a bouncing bass line.
Merch for this release:
7" Vinyl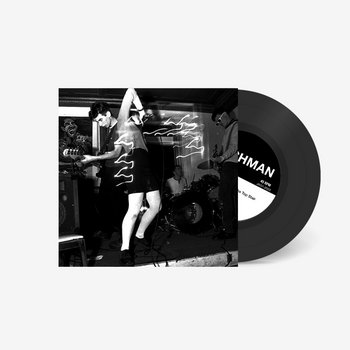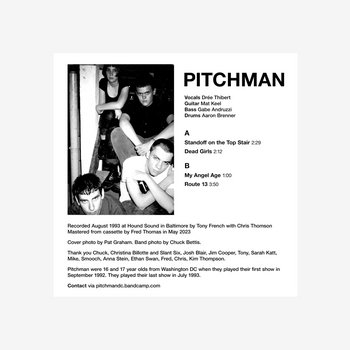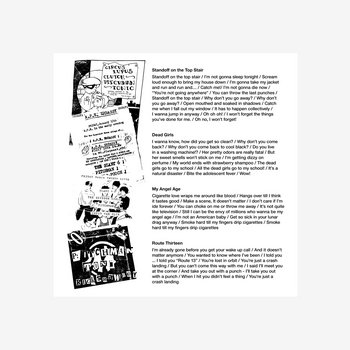 My Angel Age came across my desk thanks to social media earlier this week, and unlocked a whole box of memories. Pitchman were a few years older than me, and they went to the same schools as I did (when singer Drée was a senior in high school, I was a freshman). I was brand new to the DC punk scene as a middle schooler, and I thought this band was the coolest thing in the world. There were plenty of accessible adults in the DC scene who made it seem like playing music on your own terms was achievable, but Pitchman were kids like me up on that stage with them, and their sound was just as good as any of the other bands I looked up to—very of the time and place, groovy and nimble and brutal and raw. They were pointed enough to hit right at the breastbone but abstract enough that they never felt like they were preaching. Watching them live was electric, especially for a 13-year-old kid who had just found their life's purpose in DIY. And holy shit, man, this stuff holds up. This discography compilation came out in August, and though it's so clearly shaped by its environment, it doesn't sound dated at all. A lot of that owes to Drée's spirited howl and deadpan delivery, which as I'm listening closely now was absolutely an inspiration to my own vocal style in future bands I'd be in. But the balance between guitar melody and menace, the bass and drums toggling between queasy rhythm and all-out fury, also has a lot to do with it. Even without the autobiographical significance, tunes like the boiling, driving "Stone Age" and the acidic "Dead Girls" are classic odes to outsiderdom that resonate soundly down the years. What a goddamned joy to be reconnected with this band, and what a goddamned joy to get to share them with you.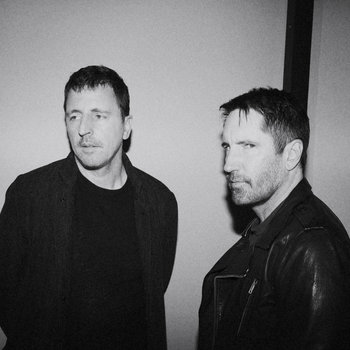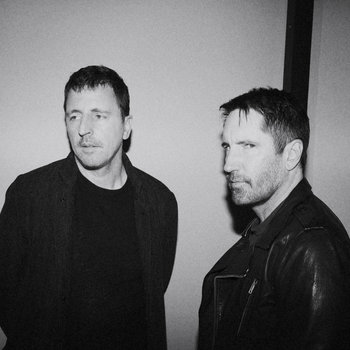 Like millions of other folks, I've been obsessed with Barbenheimer as of late: largely because of memes, obviously, but also because the dichotomy poses intriguing questions about how we contextualize and compare blockbuster films, up to and including their music. Barbie's soundtrack is pretty self-explanatory, a collection of radio-friendly (read: sometimes mind-bumblingly safe) pop songs curated and produced by Mark Ronson; in stark contrast, Ludwig Göransson's Oppenheimer score serves a more pragmatic purpose, driving home the story's immense stakes through tightly controlled dynamics and complex orchestral arrangements. Basically, the former's a dopamine buffet that doesn't expect listeners to have seen the original flick, though it certainly helps; the latter expects familiarity with, or at least respect for, the source material on the listener's part. These approaches are by no mutually exclusive, but they rarely, if ever, overlap, which is what makes Reznor & Atticus Ross' score for Teenage Mutant Ninja Turtles: Mutant Mayhem so compelling: it's a stellar collection of short form tracks that perfectly encapsulate franchise's badass cyberpunk spirit. I haven't seen the movie yet — it came out yesterday, after all — so I can't speak definitively to how the viewing experience factors into the soundtrack's success on a broader level. Nevertheless, I can say  that "Do You Need A Veterinarian?" and "I Just Met You and You Almost Killed Me" slap, bound to enthrall Nine Inch Nails diehards, industrial snobs, goths, synthwave nerds, '80s kids, and — thanks to the minimal, NES-styled synths driving standouts such as "Attack On a Titan"— even chiptune heads. Seth Rogen, who starred in, wrote, and produced the movie, described Reznor and Ross' work as "incredible." Is he biased? Definitely. Is his assessment correct nevertheless? You bet. It's a whole damn double feature. Just don't forget the pizza, dudes.