SCENE REPORT
The New New Wave: Punk and Post-Punk in Georgia
By Jacopo Sanna · August 04, 2023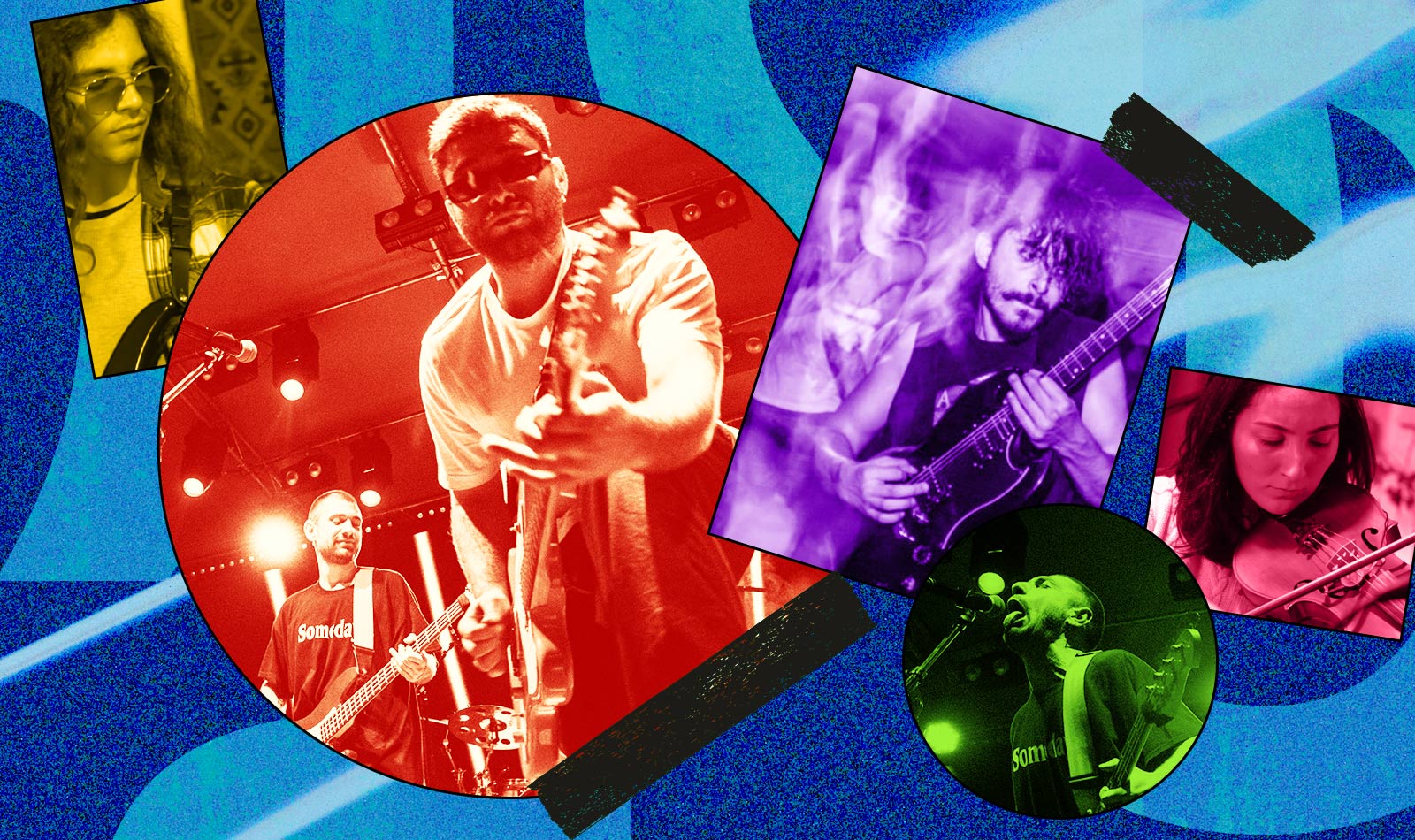 "For some reason, young people seem to be attracted to the melancholic sound of our bands," says Nikoloz Karsanidze, the guitarist of Tbilisi-based KOSMOSS. He's trying to make sense of the growing popularity of post-punk in Georgia. "I guess it's pretty normal, though, considering the life we lead here."
KOSMOSS is part of a rowdy new wave of post-punk bands that are turning the clubs of this tiny Caucasian country—nestled between Turkey and Russia—upside down. Yet, there is more to it than the dark mood Karsanidze mentions. These bands, which include SKAZZ, Izmir, and XEROX, all share a sense of anger and disillusionment that deeply connect them to Georgia's historical and present-day culture of protest. In 2023, thousands of people have taken to the streets to demand more freedoms, connection to the European Union, and to distance themselves from their neighbor, Russia.
The most successful act to come out of this emerging scene is undoubtedly SKAZZ. On their debut album Memorial the band takes visual and imaginative cues from a symbolic event in recent history. When the Georgian government decided to move the parliament seat from the capital Tbilisi to Kutaisi, the second-largest city in the country and the band's hometown (it was moved back in 2019). To make room for the new building, in 2009, a Soviet-era memorial dedicated to the Georgian victims of World War II was demolished. Controversy arose not only because of the erasure of the nation's history and memory but also because of the little to no safety measures taken: a woman and her child were killed by the explosion.
Using these events and images has nothing to do with Soviet nostalgia—then again, there isn't much of that in Stalin's home nation. Instead, it serves as a prompt to reflect on the present and future of a country that has a complex relationship with its past. "This monument reminded everyone of how we were failing as a 'state' and as people and became a place of bloody gatherings," SKAZZ writes on their Bandcamp page. "It was an archive filled with information about past and modern history with its stories. The memorial reminded us daily of what we are and have become."
If punk in Georgia has rarely been as political as it is now, that does not mean it never existed. By the late 1980s and early 1990s, Kutaisi had established itself as the epicenter of hardcore punk in the country, thanks to bands like Outsider, Bunkeri, and Pulsi. In Tbilisi, a band called Retsepti became legendary under the charismatic leadership of frontman Lado Burduli. Their raucous post-punk even gained some international attention, and in 2006 the archival record label Supreme Echo released an anthology of their music. Though, it was fleeting: throughout the rest of the 1990s, the repercussions of the Soviet Union's dissolution—wars and poverty above all—put an end to that embryonic scene.
There wasn't a second wave of punk bands in Georgia until the 2000s. As a matter of fact, during this period of national rebooting, the boundaries between punk, metal, and other alternative genres were rather blurred. Very different bands often found themselves sharing the same stage, though the resources they had at this time were rather scarce. "There were no punk or rock clubs at all in Tbilisi," explains Dato Tsomaia, who played the drums in Vodka Vtraiom, one of the most iconic Georgian punk rock bands of the decade, "so we had to rent old Soviet cultural centers' halls or restaurants, then we rented all the gear and did everything ourselves. At the time we had no idea what 'DIY' was but it turned out we were doing it precisely that way."
Another setback for punk in Georgia occurred a few years later. This time the problem was neither war nor poverty, but the sudden emergence of an electronic music scene in Tbilisi that eclipsed any other underground in the city, including the battered and forgotten punk scene. "It's been an absolute headache trying to dance around the Georgian techno and electronic music scene," Giorgi Lobjanidze, lead singer of Tbilisi grindcore outfit Gajichamia, says. "Most venues and sound companies prefer to work with them because they pay twice as much for half the equipment." In the years between 2016 and 2018, in particular, it seemed that there was no room at all for live music in the country.
However, things have recently changed, and that transformation isn't driven exclusively by post-punk. The separation between genres has remained thin, and the aforementioned post-punk bands constantly mix with other acts, ranging from  Gajichamia to straightforward punk rock group Gerchi, from the skate punk of Stuttter to the post-rock of Skhivosani.
"I have never seen the Georgian punk scene as active as it is now," says Lobjanidze. His enthusiasm is not to be confused with youthful awe for something he has never experienced before. Older members of the scene, like Tsomaia, agree with him. "Many new punk, post-punk, and metal bands are forming, and there are many more listeners than before," Tsomaia says. "Sometimes there are two or three punk shows in Tbilisi on the same day, and almost 100 fans attend each one." He recently opened a club called DABA in the small town of Baghdati after relocating there; he's already started booking punk bands from around the world.
A significant contribution to the development of this scene was also made by the large influx of young Russians fleeing Putin's regime since the beginning of the war in Ukraine. Not only the number of show attendees increased: some of the people who were involved in local punk scenes in Russia took an active role in the Georgian scene as well. A collective from St. Petersburg, for example, opened a new club in downtown Tbilisi called Secret Place, which quickly became one of the landmarks of this new Georgian scene. Russian newcomers also began founding record labels through which they released local bands, such as mიф.
New spaces for Georgian bands to play live shows and to record and release albums were thus created. Even more importantly, in some cases all of the members of a band from Russia would move to Georgia, meaning that the entire band would relocate there and start playing shows with local acts. From the experimental post-punk of Квалиа and the rabid grindcore of Abyss of Stench to the dreamy folk of Keel The Barber, these bands crucially served to inspire many Georgian bands in terms of sound and productivity. Mixed bands of locals, Russians, and Ukrainian refugees are being formed. "It's the beginning of a whole new era for the scene," Lobjanidze says;  it's hard not to feel the excitement.
What follows is a brief and not-at-all comprehensive list of new Georgian bands spicing up the scene of the Caucasian country.
---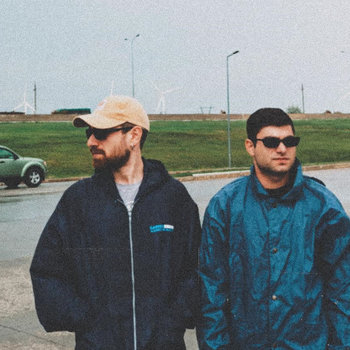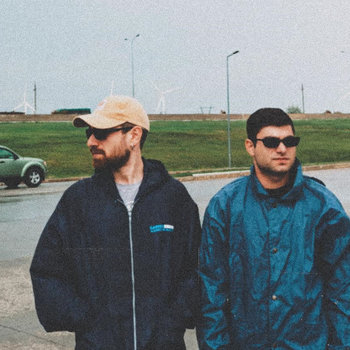 SKAZZ was formed in 2021 by bassist Saba Vashakmadze and guitarist Nodo Kuprava. They quickly became one of the most popular bands in the Georgian underground, even transcending it; they are arguably the main reason why Georgia's mainstream music industry is taking an interest in post-punk. Their song "Mdevari" reached one million views on YouTube, and they will share the stage with Moderat at Tbilisi Open Air in the summer. Besides, they are starting to get known outside of Georgia as well and have recently toured Germany. Yet, they remain uncompromisingly tied to their punk roots, and their debut album Memorial is proof of that. Their lyrics poetically comment on the situation of today's Georgia, with somber vocals that stand out against the distressing background of a hammering bass. Yet, dreamy guitars in the style of Motorama or Nürnberg instill a glimmer of hope, making their sound ultimately danceable and memorable.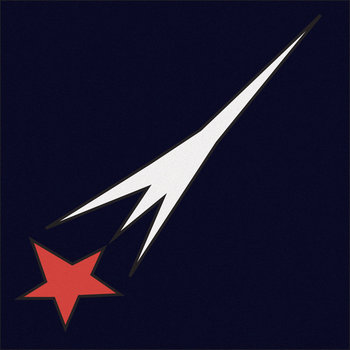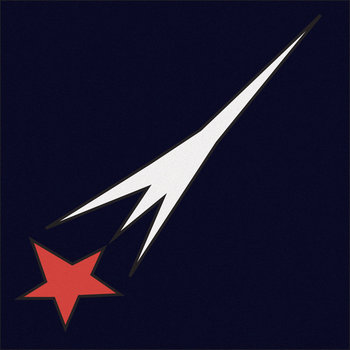 Started as a side-project of the grunge/pop-punk group Cycle Error in 2022, KOSMOSS finds its strength in the diverse influences of its two members. If bassist and vocalist Giorgi Khabazishvili is a big fan of post-Soviet post-punk bands such as Буерак, guitarist Nikoloz Karsanidze says that his greatest source of inspiration is '90s anime like Trigun, Cowboy Bebop, and Berserk. The result of all of this cultural mixing is found on their debut album MTVARIS AVTOBANI, released in 2022 and recorded with a $50 audio interface and a laptop in a dusty basement. It's a concept album that draws inspiration from the Interplanetary Architecture project developed by visionary architect Alessandro Poli in the 1960s. In a mere 25 minutes, the duo takes us on a high-speed journey on an earth-moon freeway. Their style of minimal coldwave is suffused with catchy and truly fun guitar lines that create an imaginative atmosphere.
Gajichamia is a fast-moving band. Perhaps, given that they're a grindcore band, it couldn't be otherwise. "We're the first grindcore band in the country," says vocalist Lobjanidze, but quickly specifies with the accuracy of a music nerd: "Grindcore, not goregrind, since VasGorShalRud came first in the broader grind scene." The band began in 2020 as a quarantine project with a strong noise component and lyrics centered on the alienation caused by lockdowns, but has since gone in a direction that vocalist Lobjanidze describes as "caveman riffs and rage-filled guttural noises." With a wide range of influences, from Pig Destroyer to brutal death metal, Gajichamia was among the bands offering the most joyously chaotic live sets in the country before going on hiatus in 2022. "However," says Lobjanidze, "we are willing to start recording and playing again hopefully by the end of autumn of this year."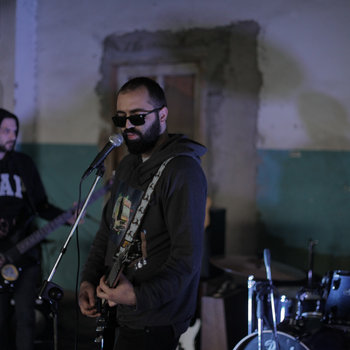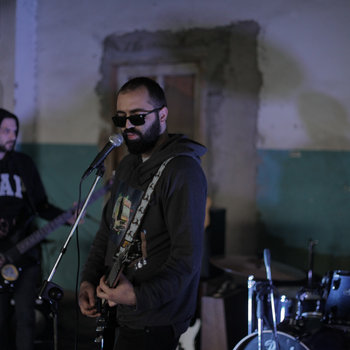 Street punk band Gerchi started after Vodka Vtraiom disbanded. "We had a German tour planned in the beginning of 2020," recalls Tsomaia, "but the lead singer left the band. The three of us who remained had already bought plane tickets, so we figured we'd go on tour anyway, change name and play new songs and Georgian punk covers." They then decided to continue the band and released an album titled ი​ა​რ​ე​ბ​ი (Scars). Musically, they are the ideal continuum of their previous band: straightforward and anthemic punk rock that echoes the darker sentiments of other Georgian predecessors (such as Retsepti), and is inevitably influenced by Russian rock bands such as KINO. Their provocative '77 punk-style attitude and their political lyrics haven't gone unnoticed; in 2021, during a punk festival in Tbilisi, the band was attacked by a group of Nazis, who injured some musicians and fans.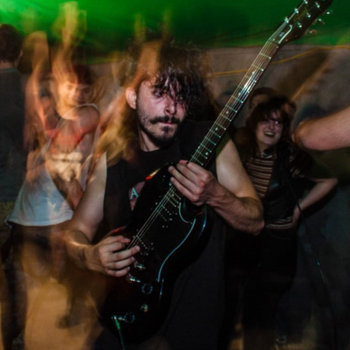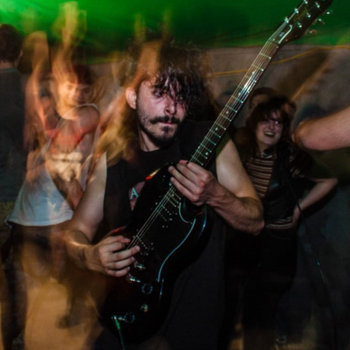 In this new Georgian scene, there is room for less conventional music projects as well. Skhivosani is one of them. Started as a "bedroom project" by guitarist Nikoloz Gabunia in 2020, they became a full band in 2022 when they started playing live shows. Gabunia's style is inspired by post-rock bands that incorporate classical elements, such as Yndi Halda and Thee Silver Mt. Zion Memorial Orchestra, and by the dark folk atmospheres of Sangre de Muerdago. What makes Skhivosani even more special, though, is their interest in the folk music of their own country. "We are currently trying to incorporate more folk influences in our future tracks," Gabunia says, noting that his songwriting has been deeply influenced by the work of Niaz Diasamidze and his way of playing the panduri, a Georgian traditional three-string instrument.