SCENE REPORT
The New Wave of East African Sound
By Megan Iacobini de Fazio · April 03, 2017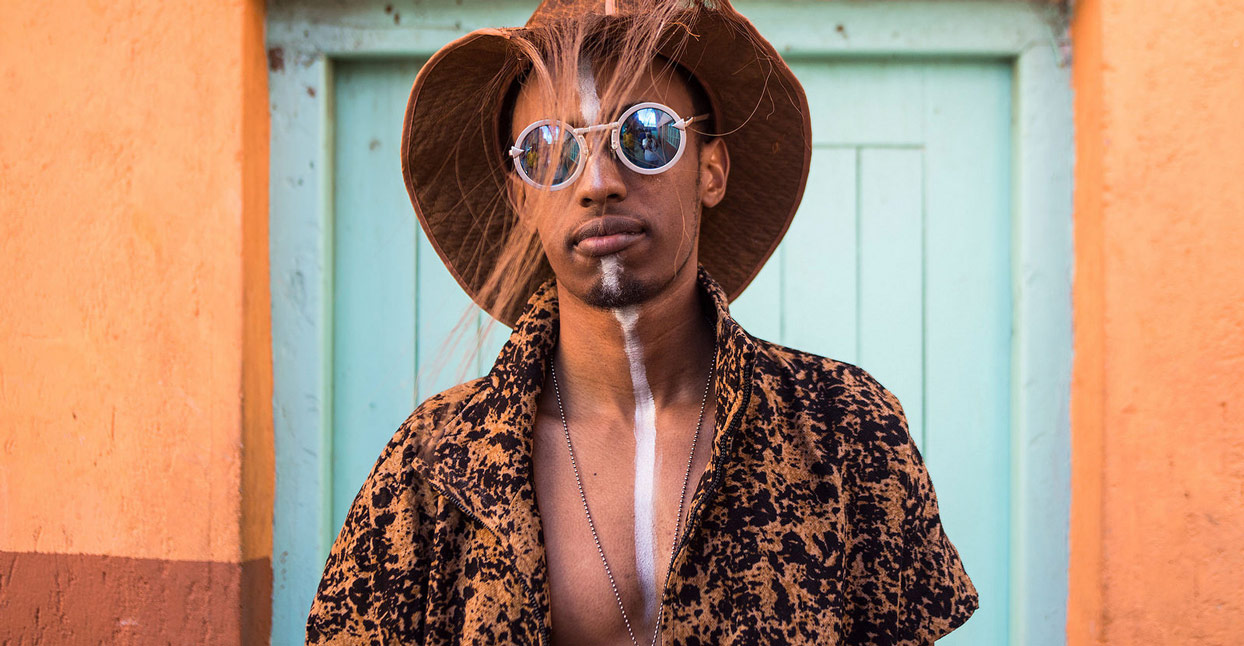 "I hate when someone tells me I don't sound African," says Ukweli, the youngest member of East African Wave—or EA Wave for short. "What am I supposed to do, put Conga drums on all of my tracks? My music is African by virtue of me being African."
The 21-year-old is one-fifth of EA Wave—a group of five DJs and music producers who, over the last couple of years, have created a small scene in Nairobi around their style of electronic music: an amalgamation of trap, house, trip-hop, and downtempo beats.
The busy capital city—where the boys grew up—is the economic hub of East Africa, attracting musicians from all over the region. Every night, the lively downtown bars move to the syncopated melodies of benga, the Cuban son-influenced rhythms of rhumba, and fast-paced soukous. Still, the airwaves are dominated by highly commercial, western-influenced R&B, Jamaican dancehall, and Nigerian Afrobeat.
But because there's still a high level of "gatekeeping" around what gets played on radio and television, it's been close to impossible for up-and-coming, non-commercial local artists to get their voices heard.
In the 1990s and early 2000s, Kapuka and Genge—two styles of homegrown reggae-infused hip-hop, which are topped off with local slang—gave a fleeting insight into the culture of the young urban population of Nairobi. "That is the music we grew up on," Ukweli says. "It was dope at the time, but it did not keep growing and stopped representing us."
"So we started making the music we wanted to hear," Nu Fvunk adds.
If ever there was a group that epitomizes the idea of "World Music 2.0," EA Wave is it. That term, coined by New York's Jace Clayton, aka DJ Rupture, refers to the music that's being made in all corners of the globe by kids with inexpensive laptops and free music production software. They use ingenuity to mould their own identity.
"They're sharing tracks via Bluetooth, via YouTube, via Facebook," Clayton explains in his book, Uproot: Travels in 21century Music and Digital Culture. "So there's this unprecedented, amazing growth of musical activity all over the globe. It's a fascinating mix of hyper-localized music and global sharing."
That term also describes the DIY attitude, globalized outlook and hyper-connectedness that brought Jinku, Ukweli, Hiribae, Mvroe and Nu Fvnk together. With stonewashed denim jackets thrown over oversized t-shirts, bright handkerchiefs knotted around their heads, round framed sunglasses and Maasai jewelry, it's obvious the young producers—all of whom are under 26—draw on a range of global influences.
"The internet played a crucial role: seeing other people around the world doing awesome stuff is empowering. Plus, thanks to the 'College of YouTube,' free music and software, there are fewer barriers and impossibilities," says Hiribae.
The five artists met by liking and sharing one another's tracks on various internet platforms. "Then, one day, I walk out of my studio and I see this 18-year-old kid looking around and admiring the paintings," says Jinku. "He looks up and says, 'Very nice, I can see myself working here.' That's the first time I met Ukweli in person."
By 2015, after seeking each other out at parties and events, the five members began producing music together, often juggling those projects with their high school and university studies. All of them made music at Creatives Garage—a shared multi-disciplinary creative space in a leafy Nairobian suburb- where they did odd jobs in exchange for studio time, experimenting with styles and sounds not often heard in Nairobi.
Initially, the five members planned for East African Wave to be a whole new genre, characterized only by the process of creation, experimentation and collaboration that went into it. "At times, we felt pressured to choose a specific sound," Ukweli says. "But Kenyan culture is very diverse, and we listen to music from all over the world, so we can't reduce ourselves to one specific style."
Their collaborative and experimental approach to producing soon started garnering a small following in Nairobi, and the seeds for a scene which now boasts regular electronic music events and a rising DJ culture were sewn.
EA Wave's first major first breakthrough came when they were asked to produce the Indigo EP by US based Kenyan artist Karun, who in turn introduced them to Ghanaian songstress Jojo Abot.
"For many years, I would have conversations with other more established African artists around building community and the design of a more minimalistic approach to production and creativity on the continent" Abot says. "How could we achieve excellence with limited access or resources? How could we work within perceived 'limitations'? Meeting the EA Wave boys inspired me to finally put my money where my mouth is."
Jojo, who is based in New York, flew to Kenya and started the AFRI-NA-LADI project, a multimedia residency that expanded into visual art, fashion and live shows: "With a focus on making something out of nothing but ourselves, the challenge was to never sacrifice quality in the production of art regardless of circumstance."
Together, EA Wave and Jojo produced the song "Mega Kpenu Nao," meaning 'let it shame you not,' a defiant challenge to widespread misconceptions about African music and art. "We wanted to make something with the purpose of pushing the boundaries of what people consider as African music and art," Ukweli says.
Every member contributed something to the track: Nu Fvnk added the keys and unconventional chops; Hiribae was on vocal effects; Mvroe worked 808s; Ukweli did the trap section, the hi hats and the artwork, while Jinku added the Missy Elliot sample on the outro, and mixed and mastered the song.
"The fact that an outsider came to Kenya to work with some unknown chaps, built a lot of curiosity and hype around us," says Jinku. "It was just one of those EA Wave sound defining moments, when people really dialed in on what we were about."
Though almost all of EA Wave's tracks come from intense collaborative efforts between various members, each person brings different techniques and sounds to the table. Meet each member of EA Wave.
Jinku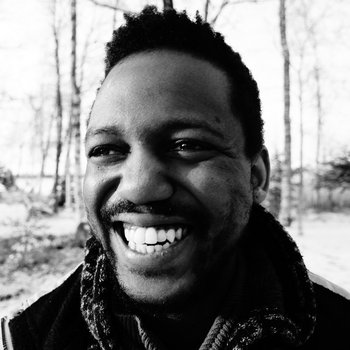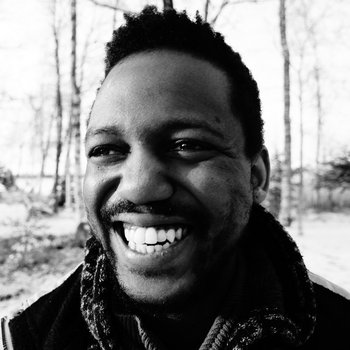 "If you know Jinku, you know EA Wave," say the group's other members. Named by The Faderas one of the 25 global acts to watch out for, Jinku fuses trap 808s, afro-house and downtempo beats with African percussion. "I gravitate towards traditional drum sounds, but I don't feel bound by them," says Jinku, whose aesthetic is perhaps the most Afrocentric out of the five. "Going back to my roots and visiting Seychelles, discovering that sensual sound, had big impact on my music and helped ground it." Jinku is also a member of Santuri Safari, a loose network of musicians, DJs and producers who aim to bridge the gap between traditional East African sounds and the international dance scene.
Ukweli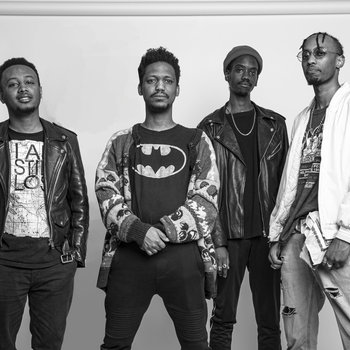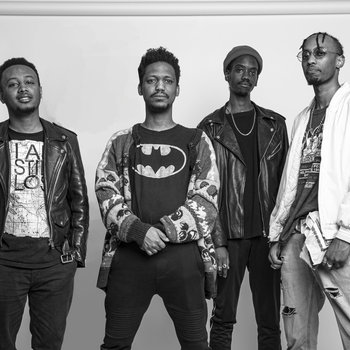 Ukweli is the youngest member of EA Wave but also acts as manager, accountant, spokesman and photographer (he creates all the artwork that accompanies EA Wave releases). He started making beats at 16, "but someone laughed at the first beat I ever made, so I stopped for about a year," he recalls. From the safety of his bedroom, Ukweli watched music production tutorials on YouTube, and learned how to sample and master 808s, all while expanding his musical horizons. "I loved indie rock as a teenager, and that's probably my main influence," Ukweli says. "But I also used to listen to jazz and to my mum's old-school R&B collection." Most of Ukweli's tracks are built on minimalist synths and laidback tempos. It's his hazy, melancholic vibe that caught the attention of U.S.-based JABS, who recorded vocals on it with frequent collaborator Wilough aka Willow Smith.
Hiribae
Hiribae is the only classically-trained musician in EA WAVE; his days as a trumpet player in the school orchestra left their mark on his sonic direction. With airy synthesizers and smooth brass riffs, Hiribae crafts wistful soul compositions, often sampling classic jazz standards, adding background crackle for a vintage touch.
As a teenager, Hiribae spent hours listening to his dad's jazz collection, discovering the likes of Afro-Cuban jazz pianist Omar Sosa. "But one day I was given an MP4 player with tons of EDM, so that's all I listened to for the longest time," Hiribae says. Meeting the rest of the EA Wave crew was the last nudge the producer needed to bridge his love of classical, jazz, and electronica.
Nu Fvnk
Nu Funk only ever wanted to be a rapper, but started to make beats out of necessity when he didn't know anyone who would do it for him. "I guess you wouldn't know anyone at 14, would you?" he says.
As he became more interested in the art of producing, Nu Fvnk would watch videos of hip-hop producers like 9th Wonder and Hit-Boy, both of whom rose to fame by releasing home-made beats and unofficial remixes through online platforms like MySpace. "I became really interested in that culture, and in a way tried to emulate it."
Mvnroe
Mvroe began as a drummer and has deejayed since he was 15, eventually branching out into producing and laying vocals onto his tracks, for which he uses a lot of auto-tune, reverb and delays. "I wish people understood that using auto-tune is a fucking art," says Mvroe. Then it's no surprise that he cites Kanye West as an influence, especially the Kanye of 808s and Heartbreak, which set a course for the muted singing, auto-tune and distorted electro-bounce heard on Mvroe's songs. "Me and Nu Fvnk are the only ones who bring vocals to EA Wave," he says, "but while he is the rapper, I am the one who does the more melodic, singing stuff." On his track "Uber Round Your CityMvroe gives a nod to another one of his influences—Travis Scott, who remixed the track "Uber Everywhere." Like Scott, Mvroe reconfigures and distorts his music; the results are somewhat absurd, playful and always catchy.
-Megan Iacobini de Fazio