SCENE REPORT
The New Weird Belgium
By JR Moores · April 27, 2017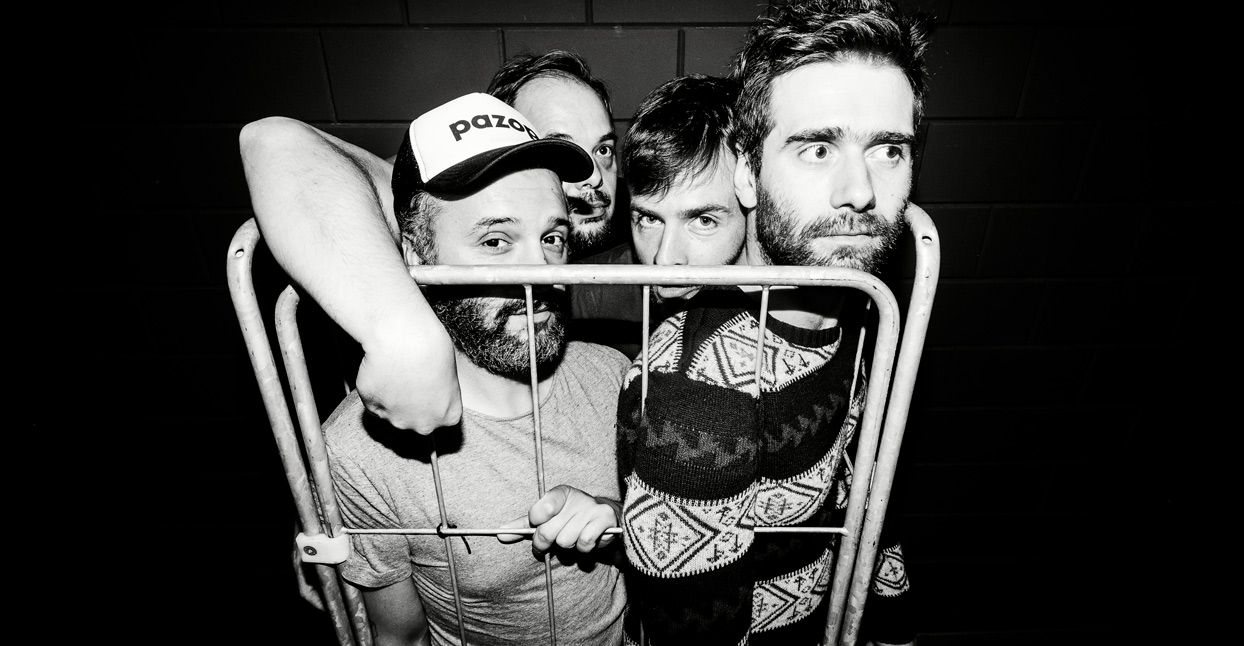 With its largely flat geography and introverted population, it would be easy to characterize Belgium as a low-key, unassuming nation. But stereotypes, like rules, are designed to be broken and there are a host of Belgian musicians who are gleefully swimming against the stream.
Weird Belgian bands are not entirely a new thing. If you're old enough to have stayed up too late watching MTV2 in the 1990s, you might recall the video for "Satan Is In My Ass" by Evil Superstars, a song that hurtled backwards and forwards between grunge, metal, doo-wop indie, and suave jazz with lyrics about, "a plankton-eating robot cow in a cardboard dress." Two decades on, a clutch of strange and imaginative newer Belgian bands are carrying Evil Superstars' berserk mantle.
Jan Viggria is a guitarist in The Guru Guru, the self-described "borderline rock" group that have just released their debut album P C H E W. According to Viggria, the rise of experimental Belgian bands has to do with a common desire to search for "something exciting and original," along with a refusal to accept the lazy and complacent notion that "everything has already been done before." Added to that, he suggests, is "too much coffee."
With the music industry and media's ongoing tendency to focus so heavily on American, Canadian, and British acts at the expense of other locales, Belgian bands have the freedom to be as weird, noisy, and creatively restless as they want to be. "The bands here work their fingers to the bone to create something they really enjoy, without worrying about being on the radio or having commercial success," says Viggria. "They just want to play their music live as much as possible, and establish a warm connection with their audience. It's about expressing whatever you want to express—and, believe me, people will see the difference between a trendy 'act' and an artist who is bleeding his or her soul all over the stage."
The new weird Belgian soul-bleeders included in this list vary in their idiosyncratic styles, but are united in their quest to avoid mainstream trends and clichés, and to make a hell of a loud, wonky racket while doing so.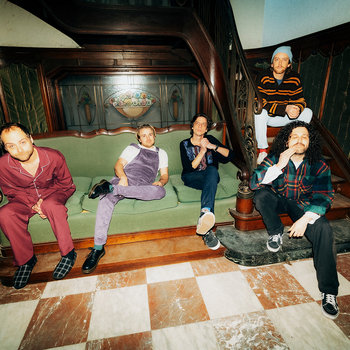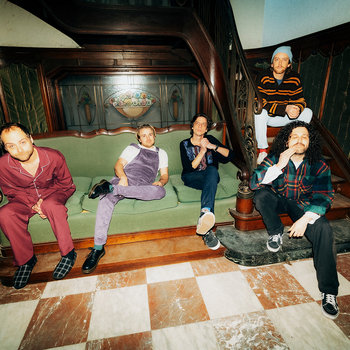 Merch for this release:
Vinyl LP, Compact Disc (CD)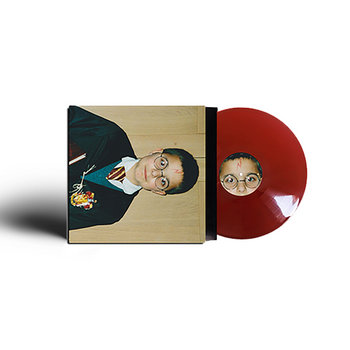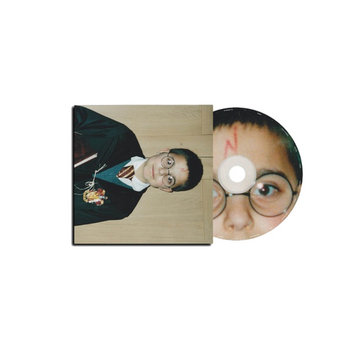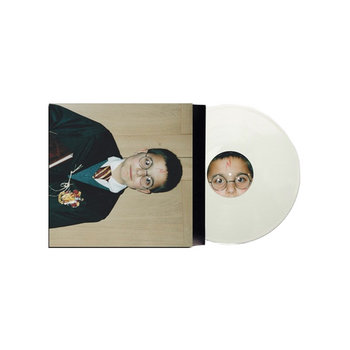 Not to be confused with the cult Krautrock outfit Guru Guru, Hasselt's The Guru Guru are a heavy five-piece fronted by a bearded man whose saucer-wide eyes look only marginally crazier than those of Suzanne "Crazy Eyes" Warren from Orange Is The New Black. Influenced by The Jesus Lizard, METZ, and Pere Ubu, The Guru Guru have a penchant for fat riffs, scrawling guitar noise, and tumbling time-changes, all embellished by Tom Adriaenssens' often creepy narrative dialogues. The lyric of one particularly unnerving number concerns a night manager conversing with a permanent resident who requires urgent assistance cleaning up the mess in his hotel room, following an evening of unsavory and probably murderous debauchery.
With a name lifted from an obscure jazz composition by Misha Mengelberg and the title of their debut album a bastardization of a word meaning "a fear of long words," you'd be forgiven for thinking that Hypochristmutreefuzz aren't interested in being liked. The truth is, while they certainly evoke "difficult" artists such as Captain Beefheart, Frank Zappa, and Mike Patton's various unhinged endeavors, these intense Ghent-based musicians also take inspiration from chart pop, hip-hop, and dance music. You'll be snaking your hips to their funky grooves one minute, thrashing your arms wildly around the next, and maybe ending your listening party with a small seizure.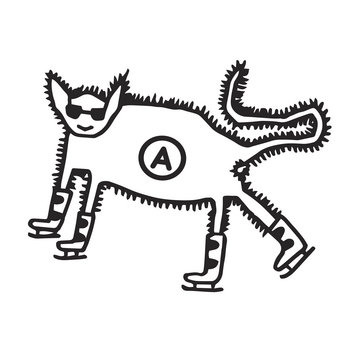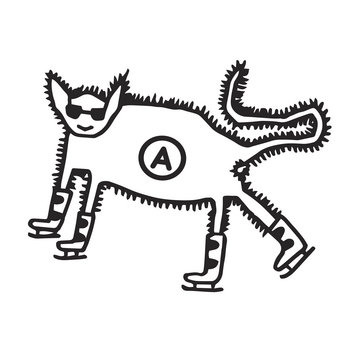 Merch for this release:
Compact Disc (CD), Vinyl LP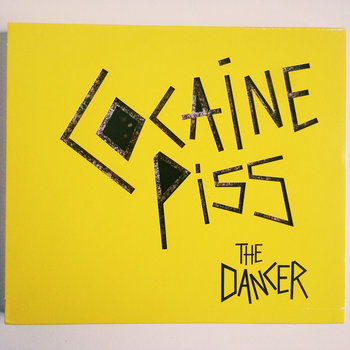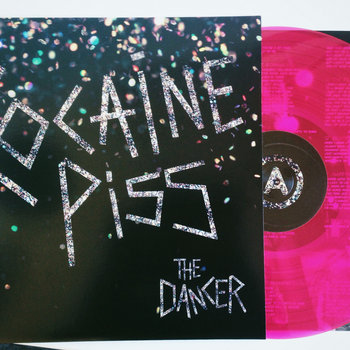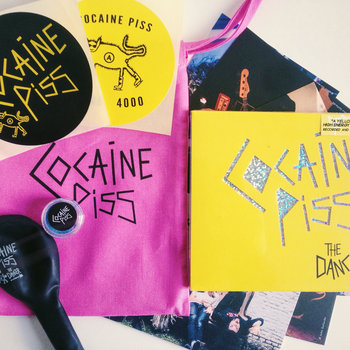 John Peel once wrote of how reassured he was by the name of '80s noise-rock pioneers The Butthole Surfers. To him, it proved they were "not one of those bands hoping for a fun-run on the underground scene before exploding into big pop." You can expect roughly the same from a group called Cocaine Piss. Across the 14 brief and often frantic tracks on their Steve Albini-recorded second album, the band's unholy bourgeois-baiting racket evokes a medley of the best bits of Scratch Acid, Bikini Kill, and Melt-Banana. Meanwhile, vocalist Aurélie Poppins screams fiercely about topics such as "cosmic bullshit," sports bras, gender identity, and the fact that, "we are all sex weirdos."


El Yunque are one of the most stubbornly experimental of the Hasselt lot, recording everything themselves and sounding like Sacramento's So Stressed falling down a mineshaft in Michael Gira's garden, while Henry Rollins guffaws from behind a hedge. Released less than a year after 2016's Baskenland, their latest clamorous opus begins with a track called "Scottie Pippen" which, naturally, features the name "Michael Jordan" shouted numerous times over a scrappy noise-rock backing track. Another composition breaks into a feedback-haunted free-jazz drum solo at around the halfway mark. The final number, meanwhile, is six minutes of moody guitar patterns, fuzzy riffs, bizarre clarinet squeals, and vocal murmurings about birds. This one's for fans of Melvins, The Residents, and retired NBA basketball legends.
As a band that enjoys dressing as peculiarly as they sound, Elefant are prone to performing in head-to-toe white overalls, as well as painting their faces and gurning like terrifying clowns. A Belgian supergroup of sorts, the band features members of The Van Jets, Future Old People Are Wizards, Arquettes, and The Antler King, while their circus-sludge vibes give off serious whiffs of Mr. Bungle, Devo, and Sleepytown Gorilla Museum. Last year's single, "The Realm," and the group's 2015 album Nordic Tanzen Am Sonntag should bamboozle you enough for the time being, but a recently unveiled and typically oddball video for new track Mumbo Jumbo suggests a new studio album is lurking just around the corner.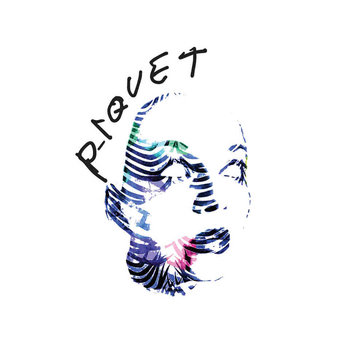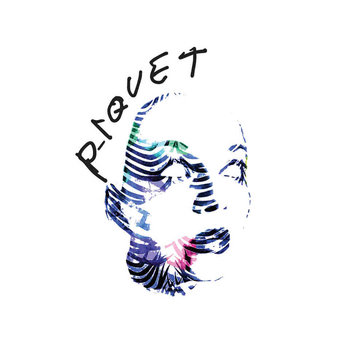 Merch for this release:
Compact Disc (CD)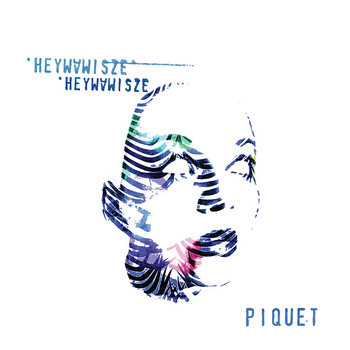 More melodic than some of the sludgier bands on this list, Piquet offer a poppier take on the Belgian noise-rock sound, utilizing Pixies-ish basslines and spiky post-punk guitar licks to catchy effect. Having said that, frontwoman Lien Moris actually sings in her own made-up language, based loosely on Dutch, so it hardly seems as though Piquet are pandering to the lucrative global market. Still, you can imagine arty types into Yeah Yeah Yeahs or Deerhoof enjoy grooving along to the Heywawisze EP as they sew together collages of thrift store garments to wear to the latest protest-art gallery opening.
Merch for this release:
Vinyl LP, Compact Disc (CD)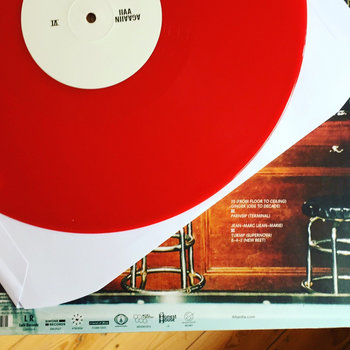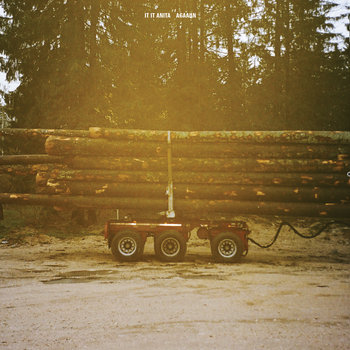 Liège's It It Anita are influenced by post-hardcore groups such as Fugazi and At The Drive In, pre-grunge US underground artists like Sonic Youth and Dinosaur Jr., post-rockers Mogwai, and closer-to-home artists such as Antwerp's legendary dEUS. This results in chunkily distorted riffs aplenty, lots of gravelly vocal howls, a pleasingly massive In Utero-like drum sound, and whole tracks of discordant noise. Their live shows usually end with instruments smashed to pieces, guitar players falling to their knees, mic stands being kicked over, and by the end of the set, every band member jumping off the stage and sweatily hugging the rapturous crowd.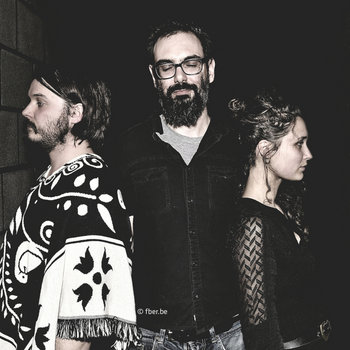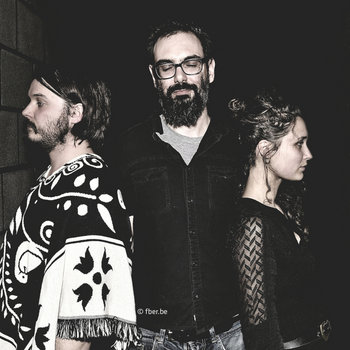 Merch for this release:
Compact Disc (CD)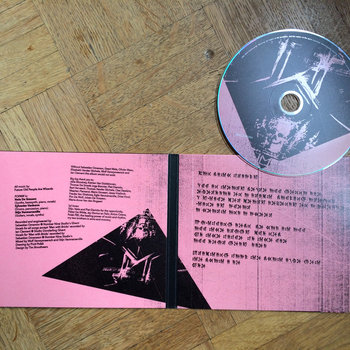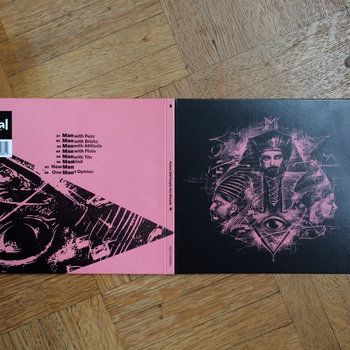 "Man With Fuzz," "Man With Bricks," "Man With Attitude," "Man With Flute," and "Man With Tits." Those are the names of the first five tracks (out of eight) on the second album by Future Old People Are Wizards. Sometimes abbreviated to the catchy FOPAW acronym, this trio pair dab hands with stoner riffs. But where most bands would have appointed a bass player, FOPAW have the secret weapon that is Nele De Gussem. De Gussem uses synths to hold down the low end and add atmospheric textures to the group's rumbling alt-prog sound.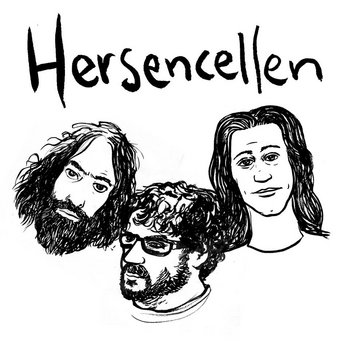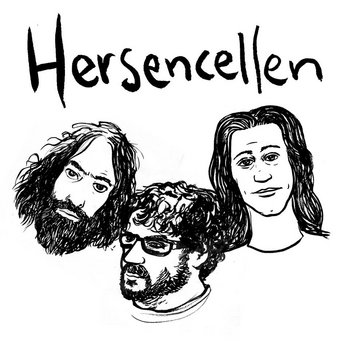 The Hersencellen project is an Antwerp-based collaboration between the DJ, producer, and drummer known as Butsenzeller, and the poet and novelist Gert Vanlerberghe. Musically, We Ploeteren Voort mixes dizzying electronic experimentation with industrial beats, jazz interludes, and the odd blast of snotty punk rock (see "Saboteer"). Vanlerberghe's baritone spoken-word beat poetry, meanwhile, is reminiscent of Blixa Bargeld from Einstürzende Neubauten. They are two mad scientists, and here's hoping there's enough electricity to keep them regenerating thier monsters for many subsequent sonic rampages.
Merch for this release:
Vinyl LP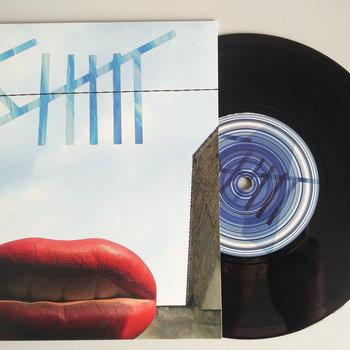 Another Ghent-based combo, Shht are one of the newest acts on the Belgian scene. They cite their influences as "Kanye West, The Beatles, and Jesus Christ" which is just a teensy bit misleading. Life evokes The Cardiacs or Ween, thanks to its bouncy riffs, high-pitched vocal effects, and lyrics about dancing, cancer, and Stephen Hawking. It's a testament to Shht that, with just one release under their belt, their irreverent and eclectic style has already drawn hearty comparisons to the mighty aforementioned Evil Superstars. Weird Belgian music is in very safe hands indeed.
—JR Moores