RESONANCE
Travels with Jenny: Stereolab's "Transient Random​-​Noise Bursts With Announcements"
By Hayden Merrick · Illustration by Amy Moss · February 23, 2023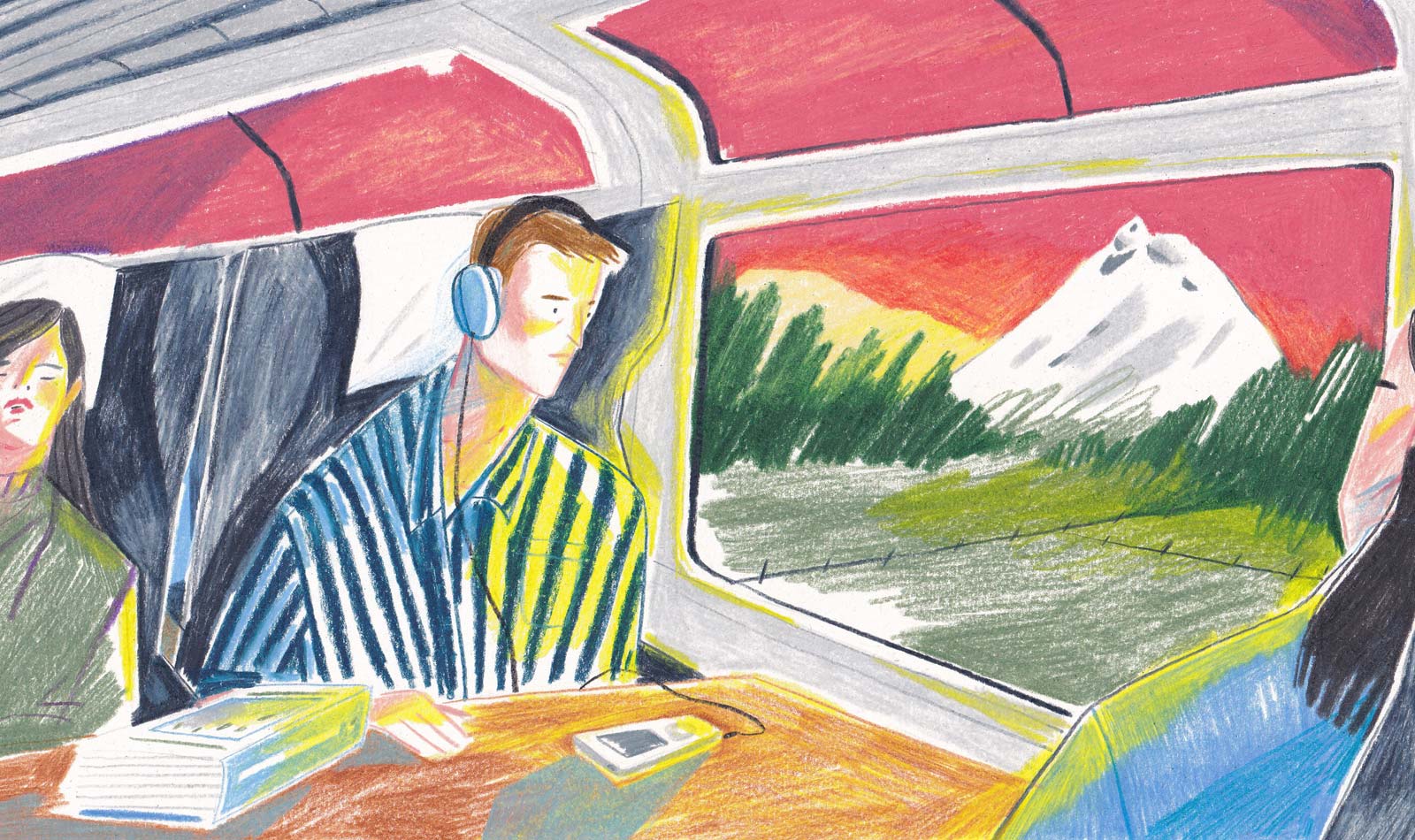 I left England for America the same summer that my parents sold our home and went their separate ways. It was the summer I received a degree in music composition and realized it wasn't very useful, and the summer my friends migrated to the Big City for cool parties and apartments and paychecks not issued by supermarkets.
My coming-of-age adventure would play out across a three-month coast-to-coast train trip. Inspired by John Steinbeck's 1962 travel memoir Travels with Charley: In Search of America, in which the author journeys across the country with his French poodle as a companion, I wanted to taste, hear, and understand America for myself. Like Steinbeck, I was well prepared. But unlike Steinbeck, rather than a custom-built camper packed with fishing poles and rifles, a typewriter, and padded nylon sub-zero underwear, I had the results of a years-long money-saving regime, a laboriously planned itinerary that factored in a bunch of stupid locations from TV and film—Kevin McCallister's house, the Ghostbusters fire station, Paddy's Pub—and a series of pre-booked hostels in city centers. With only a week's worth of clean underwear, I would be forced out of my comfort zone and into social situations, if only for visits to the laundromat.
I spent a lot of time imagining how the trip might play out. At 21 years old, I was sure to finally lose my virginity, Love Actually-style (I was just on the wrong continent); and in some nondescript diner, I would surely find myself jabbering with one of The Simpsons' writers (probably Mike Reiss) who would be so taken aback by my whip-smart aperçus that he'd have no choice but to hire me as junior staff writer. At last, my future would be demystified.
I spent day one crying down the phone to my mum while sitting on a wall opposite the Golden Gate Bridge as passing tourists lent consoling looks. "Just checked into hostel after being spat on by a homeless man," reads that day's journal entry, followed by a quote from my camper-driving lodestar: "Suddenly the United States became huge beyond belief and impossible ever to cross. I wondered how in hell I'd got myself mixed up in a project that couldn't be carried out." (p. 20) The way I would carry this out was to take it one train at a time, and call on a friend.
Stereolab's 1993 opus Transient Random-Noise Bursts with Announcements sounds like it was made on a train. The title introduces the concept of motion—of public transport even (announcements, bursts of noise, etc.)—and the music follows suit. From the krautrock beats and single-chord guitar vamps to the Farfisa organ's two-note drones, the record is all about propulsion. It covers ground in a gradual, linear way. Largely forgoing the "barnstorm" structures of the band's debut in favor of samples, tape loops, and dense, discordant instrumental passages offset by lounge-pop numbers like "Pack Yr Romantic Mind," Transient leaves in its wake a trail of pretentious 20-somethings who think they've stumbled on avant-garde's best-kept secret.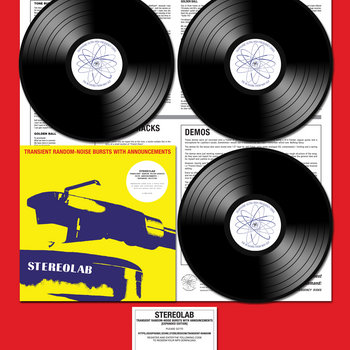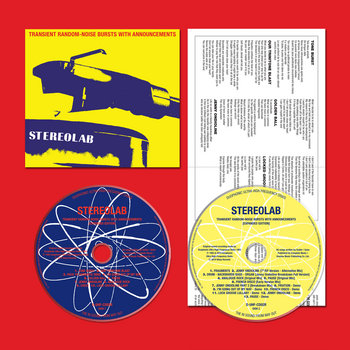 .
00:10 / 00:58
Merch for this release:
Vinyl, Compact Disc (CD)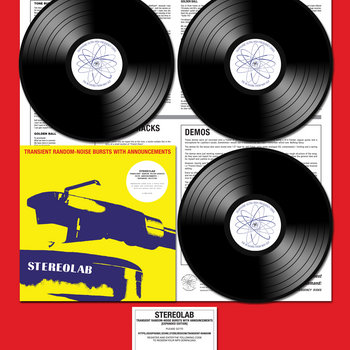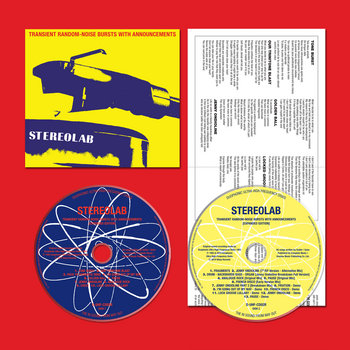 The album's 18-minute, multi-section standout "Jenny Ondioline" acquired a crucial role. It became the first track I'd play whenever I boarded a train, slipped on my headphones, and settled in beside an anonymous rail rider. If Steinbeck was with Charley, my travel companion was Jenny, who helped me orient toward my next destination, my next set of transient random interactions with a reassuring barrage of harmonious noise.
Named after Georges Jenny's pioneering electronic keyboard, "Jenny" is a guidebook for how to do the whole noisy, fuzzy, neo-krautrock thing. She opens with a cacophony of distorted octave chords, strummed so fast you can almost hear flecks of blood painting Tim Gane's pickguard. Once the initial tumult subsides, a rolling bassline and motorik beat lock into a hypnotic loop, and Lætitia Sadier murmurs beautifully about capitalism and democracy—shit I didn't pay mind when I was 21. Periodically interrupting this groove is an elating two-chord turnaround during which Sadier's wordless vocal guides all the components around the bend and onward, time and again. Though there exists a three-minute radio edit and accompanying music video, released as Transient's lead single (and re-released on the Oscillons from the Anti-Sun compilation), condensing this epic sonic experiment somewhat defeats the point. And it wouldn't have worked for me anyway—three months is a long time when the majority of your 16GB iPod nano is occupied by everything Stephen Malkmus has ever done and not much else. The longer, the better.
After my initial wobble, "Jenny" and I left San Francisco for Portland on an overnight train and awoke to a burnt-orange sun sneaking out from behind Mount Shasta. We then took the Amtrak Cascades through Cobain Country to Seattle, where we ran out of clothes and saw that gum wall thing, and regrouped with an Australian named Audrey (who I'd met in San Francisco) for day trips to Washington State's arresting national parks. Then Jenny and I headed east on a 14-hour Empire Builder en route to Glacier National Park, Montana, and checked into the no-frills West Glacier Motel for five days of Thoreau-style living, bear-spray-wielding, and serious thinking.
But if each destination on my trip were a song on Transient, Chicago would be the "Jenny Ondioline"—the highlight, in other words; the halfway point, the longest stay. I had long been infatuated with Chicago. It provided the setting for many of my favorite movies and birthed much of my favorite music. I liked that the downtown is encircled by an elevated train line; the clearly defined space was somehow comforting. I liked the Sears Tower and that corn cob building from the Wilco album. I liked Lake Michigan and The Bean. I liked that the people were forthcoming: jolly, rotund John-Candy-in-John-Hughes-films types with Cubs caps and beat-up old cars. I also liked that people never went on holiday to Chicago. Not Brits. They went to New York or New England, or California. Chicago was to be my special place.
I first glimpsed Chicago not from the train but from the highway. That morning, in Madison, Wisconsin, I was offered a ride from Cady, a New Age–y kinda woman who was on her way to Québec to live in a monastery. Burning rubber in her Honda Accord, she talked on the phone while eating a peanut butter sandwich, and I fumbled around in the bottom of my backpack for coins to placate the Illinois Tollway. I asked if I could DJ—i.e. bring "Jenny" along for the ride—but the Accord had only a tape player. Cady pulled over on East Congress Parkway amid a chorus of car horns. We exchanged hurried goodbyes and I tumbled out of the car.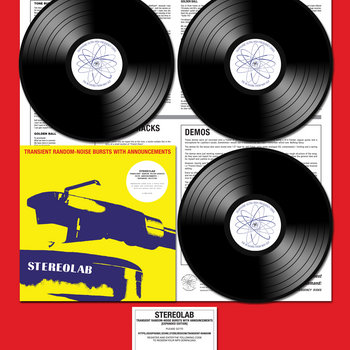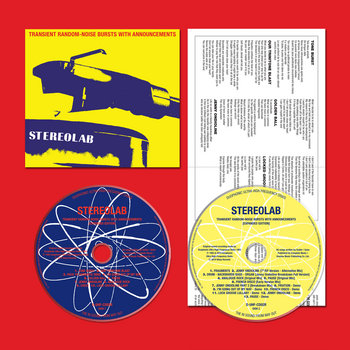 .
00:10 / 00:58
Merch for this release:
Vinyl, Compact Disc (CD)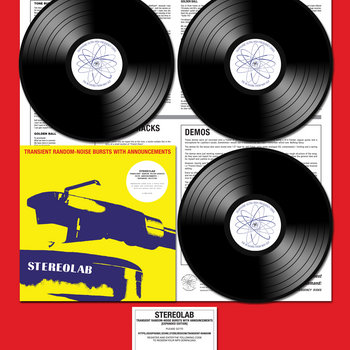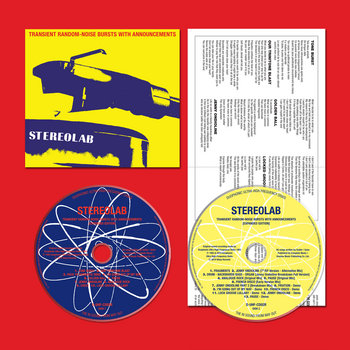 From there, I genuinely did meet jolly, rotund John-Candy-in-John-Hughes-films types who paid for beer and carried my backpack on the walk to a topless bar. (I didn't realize until it was too late.) I rode the elevated trains as happily as a kid on a rollercoaster; I crossed off neighborhoods like I was playing Pokémon GO. I watched the Cubs sink the Pirates at the fabled Wrigley Field. I visited pop cultural landmarks, from Kevin McCallister's Winnetka mansion to the Billy Goat Tavern, where the guy working the register humored me by bellowing "Cheezborger cheezborger cheezborger!" from John Belushi and Dan Akroyd's legendary SNL sketch. I jived to the big band stylings of Dizzy Gillespie's Centennial Celebration at the 39th Annual Chicago Jazz Festival. People asked me for directions. I canceled my stay in Ann Arbor and stuck around for a few extra days. And at the Art Institute of Chicago, in front of Hopper's Nighthawks, I heard my name called, and I spun around to find someone I'd met the night before on a hostel-organized night out.
A few days later, as she walked down the steps of the Jackson station to board the blue line to O'Hare, I stood on the street outside Alexander Calder's Flamingo sculpture and tried to cling to the space where she'd been. After a few minutes, the L rumbling in the distance, I slipped on my headphones, and Jenny and I continued our journey.
When I listen to "Jenny" now, more than five years on, my feet still tingle, and my stomach fills with butterflies, but I groan. Because this period of my life that I thought had to be so consequential and revelatory was, in retrospect, joyous and undemanding—filled with doughnuts and pizza and shooting the shit in hostel common rooms; falling asleep with The Office in my earphones to drown out snoring and gawping at skyscrapers and rich people's houses; and sitting on trains while staring out windows, listening to an 18-minute pop song about socialism.
I barely thought about my parents' separation. I barely thought about home, or how my friends had moved away and had cool jobs, or about being a sitcom writer, or what I would do next (though I did purchase a little book called The Elements of Style from a second-hand bookstore in Philadelphia).
The idealism I had at 21 mostly eludes me now, as does wanderlust and the belief that every tiny fucking thing in life is the work of kismet. But those suppressed parts are reawakened every now and then: by seeing Stereolab perform at the Shepherd's Bush Empire a few years ago, during which a familiar motorik drum beat and fuzzed-out guitar closed the show, or by writing an essay like this one, during which I found myself on Skyscanner and booked a roundtrip to Chicago, trusting again in kismet, or maybe in myself. But mostly trusting in Jenny, who always got me where I needed to go.
Hayden Merrick is a music writer from Brighton, UK, and assistant content editor at Oxford University Press. He contributes to Bandcamp Daily, FLOOD Magazine, Pitchfork, Clash, and others, and was previously associate music editor of the cultural criticism site PopMatters. Please talk to him about music and let him on your podcast: @HaydenMerrick96