RESONANCE
Oh My God New York Can Talk: Elbow's "New York Morning"
By Katie Kurtz · Illustration by Amy Moss · July 01, 2021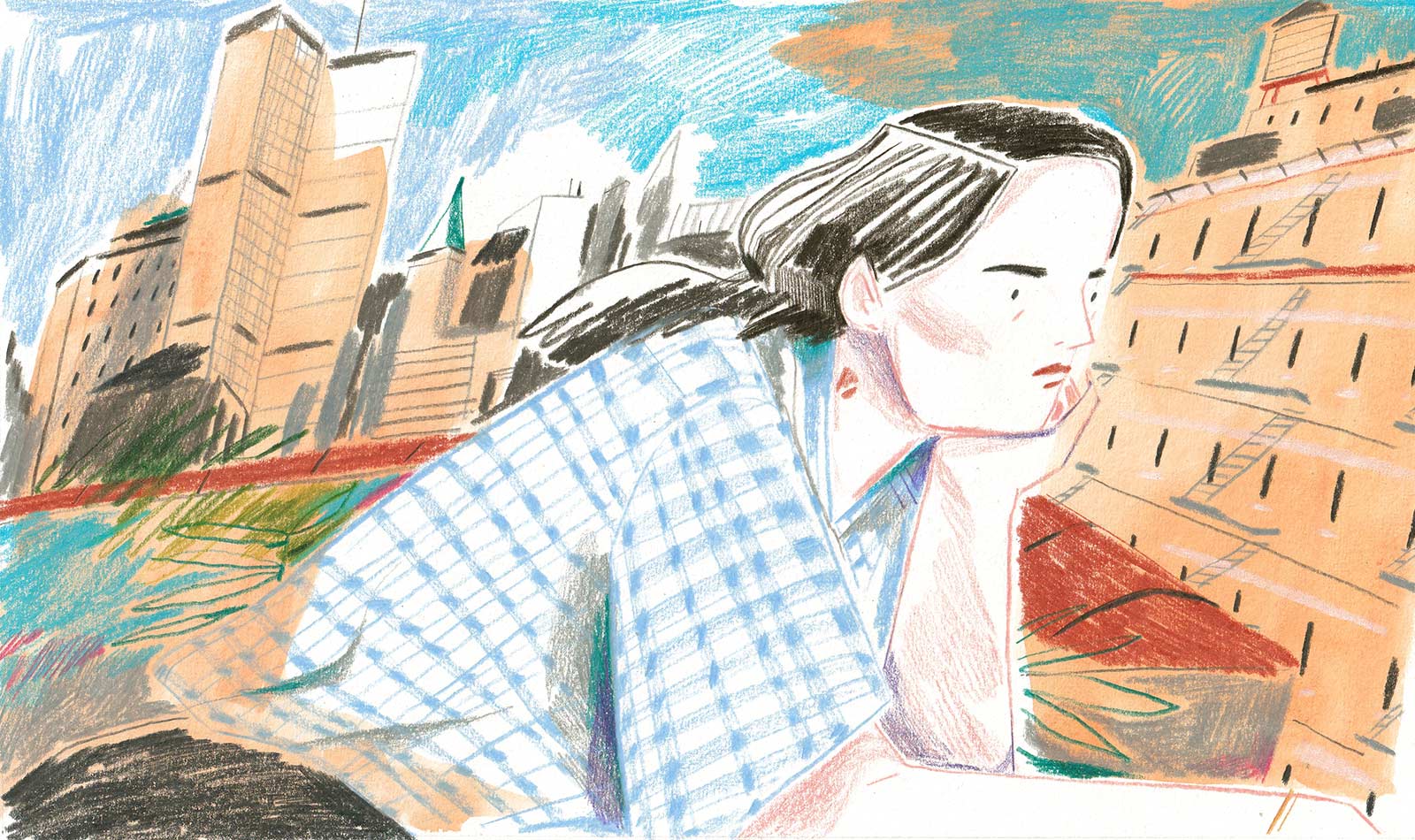 Resonance is a personal essay series where writers explore their emotional relationship to specific pieces of music. 
In my mid-twenties, I quit a mind-numbing bureaucratic office job in Seattle and headed to the East Coast for a month to split time between friends in New York City and family in New Jersey. Growing up, I'd been back East with family a lot; but this was my first solo trip, and I went in order to see if I had what it took to live there.
This was 1999, a year that seems mythological now. I was about a year or so away from my first cell phone, so I made a lot of calls from pay phones to coordinate where I was staying and when, and from what Greyhound bus or New Jersey Transit train I'd embark. I'd packed a Polaroid camera with me—the clunky kind where you flip up the flash portion. 
One muggy, hungover afternoon, I headed to the rooftop of the Brooklyn brownstone that my friend had shuttled me off to housesit after she grew tired of my chronic drunkenness to smoke a cigarette. I brought my Polaroid camera and snapped a self-portrait. If you look closely, you can see the fading hickey on the right side of my neck from the poet I met at the Nuyorican Poets Cafe where I'd taken part in a slam a few nights earlier. I'm wearing a blue and white gingham shirt that prompted a New Yorker I met to comment, "I see you're into that… thrift store chic." To this day, I still don't know if that was a compliment or insult. My face is in profile and the Twin Towers are in the background. 
Everyone has their own New York—a cliche borne out in countless songs, from Frank Sinatra's "New York, New York" to Interpol's "NYC" to Jay-Z and Alicia Keys' "Empire State of Mind" to LCD Soundsystem's "New York, I Love You But You're Bringing Me Down." For me, Manchester band Elbow's "New York Morning" captures the shadows of a New York that was very much on the wane by that summer in 1999, but the presence of which was still felt in the nightclubs and bars that, to both my delight and detriment, stayed open until 4am.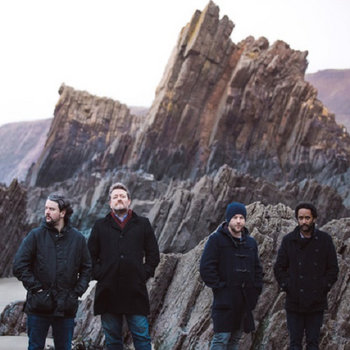 .
00:10 / 00:58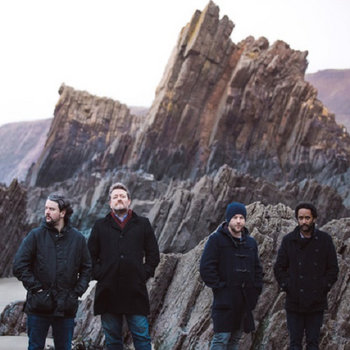 "Oh my God, New York can talk/ Somewhere in all the talk is all the answers," sings Elbow's Guy Garvey on their 2014 album The Take Off And Landing of Everything. The song starts out gently, like a slow awakening. From there, the lyrics follow an iambic pentameter of stressed and unstressed vowels, the rhythm quickening to evoke a city moving into full throttle. Garvey has a way of swallowing the end of words to start the next, which can make lyrics like, "It's the modern Rome, where folk are nice to Yoko," almost slip past you. 
Even more evocative of a bygone era is the song's video, starring the Brooklyn-born and based couple, Dennis Anderson and Lois Kahlert. The pair were friends with the Ramones, among countless other CBGB stalwarts, and were front and center for the birth of NYC punk. (Elbow wasn't the first Manchester band to recognize Dennis and Lois' contribution to a rock scene that spans more than 50 decades—the Happy Mondays have a track called "Dennis and Lois" on their 1990 album, Pills 'N' Thrills and Bellyaches.) 
The documentary-style video for "New York Morning" splices the song with interviews with Dennis and Lois in their house full of rock memorabilia and collectibles, and in their car driving around the city, talking about their time going to shows together, starting in 1975. 
"It seems there's a circle of friends, and when you get to know them, you get introduced to their friends," says Lois, "and the circle gets bigger. Like a family tree, with all these connections." It's a sentiment that applies to any group of fans during a band's early years, regardless of the band or the era.
Dennis describes how the couple went from "fandom to friendom" with the Ramones. Early in the video, one of them is leafing through a photo album with a couple of Polaroids of Joey Ramone sitting on a brown plaid couch in front of a wood paneled wall, presumably in Dennis and Lois' house. In one of the photos, Joey Ramone is inexplicably holding up a Smurf doll and pointing to it. 
I was a few years out of a gnarly divorce when Elbow played at the Showbox in Seattle in November of 2017. Elbow, along with Jose Gonzalez, soundtracked what turned out to be a long recovery from that marriage. Elbow's "Grounds for Divorce," with the opening salvo, "I've been working on a cocktail called grounds for divorce," served as a kind of rallying mantra for me, while also helping normalize something that, while very common, is a surprisingly shameful event once you're going through it. (This cover by hollowtechnic adds a Nine Inch Nails edge to the song that I'm not mad about.)
Knowing the show would be emotional for me, I bought a single ticket. Before I left the shitty rental where I was staying once it became clear that my ex would end up with the house we bought together, I wrote a thank you card for Guy Garvey. They played "New York Morning" and, for their encore, "Grounds for Divorce." I hung around after the show, and talked to a sound guy about going backstage so I could give the card to Garvey. I wouldn't have minded meeting him. But more than anything, I wanted to make sure he got my note. The sound guy was being unnecessarily dickish, so I finally gave up and handed it to him in the hopes he'd pass it on. 
After a seven-year battle with lymphoma, Joey Ramone died in April 2001 shortly before turning 50. (It's been confirmed that he was listening to U2's "In a Little While" from their 2000 album All That You Can't Leave Behind when he passed.) The Twin Towers fell five months later. Five years after that, CBGB's closed. Although I've visited the city countless times since that summer, I never felt like I had what it takes to live in New York where, as Garvey sings, "Everybody owns the great ideas/ And it feels like there's a big one round the corner." And just like I can't remember if I ever went to a show at CBGB's, I can't remember what I wrote in that note to Guy Garvey.
In 2018, the full-length documentary Dennis and Lois was released. They're in their 70s now, and even though Lois was injured by someone stage diving into a mosh pit, they still tour with bands and work the merch tables.
"Most of the things we knew and loved are gone," Lois says at the end of the video. "But we're still here."
Katie Kurtz is a Seattle-based writer. She is working on an investigation and historical narrative about the murders of three of her Seattle high school classmates that have gone unsolved for thirty years. Twitter: @MsKatieKurtz