RESONANCE
You Cut Your Hair and Made a Friend: Ladytron's "604" and "Light & Magic"
By Richard Conway · Illustration by Luis Mazon · January 10, 2022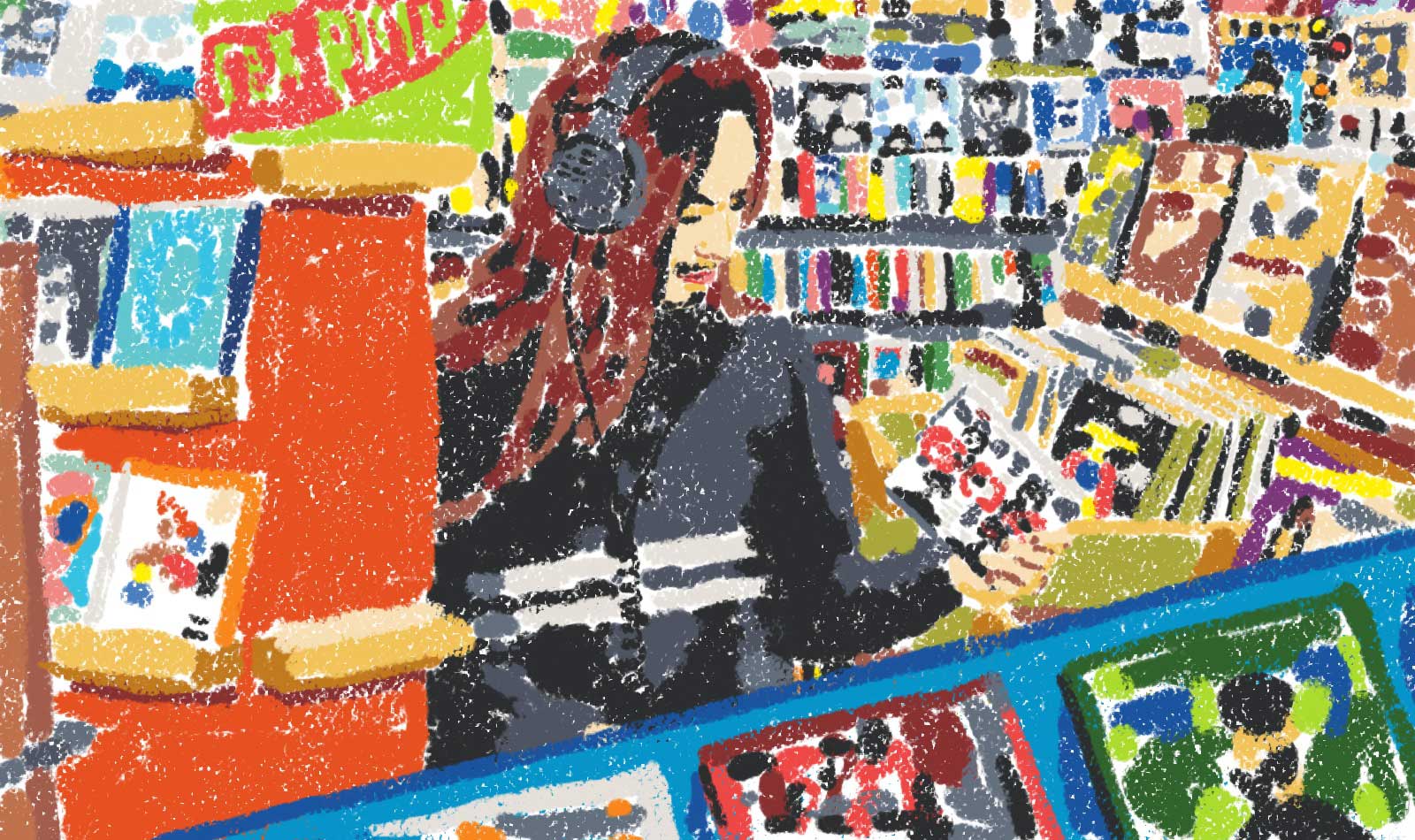 I've always liked how my teens were bookended by the '90s. I was born in 1980, and that means that the second digit of my age spends a lot of time corresponding with the second digit of the year: I was 13 in 1993, 19 in 1999. I loved how neat it felt as a youngster. And as an adult, it has allowed me to easily map musical styles onto periods of my youth: Early teens? House music. Mid-teens? Grunge. Late teens and early twenties? Electroclash. Or, more specifically, the band that defined my nascent adulthood: Ladytron.
I would never have admitted any of this back then, though. There was no such thing as changing your mind in the '90s—musically, anyway. It was an era of purism, of gatekeeping. You could like whatever you liked so long as you stayed in your lane. The thing is, I had been a fan of house and Eurodance in my early teens—genres that were popular in my native Dublin—but ditched them almost overnight for grunge when a friend and I started hanging with a group of Seattle sound enthusiasts we'd long admired. Under '90s rules, I was a total sellout—and I definitely felt like one. I'm probably being a bit harsh on myself. I guess teenagers are fickle by nature.
Either way, I remember taking the grunge world very seriously. I purged all traces of my dance-loving past: Gone were my squeaky-clean sneakers, oversized quilted jackets, and center-parted hair; and in their place came tattered Converse, knitted sweaters, and bleached neck-length locks. I bought every album considered a foundational text in the world of grunge and put so many of my pop electronica CDs in my parents's attic that today, I still find the better-hidden ones when I visit to help with holiday decorations.
My new friends were a perfect study in the intensified dropout culture of late Generation X. We'd hang out on street corners, smoke rolled-up cigarettes, and when we got a little older, drink in alt-scene dive bars. It was all great fun. But I had a secret: I was in the closet. And even though the crowd was as socially liberal as you could get, I tried to present as resolutely straight to everyone.
When Y2K finally rolled around, I was feeling antsy. I had a string of ex-girlfriends—we're mostly on good terms today!—but didn't know how I'd ever get a boyfriend. I was bored of grunge. All around me, what's now called the Kaybug aesthetic was blossoming. Culture had moved on; I hadn't. But I wanted to. That's when I came across Ladytron's 604 at a listening station in a downtown music store.
Within minutes of giving the album a whirl, I was obsessed. "Playgirl, why are you sleeping in tomorrow's world?" Helen Marnie sings. This stripped-down electro sound was certainly waking me up. It sounded utterly familiar and totally new. Ladytron's work had overtones of late '70s and early '80s synth with just enough sardonic detachment to ease-in a now-former grunger. Forget dingy gigs and suburban house parties; I knew this tinny, sometimes brash ambience was the future.
604 marked the start of a total lifestyle change for me. I left the suburbs, moved into Dublin proper, and totally embraced the burgeoning electroclash scene. It was a scene Ladytron defined—at least for me—and a scene that I could see overlapped with the LGBTQ+ world in many ways. Ladytron had given me the confidence I needed to step out of the shadows and into adulthood. They were my way in.
Pretty soon, I started going to local LGBTQ+ meetup groups. I didn't ditch my friends, but some of us naturally drifted apart. I was happy to discover that my closest buddies seemed to be on a similar journey to me, musically. I embarked on a second major style change, too. This time, loose-fitting clothes were out and figure-hugging skinny jeans were in. I chopped off my long hair and got the then-infamous Hoxton fin fauxhawk. Hunting for zines was now a distant memory. Life had become about flaunting the latest issue of The Face. Oh yeah, and I started dating guys.
A little later in 2001, I moved to New York; a city where electroclash was a fast-evolving genre. I spent that summer lapping up this new world and wandering around Williamsburg listening to Ladytron on my Discman, awestruck by pretty much everything. I had intended the move to be long-term, but it was cut short by 9/11. (I moved back to the city a decade later and stayed for six years, but that's a whole other story.)
.
00:10 / 00:58
Back in the Dublin of 2002, I had become a fully out scenester. I landed myself my first serious boyfriend and had started going to clubs and events four times a week. That same year, Ladytron dropped the sublime Light & Magic. It's an album that solidifies their identity as an act. And it came out as I had fully realized my identity as a gay man. I had returned home to my electronica-loving roots—and this time, I definitely didn't feel like a sell out. "You cut your hair and made a friend/ Now they're falling into you," Marnie sings in "Light & Magic." For me, Ladytron will always represent momentous change—and endless possibility.
Richard Conway is a writer and editor based in Dublin, Ireland. His work has appeared in Time, Dazed, Wallpaper*, and BBC Worldwide, among other outlets. Twitter: @richardjconway