RESONANCE
You Are So Angry: I Am Just A Pupil's "12 Hours of Full Relaxation"
By Ashley Bardhan · Illustration by Luis Mazon · August 03, 2021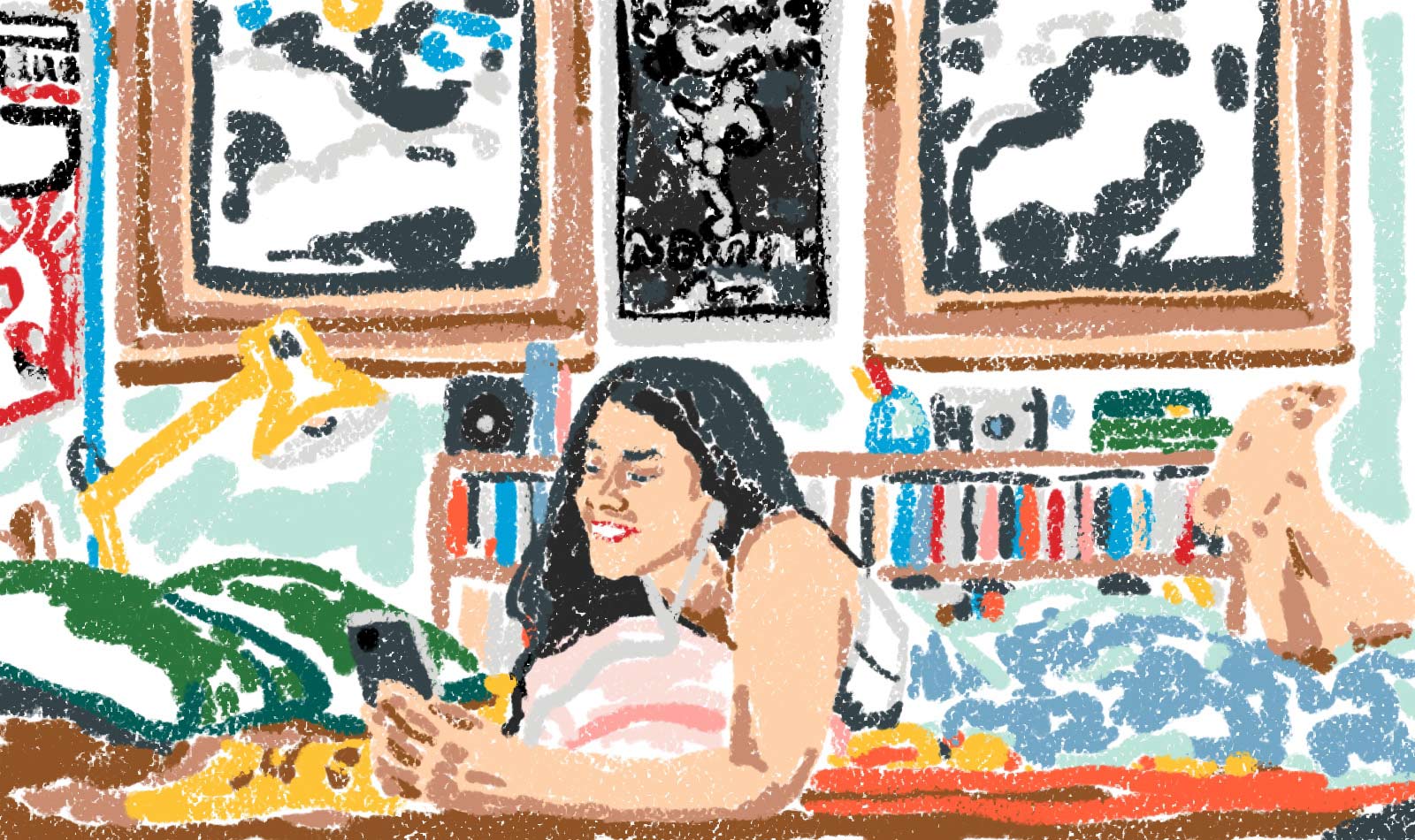 Resonance is a personal essay series where writers explore their emotional relationship to specific pieces of music. 
For most of my life, I would describe myself as "boy crazy." When I was in preschool, I became jealous every time my college-aged male teacher spoke to a woman his age (problematic) (of me). In middle school, I tried to understand my pubescent body through hundreds of pages of My Chemical Romance fan fiction (problematic?) (of me?) and had my first boyfriend. By the time college came around, I was ready to know what this whole "sex" thing was about, but for the most part, I was too nervous to have it—until 2017, when I met a guy who almost certainly liked the band Beirut more than he liked me.
One night during winter break, pining from my childhood bedroom, I got a text from him. "I think this song is what your brain sounds like," he wrote along with a link. I clicked with hesitation, expecting something obnoxiously cute that would affirm my position as the manic pixie dream teen I loved turning myself into. Or maybe, like, Interpol. But "Family Dollar" by I Am Just A Pupil, real name Joshua Clark, from his 2015 album 12 Hours FULL RELAXATION, is neither.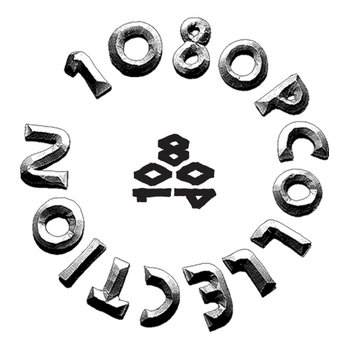 .
00:10 / 00:58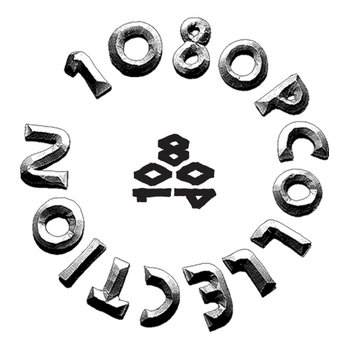 Immediately as the song begins, there's a lisping piano, weighed down by sweetness and sadness. "Motherfucker! Bitch, I'm crazy, too!" someone screams while cymbals clang, spilling out over the piano as it gives way to wilting strings, tossed to you like a bouquet with no one else to catch it. It's a song of contradictions: abrasive and velvety, cynical and wistful. It wants you to hold onto your bouquet. Then it wants you to laugh and slam the flowers, the spray of baby's breath, to the ground, and crush it all with your heavy big toe.
I soon became obsessed with 12 Hours, fascinated by its embarrassed beauty, the way it collaged humanity—Clark samples a button jar of people and things, New Age musings on laryngitis, a news segment about the importance of social media, a child crying "I can't see!" from Netflix's Daredevil (2015-18)—and made me feel seen by a boy that I was also pretty obsessed with. "What, did you think I would send you something bad?," he said after I told him how much I loved "Family Dollar."
I started listening to 12 Hours daily, usually letting it play all the way through while I did my tasks, and then replaying it. The teary screeching of "Romance and Mourning" guided my essay writing. I maxed out iPhone game scores while the reverberating toddler in "Oasis" asked Siri, "Where is McDonald's, McDonald's, McDonald's?"
I listened to it through the semester, through morning seminars and nights drinking tasteless white cans of Genesee Beer. I let the boy yell at me, tell me he was going to kill himself, and then I took a walk through the graveyard. We kissed, we fought. I called my mom—her and my dad were kissing and fighting again. By 2018, the boy started dating his then-ex-girlfriend, and I couldn't bring myself to listen to 12 Hours of FULL RELAXATION anymore, although I probably could have used 12 hours of full relaxation.
I started to lose my mind a little, laying face down in dirt (for the aesthetic), curling into myself like a shriveled snail waiting for a friend to tuck me into bed. I wanted to feel babied, cared for, loved. I didn't want what I felt: gutted, lonely, meaningless.
I started to admit that I was more like my mom than I wanted to be. She always chose to stay when she shouldn't have, turning her head from my father spitting on the car window across from me, punching my grandfather in the face and making his nose bleed. 12 Hours reminded me that I was not immune to this blindness. I made the choice to stay with someone who hurt me until he left. 12 Hours is filled with people in pain. It makes fun of them and it lets beautiful music hold them together like umbilical cords. But that felt too much like chaos or complexity. I didn't want to hear it.
I felt worse in 2019, when I learned that 1080p, the label behind 12 Hours, had shuttered because its owner was accused of abusing women in his life. Although I hadn't listened to it in a while, "Family Dollar" still lived in a warm spot of me, a souvenir of feeling understood by someone that I loved. But hearing about the allegations made me feel small. Everywhere I looked in my life—my home, my music, my bed—seemed to be crowded with men: men that hurt women, men that I couldn't see myself living without. I started to understand my lifelong boy craziness as a convenient, sometimes stupid, sometimes brutal, way of avoiding myself and the open wound of my childhood.
The start of the pandemic in 2020 gave me very little choice but to sit with that thought. I cried a lot, slept little, and attended therapy biweekly. Sometimes I felt like all the anger I had would kill me. Men sent me weird messages on the internet, I watched Jacques Demy movies and realized that so many of them featured old men and crying, younger, female companions. That makes me angry. I think I'll always be angry.
But I've started to accept that everyone is hurting each other all the time, and we're all still here figuring out what that means to us. I started listening to 12 Hours FULL RELAXATION again, but not with the all-encompassing fixation I once did. I can listen to it and let it go, which cyclical song titles like "Naked and Afraid," "Speechless," and "Ashes" seem to encourage. I can be aware of the allegations against 1080p and also know that, although abuse is everywhere, it doesn't have to slow me down more than I allow it to.
"Laryngitis usually means you are so angry you cannot speak," a woman repeats over an offensively serene piano and the bright twang of a reverberating sitar on "Speechless." It's still difficult for me to put words to how I feel about my life or what I used to do to it, but I'm learning to live with a sense of fractured, no-words chaos. 12 Hours of FULL RELAXATION certainly finds it possible, and it's become my occasional soundtrack for accepting ugly truths with open, happy hands. I also like knowing that no matter how terrible people can be, there's space for beauty and music.
Ashley Bardhan is a writer from New York who covers culture, sex, and other things people like. You can find her in Inverse, Pitchfork, and talking about her soy allergy. Twitter: @ashleybardhan