LISTS
Trouble's Reissued Classics Reveal the Roots of Doom Metal
By Jeff Treppel · July 20, 2020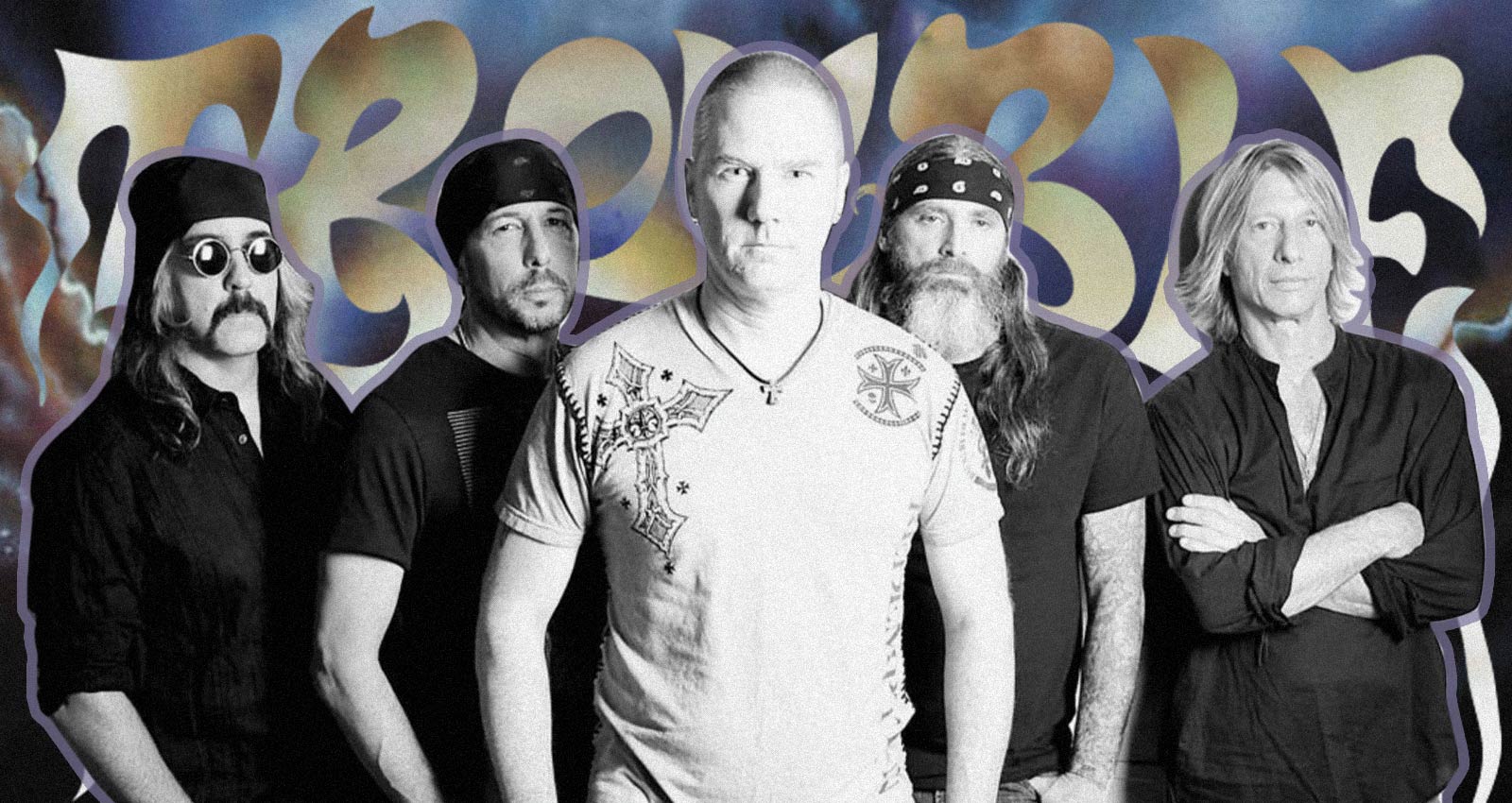 The doom metal of today is host to a wealth of subgenres—the fact that death-doom and blackened death-doom are recognized as two separate genres is a good indication of how micro-level fans of the genre can get. But it wasn't always that way. When the Chicago group Trouble formed in 1979,  not many other acts were playing it low and slow; even the legendary Black Sabbath had (temporarily) fallen into disarray. "We knew of Angel Witch and Pentagram, but I really can't recall any others at that time," says founding guitarist Rick Wartell. The quartet are now considered one of the pillars of the genre's early '80s renaissance, alongside Pentagram, Candlemass, and Saint Vitus, but their albums have been out of print for years. Now, thanks to long-running Dutch label Hammerheart, most of their classic records are remastered and ready to be rediscovered by a new generation of doom fanatics.
The band went through multiple lineup changes over the years, but the core trio of singer Eric Wagner and guitarists Wartell and Bruce Franklin remained consistent through the band's original 1979-1995 run. Wagner followed the Ozzy Osbourne school of singing; he may not have been the most technically adept vocalist, but his raw-throated howls carried a sense of menace that perfectly complemented Wartell and Franklin's dual guitar harmonies. Their first two albums are rightly regarded as classics, and Wartell thinks it's because their Sabbath-inspired style served as a breath of fresh air amongst the speedier New Wave of British Heavy Metal and thrash bands. "Maybe because there was a need for more bands to offer something that was lacking at the time. And since we were doing it at an early stage, people may regard it as being pioneers."
For Wartell, the reissues couldn't come at a better time: "Being that we are actively preparing to record a new record, the timing seems pretty right." Here's an overview of their Bandcamp catalog thus far.
Widely heralded as a cornerstone of doom metal, Trouble's first album, released on renowned independent label Metal Blade in 1984, is built upon a musical and lyrical foundation far removed from that of their peers. Their take on the Sabbath sound built on the Birmingham quartet's work, but their roots weren't in the blues like Sabbath's; Judas Priest and Thin Lizzy's guitar harmonies (and the former's razor-edged tone) informed their work just as heavily. They had an intensity that stood out from the other doom revivalists. And while nascent first-wave black metal bands like Venom and Celtic Frost traded in Satanic themes, Trouble looked to the Bible for lyrical inspiration—although they deny having a religious agenda. Wartell confirms that the lyrical approach was influenced by songs like "After Forever." "When we decided on what style of music we were going to attempt, it just made sense, seeing that our biggest influence was Black Sabbath. We did try to invoke a more hippie aspect to what we did, but it really didn't show much until later." He's right; other than the Iron Butterfly-style organ on "Victim of the Insane," you'd be hard pressed to call the band flower children.
Their second album, written at the same time as the first, took a much darker approach. The tempos were slower, and the production emphasized the guitars' fuzz and the bottom end's trudge. "As far as the music, the first two records were already written before we recorded either. We did, however, plot out which songs would fit each album and wanted The Skull to be a darker, more depressing offering." Wagner was dealing with drug dependency issues at the time of the recording, which also contributes to the album's bleak mood. He parted ways with Trouble for good in 2008, but the group's legacy lived on in his subsequent project The Skull (also featuring original drummer Jeff Olson and longtime bassist Rob Holzner), which was named in honor of the aforementioned LP.
As the '90s dawned, Trouble decided it was time for a change: in the wake of their last Metal Blade release, 1987's Run to the Light, they migrated to Rick Rubin's Def American label, brought in drummer Barry Stern, and signaled the start of a new era with a self-titled release. Funnily enough, it actually felt more like Black Sabbath than their previous work, leaning into the bluesy rhythms and sinister swing of their primary influence. Although Rubin also shepherded classic records from Danzig, Slayer, and The Black Crowes that year, he found time to mentor Trouble as they pursued a heavy blues direction. "He basically showed us how to get more from our writing within the element of each song," explains Wartell. "He called us the band with a million parts, and steered us into writing with more of a song structure in mind. Looking back, we did tend to add parts to songs for no apparent reason." This approach is most evident on tracks like "The Misery Shows (Act II)," a seven-and-a-half minute tune that could've ventured off into self-indulgence, but instead stays focused on emotive guitar work reminiscent of Pink Floyd's '70s prime.
Rubin's guidance and the stylistic change had paid off. "We did actually break to a much larger audience and fan base, and we were selling more albums than ever. The key is to continue the path—which we did not, for many reasons." Instead, they leaned into the hippie aspect, nodding to psychedelia and, on songs like "Come Touch the Sky" and "Fear," even a bit of Hendrix-style funk. "We've always had the psychedelic thing in our writing and playing; it just never showed as much until Manic," Wartell explains. To be perfectly honest, these are the songs that came out of us at this particular time. Nobody knows what spawned it, really. We have always been a band that were always looking for new ways to express ourselves. Maybe it was time to try a heavy dose of psychedelic." Across the record, the band offer up just that: "Rain" continues the Floyd nods, whereas "The Sleeper" ponders what's happened to peace and understanding.