LISTS
Hummingbird In A Cube Of Ice: Thinking Fellers Union Local 282
By Katie Kurtz · October 20, 2022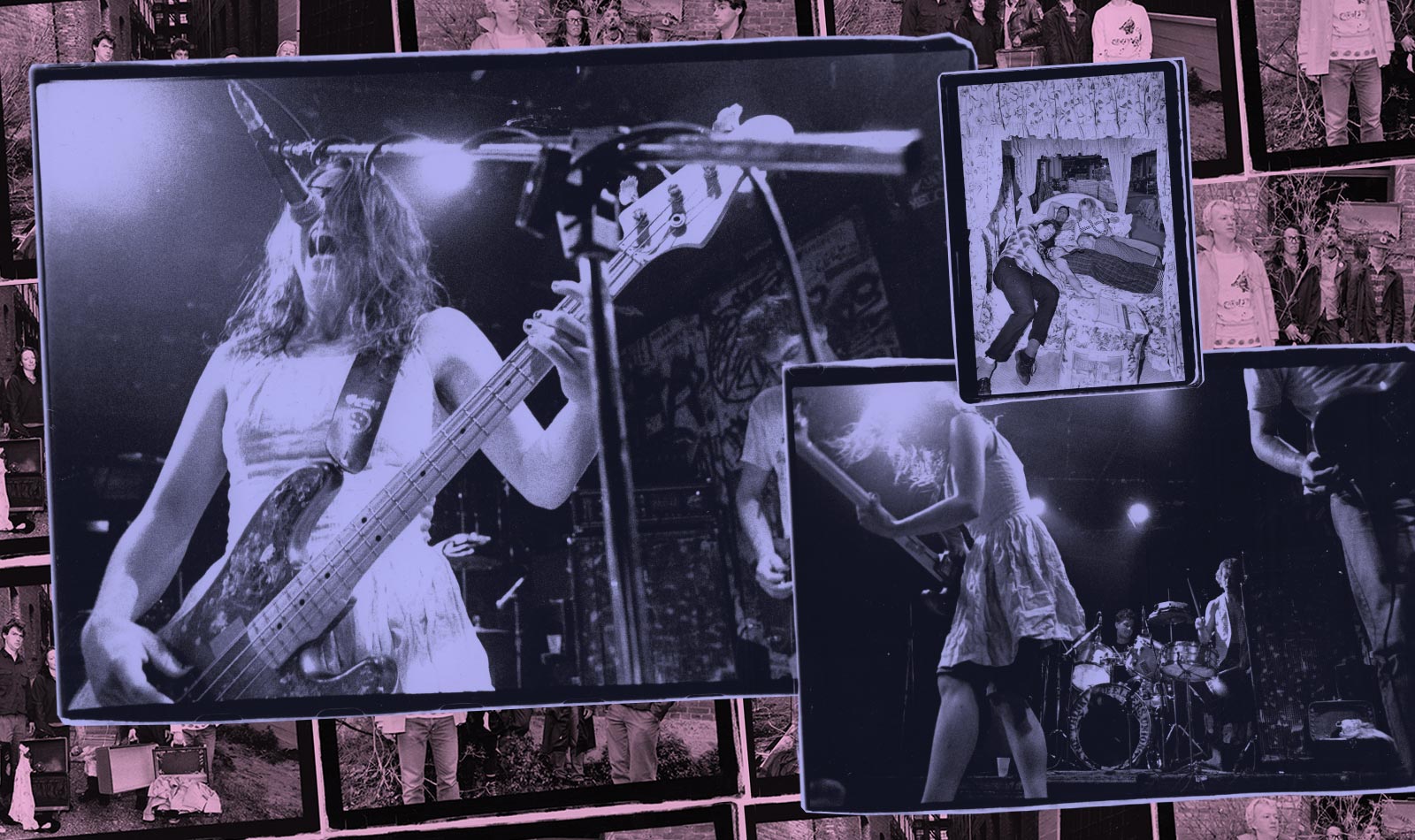 The year was 1986. Iowa was suffering a farming crisis worse than during the Great Depression, MTV had been on the air for five years, and the word "Walkman" entered the Oxford English Dictionary for the first time. Against this backdrop, four musicians decided to leave their beleaguered home state of Iowa and move to San Francisco.
A cinematic opening befits Thinking Fellers Union Local 282, a band that resisted funneling everything into a monolithic, every-song-easily-recognizable and marketable sound, leaning instead into influences that range over movie soundtracks, Spaghetti Westerns, bossa nova, marching bands, late-night theater on AM radio, exotica, and jazz. The band members are mostly self-taught, with Anne Eickelberg (bass, vocals) and Mark Davies (vocals, guitar, bass, banjo) having a smidge more formal musical training in high school than Brian Hageman (vocals, mandolin, guitar) and Hugh Swarts (guitar, vocals). Guitars carried a lot of the rhythm section for early projects and expanded once Jay Paget joined as their drummer in 1990.
Postmodernism had a chokehold on the art world when the band formed, and it's perhaps more accurate to think of TFUL282 as a postmodernist band than trying to square them up with any musical genre, especially since "experimental indie rock" (as they have been tagged) now describes everything and nothing all at once. TFUL282 has a tendency toward pastiche—sincere homages to the past with a touch of parody—in creating their sculptural songs and what fans dubbed "Feller fillers" in both process and product.
Cut and paste; photocopied; and hand-distributed zines were part and parcel of the 1990s alt-culture zeitgeist when 24-hour Kinkos and access to workplace photocopiers were novelties. The band took advantage of audio recording equipment being more accessible and used it as the basis for a zine-making approach to their song-crafting. In a conversation with Davies, he said they'd gather to jam, flip on the reel-to-reel tape recorder when things got interesting, distill those tapes down to parts they found especially interesting, make compilation tapes every few months, pass them around, and decide on their favorites. Then they'd rework them by either developing them into a song or just leaving them as short interludes—the "Feller fillers." This approach often contributes to jarring transitions, as the instrumentation suddenly skids into a second or even third new song. Sometimes the original chord progression is revisited; oftentimes, it isn't. Combined with vocals that veer toward spoken word and more straight-up screaming, it all feels true to the intrinsic DIY ethic of the group.
Everything came together in their live shows, where the mid-song change-ups worked for their devoted audience. TFUL282 toured extensively starting in 1990 through 1996, completing about ten national tours with acts like the Sun City Girls, Polvo, Red, Red Meat, and Babe the Blue Ox. They also toured with Live, which Mark Davies called a "pretty bizarre experience" mostly because it was the first, last, and only time they did anything resembling an arena show. They tapered off a bit at the end of the decade until a few reunion shows as part of Animal Collective's All Tomorrow's Parties festivals. People are still talking about their final show at Asbury Lanes in Asbury Park, New Jersey in 2011. (As of October 2022, there are currently no plans for live shows.)
The lasting influence of TFUL282 is hard to gauge as a lot of current bands seem to follow in their lineage, whether they're aware of it or not. It's perhaps too obvious to call out John Dwyer and his many iterations of the Osees as part of TFUL282's legacy, as he was coming into his own in the Bay Area at the tail end of TFUL282's most active years. Deerhoof shares a similar timeline as the Osees with about a quarter of the tracks on their first album The Man, The King, The Girl being minute-ish long, colliding noise experiments. Ty Segall is another possible Fellers grand-nephew. But they're all from California, so perhaps the thread can be found somewhere along the I-5 corridor?
What really unites these musicians across the decades (besides sharing the experi-psych-noise-indie-alt tags) is a commitment to their craft while remaining unaffected by the machinations of the larger music industry. They have put in the work to cultivate dedicated fan bases, perform at small to midsize venues, release on labels that host around a hundred and not thousands of acts, and social media is a tool for their fans and not the basis of their identities. Call it punk or indie or alternative or whatever, but basically, they have maintained their autonomy to do whatever the fuck they want and trust that their fans will come along with them.
There have been a few nods to TFUL282 in recent years. The National, originally from Ohio, served up a triple Midwest homage by dropping Mark Davies's haunting lyrics from "Noble Experiment" (sung by Eickelberg) into their 2019 song "Not in Kansas." Ryley Walker is the easiest cousin to locate as he's vocal about his fandom and sells t-shirts he made for "the best band ever." The t-shirts started as bootlegs but have since been approved by the band, with proceeds benefiting Punks With Lunch, a West Oakland non-profit providing harm reduction and other services to underserved communities.
The curtains are opening again on Thinking Fellers Union Local 282 with the limited edition vinyl reissues of Admonishing the Bishops and Strangers From the Universe. Sublime Frequencies, a Seattle label dedicated to surfacing obscure recordings that include a lot of the same elements that form the basis of the TFUL282 sound, launched Bulbous Monocle as a specialty imprint for redistribution. And luckily for old heads looking to confirm when and where they saw them before the internet was invented and new converts surfing a TFUL282 bender, the band has maintained an extensive website that includes tour diaries, photos, a timeline, and more.
Below is a guide to the TFLU282 records available on Bandcamp. Most of their albums can be found here, and the vinyl reissues here.
---
TFUL282 were signed to Matador Records (one of the few labels at the time actively looking to sign more than just grunge bands) by Gerard Cosloy in 1991. Clocking in at 22 tracks, Lovelyville lays the introductory groundwork for a TFUL282 journey.
The four tracks starting with "Mother Uncle Delicious Tasty" through "Push," are less than 55 seconds and exemplars of Feller filler: snippets of talking, practicing, found sound, and general fucking around. "More Glee" is one of their multi-directional songs, starting as a bright pop song before the vocals rip into a falsetto backed by heavy droning, then moving into laughter and more stripped-down garage rock.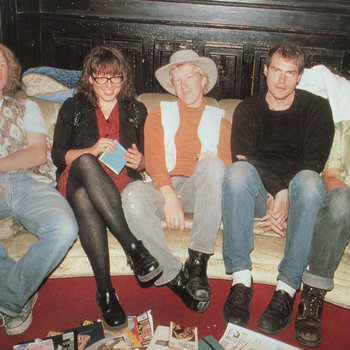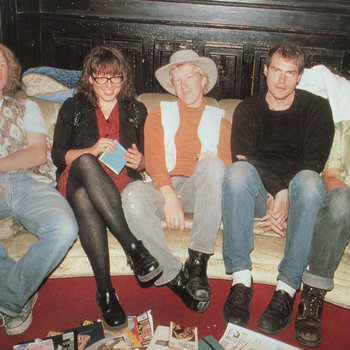 Merch for this release:
Vinyl LP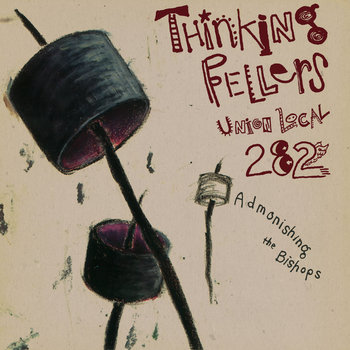 A tight 4-song EP, Admonishing the Bishops was recorded while the band was on tour with Sun City Girls and passing through Chicago. They stayed a few days, hooked up with prolific post-punk and underground audio engineer Bob Weston, and recorded at influential producer Steve Albini's studio. Weston and Albini are two parts of Shellac (along with Todd Trainer on drums) and their influence is detectable in the opening track "Hurricane," a pretty standard early '90s shoegaze song, as well as the EP's overall more balanced sound, making Admonishing one of TFLU282's more accessible albums—something critics and fans alike tend to agree on.
Merch for this release:
Vinyl LP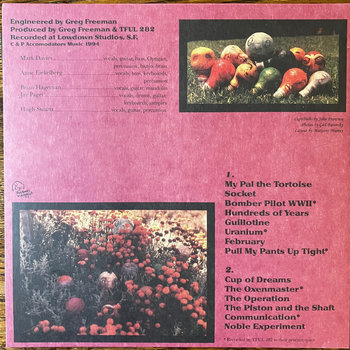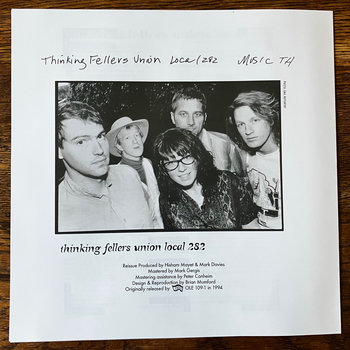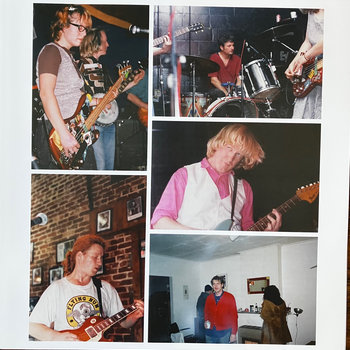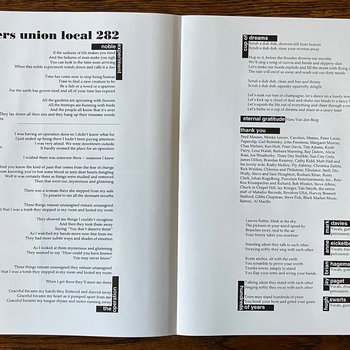 Having produced several of their earlier albums, San Francisco super producer Greg Freeman's symbiotic relationship with TFUL282 had evolved by the time they were working on Strangers From the Universe. Freeman, bassist for The Call and Pell Mell, also worked on albums with Barbara Manning (a singer-songwriter often mentioned as part of the TFUL282 universe), the Dwarves, and Royal Trux.
"My Pal the Tortoise" is a fan favorite, its circus-y Oompa bass driving the story of a tortoise that lives the life of a madman. TFUL282 lyrics tend towards character-driven storytelling, with various personalities appearing throughout Fellers lore. Many were created while logging long hours touring in their '91 Dodge van; even the name Thinking Fellers Union Local 282 (which was initially a placeholder name for one of their first shows) came from them riffing on what a gathering of intellectual farmers might call themselves.
Iowa was the epicenter of the mid-1980s family farming crisis, caused by a confluence of Ronald Reagan's spending cuts, droughts, massive personal debt, and fluctuations in the price of commodities. By 1983, over 500 auctions were being held a month, but farmers were still defaulting on loans, which contributed in part to the Black Monday stock market crash in October 1987. Then the suicides started.
Brian Hageman, who grew up on a farm, wrote the lyrics to "Elgin Miller" based on a composite of different farmers his family knew. The racing, upbeat instrumentation is offset with a hint of darkness in Brian's voice as he sings even darker lyrics:
The mystery—was it suicide?
If it's so, I wouldn't be surprised
August's breath, moist and heavy, aging frame
Well lemonade—now that sounds fine
The first Farm Aid in 1985, organized and featuring performances by Willie Nelson, John Mellencamp, and Neil Young, raised $7 million ($19M in today's money) for American farmers. It's now an annual event drawing smaller and smaller audiences, its origins seemingly all but forgotten.
The title of their final album is a testament to the band's casually brilliant goofiness. "He Keeps Himself Fed," a ten-minute long tour de force, opens with a sample of the distinctive Joker laugh, lays into a heavy rock guitar riff and pounding rhythm, then fades out into a ghoulish chant, and suddenly we're in space listening for distant emissions before it heads into a long mellow psych sesh. This is the song TFUL282 would play last before the encore.