LISTS
The Vitamin B12 Remains an Elusive Figure in European Improv
By Neil Fauerso · November 29, 2017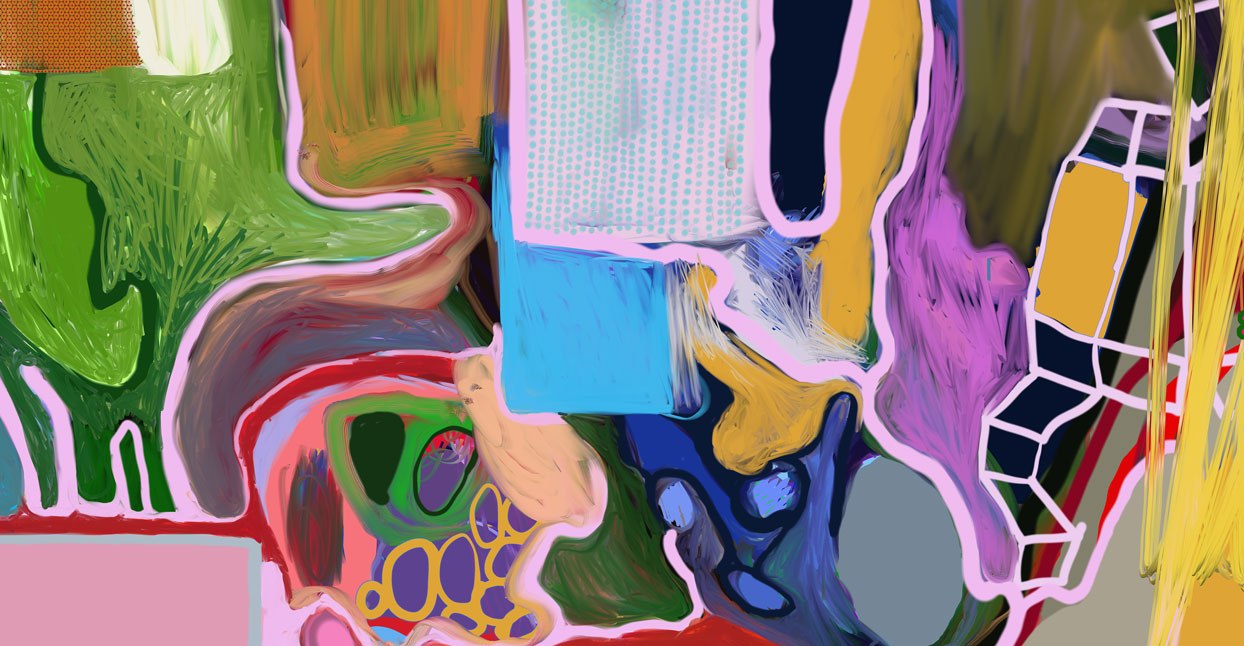 Some artists, like Beth Gibbons or D'Angelo, allow years—even decades—to pass between releases, so each new album becomes especially momentous and symbolic. Other artists, from Sun Ra to Lil Ugly Mane, release so much music so relentlessly, each album feels less important than the constellation it forms. And then there's UK-based Alasdair Willis, who makes music under the name The Vitamin B12. Active since the mid '80s, Willis is primarily known for A legendary 4xLP box set that compiled selections from various free improvisational sessions from his Brighton loft in 1986. In the intervening years, The Vitamin B12 has proven to be an elusive figure in the European free improvisation scene, which also includes acts like Nurse With Wound and H.N.A.S.
But this summer, Willis began releasing—and releasing, and releasing—Vitamin B12 albums and archives on his Bandcamp page. To date, Willis has issued so many tapes, albums, and live sets that it's genuinely hard to quantify the total amount of music presented on the page—and he continues to add to it. Willis makes Robert Pollard look like Mark Hollis.
But what makes The Vitamin B12's expansive catalog so remarkable isn't the number of albums—it's the range of genres and sounds. Willis traffics in experimental music, jazz, lounge, kraut-rock, punk, minimalism, surf-rock, hard techno, dirty blues, and more.  "The Vitamin B12 page on Bandcamp, it's like an archive," Willis says via email. "Stuff that would otherwise just sit on some hard drives in my room, you never know, someone may want to listen to some of it. And if not, well, that's okay."
Born the youngest of six children in Crowborough, England in 1962, Willis was raised in what seemed to be a fairly bucolic upbringing. His family had a broken piano in the house that they were forbidden to play because his mother, blessed with perfect pitch, couldn't stand the sound of it. Willis recalls, "Being captivated by the weird echoing strings when they were plucked. Hitting the keys produced an eerie clatter or perhaps nothing at all." Willis' drive to create his own sonic universe was apparent from childhood as he made his own "private" radio station. "[It] was in the bedroom cupboard, principally consisting of me, my sister's reel-to-reel and a microphone. Lit only by the tape-recorder's VU meter, a three-color torch, and some glow in the dark plasticine, I was DJ, special guest, and writer of all the songs that were thought up off the top of my head as I recorded. Then I'd play the tape back, broadcasting only to myself, in secret, in the dark, in the cupboard."
The Vitamin B12 was formed with the same ease as his childhood projects. "It was three unemployed art graduates who shared a house and a Tandberg 4-track tape recorder in Brighton," Willis says. "We all liked messing around with musical instruments and making a noise, and sometimes this was recorded. Sometimes, we'd figure something out—a set of rules, a process—and record that. We found the name on a jar of Marmite and then performed as The Vitamin B12 at the Zap Club in Brighton. The name 'The Vitamin B12' was subsequently typed onto a cassette tape I recorded that same week. Each week, we performed under a different name, but all the cassettes had 'The Vitamin B12' typed on them."
Since then, members have come and gone, and Willis has remained the central guiding force (not unlike Mark E. Smith in The Fall, or Captain Beefheart). Willis is less authoritarian Svengali than extremely chill facilitator of jams, often times recorded in his Brighton loft (there are literally dozens of hours of improvisational loft sessions on Bandcamp).
The free, casual approach results in a lot of material that can be inconsequential, but that's part of the charm, and the joy and ease with which Willis and his rotating band plunge headlong into a dizzying array of genres and experiments is intoxicating. It also accentuates the jolt when one comes across a truly brilliant, stunning track, a track that gives one pause over how something as vital and effortlessly original as Eno, or Simon Fischer Turner, or Can could remain so obscured or even unheard. Here are some of Vitamin B12's Bandcamp highlights.
4-LP Box Set Extended Play (red box and blue box)
Extended Play was recorded between 1986 and 1990, and originally released as a 4lp box set (originally intended to be 7). Now, Willis has released all 70+ tapes that went into the creation of the box set.  Recorded onto cassette (and often re-recorded) and using a Tascam-488, the music on this release is decidedly lo-fi, but oftentimes wondrous and haunting. Its contents span pure improvisation, motorik instrumentals, elegiac ambience in the vein of Woo and Virginia Astley, and scabrously raw "blooze," like a proto Jon Spencer or Bog Log III; if Willis had done nothing else, he already would have created a world.
Of the four selected tracks, Tape 04 Track 08 off the red box and Tape 35 Track 02 off the blue box demonstrate Willis' icy glide with little more than a drum machine, a guitar and a theremin. Tape 59 Track 05 off the blue box is perhaps the filthiest white blues I've heard, an acid-brined dirge that makes "Sister Ray" sound like "Judy Blue Eyes."  Tape 02 Track 06 off the red box showcases Willis' abilities with sampling and looping, cycling an eerie voice in a rhythmic spiral recalling the albums of Deux Filles.
The Heads Series
Recorded from the mid '90s to the mid '00s, the Heads series find Willis in a playful, fractured mode, experimenting with various forms of kitsch. On volume one, recorded in the mid to late '90s. "Most of the original B12 members had taken off in different directions, but I continued on with what I imagined to be generic and library music. Think of KPM, Boosey & Hawkes, Bruton Music, Music De Wolfe and others of that ilk. I was in my own little world." On "Suture Wound," Willis chops up silly ER room samples with a louche, rollicking lounge beat, creating a hypnotic track that sounds like something out of a Dutch show set in an island hospital.
2-LP Gatefold Set
Recorded in the mid to late '90s, Willis creates a jittery, cut-up collage of easy listening and exotica. "Speech samples were sprinkled in to create weird obscure narratives," Willis says. "The music samples tended to be filched from easy listening albums since they were nicely recorded and atmospheric. Thinking that these tracks sounded a little more commercial than my usual work, I tried sending them to various labels. It later dawned on me that perhaps my idea of 'commercial' was a little skewed."
"A Tropical Paradise" is a Dadaist fusion between driving '90s IDM, exotica and nonsensical vocal samples that sounds as if Martin Denny, Aphex Twin and an episode of the Twilight Zone were put in the machine from David Cronenberg's The Fly.
The Nedits series
The Nedits series is comprised of live recordings from Willis' loft between 2007 and 2009 that were later edited by Nick Langley into smaller, more listener-friendly sizes. Willis' loft is the center point for much of his musical creation and improvisation. "Even now, almost every week, twice a week, people turn up to play in my loft," Willis says. "We play for around forty minutes, which is about enough before enthusiasms waver, and everyone goes home." On "nkha311209 edit 1" off Nedits 12, mournful saxophones and skittering drums create an anxious, elegiac tapestry akin to the works of Luciano Cilio and Gavin Bryars.
Rock Formations
Recorded in 2009, Willis looped his own surf instrumentals, using them much like click tracks. If one were to buy only one Vitamin B12 release, it should be this—a massive collection of driving instrumentals without a single dud. Recalling the great second wave minimalism of Wim Mertens, Rock Formations has a magisterial, grand quality befitting of its name. On "Formation 07", chiming pianos and guitars build like one epic long shot over a mountain.
Keio Rhythms
Recorded in 2009, Keio Rhythms is, "an adaptation on the Rock Formations formula, replacing surf loops with rhythms from an old Keio Mini Pops drum machine," Willis says. "All the other sounds were created by the Roland MC-202." "Rhythm 03" forms a hybrid between Shri Camel era Terry Riley synth microtonalism and a chunky, blasted hardware techno in the vein of Finnish Skweee artists like Randy Barracuda.
Horscroft Experiment
Willis is charmingly flippant about this release, which was recorded in 2010. He describes the album as, "long sparse tracks folded into themselves to produce shorter, more complex ones. This project was rapidly abandoned and forgotten, until I found it again amongst the albums I was uploading for Bandcamp."
Despite being cast off, Horscroft Experiment has an alluring kraut rhythm, often sounding like Neu! studio sessions. On "First Fold," Willis melds piano, cymbals, and electronics into a soothing nighttime drive along the coast.
Surftoons and Hot Heap
Recorded in 2010 and 2011, these are the most fun and playful Vitamin B12 releases, wryly riffing on surf and hot rod instrumentals of the early '60s. For Surftoons, Willis was inspired by Wipe Out, Harry Betts, Arthur Lyman, Honolulu, Johnny Kitchen, and The Phantom Surfers. "These tracks were originally recorded for a one-off radio show commissioned by Oliver Fay. We tried to guess what Oliver might like and then present him with the opposite," Willis says. "Particularly, we wanted the show to sound specifically like it was created for the radio, so included jingles, adverts, interviews, and different genres of music."
Hot Heap was named after Willis's favorite Hot Wheels car. "Hot Heap wasn't particularly well-made and kept falling off the track," he says, "but he was a plucky little guy and always up for adventure." That ramshackle, rebellious spirit comes across in these releases, which while decidedly meta-meditations on a certain genre of sound, could easily be right at home in a playlist with early Link Wray. Simply put, the tracks have muscle.
On Surftoons' "The Beach Girls & The Monster," Willis blends chiming and chugging surf guitars with a relaxed backbeat and harmonies for a perfect sundowner of a song. Hot Heap's "Beach Road" may be one of the prettiest songs Willis has ever made with harmonies and horns dancing with an infectious guitar hook. At under two minutes, it distills the joy and freedom Willis brings to this strange, beautiful, and hopefully endless project.
-Neil Fauerso