LISTS
Six Essential Sly & Robbie Releases on Bandcamp
By John Morrison · Illustration by Emma Shore · September 21, 2021
For nearly five decades, drummer Sly Dunbar and bassist Robbie Shakespeare have cultivated a fruitful partnership. As celebrated session musicians and instrumentalists on their own productions, the duo has played on an estimated 200,000+ songs. The duo has described their initial meeting in the '70s as being "like magic." Since then, the combination of Dunbar's nimble drumming and Shakespeare's driving and melodic bass have melded to create one of the most distinct sounds in recorded music.
Sly & Robbie are affectionately known as the "The Riddim Twins" and have worked with legendary musicians like Bob Marley, Peter Tosh, Dennis Brown, and Black Uhuru. The list of tunes that they have contributed to reads like a primer of classic reggae hits. From Dave and Ansell Collins's heavily-sampled "Double Barrel" to Gregory Issacs's "What A Feeling," and The Tamlins's "Baltimore," Sly & Robbie's work is an integral part of the history of Jamaican music. In addition to their status as reggae pioneers, the duo has worked with a variety of artists in the jazz, rock, pop and rap including Herbie Hancock, James Brown, Grace Jones, The Fugees, The Rolling Stones, Bob Dylan, No Doubt, Sinead O' Connor, and others. Add the output from their prolific independent label, Taxi, and it is clear that the depth and breadth of Sly & Robbie's catalogue is second to none.
Bandcamp is host to a wealth of projects from reggae's most famous duo. Here are six essential Sly & Robbie releases on Bandcamp.
Merch for this release:
Vinyl LP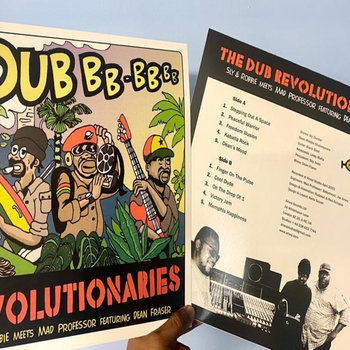 Featuring Jamaican saxophonist Dan Fraser and produced by Guyanese-born dub artist Mad Professor, Dub Revolutionaries showcases how seamlessly jazz improvisation can meld with reggae. Fraser's melodic notes pair seamlessly with the rest of the band as Mad Professor's effects transform the music into a twisting, dynamic storm of sound. Shakespeare's tone is understated throughout the album, especially on songs like "Dean's Mood," "Victory Dub," and "Run Down Dub."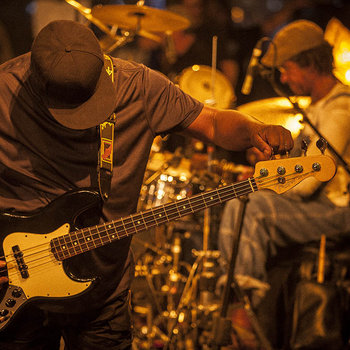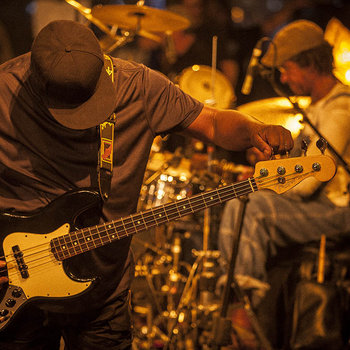 This special deluxe edition of Half Pint's Level The Vibes is rounded out with five dub versions and eight live cuts recorded during the 1986 Taxi Connection Tour with Sly & Robbie, Ini Kamoze, and Yellowman. Half Pint's distinctive voice and powerful lyrics on "Mama" finds Half Pint singing his mother's praises, expressing his deep reverence with the simple, repeated refrain, "Mama, your love to me is priceless." An impressive release, Level The Vibes shines on the strength of classic cuts like "Cost Of Living" and the plaintive love song "She Gone."

As the '70s gave way to the '80s, Jamaican producers began to embrace synthesizers like the Casiotone MT-40 and the digital sound of reggae took over. Throughout this evolution, Sly & Robbie adapted and were able to produce records in both the older, more traditional way as well as the newer contemporary style. Released one year after Wanye Smith and Prince Jammy's classic "Under Mi Sleng Teng" solidified the reggae's digital revolution, Sly & Robbie raised the stakes with 1986's Electro Reggae, an ambitious full-length album of electronic instrumentals. "Pastor Dub" has a driving electronic drum beat, heavy bassline and atmospheric synths slinking in and out of purview. Dark and foreboding "Pastor Dub" is not that far from the industrial and post-punk sounds that were coming out of the UK in the early and mid-'80s. "Twilight Zone" combines twisted vocal samples with screeching sax and swooning synthesizers while "The Sting" incorporates the melody of Scott Joplin's "The Entertainer," slipping it over a bouncy, electronic beat. Quirky, fun and forward-thinking,  Electro Reggae gives a hint at a key factor that has kept Sly & Robbie going for so many years—their adaptability.
The Birmingham-born, British reggae artist continues in the tradition of sweet-voiced singers like Sugar Minott. On his 2014 album, The Taxi Sessions, McLean delves deep into reggae's roots in American soul music with a delightful set of R&B-tinged songs. The album's opener "Let's Just Fall in Love" is built on top of a light, keyboard-inflected instrumental, while McLean's melodies and sweet harmonies sound like Smokey Robinson if he had a second career penning lovers rock classics. In addition to gorgeous love songs like his cover of Curtis Mayfield's "I'm The One Who Loves You," McLean shines with socially oriented songs like "Right Fight" and "Brotherman."
Throughout reggae's history labels like Sir Coxsone Dodd's Studio One, Lee Perry's Black Ark, Trojan, and Greensleeves have made indelible marks on the genre's evolution. Throughout the '80s and '90s, Sly & Robbie's Taxi label was a model of consistency, quality, and musical innovation. Taxi Presents: Sound Of The '90s compiles some of the best tunes that the label released throughout the decade. With its regal brass section, jarring James Brown vocal sample, and synth chords, Nambo Robinson's "Dancing Dirty" is a catchy instrumental cut. The band Kotch checks in with two stellar covers of two Smokey Robinson tunes "Cruising" and "Ooo Baby Baby" (listed here as "Oh Baby") before 54-46 reimagines Tracey Chapman's "Fast Car" with a stripped-down reggae arrangement. And on "Rumours," Sly & Robbie get into the groove by constructing an understated, bass-heavy instrumental.
Full of bass-heavy grooves, soaring melodies, and ear-twisting effects, Red Hills Road demonstrates that Sly & Robbie are still sonically ahead of the curve. With its mixture of instrumental and vocal cuts, the album's sound is diverse, and its overall mood is celebratory. From the bright, Latin-tinged piano and brass arrangement of "El Bang Bang," to the second half of "Haul & Pull Up," whose filtered bassline is treated with delay and reverb, Red Hills Road is full of truly left-field and inspired musical moments. Much like the rest of the duo's catalogue throughout the years, Red Hills Road further proves Sly & Robbie to be indefatigable masters of sound.