LISTS
A Final Goodbye from Reigning Sound
By Patrick King · July 22, 2022
For nearly 30 years, Memphis garage rock legend Greg Cartwright has created a deep and influential body of work that, on paper, may seem peculiar to some. Growing up in the '80s, he cut his teeth in punk, but always had an interest in his family's record collection which was full of '60s British invasion bands, early rock, and doo-wop. After having his mind blown as a teenager by local throw-back, rock oddball Tav Falco and his band Panther Burns, Cartwright went on a musical quest to explore the early beginnings and weirder corners of rock and roll.
Cartwright first made a splash as a songwriter in the Compulsive Gamblers—a band that also featured Jack Yarber, with whom he would later form the infamous scuzzy, punk-soul band Oblivians along with Goner Records co-founder Eric Friedl. His electric and urgent mash-up of soul, punk, and country songwriting would take on different monikers over the years, but none of them would be as long-lasting or truly harness his full creative vision like the Reigning Sound. Since releasing their first album Break Up, Break Down in 2001, Reigning Sound has remained Cartwright's most consistent project with seven full-length albums; a slew of singles and live albums; as well as serving as the backup band for Shangri-Las singer Mary Weiss's 2007 comeback album, Dangerous Game.
Reigning Sound has showcased some of Cartwright's best and most recognizable work, with 2002's Time Bomb High School and its 2004 follow-up Too Much Guitar being regarded as underground classics by many. It seemed like Cartwright had finally landed on a name that worked—and that's why the recent decision to retire the project came as such a shock to longtime fans.
Cartwright announced the decision to end the band after he was forced to cancel a run of gigs supporting their 2021 Merge Records release A Little More Time With Reigning Sound due to the pandemic. But, according to Cartwright's statement early last June, the idea that this would be the band's final record had been the plan for some time. Despite living in Asheville, North Carolina for a number of years, Cartwright recorded A Little More Time with the same group of musicians that had played on Reigning Sound's 2001 debut. He believed releasing the record and touring behind it would be a great way to "come full circle" and end the project on a "high note." But, as it goes these days, after a planned tour with Merge labelmates Superchunk was called off, Cartwright chose instead to say goodbye to Reigning Sound with one final hometown show last month at the outdoor Overton Park Shell in Memphis.
For Cartwright, the decision to move on from Reigning Sound was not as big a deal as many have made it out to be. To him, it's just the name that's going away, not the artist.  "I think a lot of people invest a lot in [monikers]. I guess they call that "branding" now," laughs Cartwright.
"People invest a lot of time and energy into a project and that name really carries weight," he adds. "It can be very helpful when you're trying to book gigs or trying to get publicity or whatever if you have a recognizable name. That doesn't really mean a lot to me. In fact, I really kind of enjoy reinventing myself and trying a new band name. I've been in a lot of bands: Compulsive Gamblers, The Oblivians, Reigning Sound, The Parting Gifts, The Deadly Snakes. I really don't mind changing gears and calling it something different and trying to create something different. That's never been scary to me. So, I was kind of looking forward to ending Reigning Sound and doing something different. I think things happen for a reason. For whatever reason, I didn't get to really stop the Reigning Sound until the pandemic came along and it was just a perfect opportunity."
Reflecting on his decision to make the final Reigning Sound record with his original band members, Cartwright says, "Wanting to be a bandleader and wanting that complete control—it's very satisfying for a moment. I think that's why I had to go back and make amends for maybe being a bit bossy, to try to make a record with those players where I let people make decisions and gave people room to tell me what they wanted to do, and make that right."
"Because now all I really love is to collaborate," he continues. "I love writing with other people, I love playing with other people. I love just playing guitar on somebody else's song or suggesting a bridge, or whatever. Now, I crave collaboration, but that was a time in my life when, for whatever reason, I had had poor experiences with collaboration. There was also a lot of trauma in my youth that I hadn't quite worked out yet. I was using music as a platform to work out that trauma, sometimes in a positive way and sometimes in a not so positive way."
Of course, the retiring of the moniker doesn't mean Cartwright will never step on stage again. He will be reuniting for a one-off performance with The Compulsive Gamblers at this year's Goner Fest. He also shared some details on an unnamed project he has started with Dr. Dog's Scott McMicken. "He just moved to Asheville a couple months ago, and we put a band together with a couple of friends of ours," Cartwright says. "It's a four-piece with guitars, bass, drums, and occasionally some keyboards. It's been super fun writing songs with him and writing for that dynamic and not being the bandleader having another person who seems to lead sometimes. We've done some recording, but we're not quite done with it."
Another project he'll hopefully be getting to work on is the long-awaited follow-up to The Parting Gift's 2010 album Strychnine Dandelions, the group that he co-founded with Coco Hames of The Ettes.
Even though Cartwright is excited for his new projects, he was more than game to go through Reigning Sound's rich catalog, offering one more final goodbye.
---
"I had the Compulsive Gamblers and then the Oblivians. Then I did The Deadly Snakes for a while and, and Compulsive Gamblers again a little while after the Oblivians broke up. With all of those situations, there were power struggles all the time because we were all young. We're all very headstrong. There was always all this tension that would just tear bands apart and I got so sick of it. I kind of came to the conclusion that I wanted to be a benevolent dictator. I wanted to be the bandleader. I wanted to write all the material and I wanted to pick people who would fit the dynamic that I wanted and I want it to be good to them and fair to them. I wanted to be the boss and I wanted to have a final say, and I didn't want to wind up in these weird power struggles anymore. That's what the Reigning Sound was. Everybody knew because all those guys in the original band, they're all songwriters in their own right, they all have their own bands. [With Reigning Sound] everyone acquiesced to the fact that it would be my band and I would be the sole songwriter. I had that sense of control that I had never had before and I really enjoyed it. I enjoyed the quality control aspect of it.
"A couple of the songs [on Break Up, Break Down] had been around for a while. But most of it, I was just writing by myself and the band kind of came together very quickly. So the first album is a reflection of me writing songs by myself and then putting a band together to record those songs. The dynamics are not as dialed in. I'm not really writing for the players. By the second album, we had actually become a band and all of the parts were working together, and you can hear it."
"With the first record, we were just finding our dynamic but we were practicing all the time. Not too long after the band got together we went in and recorded the first record. But by the time that record came out, we had been getting so much better. I had been writing more songs for the dynamic of the band. With a lot of bands this is the case: The second record is really the sweet spot. That's when you have everything dialed in dynamically between the players. You can write specifically for those players. That's exactly what Time Bomb High School is. As far as the first incarnation of the band goes, it's pretty much perfect. It's the best record we made. The first record is great. There are some nice moments on it and I'm proud of it. But at the same time, I was trying out a lot more moody ballads and stuff, and I didn't get the balance right. There's not enough rock and roll on the first record. So I think I corrected that with the second record and struck a balance between the moody side of me and the rock and roll side. I think it's a sweet spot."
"With Too Much Guitar, it sounds different than the other records because we had made a record. After we made it, [keyboardist] Alex Green said, 'Well, actually, we're about to have another baby and I'm not going to be able to stay in this band.' I thought, 'Okay, well, I can't release a record that I can't reproduce live. If Alex can't play with us, we need to take songs that are guitar-driven and keep those. All these other songs, I have to re-record them as a trio so that we can go out and reproduce them live.' So, that's what we did and we did it really quick. We did it with Jay Reatard and his then-girlfriend Alicja Trout; recorded those songs in my record store [Legba Records], and we did it really quick and fast and raw, and it had a totally different sound. Because when you unplugged Alex from the dynamic, the band became a totally different animal, which I think is really interesting. I think some people thought it was a stylistic choice or something. It wasn't really a choice. It was just when you pull an ingredient out of a recipe, you get something completely different."
Merch for this release:
Vinyl LP
"Home For Orphans [was recorded] when we did Too Much Guitar. We recorded some of the songs so that everything would reflect what the band sounded like as a trio rather than with keys and stuff. When we did that, all of the leftover versions of the songs plus some other things that didn't fit that guitar-driven trio got put on Home For Orphans. That's exactly what it meant as a 'home for orphans.' It was a home for these songs that had been left as outliers. If we took about two-thirds of the songs that were on Too Much Guitar and paired them with the leftovers that were on Home For Orphans, that would have been an album unto itself. Maybe I'll add those tracks to the original sequence and people can see what that album would have sounded like. But I mean, who knows? Things happen for a reason. It definitely seems like, for whatever reason, that worked. The people liked Too Much Guitar. I must say that, up until that point, it seemed like the most well-received album of all—which was tricky because the band was practically ending at that point. I think that's why I felt the pressure to continue the band because I felt like 'Well, this album just came out. Everybody likes it. I live in North Carolina now. I'm going to make this work somehow.'"
"I think [Love and Curses] was just me being really, really homesick. I had agreed that it was a good idea for us to move to North Carolina. It was a good job opportunity. But at the same time, I felt like a fish out of water in Appalachia. I had lived in the deep south my whole life, with one brief exception. Like I said before, Too Much Guitar had come out and people really liked it. I felt like I didn't know where to go or what to do. I definitely was in a weird place. It was a real strain on my marriage for a while, too. It's kind of weird when you wake up every day in a city and you don't get anywhere. Eventually, I did grow to really like Asheville a lot and made friends here and eventually found people to play with. But there was a time for at least for a couple of years when I was really out of sorts. I missed home and didn't know where I was going or what I was doing. I felt like I didn't know what was on the horizon for me and I didn't know if I was going to continue the band. I didn't know what it all meant anymore. I didn't know if I should continue Reigning Sound at all. I didn't even know what that meant. I was just kind of confused."
Merch for this release:
Vinyl LP, Compact Disc (CD)
"I did an album 10 years ago or so with Dan Auerbach [of The Black Keys] in Nashville, Abdication… For Your Love. He contacted me and said, 'Hey, I've got a studio up and going and I'd like to have some projects in there. I've got some big things coming up and maybe if you want to come, we could work on something?' And I said "Yeah, let's do it.'
"It kind of dovetailed with SCION asking me if I wanted to do a record. At that point, I thought it would be a great jumping-off point to stop doing Reigning Sound because, at that time, the band was myself, Dave Gay, Lance Willie, and Dave Amels. I thought that'd be a good place to stop because it got to where Lance Willie, our drummer, had pretty severe arthritis issues. It was getting worse and it was getting really hard for him to travel. It wasn't so much that drumming was hard for him at that time. It was just getting him in a car and folding him up. For someone with severe arthritis to be in a car for five or six hours and then try to unpack yourself, get your joints moving again, and then get on the stage and play drums, that was just really a difficult thing for him to do. He was still into it. But I as the bandleader had to make that call about whether I thought it was something reasonable for me to ask him to do.
"So at that point, I thought, well, this would be a good time to end the Reigning Sound. I don't really want to pick another band to be the Reigning Sound, and if Lance is having an issue for him to be on the road, then I should just embark on something new with these recordings with Dan. That was kind of the plan. But as it turns out, the people that I had contacted about playing on those sessions in Nashville, the rhythm section that I had planned to have, for various reasons, couldn't do the session. I was kind of stuck without a band. I was already in Nashville, so I was trying to figure out what to do. Dan offered up a couple of suggestions, but I thought, 'Well, what I could do is get in touch with Dave Amels,' who was the keyboard player for us at that time. He had another band that we had actually toured with, they had opened for us. David had done double duty where he had played with the opener, and then he played with Reigning Sound on keyboards. That band was called the Jay Vons. I thought, 'Well, I don't really want to do this.' But one thing I could do is just call Dave and see if the Jay Vons want to come to Nashville and make some recordings—and since Dave is still the band, I guess it could still technically be 'Reigning Sound.'
"That's what we did and those recordings came out really good! I really enjoyed playing with Benny [Trokan] and Mike [Catanese] and Mikey [Post] and Dave [Amels]. I thought these guys are such good players that they could probably easily play everything in the Reigning Sound catalog. When we did those recordings and put [Abdication… For Your Love] out, we went ahead and put it under the moniker of Reigning Sound. That kind of allowed us a window to continue to play and record as Reigning Sound, and we did one more album. It was just narrowly averted that I didn't end Reigning Sound 10 years ago. It was already something that I was thinking I would like to do."
Merch for this release:
Compact Disc (CD), Vinyl LP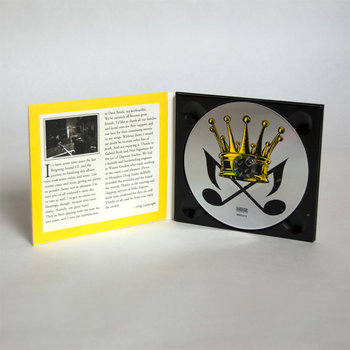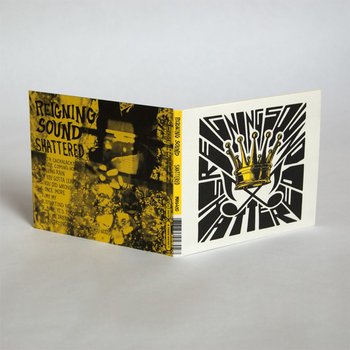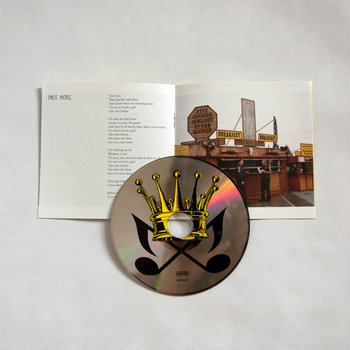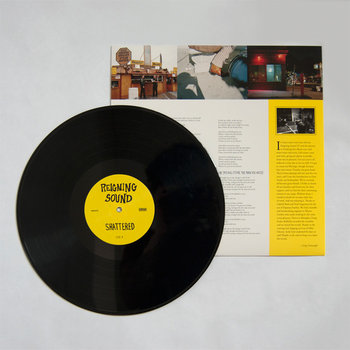 "Shattered was with the guys in The Jay Vons. They all live in Brooklyn— Mikey Post played drums on it, and also works at Daptone. Benny [Trokan], who played bass on it, plays in bands and was touring with many of the artists that are Daptone. Those guys were more adept at playing soul and R&B. That was their passion. They were big Reigning Sound fans, but they also brought something to the table that kind of accentuated the more R&B and soul aspects of my songwriting. Once I found those strengths and played with [those musicians], then I wrote for that strength. I think that's something I always try to do. Once you know the dynamic of the players, as a writer it's kind of your responsibility to write for the strengths of the band. And so with Shattered, that's what I did."
Merch for this release:
Vinyl LP, Compact Disc (CD)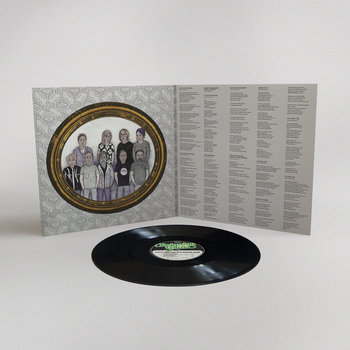 "When I couldn't go to New York and record with the guys in The Jay Vons and Dave [Amels], it was an opportunity to go back to Memphis. I was going back and forth to Memphis to take care of my parents at that time anyway. My friend, Scott Bomar, who had a  studio, said he wasn't doing sessions, but he would make an exception [for us]. Things just lined up to kind of come back full circle to get the original band together and make a record. But as soon as that opportunity presented itself, the gears started turning in my head that it would be the last record for several reasons. For one, I was ready to end the band. For another thing, I had been playing with the Jay Vons as the Reigning Sound, and if I was going to go back and make one more record with the original band, it was not would not be fair to them. If I basically restarted the Reigning Sound with the original band and started making records with a different band, well, that wouldn't be fair to the guys who just worked for eight years being Reigning Sound. It made more sense to do it as a swan song, and I'm really glad I did. I think it worked out great. There were challenges but we overcame them and it worked out.
"The hard thing, I think, when I made the record was I thought I intended it to be the last record, but I didn't say that. My idea was: We'll put out this record, and we'll go out there and support the record with shows and a tour. This will be great. We'll record it right now. By the time it can get pressed and when it comes out and it's time to tour, the pandemic will be over. In my mind, this is what I was thinking. Of course, that did not prove to be true. When we did go and start doing some shows once the vaccinations came, I thought that we were turning a corner into going back to normal. I think we realized now that that kind of normal is probably never going to really exist."
Merch for this release:
Vinyl LP
"There was a lot of excitement going into making that performance, for several reasons. For one, I was really excited to play the new material live, which we hadn't really done. A Little More Time had just come out, so I was really excited to play the new songs and some of the old songs, and also to have Krista and Ellen Wroten playing violin and cello. I was excited to have the kind of expanded version of the band with pedal steel, and Coco Hames on vocals. It was really kind of an extravaganza, and that's the kind of thing that I can't really take on the road because it would just be too expensive to take that many people on the road. Also, that was the week masks had started to come off. Everyone was getting vaccinated. And we all saw that this was the beginning. We were getting ready for touring, and all that kind of stuff. Everyone was super excited.
"The recording came out great, but I really didn't anticipate keeping the band going for any more time than what it took to properly promote A Little More Time. That's been very problematic for bands over the pandemic. I feel like it was the responsibility—or my personal responsibility, I don't know how other bands feel about it—to the label to get out and promote the record with as many live shows as you can play. You also owe it to your fan base to get out there and play. The pandemic continues to make that a very difficult proposition. My idea was, we'll get out, we'll promote the record, and then and then we'll end it.
"I think that there is kind of a collective misunderstanding of how bands have to end. I think most people assume that bands have to end acrimoniously and that something needs to go severely wrong; there has to be some power struggle that splits the band apart. It does happen a lot. But I think that happens a lot because people aren't paying attention to the connectivity of the people in the band and the dynamics of the people in the band. I think I was at a heightened awareness of dynamics, which is exactly why I wanted to end when things were good, rather than when things were bad. I've done that with other bands, where you kind of hit a breaking point, and the band just splinters, and that's such an unhealthy way to end the band. It takes a lot of repair with your personal dynamics and relationships to get back to those relationships. I realized that now as I'm older and moving forward, whether it was how I ended Reigning Sound or whatever future projects I do, I always want to be more aware of how healthy the relationships are because that's going to make the best music. If it starts to feel like it's time to stop and change gears and if that seems like the healthy choice for the whole band, then that's what you should do—rather than keep something going just because it's financially profitable, or because keeps your name out there, whatever. I think that the art has to come first and your personal relationships to the people you're playing with have to come first."