LISTS
The Bandcamp Guide to Quasi
By Mariana Timony · February 24, 2023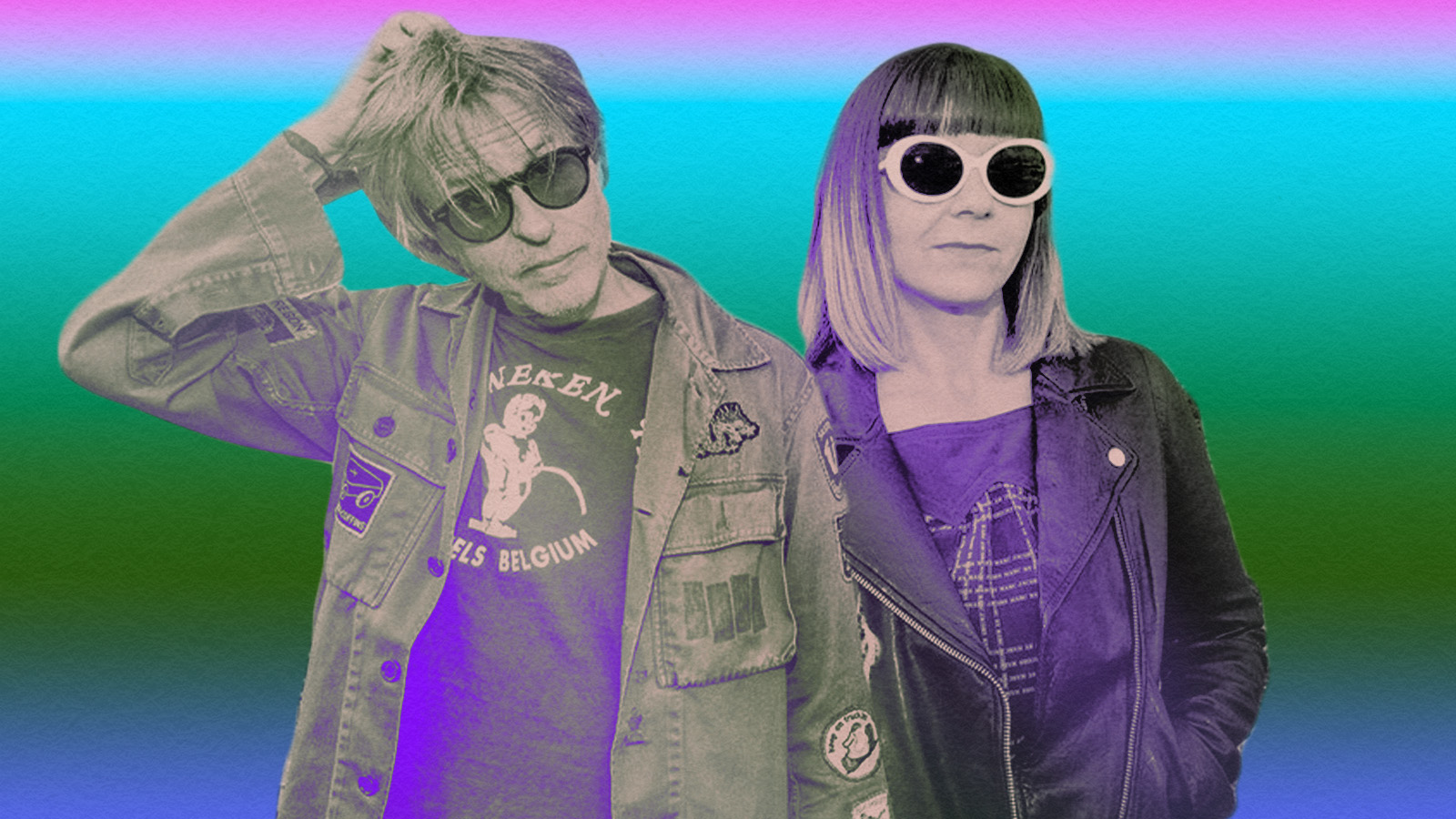 Quasi didn't plan on taking a decade to release a new record, but when you've been a band for 30 years, getting back on the music biz hamster wheel holds less appeal than it once did.
"After the last one, we kind of stepped off that cycle where you put out a record, you do some tours, you write some more material, you put out another record, and you just kind of keep it going. I don't think we're ever going to be back in that cycle again. We have to wait for things to come together now," says Sam Coomes, the half of Quasi who plays keys and guitar and writes the songs. The other half is drummer Janet Weiss, whom you might recognize from her time behind the kit in Sleater-Kinney, Stephen Malkmus and the Jicks, Wild Flag, and a billion other bands.
Things came together for Quasi as things fell apart for the world, and the Portland power duo since time immemorial—well, since 1993, when Coomes and Weiss formed the band—have emerged from global lockdown with Breaking the Balls of History, their tenth full-length and first for Pacific Northwest independent label Sub Pop.
Merch for this release:
Vinyl LP, Compact Disc (CD), T-Shirt/Shirt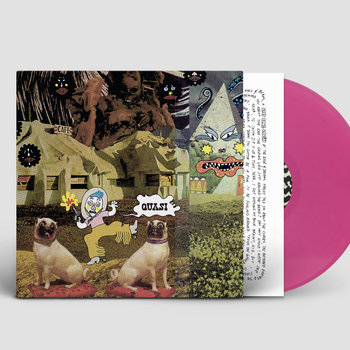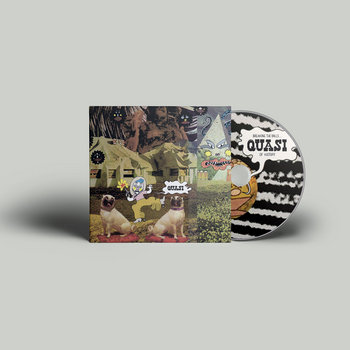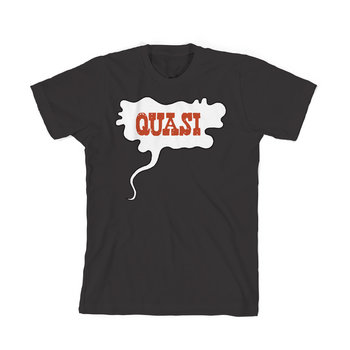 It's not a moment too soon. In a world of sell-outs and sycophants, Quasi are the real deal: a doggedly independent band who've stuck to their ethos despite the slow infiltration of commercial interests into the underground from whence they emerged all those years ago. From self-recording and self-producing their own records to releasing them only on independent labels, Quasi have built a career worth valorizing by following their own star and never compromising on what matters the most: the music.
Does that make them feel like outsiders these days? Kind of, yeah. But they've felt like outsiders for a long time.
"When we started out, we were just playing music. I'd never even heard the term 'indie rock,' but people started calling us an indie rock band," says Coomes. "Then later, all these other bands that people called indie rock bands started popping up, and I hated them. I was, like, ashamed because indie rock became a generic term for a style that we don't really fit into except that we were independent of even the thought of trying to be a mainstream, corporate band."
"We are idealistic, I think, and we have opinions that other people don't and we live by those and we feel really strongly about certain things," says Weiss. "I just feel like the band is a microcosm of how you want to see the world or how you see the world or how you want the world to be—it's like walking the walk. To me, the music needs to be protected. It's special. It's really special."
Merch for this release:
Vinyl LP, Compact Disc (CD), T-Shirt/Shirt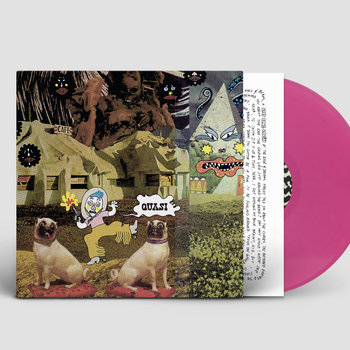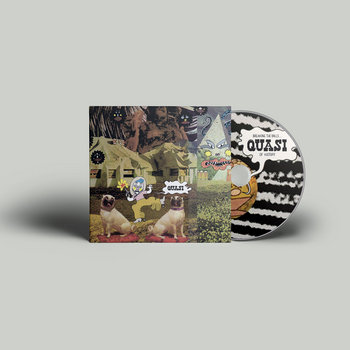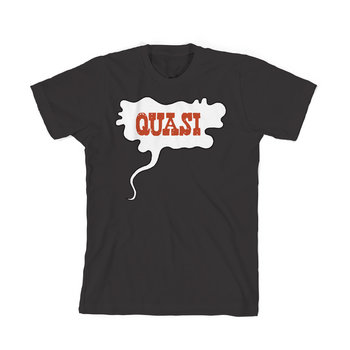 That message comes through loud and clear on Breaking the Balls of History. If 2013's Mole City sounded like a misfit band furiously outplaying the final curtain for anti-corporate values, Breaking the Balls is the part where, just when it seems like all is lost, the clouds suddenly part and an angel jumps out with a trumpet heralding judgment day for the underdogs who might finally win it all. The record's sound—Coomes's raucous organs paired with Weiss's wild, expressive drumming; the pair's dual vocals; and Coomes's darkly humorous lyrics about our dumpster-fire world sung over some of the catchiest pop songs ever written—is classic Quasi; but there's a celebratory exuberance to proceedings this time around (observations like "Fuck the whole human race, man" aside, though that, too, is classic Quasi).
The phoenix-rising-from-the-ashes feel isn't entirely metaphorical. Shortly after quitting Sleater-Kinney in 2019, Weiss was involved in a car accident which shattered her collarbone and fractured both her legs. It was "emotionally and intellectually challenging," she says, the extent of her injuries leaving her unsure as to whether or not she would be able to once again play drums "to the level that, to me, is necessary for me to express myself."
Working on a new record proved therapeutic in more ways than one. "The daily playing kind of solved all my problems and anxieties because I could feel like I was progressing and getting better, even if I had to rearrange things on my drum kit a little bit so that I could feel more comfortable," she says. "I had the desire to practice more and immerse myself more in the playing. And luckily, we had the time to do that."
"I just can't even tell you how thankful I am," she continues. "The reconnection with music was very profound and heavy. I was loving it so much—playing and writing and being able to express myself."
The result is a record that's a new high point in a discography full of them—so we thought it was a good time to have Coomes and Weiss take us through thirty years of Quasi, one album at a time.
---
When Quasi started it was "less like a band—we just had ideas and the idea of recording at home was new and exciting," says Weiss. "Learning how to do it was, for me, really fun. I had never really recorded at home before. Some things Sam would work on and play everything and some things I would work on and play everything."
"The original concept of the band was a lot more experimental then eventually it became," says Coomes. "I think we were kind of an experimental band that we were trying to shoehorn a little bit of pop and rock into and eventually became more of a pop and rock band that we were trying to shoehorn a little experimental stuff into."
These initial efforts make up a compilation called Early Recordings, currently out-of-print, that constitutes Quasi's first full-length. R&B Transmogrification, their second full-length but first proper album, is where the band began zeroing in on the elements that would come to define their music in the decades to come, starting with the simple-yet-powerful instrumental combo of Coomes's raunchy electric harpsichord and Weiss's wild, expressive drumming.
"When we started the band, every show we had a different lineup, then that got to be too unwieldy," remembers Weiss. "Eventually we honed it down to be really simple and pure: two people, two instruments, two voices. R&B is when we're just starting to get into this two piece, two people kind of vibe."
The band recorded at the home of Charlie Campbell of Pond, a Portland group that put out a few records on Sub Pop in the 1990s (he was also Coomes's housemate at the time), setting up their instruments in the basement and playing everything live. Sonically, R&B Transmogrification is thoroughly DIY, its sound chaotic and rather skeletal with no low-end to speak of—but there's a scrappy charm in its utter lack of varnish and a lot to enjoy about Coomes's wry, cynical lyrics about having low expectations for life and relationships, and being disappointed anyway.
Quasi hit their one-and-only commercial high point in 1998 with the critically beloved Featuring "Birds," the success of which saw the pair being featured in "magazines with mainstream artists, which I thought was interesting," says Coomes, though it "turned out to be a flash in the pan."
Weiss points out that it wasn't just their band getting attention. Portland's music scene was having something of a "Zeitgeist moment," she says. "Lots of people put out their 'big' record around that time. There was like an energy in the air and things were catching on, but not corporate—there wasn't any money. There was a lot of excitement and camaraderie."
Featuring "Birds" is a document of that camaraderie. It was recorded in the then-brand new Jackpot! Recording Studio in Portland, which was being put together by Larry Crane and Elliott Smith, whom Coomes briefly played with in Heatmister and with whom Quasi toured several times. "We helped them paint the studio," remembers Coomes. "We were just there like, 'Alright, let's make the record here.' They had a 16-track tape machine. It was a nice combination of our old sort of DIY approach and a new studio with our friends running it. It was easy to make that record at that moment."
Getting into a studio with other people took the pressure off the band to have to figure out everything themselves. "Larry had ideas and we had ideas," says Weiss. "There's a song where we hooked up a gate to my kick drum to trigger the foot pedals of an organ, so there's a pulsing organ sound. I think Sam slept over in the studio one night when he did the slide guitars for 'The Poison Well.' We came back in the morning and it was like, 'Whoa, that's that sounds awesome!' Really fun, fun stuff."
Twenty-five years on, Featuring "Birds" has more than earned its reputation as a modern classic, its hooky pop songs the perfect balance of sweet and bitter, its subject matter covering the endless drudgeries of capitalism ("The Happy Prole"), the dumb existential crises of adulthood ("Ape Self Prevails In Me Still," "Sea Shanty"), and ye olde brokenheartedness (much of the record is allegedly about the dissolution of Coomes and Weiss's marriage) as relatable as ever. As one RateYourMusic reviewer so pithily and, arguably, accurately puts it, Featuring "Birds" is a record to listen to "'if you're feeling soul-crushingly fucked but can't listen to any of the various forms of suicide music."
With that in mind, it's understandable why Coomes says he doesn't really go back and listen to the older Quasi records. "But I'm a listener too, and there's other bands' records that I love and listen to all the time," he adds. "So it makes me happy that there's people out there that maybe feel the same way that I feel about other artists' records with a record such as Featuring "Birds."
When it came time to follow up Featuring "Birds," Coomes and Weiss were less concerned with trying to build on that album's success than about making a new album, period. In those days, it really was all about "doing what was possible and following the muse," says Coomes. "We didn't have a lot of time to conceptualize. We were just trying to get stuff done."
Quasi returned to Jackpot to make the record and found, to their delight, that Crane had replaced the 16-track recorder with a 24-track. "We were like, 'Oh my God, we can do anything!'" Future Quasi bassist and Portland music-legend-in-her-own-right Joanna Bolme had started working at Jackpot! around that time as well, and Weiss remembers her helping out significantly on Field Studies. "It was still very much a family affair," she says.
Field Studies does have a more layered sound than its predecessor—a three-piece string section makes an appearance and Smith plays bass on a few tunes—but the band basically stays in the same musical lane forged on Featuring "Birds." Highlights include the Zombies-esque "The Skeleton," featuring some great close harmonizing from Coomes and Weiss; the droll "A Fable With No Moral," in which Coomes spins a prescient yarn about selling your soul to Satan in order to pay rent; and Weiss's self-penned "Two by Two," a dreamy kiss-off built around an unusually structured, escalating chorus. There's also a soothingly swirly pipe organ on "Bon Voyage," which was recorded in an old church where Crane had set up a recording unit.
"This was the first record where we did get an advance—and we spent the advance all on recording gear, and then self-recorded. I think that informed the style of the record," says Coomes of 2001's The Sword of God, a gentle way of admitting that the pair may have overcooked some of the tracks on their fifth full-length and first for Touch & Go Records.
The band recorded at Weiss's house where "we would track onto this really fat tape and then we would dump it into this digital thing and do overdubs, none of which we knew that much about," says Weiss. "It was definitely making a lot of mistakes and spending a lot of time in the second bedroom figuring stuff out or reading manuals and calling helplines." The biggest lesson learned? "Gear doesn't make the music. You feel like there's always something you need to buy to make it sound better, and I think we maybe did that for a couple of records. Then we were like, 'Wait a minute, this isn't really true.'"
A moody and at times melodramatic record, The Sword of God finds Quasi slowly wading back into experimentalism after proving themselves capable of making accessible pop music. Introductions are stretched out, songs are soaked—or perhaps drenched is the better word—in atmosphere, and their instrumental palette has expanded to include synth, Mellotrons, and even a saxophone. A high point is the typically Coomes-esque "stop complaining, life sucks for everyone" anthem "It's Raining," which remains a staple in their live set. "There's interesting things on it," says Coomes. "It's a little bit of the dark horse record, though."
Quasi's prickly psychedelic blues record, Hot Shit! is notable in the band's discography for what it lacks: keys. Aside from a few tracks, like the rollicking "Drunken Tears" or the rowdy piano riff blasting the way through "Mama Tried," the majority of songs on Hot Shit! are guitar-based—something the band didn't plan but "sort of naturally came out of where we were and what we were doing at that time. I just probably happened to have more guitar songs," says Coomes, who adds that he finds it "a lot easier to write songs on the guitar, and I'm more confident playing the guitar. [Breaking the Balls of History] is the first record that doesn't have any guitar songs. If it's a matter of preference and enjoyment, I would probably play guitar all the time. But I've learned to sort of separate my selfish little pleasures from the quest for great music."
Thematically, Hot Shit! is something of an outlier as well. After a few albums fueled by interpersonal turbulence, the band gets overtly political with direct shots taken at the neo-conservatives ruling post-9/11 America ("White Devil's Dream") and the bootlicking headlines in Quasi's hometown newspaper ("Seven Years Gone"). But it's also a record that celebrates life's simple pleasures, such as a motorcycle trip down the coast on "Good Time Rock N Roll" or Coomes copping to "Good times/ Happy days/ In spite of it all" on penultimate track "Good Times," which is about as chipper as a Quasi lyric as there had been up to that point. The music itself is similarly fragmented—disjointed, harsh, and often quite drone-y—making Hot Shit! the most frustrating listen in the band's discography, but one of the most compelling as well.
"This record, to me, is kind of almost schizophrenic," says Coomes of When the Going Gets Dark, the band's final release on Touch & Go. "I remember Janet and I were having trouble getting on the same page with what we wanted to do. I think that tension, you can kind of hear it. It's a record that seems to be pulling in all different kinds of directions, and I kind of liked that about it."
"There's always the tension where I just want Sam to write a pop song and Sam's like, 'I don't want to write a pop song. I like this more experimental, interesting, unique thing.' And I'm like, 'You're so good at it! Write a chorus! There's no chorus!' That's always present with us," agrees Weiss. "It helps us to not just zoom off in one direction and become boring. It helps to liven it up a little bit."
Very little on When the Going Gets Dark can be called a pop song, though there are some sunny melodies leaking through the din here and there, such as Weiss' memorable vocal line on "Merry X-Mas." Mixed by Dave Fridmann, with whom Weiss had worked on Sleater-Kinney's The Woods the year before, When the Going is Quasi-as-proto-metal band, sounding live, present, and heavy as hell on tracks like the raucous "Death Culture Blues" and the dynamically dissonant "Presto Change-O"
Weiss partially credits those Black Sabbath vibes to the room they recorded in, specifying "The Rhino" as a particular favorite. "We tracked in a studio here in Portland and the drums sound incredible in the room," she says "To my ears, I'd sound like these drummers past—just an epic drum sound. I was so transported by the sound of what I was hearing and that kind of affected the playing."
Merch for this release:
Compact Disc (CD)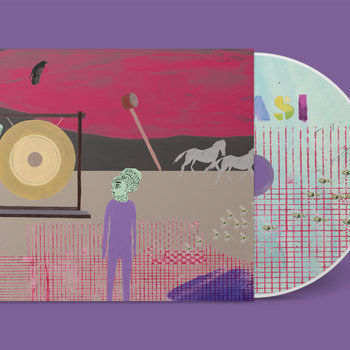 Quasi became a trio in the late 2000s with the addition of bassist Joanna Bolme (of the Jicks, the Minders, and many other Portland-based bands), whom Weiss praises as "a great player and experienced musician and traveler. It made a lot of sense [to have her in the band]." Bolme initially joined to provide the low-end on the When the Going Gets Dark tour, playing bass parts written by Coomes, but was a fully-fledged member of the band by the time Quasi made American Gong, their first for hometown label Kill Rock Stars.
Transmogrifying from a duo into a more traditional three-piece rock band set-up led Quasi to make the most straightforwardly "rock" record of their career; i.e. American Gong has lots and lots of guitar solos. Coomes remembers making the record as "a lot of fun for me because, once Joanna was in the band, I could just play guitar. One of the reasons that the keys work for a duo really well is because I can play basslines and cover the low spectrum with my left hand and play more like guitar chords and lines with my right hand. But not having to do that, I could just play more guitar."
With Weiss and Bolme forming a formidable rhythm section for Coomes to kick out the jams, American Gong is a riotous commingling of the psychedelic doomer riffs of When the Going Gets Dark and the sardonic sunshine pop of the band's earliest days. A standout is fuzzy gem "Bye Bye Blackbird" which leads off with a complex melodic interplay between Coomes' guitar and Bolme's bass, breaks down into a chaotic shamble of thumping drums and wild distortion in the middle, and ends Coomes and Weiss harmonizing cheerfully about no longer having time to drop LSD—but still having time for DMT.
Bolme played with Quasi for about four years until the logistics of live performances began to become difficult. "It was hard for Joanna to be standing when we were sitting," says Weiss, referring to Quasi's usual set-up of drums and keys on opposite sides of the stage. "She's so tall and she'd be in the middle. Then we tried being in the traditional form with the drums in the back and none of it really felt like Quasi. But it was fun to do some different things at that point. I really like a lot of the songs on [American Gong]. I think there's some really cool stuff."
Merch for this release:
Compact Disc (CD)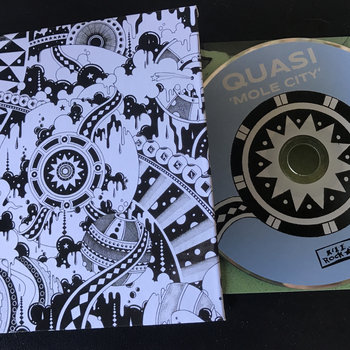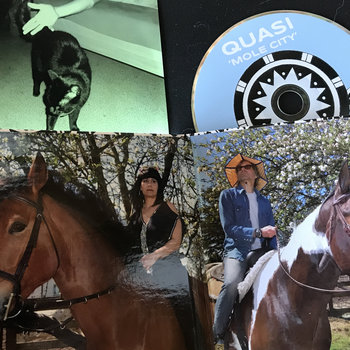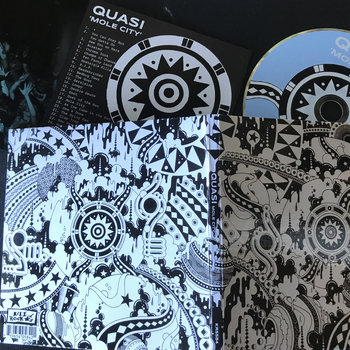 Back to being a two-piece and back to recording themselves in a basement—Coomes's this time—Quasi went all out for the sprawling Mole City.
"This is probably the first album where, before making the record, we talked about what kind of record we wanted to make," says Coomes. "It was like, alright let's get back to doing the old Quasi-style self-recording, but if we're going to do that, we can't just do what we've done before. We've got to take it farther, go deeper and broader and bigger and commit to that one hundred percent. So that's what we tried to do."
A bit like Quasi's own White Album, the 24-track, double LP Mole City is an unpredictable joy ride through rock history, with everything from wonky avant-pop ("Headshrinker") to rowdy in-the-red throwback rock ("Nostalgia Kills") to country western stompers ("Bedbug Town"), even a sound collage ("Mole City"). Weiss describes Coomes's basement as "a chaotic little creative zone where we just [worked on the record] every day. It's kind of more freestyle. I have really good memories of making that record and getting it to sound how it sounds. It was like, 'We know what we're doing a little bit at this point and we're able to express ourselves how we want.' It was a really cool experience."
Fittingly for a record that celebrates the misfits of the world ("An Ice Cube in the Sun" is built around a sincere shout-out to "the could've-beens/ The would have-beens/ The left behind, the out of times") Mole City itself is kind of a misfit in Quasi's discography. Both Coomes and Weiss both love the finished product and both feel it never really got its due.
"The cover art is so cool," says Weiss of graffiti artist Aindriais Dolan's black and white sleeve. "I enjoy a lot on that record. Even now, if I went back and listened to it, I would probably really enjoy listening to it. I kind of surprised myself like, 'Whoa, that's really different from what we've done in the past.' And that in itself is an accomplishment after so many years."
Merch for this release:
Vinyl LP, Compact Disc (CD), T-Shirt/Shirt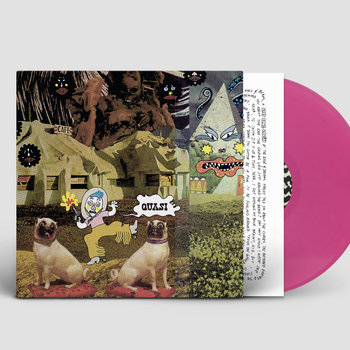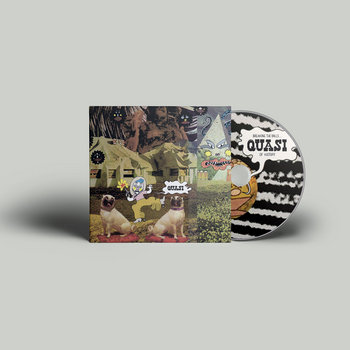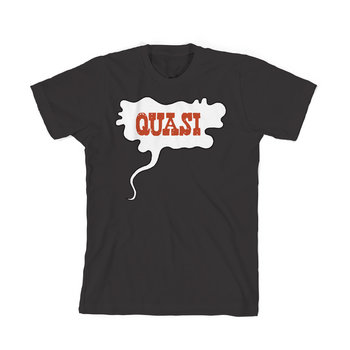 After 30 years of fucking around with their formula, Coomes and Weiss were ready to take Quasi back to basics for Breaking the Balls of History. "We made the decision about [the record] being just keyboards and drums—that was an early decision that really allowed us to distill it down," says Weiss, adding that Breaking the Balls of History is closest in spirit to R&B Transmogrification in its approach.
The duo made use of lockdown's unfilled hours convening daily in Coomes's basement to work on new songs, treating the process "almost like a job," says Coomes. "Every day we'd be like, 'Alright, see ya tomorrow!' Every day we were in there playing and every day I was thinking about the music. How's it shaping up? What do we need? Stuff started to bubble up pretty quick."
Musical ideas would be judged on whether or not they could be replicated in a live setting. "Let's make the choices that allow us to play the song the way we record it,'" says Weiss. "We did end up throwing a few overdubs on there, because you're in a studio and that's what you do, but pretty much the way the song sounds on the record, when we get up on stage, that's it. It's the same thing exactly."
Recorded at Robert Lang Studios in Shoreline, Washington, Breaking the Balls of History isn't lo-fi in sound but it certainly is in spirit, a celebration of all that is analog with a cynical eye cast towards the ascendant technocratic hellscape. "What exactly is a human being/ A little button on a touch screen," wonders Coomes on the "Rotten Wrock," an arched eyebrow of a tune that stomps and swings as it lists out everything that makes the world suck. Calling out everything from anti-vaxxers, forest fires, and "puffed-up patriot pigs" to would-be spacemen who won't be able afford to a ticket to Mars when climate change destroys the Earth, Breaking the Balls of History is undeniably a "lockdown" record in a sense—though, as Coomes points out, you either didn't make a record in lockdown or the record you did make is a "lockdown record."
"A record is going to reflect what's going on in your life at any given time and a lot of times I might have been in the middle of some personal upheaval that was forcing songs into my head. This time, my personal life was peaceful, but the world around me was not," he says.
But as Quasi themselves once sang, "Smile, it's not so bad." There's enough gallows humor here to make the opening salvo of having "a long last laugh at the edge of death" ring true until "The Losers Win," the record's one-and-only studio creation, wherein Coomes and Weiss layer their vocals into an abstract lullaby for the longshots.
Then there's "Shitty is Pretty," a clasically Quasi confection of raunchy organs and thumping drums that Weiss calls "Sam's personal manifesto," and one that plays a summation of Quasi's career to date in that it's a salute to music that doesn't want to sound like it was made by a pile of money.
"The whole concept for the song was taken from an essay that I read years ago by the person who runs Daptone Records where he was talking about how R&B and soul music had gotten so slick, and he couldn't stand it," says Coomes. "He wanted to hear the older stuff, where it was just people in a room with a couple of mics, making this amazing music. It sounded shitty by comparison to modern standards with modern recording technology, but that was what he craved. I feel exactly the same way, not only about soul music, but rock 'n' roll—pretty much all music. I don't want to hear that glossy, artificial sounding stuff."
"And that applies not just to the songs," says Weiss. "It's personal. It applies to the approach, it applies to the sound, it applies to how we go about everything."