LISTS
A Guide to the Live Recordings of Prog Giants Porcupine Tree
By Brad Sanders · April 29, 2020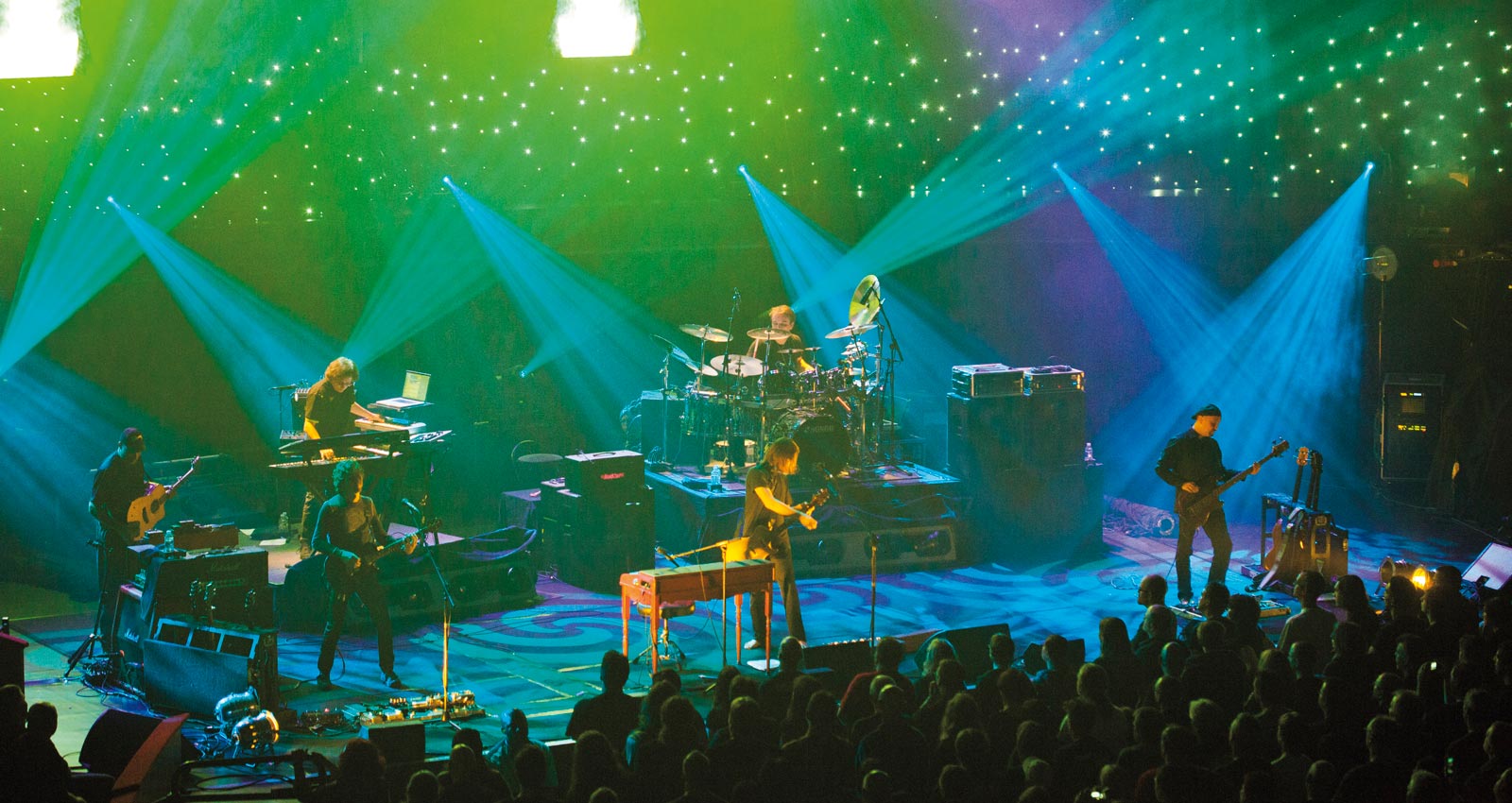 By the time Steven Wilson founded Porcupine Tree in 1987, English progressive rock had moved out of its lawless early days and into doughy middle age. Genesis and Yes had become pop acts, Pink Floyd had just released their first album without Roger Waters, and King Crimson were on hiatus. It was an inauspicious time for writers of long, whimsical, technically virtuosic rock songs. So who was this young man from suburban London with an 80-minute demo tape called Tarquin's Seaweed Farm, and was he serious?
The answer to that second question was no—at least, not at first. Wilson and his pal Malcolm Stocks conceived of Porcupine Tree as a hoax, just a funny name with a bogus backstory involving the misadventures of imaginary musicians with names like Sir Tarquin Underspoon and Timothy Tadpole-Jones. It was almost by accident that Wilson's goofy little project would help revive English prog as an artistic and commercial proposition.
The owners of the tiny (and now defunct) label Delerium Records heard Tarquin's Seaweed Farm and struck up an alliance with the band that would carry through their first four proper full-lengths: On the Sunday of Life, Up the Downstair, The Sky Moves Sideways, and Signify. Across those first releases, Wilson indulged his maximalist sensibilities, composing songs that were heavily informed by the acid-fried psychedelia of early Pink Floyd and that routinely crossed the 10-minute mark. At the same time, Wilson was also beginning to emerge as a great songwriter, hiding soulful nuggets like "Always Never" and "The Moon Touches Your Shoulder" deep inside side-long suites of prog pomposity.
By the start of the 21st century, Porcupine Tree had morphed into something more slippery than mere prog-rock revivalists. Extended jams and off-kilter time signatures were still fundamental to the band's DNA, but they were increasingly overshadowed by Wilson's earnest balladeering, as well as the heavy riffs he fell in love with after producing the Swedish metal band Opeth. In Absentia (2002), Deadwing (2005), and 2007's Fear of a Blank Planet marked the strongest three-album run of the band's career and vaulted them to a kind of minor rock stardom. Suddenly, you could hear Porcupine Tree on the radio, catch them live in a thousand-seat theater, and spot their records on the album charts.
The band would release The Incident in 2009 and tour behind it in 2010, but they've been basically inactive ever since, and Wilson has all but closed the door on things picking back up anytime soon. His sixth solo album, The Future Bites, is due for release this summer. Despite Porcupine Tree's indefinite hiatus, they launched an official Bandcamp page in March, sharing a treasure trove of live releases, many of which had never been available in full ever before. Check out six essential highlights below.
The crown jewel of the newly available Porcupine Tree live archive is a recording of the band's first-ever live show at the Nag's Head in High Wycombe. Two things are shocking about this release—that it exists at all, and that it's actually good. How many bands, even ones with a couple of records under their belts, sound this self-assured the very first time they perform for an audience? Wilson is joined by keyboardist Richard Barbieri, bass player Colin Edwin, and drummer Chris Maitland for an hour of tightly executed yet thrillingly psychedelic exercises in prog rock, anchored by a stellar performance of On the Sunday of Life highlight "Radioactive Toy."
Previously available as an extremely limited CD—a physical copy will set you back at least $100 on Discogs—this 2002 recording of the band on satellite radio sees them at the peak of their In Absentia-era powers. Six of the eight songs here come from that record, probably the most beloved in their studio catalog. It's as thrilling to hear Wilson and his bandmates rip through relative rarities "Wedding Nails" and "Strip the Soul" as it is to hear the classic "Blackest Eyes" and "Sound of Muzak" played so soon after they were originally written.
The band recorded this session to promote Fear of a Blank Planet, so the key tracks here are the title track to that album, "Sleep Together," and the middle section of "Anesthetize" (presented here as "The Pills I'm Taking"). The band also unearthed a seething rendition of "Blackest Eyes" that was never played on the air in initial airings of the session and makes its debut here. It's fortunate that they found it, as it's an instantly iconic recording of the song, injected with far more prog-metal menace than the original studio version. 
We Lost the Skyline isn't an especially rare release, but it is a fascinating one. The entire band was supposed to play a 2007 in-store at Park Avenue CDs in Orlando, but the stage was too small, so Wilson improvised and performed a stripped-down set, playing three songs solo and five with sideman John Wesley. The result is Porcupine Tree at its most intimate. These songs have never felt more direct than they do here, without percussion or embellishment of any kind. Even the 18-minute epic "The Sky Moves Sideways" is repurposed as an eerie, moving 4-minute dirge. What should have been a disaster became a revelation.
Fourteen years to the day after their live debut, Porcupine Tree played a world-conquering show in Köln that was broadcast on German TV. The performance of "Anesthetize" captured here might be the single best recording in this entire cache of material. The players are totally locked in for the song's entire 17-minute runtime, Wilson's urgent vocals are deeply affecting, and the reinterpretation of Alex Lifeson's guitar solo from the studio version swells until it threatens to burst at the seams. It never does, and it's just one highlight in what might be pound-for-pound the best live set the band ever put together. 
By 2012, Porcupine Tree had essentially called it quits. They'd played their last show, released their last album, and the members had all moved on to different projects. This five-song studio recording, never heard before the Bandcamp drop last month, is their inadvertent swan song. A re-creation of an acoustic set they performed at Royal Albert Hall in 2010, the collection includes versions of Stupid Dream cuts "Pure Narcotic" and "Stranger by the Minute" that are as nakedly beautiful as anything they ever released.