LISTS
A Guide to Oval's Digital Evolution
By Jeff Terich · May 11, 2023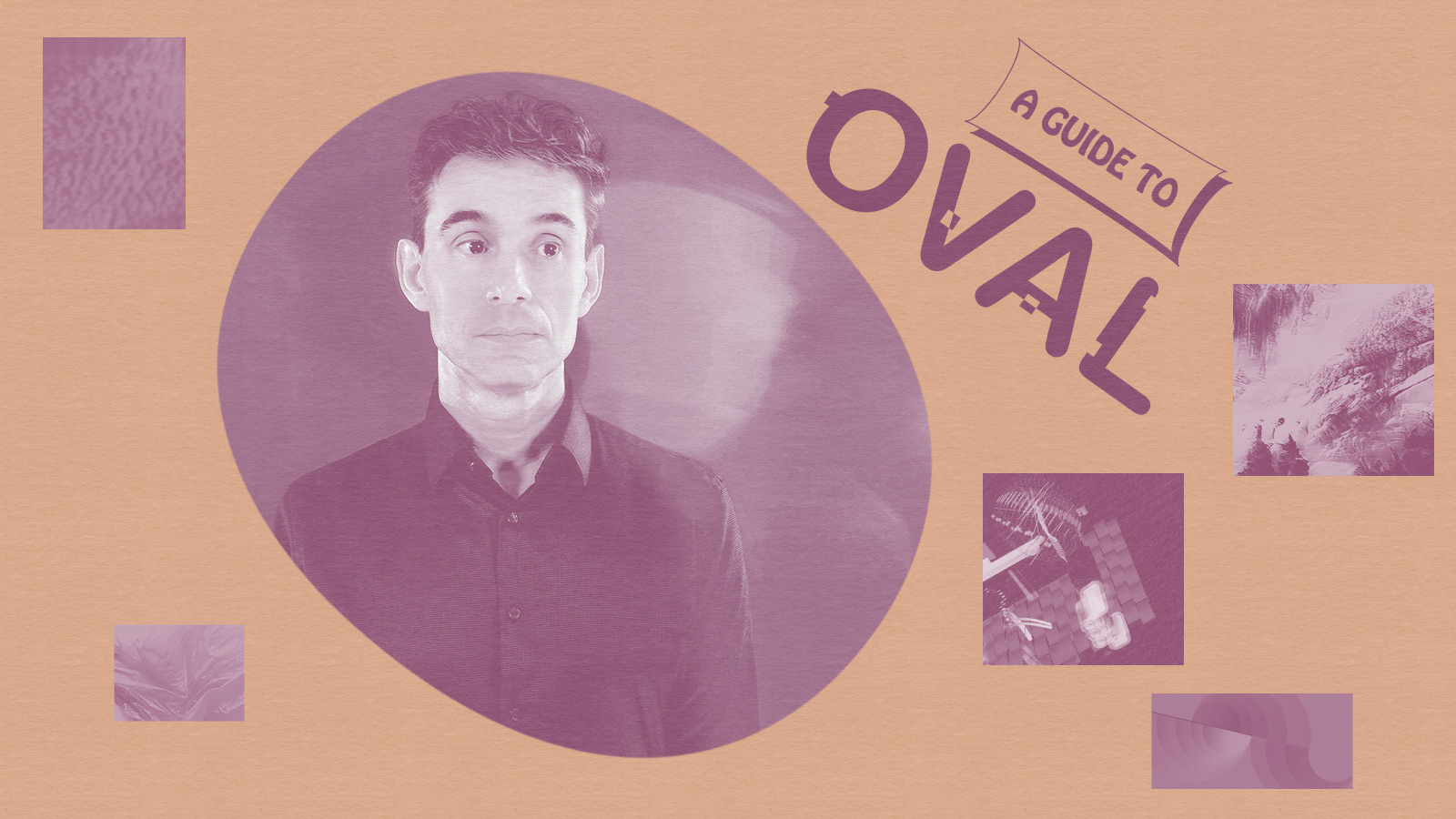 Before Markus Popp could define the music he sought to make as Oval, he established what it wasn't. Without much in the way of traditional training as a musician, and a limited budget, he recognized the limitations that he had to work with in his creative process. That presented a series of challenges up front, but it also helped Popp to narrow in on the idiosyncratic musical direction that he ended up pursuing.
"I had a pretty long list of what I was not going to do," Popp says. "I was also pretty aware that I didn't have a lot to bring to the table as a capital-M musician. And of course we're talking about completely different times. Like the early to mid-'90s were pre-everything. For most people it was pre-internet. Everything was very primitive. Stuff that we take for granted today was far out of reach, especially for my student budget in the early to mid-'90s."
The limitations that dictated Oval's earliest music also spurned its greatest innovation: employing the use of processed and sequenced sounds of skipping CDs, pioneering the sound that would be later known as glitch. Formed in 1991, Oval began as a quartet featuring Markus Popp, Sebastian Oschatz, Frank Metzger, and Holger Lindmüller, later slimming to a trio after Lindmüller's departure two years later, and eventually a solo project by 1995. As Popp continued working under the Oval name, those limits gradually broadened through the following decades. Over time, his software-based music began to include more conventionally pretty and more chaotic ideas alike, with the eventual addition of elements like live vocals and club-ready beats.
Conceptually based and abstract from the beginning, Oval's music has only grown more complicated to define over time, if only because it continues to evolve. In fact, if there's one throughline in everything that Oval's released, it's change. While Popp is always working to create music that's identifiably Oval—however many different permutations it might take—he likewise has a parallel objective to deliver something unexpected. Something that sparks his own curiosity.
"I always try to be surprising somehow," Popp says. "It's kind of like a balancing act. I have to maintain a signature and identity and so on, but there's so much to try. I feel that there's a surprise here and there at least."
Popp took some time to discuss various highlights from the different stages of Oval's evolution.
---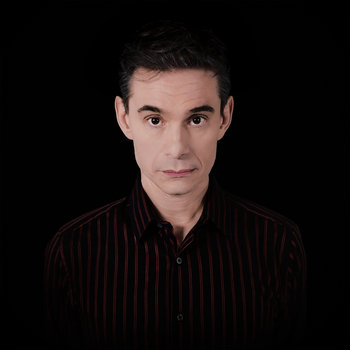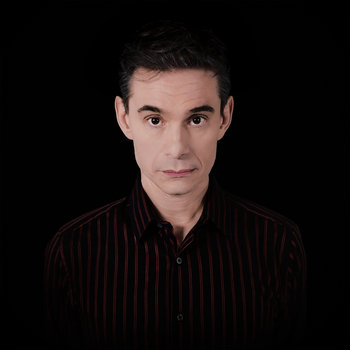 Oval made their debut as a group with 1993's Wohnton, a record that suggested only hints of the digital innovation that would come to define Popp's body of work. But with Systemisch, his vision began to crystallize via unconventional sampling methods. Its 12 tracks are constructed via glitching samples extracted from brief segments of CDs, which Popp would create via hand-marking the discs themselves. The results take the form of minimalist techno ("Textuell"), eerie drone ("Schöner Wissen") and tumbling, off-kilter IDM (the appropriately titled "The Politics of Digital Audio"). As Popp sought new ideas outside of a group context, he found seemingly limitless fodder in his gradually expanding bank of sequences.
"The most interesting and most surprising musical building block was the sound of a skipping laser on a CD player," Popp says. "Pre-packaged sample libraries were, first of all, not affordable for me, and not interesting to me. But I had this CD rental place right down the street, and I traveled back and forth a couple of times every day, and using non-permanent marker on them, I'd built up this comparatively huge library of sounds and sequences and weird little loops that I still have sitting in my basement in boxes and boxes of floppy disks."
A significant record in the development of glitch, its influence continued to ripple years later, finding a fan in Björk, who sampled "Aero Deck" on "Unison," from her 2001 album, Vespertine.
Popp's early experiments with manipulating CDs and reconstructing something new out of the fragments resulted in enough material for an immediate follow-up, a pattern that would continue through various phases in which a new conceptual pursuit would yield enough material for two albums (and sometimes even a bonus EP). The title of 94diskont., released one year after Systemisch, is a cheeky nod to the material being leftover from earlier sessions.
"Diskont is an Austrian term for 'sale,' and it's kind of an ironic way of saying 'these are the outtakes,'" Popp says.
Ironically, 94diskont. became a critical success—and remains one of Oval's most celebrated albums—in large part due to an even greater presence of gorgeously melodic and not-quite-danceable rhythmic material. The 24-minute "Do While" comprises its entire first side, which was created at the time for a sound art installation, and appears again in a single edit of sorts (with a video that aired on MTV's short-lived electronic music show Amp), "Do While ⌘X." Meanwhile "Commerce Server" is a frantic digital gallop, and "Shop In Store" has a kind of symphonic grandeur in its onslaught of suspenseful overtures.
"The eureka moment, if I had to put a finger on it at that time, was that it was actual music to the outside world," Popp adds. "With my early demos, labels would send the stuff back and say 'there's something wrong with this tape, send it again,' or they laughed me out of the room. But this album came out on this German electronic music label [Mille Plateaux] and later on Thrill Jockey, and it's like 'Whoa, this is real music.'"
Merch for this release:
Compact Disc (CD), Vinyl LP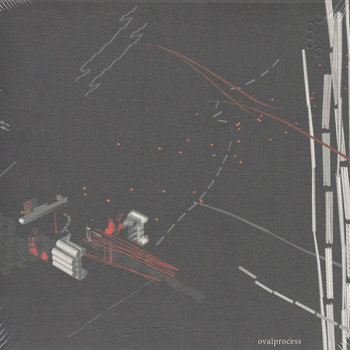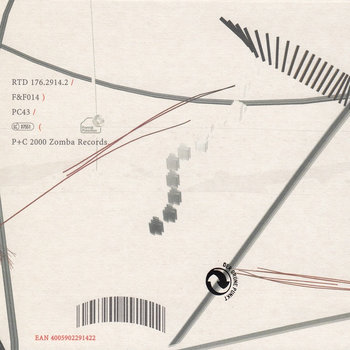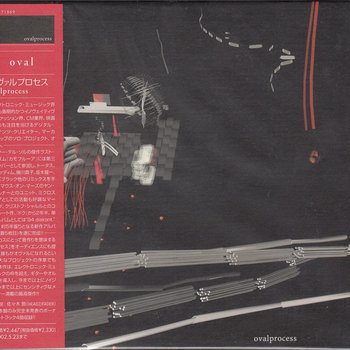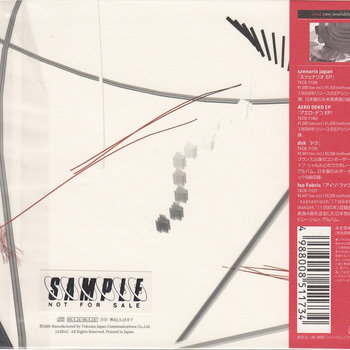 One of the most ambitious projects that Popp ever embarked upon, Ovalprocess comprised not just an album, along with a companion release the following year, but an entire piece of software intended to actually bring listeners into Popp's process of creating, as well as a sound terminal using the Ovalprocess software as its engine. (One such terminal was installed at Potsdamer Platz in Berlin.)
"That was a huge project," Popp says. "It was an entire platform, a sound object, a piece of software. It's everything. Ovalprocess was also the name of the sound installation and Ovalcommers is the companion album. As you can imagine, it was a huge undertaking to work on a piece of software instead of just the next album, so to me it was really important to make that kind of statement, to present an alternative workflow that was public and interactive and not just me selling a record.
"Ovalprocess was designed for an active user, and to go beyond all these confusions because there was all this confusion in music journalism about electronic music—'Who created this; is it the artist or the software?'" he continues. "I wanted to present people with something where a lot of work went into it, and it gives you as a user and the audience possibilities instead of making it just a passive listening experience."
While the software itself didn't end up being updated to current versions of the Apple OS, the music created from this overwhelming project remains. The Ovalprocess album features 10 untitled pieces that represent Oval at its most freeform and intense, with heavily distorted sonic textures and what feels like an even more confrontational sound. Ovalcommers thrives in a similarly bold, noisier realm, but there's a heaviness to it that feels, spiritually, more like a rock album.
O (2010)
Merch for this release:
Compact Disc (CD), Vinyl LP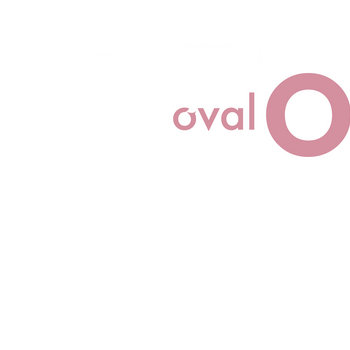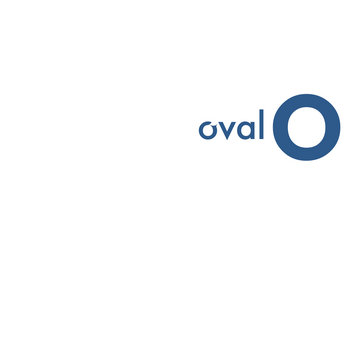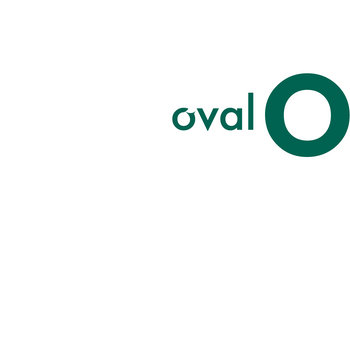 "The big change with O is that this music is played—or is it?" Popp says coyly of his sprawling 2010 album.
Where Oval's early records were made without a technical background in music, Popp gave himself fully to actual composition and music theory on the 70-track O. The longest-gestating record in Oval's history, arriving nine years after Ovalcommers, O was inspired by Popp's immersion into a project that was, above all, musical rather than defined by process or generative sequences. Popp ended up recording more than 100 pieces, some of which were released as an EP of "ringtones." But while the album still carries the off-kilter aesthetic present in Oval's previous albums, it feels more like the work of a band performing live in the studio.
"I finally came to terms with music," he says. "Like notes and scales and playing and composing. That had not mattered to me in the slightest before. So O was really like a second debut album. I wanted to deal with music for real, beyond dissecting music or denying this part of music or that part of music or me being a musician, but I wanted to be in a dialogue with music and really learn the language. To learn the music part of electronic music. And maybe I wanted to prove that there was a lot more music in Oval than people thought all along."
Merch for this release:
Vinyl LP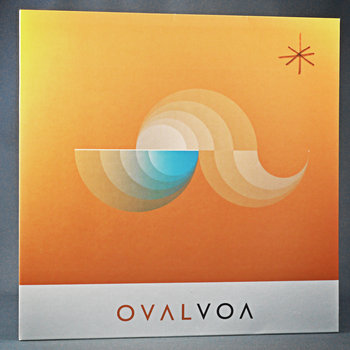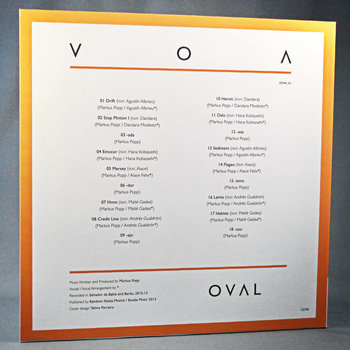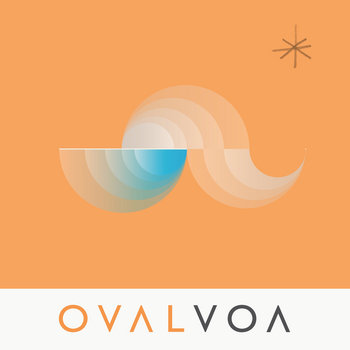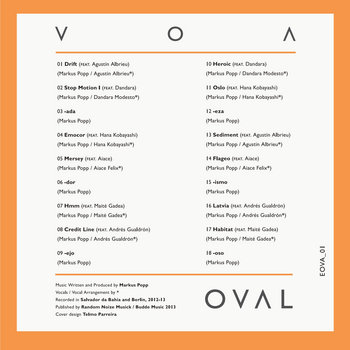 Though Oval has, since the mid-'90s, been a solo project, Popp has since collaborated with a number of different artists, from post-rock group Gastr del Sol to vocalist Eriko Toyoda. In 2013, embarking on a project funded by both the Goethe Institute and the Cultural Foundation of the State of Bahia, he spent 10 days in Brazil working with seven different vocalists on sessions that yielded two distinct records, Calidostópia! and Voa. The inclusion of non-manipulated human voices is an added dimension to the music that makes the compositions feel more identifiably song-based than on prior Oval records—as evident on Agustín Albrieu's croon over the haunting art pop drone of "Drift" or Hana Kobayashi's dynamic tones on the propulsive rhythmic drive of "Emocor."
"This was a wonderful experience," Popp says. "It wasn't even that long, but we were very effective, working in two shifts in the studio, and out of that collaboration came Calidostópia! and Voa. Again, it's all software driven, so to a human musician, this is not something they can easily handle or process. But these kids, they were just like, 'Yeah, let's see what we can do with this.' They came up with beautiful stuff."
Popp (2016) & Scis (2020)
Merch for this release:
Vinyl LP, Compact Disc (CD)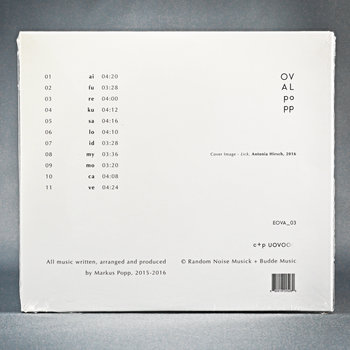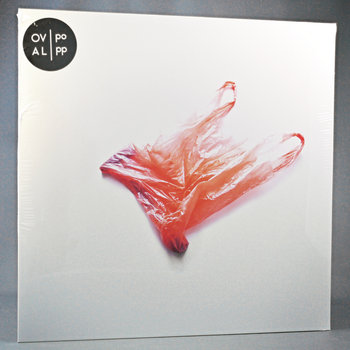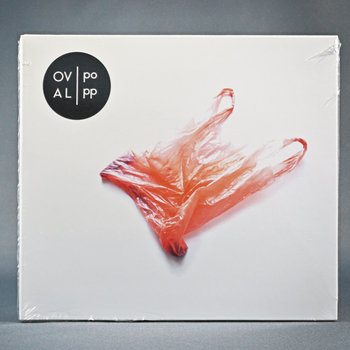 In the early days of Oval, Popp wasn't much interested in electronic music at its most populist, i.e. dance music. But as the project evolved into something more structurally based in melody and rhythm, Popp revisited the idea on Popp, his first record to be named after himself but whose title also doubles as a pun about the musical content itself.
Simply put, Popp is an embrace of pop in a way that only Oval could pull off. Danceable, ecstatic and employing more vocal chops, it's an album more closely aligned with microhouse and, at times, even classic house; a study and deconstruction of club music that retains its buoyancy and sense of fun. He continued to run with similar ideas on Scis, which remained in its predecessor's club space, but fewer vocal chops and more acoustic sounds woven into the strata.
"Sometimes I get to play at a big European festival, like in Belgium or something. And the first rule is to make these people dance. That's your only mission there," he says. "With Popp and Scis, it was kind of like a club critique, me using club tropes, club techniques, club tricks. It made me dance to my own music, weirdly. And that's good enough for me."
Merch for this release:
Vinyl LP, Compact Disc (CD)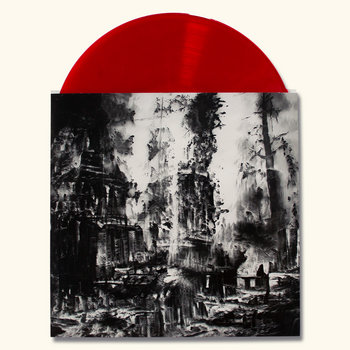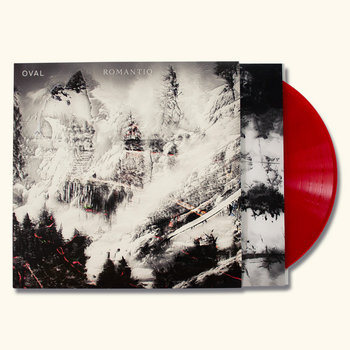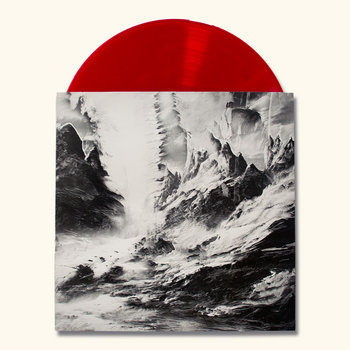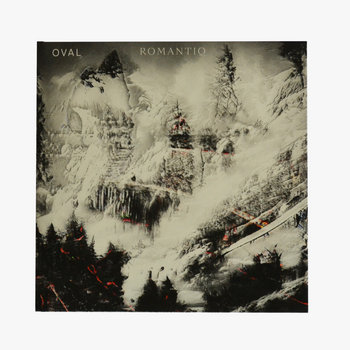 Popp's latest album, Romantiq, took root in a similar point of origin as several of his other breakthroughs: An audio-visual installation. Popp collaborated with digital artist Robert Seidel on a series of brief pieces to be used in an outdoor projection at the opening of the German Romantic Museum in Frankfurt. Yet from there, Popp ran with the idea, taking a deep dive into history and art of the Romanticism era in Europe in the first half of the 19th century.
"My friend asked me to do the music for his big visual installation for the German Romantic museum," he says. "And this is how it started, but that initiated this research. Like Romanticism: What is it? What can it be? What can it be today? What is it up to? So it turns out it's not at all the sappy, clichéd sentimental trope that it is seen as today. Like the early romantics were up to some serious stuff. It was an aesthetic revolution. They wanted to turn the whole world into poetry."
Inspired by Romantic concepts and works, Romantiq is one of Popp's prettiest works, with the lines between its source material and its digital manipulations becoming more blurred than ever.  The electroacoustic twinkle of "Zauberwort" incorporates the sound of an opera singer's voice, though not in any way that would appear immediately recognizable. There are sounds on "Wild Wasser" that could somehow be either strings or woodwinds, or both simultaneously, while the belltones of "Touha" are at once warm and strangely delicate. There are moments in which the album carries a trace of the basic foundation of an early recording like 94diskont, though by and large it also feels like a doorway into an entirely new realm. With Romantiq, Popp continues along an ongoing path he first discovered over a decade ago: A onetime non-musician falling in love with music.
"I always considered O my love letter to music," he continues. "But I started writing longer ago and looking back today, even further down the line, my love letter to music is still not finished.