LISTS
Five Essential Nelson Bandela Albums on Bandcamp
By Marcus J. Moore · May 06, 2021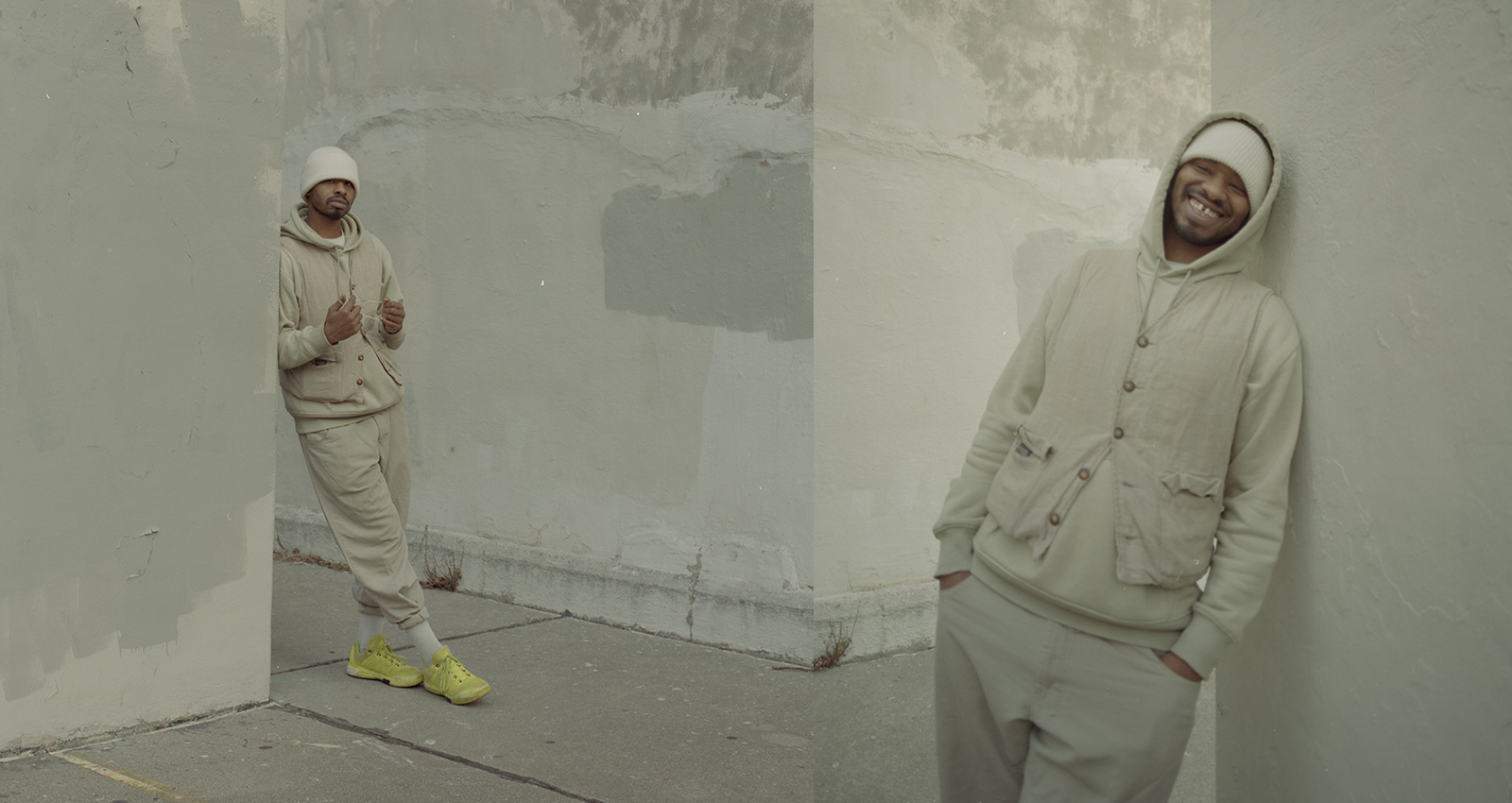 Art is a way of life in Nelson Bandela's family. His brother, Djore, is a classically-trained gospel and opera singer; his sister, Classi, is a writer, rapper, photographer, and community activist; and his brother, Terence, is a musician and film director, known for HBO's Random Acts of Flyness. While his siblings are certainly a huge influence on the young beatmaker and rapper, Bandela (born Nelson Nance) takes creative cues from his mother, a theater actress and director who appeared on PBS' With Ossie and Ruby; his father, a photographer, musician, and videographer; and his uncle Brent, a drummer, guitarist and bassist, who introduced him to music at a very young age. "I think my dad told me I was eight or nine months old, he used to drop me off at my Uncle Brent's house, and that's who would watch me every day," Bandela says. "So I'd be just chilling with him while he's at band rehearsal and he'd dare me to try stuff out. He raised me and he was a musician who took me everywhere he went."
Bandela didn't have a direct journey into making beats. His uncle taught him how to be an audio engineer through a software program called Sonor. "He taught me what MIDI was, so I understood how to record people," Bandela says. "He would hire me to record the rappers in the neighborhood that he didn't want to record." During one of those sessions, one of the local rappers taught him how to make instrumentals." The following week, his uncle showed him how to use the studio's drum machine. "I had this idea to flip the Power Rangers theme into a beat," he says. "It wasn't the greatest beat I've ever made, but when I went back and listened to it a few years ago, it kinda had these Neptunes type of drums, but was not Neptunes. It was not hittin.'" Bandela discovered then that he was more into making sounds, not just drum tracks. In high school, he developed a fascination with psychedelic music and started making ambient instrumentals.
In college, he downloaded a version of the FruityLoops music production software and started creating sample-based instrumentals. "I started sampling Jimi Hendrix records," he says. "It was a little easier for me to chop out a little of the guitar and add drums later. I would spend like a week and a half to make one beat." One of his classmates would make six beats a day using FruityLoops; he came to Bandela's dorm room and saw something in the budding young producer. "He was such a thorough dude that he was like, 'It's not even a thing about how many beats you have,'" Bandela says. "'These beats that you're making are very unique and I can tell that you work on what you make. It sounds good and it sounds like you.'"
That feedback set Bandela on his current course. Mixing hip-hop and house, his discography is full of experimental music with multiple entry points that are tough to discern. There's an airiness to it: Using big electronic drums, scant samples, and pitch-modulated vocals, Bandela has tracks for all sorts of listeners. And when he's not adding to his own robust discography, he's remixing tracks for the likes of Nick Hakim and starring in his brother's hit TV series. So Nelson Bandela is a name you've heard over the past few years, even if you couldn't place where. His art has become ubiquitous and he's due for even brighter shine. Here, Bandela walks us through some of the highlights on his Bandcamp page.
"Each one of these has a very interesting story. Bandela Beattape 001 happened because when I was living here in my new space in Brooklyn, I was super depressed. I was depressed about the nature of my art, because I felt I had become this new person and all the stuff I'd done before wasn't valid. I was having this weird cognitive dissonance. All of those first beats, I felt like I didn't make them. Here were all of these songs being above what I thought I could do, and so it was almost a reminder for me, a bookmark that showed I am capable of so much more.
"I made that first one, then I started finding complete tapes in my library. It was stuff where I initially thought, 'Uh, it's not good' and I would stop writing to it. Or maybe I'd end up writing to it then I'd somehow lose the verses. Each one of those tapes, all the way up to 009, is something I found that I completely forgot about. They find their ways to me. I do have other beat tapes that I've been holding a little bit, but each of these—when I've listened to them months or years later—there's more that can be said without lyrics. The idea is to have a conversation through those vibrations."
"Prince Nelson Bandela came about because I was really into Prince's rapping. He has all these songs where he's rapping, and he has a couple that are like pseudo Michael Jackson disses. It's such an interesting phase, you know? But he was also big on trying to speak to a younger generation about their issues, but also his approach to their issues.
"I was listening to a lot of Lil B at one time in time in Vegas, and at one point, I wanted to be the freestyle king—like, 'I'm gonna freestyle every day and make 80-song albums.' And so I did those and I didn't really like them. So I deleted most of them, pretty much all of the songs. Then I linked with a DJ, DJ Splice da Loop Gawd, and he sent me a ton of beats. Then I re-approached the album after I spoke with my friend Tay Tay Pierre. I was talking to him about what it meant for me to change and be more of a rap-focused artist, and the interest and what that meant for Prince when he did that. For Prince, he realized 'This isn't me.' But for me, I realized this is me a little bit more. I identify with this because I got into making beats because I was rapping. I wasn't a great rapper, but I liked to rap. I realized that because I was rapping so young, it's not like I was doing something different. I was incorporating more of me into the music. Then when I started to make the tracks, I would write the hook first, almost like a call to action that reminded me what I was rapping about. I freestyled all the verses, and I kept freestyling the verses until I said what was really on my heart. It got me into the practice of rapping and feeling confident with my voice."
"I have such a weird history with that album. When I was still making music under the name Norvis Junior, people would tell me after every show in Brooklyn, 'Yo, you're like if James Blake and Flying Lotus were one person' or 'You're like the Black James Blake.' After every show, I would hear those two comments without fail. It was cool, I was never mad about that. So I decided to take it to the next step and make an album about it and this was in 2014 or 2015. I first started making the songs by writing poems, because I read somewhere that James Blake starts out his songs by writing poems.
"I wrote one poem that turned into the song 'Blames Jake,' and there's a version of the song that sounds like [Blake's 'I Never Learnt to Share.'] But then I started realizing as I was making these songs in that way that they were disingenuous. Making a satirical album and making parody songs was not the intent. I wanted to make songs from the heart. So I kinda scrapped everything at that point, except for 'Blames Jake,' and re-approached all the songs. I finished the album around 2017.
"I shopped it around and got a couple of bites, and one label in particular said they were down to put it out. I was doing shows with this label and things were going pretty good. So like four or five months before the release date, I asked about the rollout and was told that they're not putting it out. Then they were like, 'Actually, we're not working with you anymore.' That made me feel like shit. I became more reclusive but I am over it. That's their loss, as I see it. At that point it'd been almost four years after the project was finished, so I just had to get it out."
"That is my favorite album I've made. I went to [drummer] Marcus Gilmore's house one day, and he'd been telling me he has an OB-6. And he's like, 'Yo, you gotta try this out.' I came over one day with my audio recorder, and he's showing me these patches he made. My mind opened up the moment he started playing it. There was something about the sound of that synthesizer. So we were just playing around and every now and then, I would hear a whole song in my head. I might not have known the lyrics, but I heard the whole beat and a little bit of the cadence. I sat with these samples for a week, then I made five songs, and they were to a T to what they sounded like in my head.
"Then I was like, 'I'm not gonna do anything with these beats.' [laughs] I thought someone else needed them. Quinton Brock came over the house one day. We're just chillin' and I played him the beats and he asked, 'Are you gonna rap on these?' Before I was going to say no, I told him I was going to rap on those beats. I wrote three of the songs the next day. For the first time, I felt I was rapping in a way where I was very clear about my concepts and emotions. It was the concept of growth, a stretch mark is a sign that you've grown. People always think stretch marks are bad, but no, they're beauty scars. It was the first time I was able to recontextualize people's minds with raps."
"That was actually a gift for my wife. She loves to dance and I thought, 'I've made uptempo albums, but I've never made what I felt was an album meant to make people dance.' I wanted to give my wife a present that was unique and from my heart. I wanted to give her something that makes her dance, something that makes her be in her happy mode. I collected the songs in my catalog that I hadn't put out that really made me dance that I saw made her dance. I was doing this for two months. I compiled the album then I asked her what it should be named, and she said 'GET UP!!' She picked the cover, too. It was a collaborative effort in that way. She helped A&R it, which was really dope."