LISTS
An In-Depth Guide to the Microphones
By Grayson Haver Currin · August 07, 2020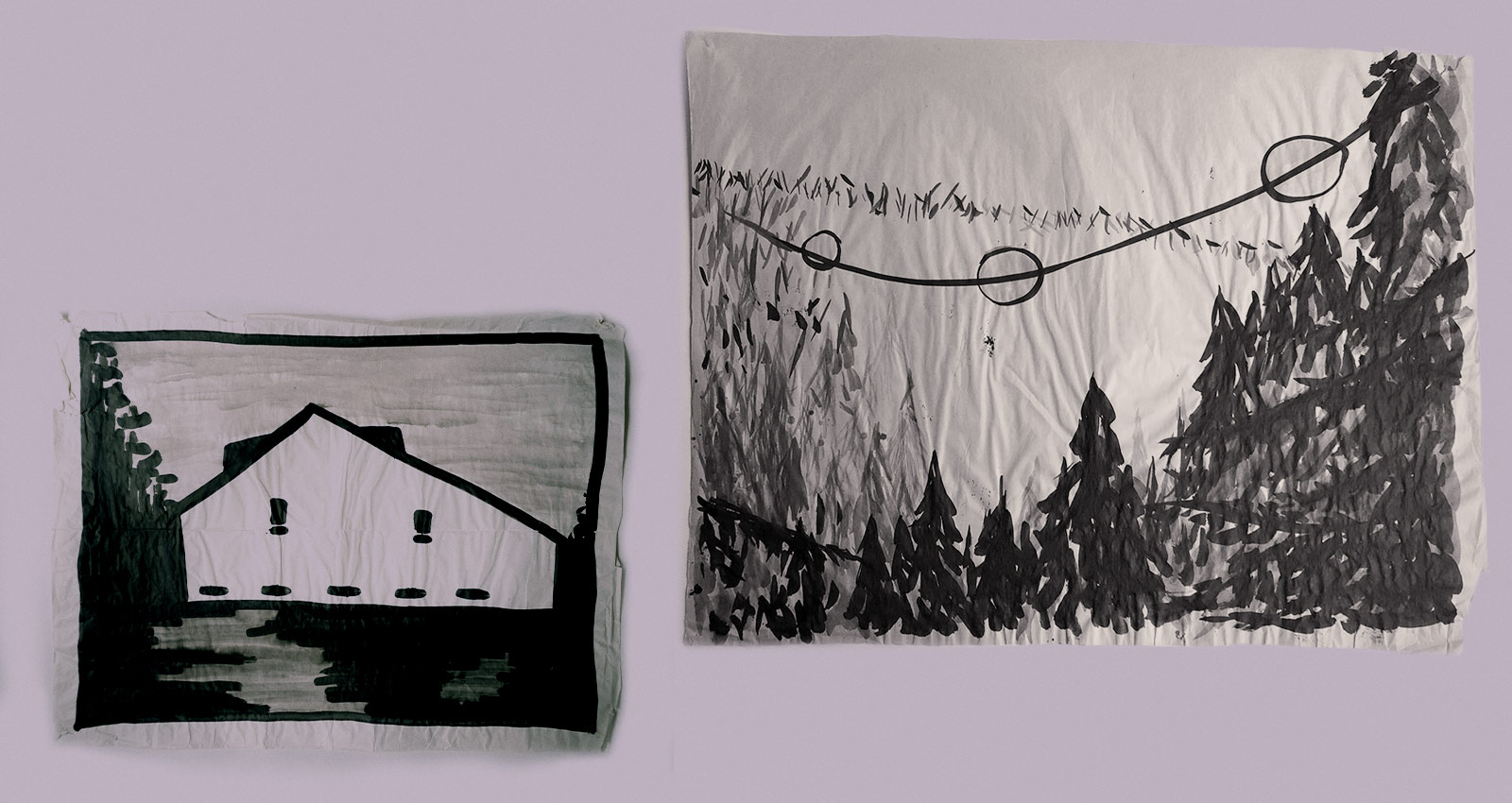 For the last 25 years, across more than 60 releases—first as the Microphones and then as Mount Eerie—Phil Elverum has used the humdrum details of his daily life as fodder for experimental folk, indie rock, and even heavy metal. He has articulated his search for validation and truth in a world that can seem designed to prove how little you matter. That sentiment stretches cleanly from 2001's The Glow Pt. 2, Elverum's boundless examination of young adult heartache, to 2017's A Crow Looked at Me, his heartrending document of life as a widower and single father after his wife, Geneviève Castrée, died.
When it comes to names—of projects and even his own—one could reckon Elverum to be obsessed.
At the start of 2003, just as albums like The Glow Pt. 2 began to make the Microphones an indie rock commodity, he dropped that moniker for "Mount Eerie," the name of the last proper Microphones LP and a reference to the mountain perched over his hometown of Anacortes, WA. The songwriter soon supplemented his surname, Elvrum, with a second "e," matching that of a small Norwegian city when he spent a winter in the far north of the country.
But for Elverum, none of that actually matters too much. Names are window dressings, he suggests: superficial marketing tactics that distract from what an artist has to say about life and the quest for meaning. That is the premise of Microphones in 2020, his astounding first album as the Microphones in 17 years. On its single, 45-minute track, Elverum, now 42, revisits his art's origins, trying to locate and reignite the unifying impulse that guided him as an artist in his early twenties. The names, sounds, and circumstances may have changed, but his desires remain the same: "this luxurious privilege to sit around frowning and wondering what it means," he sings, "playing with words and trying to prove that names mean nothing."
There is no easy distinction between the Microphones and Mount Eerie. When Elverum started the Microphones, he was a young audio enthusiast, a kid thrilled by the process of discovery that recording entailed. He worked with a ragtag cast of collaborators, so his equipment—like, microphones—became his bandmate. As he learned more about recording and began to codify an aesthetic, he started to focus more on language, refining the poetry that best expressed his feelings. Such is the essence of Mount Eerie.
At least until now: Microphones in 2020 may be the most compelling, exacting, and poignant writing of his career. "I hope this record is the end of all names, but I know that's probably not possible," says Elverum from home, laughing.
We sorted through six highlights of what Elverum has called the Microphones: an overwhelming catalog, without even considering Mount Eerie. We asked him how he feels about those records now, after spending so much time pondering what the Microphones have meant in his life.
Merch for this release:
2 x Vinyl LP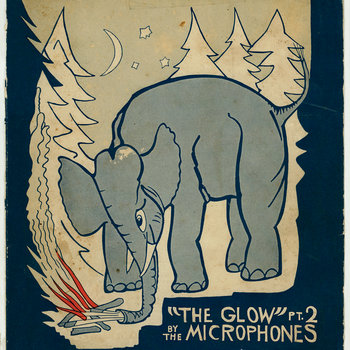 By the time Phil Elverum began making his first masterpiece, The Glow Pt. 2, in the spring of 2000, he was more than four years deep into his recording obsession. On a series of tapes conceived in the rear of an Anacortes record store, he'd plundered almost every sound he could imagine, turning drones, drums, and acoustic guitars into miniature composites. Now in Olympia, he'd thrown himself into the capital city's scene wholesale. He lived in the legendary Track House for $175 a month and volunteered at the food co-op for cheap groceries. He spent his free time across the street at Dub Narcotic Studio, trawling Calvin Johnson's massive trove of aging equipment.
The Glow Pt. 2 captured the collision of Elverum's youthful energy and budding experience, the exact moment his understanding of recording and the rawness of his nerves dovetailed. An unflinching, 20-song document of heartache that feels like an extinction-level event, it tells us everything: how he thought he understood love and permanence, how he sulks and even stalks, how he wants to disappear. But the world of sound Elverum conjures here, a homespun backdrop of unrest and intrigue, keeps the songs churning. It is a complicated portrait of a young person learning how to lose, the quality that makes it perennially poignant.
K Records released The Glow Pt. 2 on September 11, 2001. It feels now like it did then—a headlong escape into someone else's woe, a place where the grief and worry were so immersive that you had no choice but to step away from your fear for a while. The Glow repeatedly flirts with abject despair, with the prospect of just giving up. But after an hour, Elverum sits cold and alone in the dark, surrounded only by the insects who know his "red blood is still warm." That is, things suck—but at least he's still here to tell the tale.
"I always think I'm making something that's the best I can possibly do," says Elverum. "Usually I am wrong, but I always have that feeling. Mirah had been with me on tour while I was writing some of The Glow Pt. 2, and she had been coming in and out of Dub Narcotic, overhearing what I was working on. And I remember her saying, 'Wow, Phil, I'm really excited. This record is going to be something special.' I like it now. But legacy is so baffling. It's almost arbitrary, the things that get put on pedestals, but I'm lucky to have benefited from that arbitrariness."
For a decade, St. Ives epitomized the record label as a community art project. On early and very limited editions from the likes of Animal Collective, Man Forever, and Fruit Bats, bands would paint recycled record covers themselves, alternately rendering ornate designs and slapdash expressionist pastiche. The Indiana label seemed especially suited to an early-20's Elverum, a prolific painter and photographer who constantly doodled in notebooks. His debut on St. Ives—2001's discursive Blood, limited to 300 copies—was the label's first release aside from a compilation of Hoosier favorites.
When St. Ives asked Elverum for a follow-up, he strolled into Dub Narcotic on February 2, 2002. He set up a single microphone, a pump organ, and a piano, then pressed 'Record' at 2 p.m. After 40 minutes, Elverum had finished Little Bird Flies Into a Big Black Cloud, an extemporaneous vocal rendition of a recently released chapbook. You can hear him shuffling the pages after "Three Steps," a stepwise spoken-word guide to considering mortality and the endlessness of your imagination, and witness him faltering as he tries to find a note during "I Got Stabbed," a meditation on prying apart your feelings for art. It is as personal as the hand-painted covers for this edition of 400, now a pricey collector's item.
His use of language here—beautiful lines that are somehow both spare and florid, triangulating the sensations of his feelings—represents a crucial development. He'd been listening to Will Oldham and Little Wings, trying to learn how he could mirror the sonic care of the Microphones with words. He maps his feelings to trees, flowers, oceans, and soil, shaping a personal pantheism of frailty and strength, beauty and decay. "You're a warming wind from a distant sun," he croons during one fraught moment. "I'm an iceberg and I'll melt and out I'll run."
Phil Elverum doesn't see Little Bird Flies Into A Big Black Cloud so much as a record as an exercise in "anti-production," a counterpoint to his developed sound experiments. "We're only talking about it because the Internet came around and leveled out the accessibility of everything," he says. "It now has the same size thumbnail as all the other albums. But I like to have things available and not seem exploitative of cultivated scarcity. I still think this record is only worth 400 copies, but I also like saying, 'Here's everything. You get to decide how many copies it's worth.'"
Early in the decade, Elverum was driving between New England tour stops when he found himself with a day off in New Hampshire. Passing through the state's iconic White Mountains, he decided to climb, despite encroaching winter weather. Partway up Mount Jefferson, the snow began to drift down as Elverum passed signs demanding that hikers turn back during worsening conditions. He pressed ahead, eventually staring out across a tremendous, cloud-shrouded gorge: "I imagined going to the brink and looking beyond this life," he remembers, "to the other side of death."
Elverum also missed his hometown of Anacortes, two hours up Washington's puzzle-piece coastline from Olympia. He pined for the sight of the town's own Mount Erie, a stubby tree-covered mountain with a dramatically exposed rock face. Inspired by the 9th century Buddhist poet Han-shan who wrote his poetry on the rocks of mountains, Elverum decided to bind his songs to Anacortes' little peak forever with an album that used it as a symbol of life's arduous journey and eventual end. That is the premise of Mount Eerie, Elverum's last full LP as the Microphones for nearly 20 years.
Mount Eerie is Elverum's most elemental but complex album. It is the archetypal story of birth and death and afterlife, cast in an extended metaphor about ascending a peak and peering out into the canyon of life below. But its five seamless movements shift between harsh noise and plaintive folk, between throbbing dance music and ghoulishly chanted harmonies. A Greek chorus even narrates Elverum's climb up the mountain, toward his end. The culmination of years spent experimenting with sound, examining the uncertainty of existence, and expressing those ideas through increasingly sylvan images, the operatic Mount Eerie offered an aptly climactic finale for the Microphones.
"Mount Eerie is a concept-story album, but I wanted it to flow directly out of The Glow Pt. 2," says Elverum. "I started it with the same sound The Glow ends with; that thing is common through everything I make, a thread that ties it together. I like forefront-ing the connections, but it's almost all for me. I intentionally don't think about what fans will notice, or if anyone is even going to listen at all."
In 2002, Elverum asked the fans on K Records' website for an outlandish favor: he wanted to spend a winter in Northern Norway, writing and thinking in Arctic seclusion. A fan in Bodø, a mid-sized city ringed by rugged peaks and the Norwegian Sea, offered him a show and eventually pointed him toward a cabin two hours away. Elverum, who is of Scandinavian descent himself, spent months there—battling the relentless cold, confronting the turmoil of a recent breakup, and writing lots. His diaries from that time became the 134-page Dawn: Winter Journal, while his songs, which cut to the quick of living in solitary sadness, became a gripping Mount Eerie LP, also titled Dawn.
Mid-winter, Elverum briefly left his cabin for a long journey to Shibuya, stepping into the streets in snow pants and a heavy coat. He was there to play several shows with Calvin Johnson, Little Wings, and Japanese indie rock band The Moools. Elverum had already decided to drop the Microphones moniker for Mount Eerie, but he kept it for these sets for whatever name recognition it may confer. It's in quotation marks on this subsequent live album's cover—in Elverum's mind, he was already something new.
The enduring power of Live in Japan is the sense that a hermit is being let out of its hut, that the beast with feelings is emerging from a cave to share. Elverum is alternately playful and tortured, finding joy in relationships while painfully recognizing they have limits. During the gripping "We Squirm," Elverum offers a late Microphones and early Mount Eerie cri de cœur: "I say let feelings hold you/ I say embrace your captors/ I say get to know them deep," he sings at the end of the song's breathless single verse, his voice crashing against the rocks of his heavy strums.
"I don't like live albums that much, but I decided to release this one because so many of the songs were documents of something that would never happen again," Elverum says of the record. "All the other Microphones things I repress from time to time, but I'm not going to let this one fade away. It's weird, super raw, hard to listen to. I had been in this cabin in Norway, going head-to-head with my demons. All of a sudden, I'm in Japan, performing this raw stuff to strangers that maybe didn't even understand the language. It's a document of being mid-exorcism."
By early 2007, Elverum had taken several tentative steps as Mount Eerie, releasing one full album and a bevy of singles and conceptual experiments. He was still on the eve of the records—notably 2008's Dawn and Lost Wisdom—that would codify the project's stark sound and frank core. He realized, however, that two new songs wouldn't fit Mount Eerie's increasingly confessional aesthetic: "Don't Smoke" and "Get Off the Internet," released in 2007 as a 7″ attributed to the Microphones. Wouldn't the name just make these punk tunes stranger?
They are indeed outliers in Elverum's oeuvre, preachy imperatives that tell listeners what to do rather than reframe what he has done himself. Slyly written to the tune of "We Are the World" and traced by spectral harmonies and sighing guitars, "Get Off the Internet" foretold the FOMO and exhaustion of our digital futures, a preemptive warning that a world of wonder and meaning exists beyond browser windows. "Don't Smoke" may grate when heard as a puritanical straight-edge plea; considered more broadly, it's an enduring anthem for solidarity and self-reliance, for letting the nasty habits of the past die at last. "We are the ones/ We have to do it," he urges in a rare moment of motivational earnestness. "No more parents or gods."
As Elverum tells it, "When I made those songs, it was me being a little snot, wanting to fuck with people. I was telling people what the rules are. And I wanted to poke with whatever preciousness existed around the name the Microphones. The songs seemed like their own thing, too. They were overtly political and definitely written with the audience in mind, though I normally try to ignore the fact that people will listen."
Merch for this release:
2 x Vinyl LP
Early last summer, Elverum surprised his most ardent fans with a most unexpected twist: he would play one set as the Microphones in July, 16 years since his last album under that name. It was a reunion—though not really, since the band had always been an amorphous collective, anyway. Instead, Elverum had reunited with old friends to resurrect What the Heck Fest, the low-key, homecoming-style fête he'd helped anchor in Anacortes in the early '00s. For Elverum, it felt fitting to dust off the mothballed name he'd used for those early days, but he didn't want to settle for old favorites.
That feeling spawned a 20-minute metatextual saga Elverum premiered at the 2019 festival. He wondered aloud how he'd shaped the Microphones, how it had shaped him, and what reviving the name said about the art he'd always made. What were the threads that tied the melancholy teenager who'd started this project in Anacortes because he loved recording, to the 41-year-old widower and acclaimed songwriter who'd returned? The finished song, "Microphones in 2020," is arguably the third Microphones masterpiece and a definitive framework for Elverum's entire career.
This uninterrupted 45-minute tone poem rises around a tiny choir of acoustic guitars, shimmering like a moon glow on an endless ocean horizon. Elverum zooms in and out on his life, using seemingly small moments as chances to ask very big questions about why making art matters. He remembers playing alone in the garden as a toddler and wonders if that's why he's clung to mountains and oceans, fog and rain as a writer. He recounts a transformative experience watching Crouching Tiger, Hidden Dragon, a film that pushed him to express truths greater than mere romantic disappointment. He borrows from Mayhem as well as himself, quoting and alluding to his past work as he examines how the pieces of his life cohere.
Midway through the track, Elverum sings of his early days, "I was already who I am." Not 20 minutes later, he appears to contradict himself, singing, "I am older now, and I no longer feel the same way that I did even 5 seconds ago," his voice cracking as he squeezes in the syllables. This miraculous paradox is central to his creative life—the idea of growing where you're rooted. Microphones in 2020 feels like a roadmap for pursuing new ideas, vividly illustrated with a renewed understanding that doing just that has been your life's work. 
"It's not a good feeling to get dangerously close to self-indulgent nostalgia," Elverum says. "It's distasteful to me. I made this as an antidote, and playing this felt weird and new and challenging. That's where I want to be as an artist. I don't want to indulge in the comfort of repeating something I know works. I want to be moving forward, and I've always been that way. Fingers crossed that I'm done making albums about the baggage of the past for a little while."