LISTS
A Guide to the Brilliant DIY Pop of The Cleaners From Venus
By Ashley Naftule · July 20, 2018
Martin Newell has a name for the four-track recorders that he's spent most of his life pouring pop gems into. "[They're like] the cage to be brilliant in," The Cleaners From Venus mastermind says over the phone wistfully. "[A four-track] takes away certain decisions that I can't have—it puts me in a cage and says, 'Go and be clever in this small space.'"
Newell's long and prolific career as a DIY songwriter is a testament to the virtues of creative restriction. He's released a huge body of work under a variety of different banners: The Cleaners From Venus, The Brotherhood of Lizards, The Stray Trolleys, as well as under his own given name. While he's worked with a pool of steady collaborators who've weaved in and out of The Cleaners orbit over the years (including Lol Elliot, Dave Allen, Captain Sensible, New Model Army's Nelson, and journalist Giles Smith), he's been the self-described captain of the Good Ship Venus from day one.
As The Cleaners from Venus, Newell has put out one sublime lo-fi pop album after another, starting in 1980 and continuing to this day. A child of the '60s, his songs draw inspiration from the sweet yet sharp early singles of The Who, The Beatles, Small Faces, and The Kinks—compact melodic gems with muscle and wit that haven't been weighed down by any concept album baggage. More Revolver, less Sgt. Pepper's.
"I don't want to copy those singles," Newell says. "I want to find what they were looking for. I'm not following in the footsteps of the ancients; I'm trying to seek what they sought."
He nails the magical allure of those old singles in his 2001 memoir This Little Ziggy when he suggests that the exact moment the '60s began was in The Beatles' "A Hard Day's Night." The era, Newell muses, was born in the gap between the chord that opens the song and Lennon's singing: "The world changes from black and white to color."
The lo-fi music of The Cleaners From Venus is all about capturing that moment when everything bursts into multicolor brilliance. What gives Newell's music such a fascinating dimension is that he chooses to stay in that brilliant cage of his, recording music that could give the Ray Davies of the world a run for their money.
Trying to get into The Cleaners discography can be a daunting task. Newell has released so many albums that even he has trouble keeping track of them all; a documentary filmmaker not long ago told him his catalog was nearly twice as long as he thought it was.
Here are a few signposts to help you navigate through the long and winding road Newell's paved through the DIY pop underground.
Merch for this release:
Vinyl LP, Compact Disc (CD)
By the time Newell started working with drummer Lol Elliot as The Cleaners from Venus in 1980, he was already a jaded music industry insider. Newell had fronted a series of bands throughout the 70's: glam rockers Plod, pop-prog outfit Gypp, and his own group The Stray Trolleys. He had even released his own solo single, "Young Jobless." Encouraged by Elliot's anarchist leanings and Newell's desire to cut out the "parasitic" middlemen in the music industry, The Cleaners decided to produce and release their own work. "Why don't we just make a hundred cassettes and sell them to our grannies and neighbors and people who don't know any better or haven't been recaptured and medicated yet," Newell says of their considerations in that moment.
The Cleaners started strong right out of the gate with 1981's Blow Away Your Troubles and 1982's On Any Normal Monday. Early songs like "Marilyn On A Train" and "Swinging London" showed off Newell's knack for writing hooks, while the strange echoes and delays on "Tukani (Monday Is Grey)" served notice that the Cleaners could get real weird with their production. And goofy tunes like "Alien" and "Be An Idiot Popstar" gave admitted Zappa fan Newell a chance to crack wise and sling some snark against the New Romantics. "Collect another 1,000 pounds by switching on your drum machines," Newell sings with faux-operatic zeal.
He would later switch on the drum machines for Midnight Cleaners, the band's first masterpiece. The pop chops were sharper, the earworms even more wriggly. Songs like "Factory Boy" and "Only A Shadow" (which MGMT would later cover) could have been radio hits. But what makes Midnight Cleaners stand out is the band's embrace of darker textures and dissonant sonics: a bit of goth, post-punky gloom to darken their sunny '60s pop approach. "Corridor of Dreams" sounds like Destroyer's Kaputt if it had been recorded in 1982: a lush, sax-driven slice of moody songwriting.
Midnight Cleaners uncovered a vein of riches that generations of DIY musicians would mine. Listen to these songs and you can hear the bubbling, primordial soup Ariel Pink crawled out of.
Merch for this release:
Vinyl LP
Singling out individual albums from Newell's '80s period can feel like a fool's errand: they're all pretty fantastic. 1983's In The Golden Autumn boasts a re-recorded version of "Marilyn," the muffled sounding, yet catchy "Renee (Who's Driving Your Car)," and the incredibly eerie "The Autumn Cornfield" (whose combo of child narrator muttering about gypsies, druidic drums, and R. Carlos Nakai-style flute playing make it sound like someone trying to remake The Wicker Man in a remote jungle). 1984's Under Wartime Conditions features one of Newell's greatest songs, the melancholic and gorgeous "Drowning Butterflies," and 1986's Living With Victoria Grey gives "Butterflies" a run for its money with the jangle-pop perfection of "Clara Bow."
"Clara Bow" spotlights one of the endearing qualities of Newell's work: the happy accidents that come from recording "in the wild." "I had ducks in the garden," Newell says. "We were setting up, me and Giles Smith, on this primitive wooden balcony in spring. We could hear the ducks quacking and I thought it'd be good to leave it on the track." The quacking ducks on "Clara Bow" aren't the first or last time that natural or manmade sounds barged their way into Cleaners songs. "People ask, 'What happens if a car goes past?'" Newell says. "Well, cars go past in real life, don't they? You probably wouldn't even notice."
1988's Town & Country stands out as well with its slightly cleaned-up production and stellar songwriting. Newell is hilariously caustic on the beautiful "Let's Get Married." He raves in true absurdist fashion on "I Was a Teenage Idiot Dancer" (perhaps the only song with multiple Peter Kropotkin name-drops), and pays homage to his heroes in "The Beat Generation and Me." Giles Smith, the Tobin Sprout to Newell's Robert Pollard, also contributes a couple of affecting songs on Town & Country. His "Felicity" is one of The Cleaners' finest late '80s numbers.
Merch for this release:
Vinyl LP
Newell capped off the '80s by forming The Brotherhood of Lizards, a new band with Peter Nice, aka Nelson. With songs driven by mandolins and sharper production values, the Lizards started to gain attention from the media (especially after Newell and Nice did a promotional tour via bicycle, busking their way across the southern half of England). The Brotherhood didn't last long: Nelson joined New Model Army, leaving Newell to enjoy a brief period of creative hibernation.
That soon changed when Newell joined forces with XTC's Andy Partridge to produce Newell's second solo LP (after 1985's Songs For A Fallow Land). While it's recorded under his own name, it feels like a Cleaners album in all but name (and also features contributions from Cleaners O.G. Lol Elliot).
Partridge was already familiar with Newell's work. "In terms of fidelity," Partridge says of Newell's old Cleaners tapes, "it couldn't have been worse if it was recorded on a cylinder through a toilet roll. But the songs were pretty decent." The two worked together in Partridge's shed, recording on an eight-track and an old Mac computer. Some of the songs from The Greatest Living Englishman, which had a lusher and more expansive sound than his older work, were sketched out on My Back Wages, a collection of oddities primarily written while Newell was quarantined with the chicken pox. It's fascinating to hear these relatively polished songs begin their lives here.
Merch for this release:
Compact Disc (CD)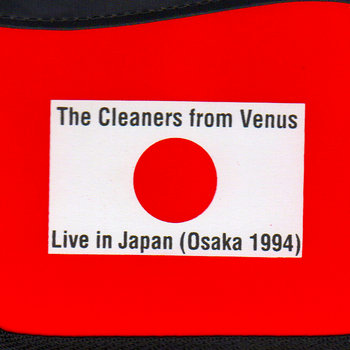 It's rare for any band's live album to be considered an essential pick, but Live in Japan embodies two important sides of Newell as a musician. For starters, the Osaka concert rips: this is Newell and co. at their punkiest. He shows off his glam rock roots, backed by a band that includes Captain Sensible and Lizards cohort Nelson.
The other quality that Live in Japan shows off is that Newell can be hilarious. He's the sort of person who will impersonate Winston Churchill singing Whitesnake's "Fool For Your Loving" in the middle of a phone conversation (we have the recording to prove it). The Osaka concert captures his knack for stage banter: "Are you ready to rock? Yeah?! That's a shame: we're a pop group," Newell cracks after "Wunderbarmaid."
Newell doesn't perform much these days. "I feel there are too many 60- and sometimes 70-year-old men lumbering around the world's stages like amnesiac bison, trying to recreate something that is essentially a youthful pursuit," he says. Singing about girls and hot rods at 72… If I'm in the studio making records, I'm still 18 or 25 or whatever age I want. But I can't do that onstage."
Merch for this release:
Compact Disc (CD)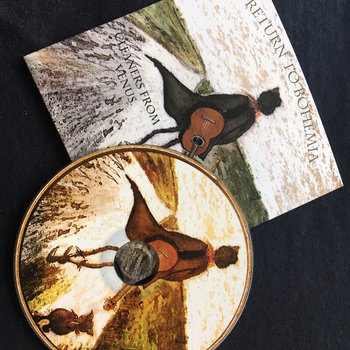 Newell continued releasing solo albums throughout the '90s and early '00s. The strongest of these solo LPs is 1995's The Off White Album (which features a pretty great cover of The Smiths' "Some Girls Are Bigger Than Others"), but The Spirit Cage, A Summer Tamarind, and the rest of Newell's solo joints are worth a listen. For a man with such a vastly prolific output, he's got a pretty impeccable "no stinkers" track record.
He dusted off The Cleaners from Venus name for 2011's English Electric. The songs on Electric are cleaner and brighter. For the first time, Newell's voice sounds like it's floating above a sea of tape hiss inside of swimming in it. His voice hits louder and more forcefully than it had on past records, giving the listener the impression that he's there in the room singing "St Overdose On-Sea" and "Ghost of Jenni Rainbyrd" into your ear.
As strong an album English Electric is (and follow-up records In Chimp World and The Late District are no slouches either), it can't touch Return to Bohemia. This might be the strongest collection of songs Newell's written since The Greatest Living Englishman, mixing together glammy Bowie hooks and Beatles melodies on "The King Of The Sixties" and "Cling To Me." The centerpiece of the record is "He's Goin' Out With Marilyn;" propelled by incandescent suspended chords, it's a stunning song. It's hard to imagine Ray Davies, Pete Townshend, or any of Newell's other heroes writing a song this good in their old age.
Merch for this release:
Compact Disc (CD)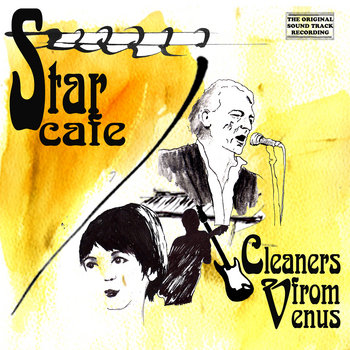 Following Bohemia with 2015's Rose of the Lanes (paying tribute to Dr. Who on the title track) and 2016's The Last Boy in the Locarno, Newell's continued exploring the nuances of his more mature, polished songcraft. But he's never one to stay stuck in one mode for too long. This year he threw himself into a different direction by writing a collection of songs for a musical. "A Cinderella story," according to Newell, Star Cafe's songs are packed with catchy melodies and poetic turns of phrase. The four-track haze of past efforts hangs over Star Cafe, giving them a throwback feel—as though this was a long lost early Cleaners tape that he had found in a shoebox somewhere.
Newell's literate and witty lyrics come as no surprise: when he's not writing songs, he has a side hustle as one of England's most prolific living poets. It's an occupation that's about as profitable as being a lo-fi musician. "Nobody ever asks: is that the poet's Maserati parked outside Jane Fonda's house?" Newell quips.
Even though he's already released Star Cafe this year, Newell is planning on putting together another record to come out in the winter. It has the working title of Life In A Time Machine. For this album, Newell will be trading in one brilliant cage for another: he's recording it on an eight-track. "I've proved I can be good on four-track," he says. "Now I think it's time to go up to eight."
Considering how accessible his work is and the tremendous output he's maintained over the last few decades, it wouldn't be hard to imagine Newell harboring bitterness that his work isn't more well-known. But he doesn't seem the least bit fazed by his cult artist status.
"I think that fame is actually a toxin," he says. "It's one of those things like whiskey: some people have a head for it, and some people never should go near it… If the future had happened a bit earlier, I could have toured as a hologram and been as big as ABBA. Probably bigger, because they can make the holograms 50 feet tall."