LISTS
A Beginners' Guide to Cult Psych Icons the Legendary Pink Dots
By Liz Ohanesian · December 04, 2018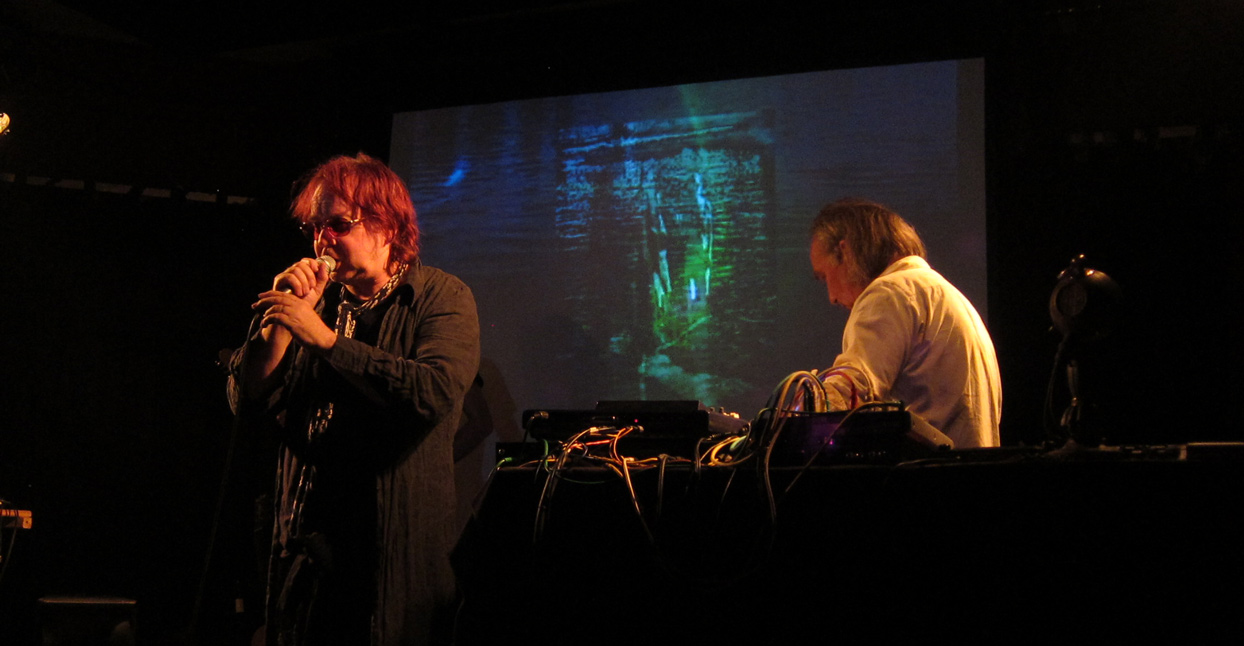 Venture over to the Legendary Pink Dots' Bandcamp page and you might feel a bit overwhelmed. Over three and a half decades in, the Anglo-Dutch band have amassed an overflowing cache of full-length albums, archival releases, and holiday-themed one-offs. And that's without factoring in the respectively ample solo discographies of founding members Edward Ka-Spel and The Silverman (Phil Knight); or their side project, The Tear Garden.
Founded in 1980, The Legendary Pink Dots have been pushing psychedelic music through the late 20th century and well into the 21st. They draw from the influence of '70s German rock outfits like Can and Neu!, but their sound is never a flashback. Instead, they emerged from the electronic music underground of the early 1980s with a distinct sound that makes them difficult to pigeonhole to this day. The Legendary Pink Dots' wheelhouse proves equally welcoming to fans of post-punk and minimal synth, industrial and darkwave—and yet, the band themselves aren't quite any of those things. They've spent decades evolving, hitting multiple peaks throughout their career as the line-up expanded and contracted. Their oeuvre reflects that winding journey, from the dark, orchestral heaviness of the '80s, to the psych-pop haze of the early '90s, to the sci-fi electronics of the aughts.
The Legendary Pink Dots have remained a cult band amongst cult bands. They haven't become post-punk memes like Joy Division or Bauhaus have. Nevertheless, their following includes some well-known devotees. Skinny Puppy's cEvin Key is known for having followed Legendary Pink Dots' work since the band's early years, and collaborated with Ka-Spel as The Tear Garden (they've released seven albums together since 1985, the most recent being 2017's The Brown Acid Caveat). Singer-songwriter and erstwhile Dresden Doll Amanda Palmer is another longtime fan; just last year, she linked up with Ka-Spel and ex-Dots violinist Patrick Q. Wright for a one-off collaborative LP album titled I Can Spin a Rainbow. Last but not least, MGMT singled out the Dots—more specifically, their stylistic flexibility—as a source of inspiration for their breakthrough album, 2007's indie-pop blockbuster Oracular Spectacular.
Needless to say, immersing oneself in the Legendary Pink Dots' universe is deeply rewarding—and a bit overwhelming. Here's a list of 10 standouts from the first 30 years of the band's career to help you get started.
Brighter Now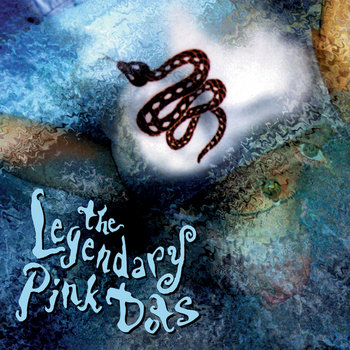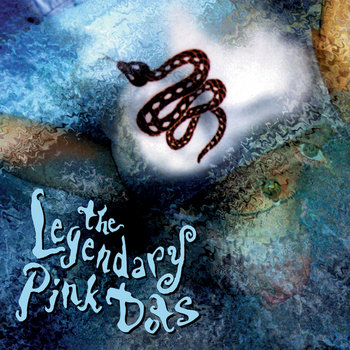 The Legendary Pink Dots' formative years coincide with the development of industrial music, so it can be really easy to think of them as emerging from that movement. After all, Edward Ka-Spel has collaborated with cEvin Key of Skinny Puppy (The Tear Garden) and Nurse with Wound's Steven Stapleton. Back in 1991, though, Ka-Spel described the band's early sound to Spiral Scratch Magazine as "more like industrial… nursery rhymes!" That stands as an apt description of the Dots' 1982 vinyl debut, Brighter Now. It's an oddball album in the band's catalog; at times its songs resemble stripped-down versions of early '80s synthpop as opposed to the dense, electronic rock that would follow, but there are moments throughout that point to where the Dots were heading.
The Tower
Merch for this release:
Vinyl LP, Compact Disc (CD)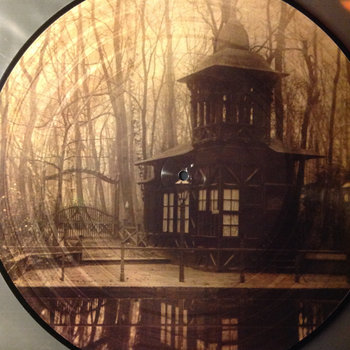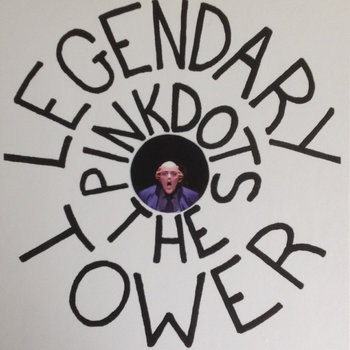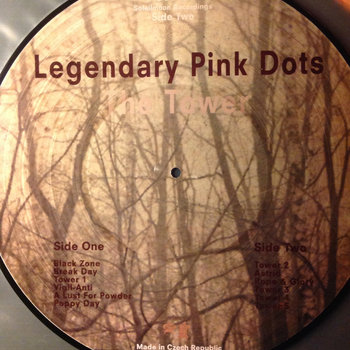 True to its title—a reference to the infamous Tower of London—1984's The Tower is an album shaped by British politics, namely Margaret Thatcher's policies and the then-Prime Minister's chumminess with Chilean dictator General Augusto Pinochet. It's a dark album, with a sound reflecting the urgency and frustration of the subject matter. Guitar, synths, and violin build into walls of sound every bit as claustrophobic and threatening as a castle prison. Ka-Spel had proved himself to be a charming and poetic singer and lyricist by the time of the record's release—but on songs like "Break Day" and "Tower 1," he proved just how visceral he could be, as well.
Island of Jewels
Merch for this release:
Compact Disc (CD)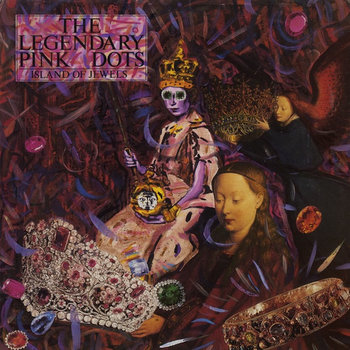 Released in 1986, Island of Jewels was the first album for The Legendary Pink Dots' contract with notable indie label Play It Again Sam, a move that helped garner wider recognition for the band. At times, Island of Jewels takes on the qualities of film music, its songs tooled to guide listeners through a series of tense scenes and dramatic turns of events: "Emblem Parade" may well be the soundtrack to a long-lost Alfred Hitchcock film set in an '80s nightclub. The record's legacy is just as complicated as its sound. Ka-Spel seemed ambivalent when discussing Island of Jewels in an interview for Ptolemaic Terrascope in 1991, remarking, "Some of our best and worst moments are on that album"—but over 20 years later, he embraced it wholeheartedly in the Bandcamp description for its 2012 reissue, declaring it "one of the best albums The Dots ever made."
The Golden Age
Merch for this release:
Compact Disc (CD), 2 x Vinyl LP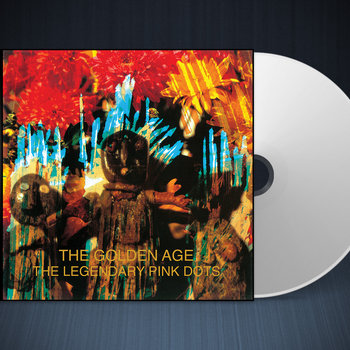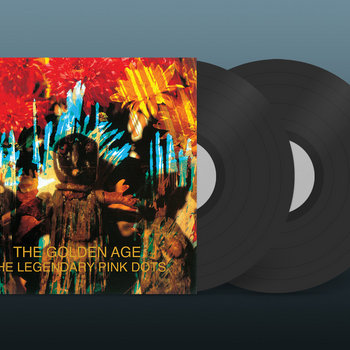 One of the most curious aspects of the Legendary Pink Dots is the band's sizable goth following—a befuddling degree of popularity, given their lack of ties to the scene proper. The Golden Age might be part of the reason for this. The band's 1988 album is the home of "Black List," a long, moody, and rhythmic number that has had its fair share of spins inside goth clubs. It's also a downright creepy album. Ka-Spel is a true storyteller and here he tells chilling tales with menacing characters and mysteries lurking under vivid poetry. The Golden Age was made while the Dots were at a crossroads; half the band left following tour and Ka-Spel and the Silverman were living in a caravan. The resulting album has more of a minimal sound than, for example, Island of Jewels, adding to the sinister vibe.
The Crushed Velvet Apocalypse
Merch for this release:
2 x Vinyl LP, Compact Disc (CD)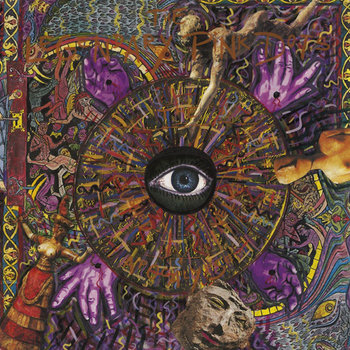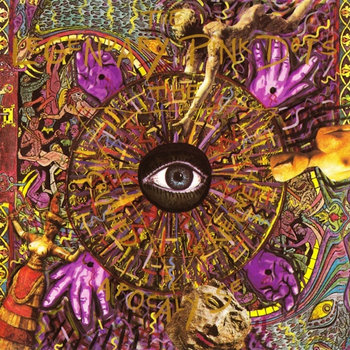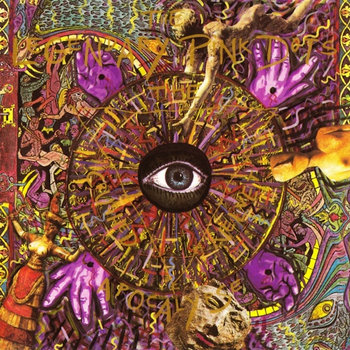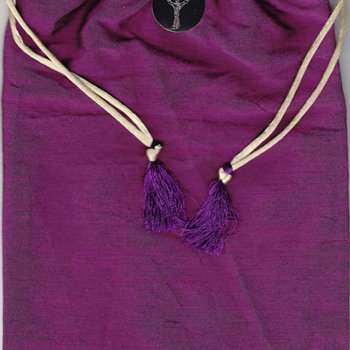 The Crushed Velvet Apocalypse, originally released in 1990, is perhaps the most accessible Legendary Pink Dots album. If your tastes lean towards sing-a-long songs, you can get into this album fast, but you might also lose yourself in the more atmospheric moments of cuts like "Green Gang." It's also one of their most masterful albums. The Dots shows their chops at crossing genres as they deftly move through music that ranges from the delicate folk of "I Love You in Your Tragic Beauty" to the harsh electronic sound of "Hellsville." Lyrically, Ka-Spel is at his best—whimsical, yet witty and poignant. "Princess Coldheart" is a dark, cheeky fairytale spun in a song that's about as pop as the Dots will ever get, but "Just a Lifetime" brings together sci-fi and fantasy imagery that taps into a very real sense of unease about the future. His line, "A fire-eater went insane and torched the final tree," rings more relevant now in the era of climate change and catastrophic brush fires.
The Maria Dimension
Merch for this release:
Vinyl LP, Compact Disc (CD)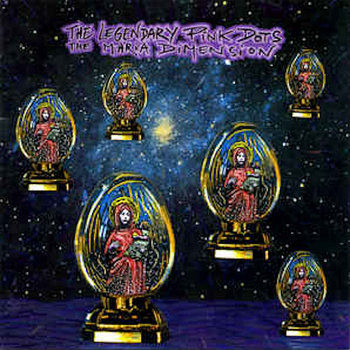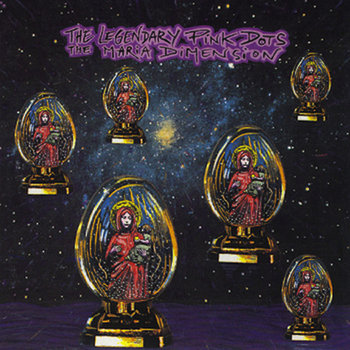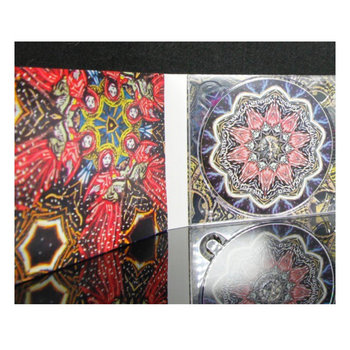 Ideally, you should listen to The Maria Dimension right after The Crushed Velvet Apocalypse. The albums were released about a year apart and represent The Legendary Pink Dots' transition into the 1990s. Where "Pennies for Heaven" and  "Belladonna" harks to the songwriting on The Crushed Velvet Apocalypse, much of the rest of the album pushes the band's sound further into psychedelic realms. That's thanks in part to the songwriting and recording process. In a 2015 Blurt interview, Ka-Spel explained that The Maria Dimension came into being after a month of improvisation. For the curious, some of those improv moments can be found on The Maria Sessions, also available through the Dots' Bandcamp site.
Hallway of the Gods
Merch for this release:
Compact Disc (CD)
The Legendary Pink Dots have spent their career doing their own thing, but, in 1997, that thing serendipitously fell in line with what was happening in the indie rock world. The band's krautrock influences took a softer turn, resulting in songs like the tender ballad "Sterre," the chilled-out space rock of "Lucifer Landed," and the wild sci-fi jam "The Saucers Are Coming." Hallway of the Gods sounds perfectly comfortable next to other releases from that year, like Stereolab's Dots and Loops, Broadcast's Work and Non-Work, and Spiritualized's Ladies and Gentlemen We Are Floating in Space. But, The Legendary Pink Dots were already more than 15 years into existence. They had an established following and had already produced a large catalog of work. Perhaps that lack of newness led to Hallway of the Gods being sorely overlooked.
Chemical Playschool Volumes 11, 12 & 13
Merch for this release:
Compact Disc (CD)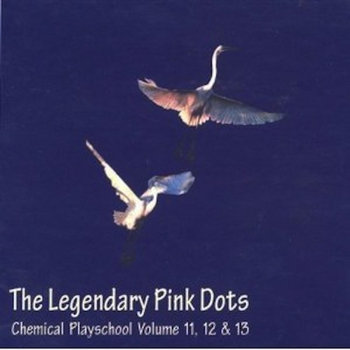 Chemical Playschool is a series of The Legendary Pink Dots releases that date back to early in the band's history, when they were made as very limited-edition cassettes. This is the space where the Dots can get really weird and creative. Cassettes with handmade covers? They tried that in the early '80s. By the new millenium, though, the question was, "What could you do with the CD format?" First released in 2001, Chemical Playschool 11, 12, 13 was initially conceived as a three-CD set with three hours of music that were only paused while the discs changed. The material came in part from existing tapes and included new compositions, all of which become a seamless collage where Ka-Spel's vocals are meticulously placed across the atmospheric canvas. The release is split up into more manageable chunks on the Bandcamp release. However, that still means that you're getting a few tracks that hover around (and over) the 40 minute mark—more than enough time to zone out.
Plutonium Blonde
Merch for this release:
Compact Disc (CD)
With a band whose history is as long as The Legendary Pink Dots', it's easy to concentrate on the early releases and leave it at that. Don't make that mistake: the Dots continued to move forward in the 21st century with work that is every bit as interesting as the albums that garnered their initial fan base. 2008's Plutonium Blonde might be the best example, melding borderline-ambient moments with Ka-Spel's weird and wonderful stories. Whereas "An Arm & a Leg" plays out as a captivating mini radio drama for a modern audience, "Mailman" uncharacteristically steps into country terrain, albeit country with a space-rock twist.
Seconds Late for the Brighton Line
Merch for this release:
Compact Disc (CD), 2 x Vinyl LP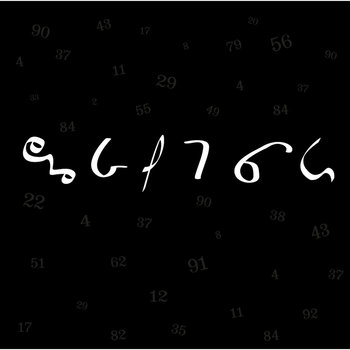 Released in 2010, Seconds Late for the Brighton Line coincided with The Legendary Pink Dots' 30th anniversary, as well a time of transition: longtime members Martijn De Kleer and Niels van Hoorn left the fold before the band hit the studio. (Erik Drost, who played with the band earlier in the '00s and appeared on albums like Poppy Variations and The Whispering Wall, rejoined the Dots founding members Edward Ka-Spel and The Silverman.) One might think that, with a shrunken line-up, the band would go for a simpler sound, but that's not the case. There's still a lot going on here, and it takes multiple listens to discover all the sounds tucked into this collection of songs. "Endless Time," one of the album's standout tracks, uses a clock-like rhythm to introduce a soothing melody that very gently crashes into waves of noise. "God & Machines" uses atmospheric noise to heighten the spectral quality in Ka-Spel's voice, creating the sound of an unknown and uncomfortable afterlife.