LISTS
Six Essential Juggaknots Albums on Bandcamp
By Phillip Mlynar · April 19, 2021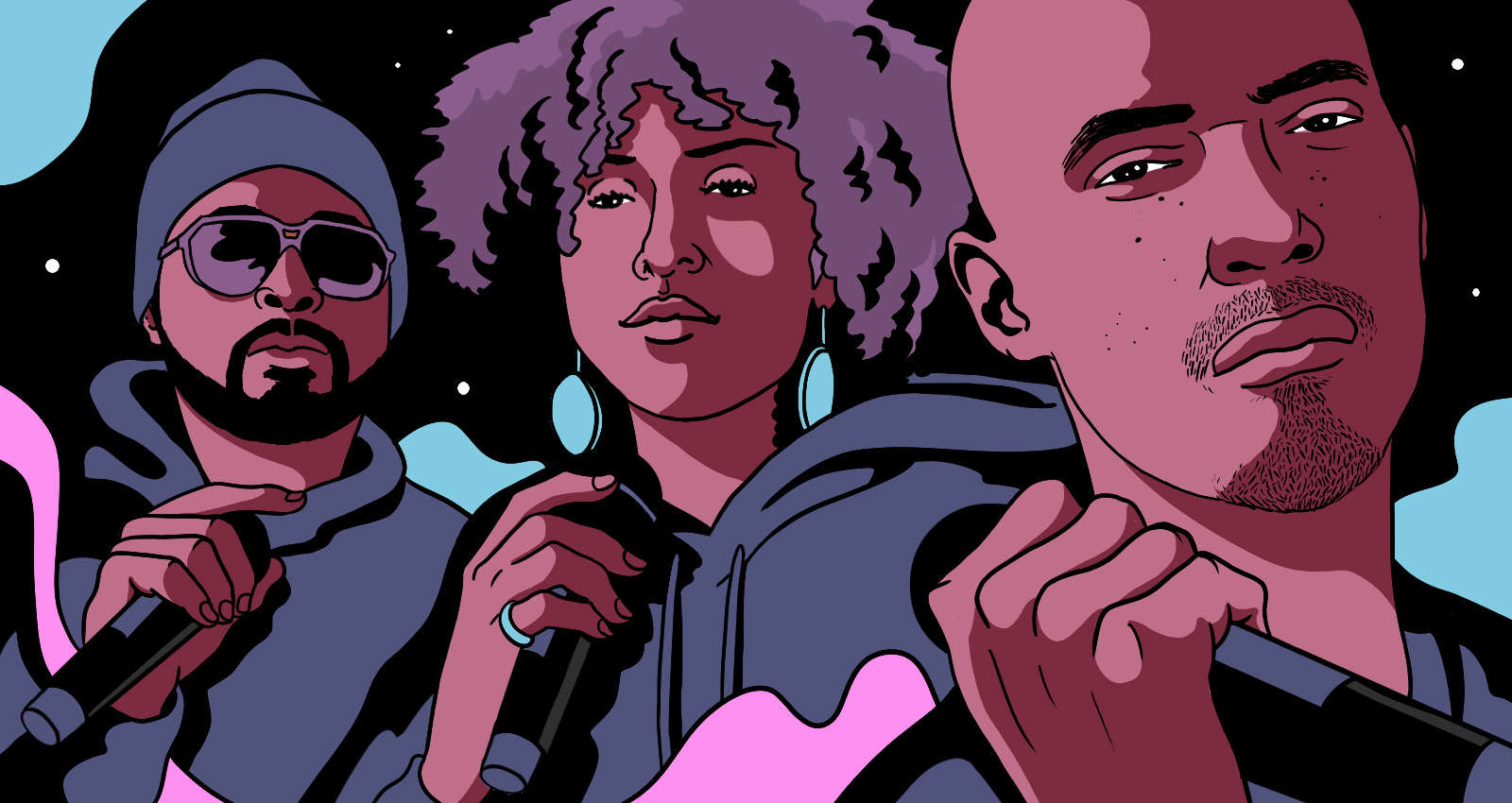 In the 1990s, the Juggaknots were key figures in the fertile independent hip-hop scene that was sprouting up from New York City's underground. Founded by brothers Breeze Brewin and Buddy Slim—they were late joined by younger sibling Queen Herawin—the Bronx-based group quickly established a reputation for creating tracks that combined studious wordplay with a conceptual approach to songwriting. But before they could prosper independently, the Juggaknots had to recover from the disappointment of a major label opportunity that fell flat.
In the early '90s, Slim landed a position at the production company Midnight Songs. The venture was spearheaded by future Afropunk organizer Jocelyn Cooper, and claimed D'Angelo, Angie Stone, and James Mtume among its roster of producers and songwriters. Slim himself notched two production credits on R&B duo Terri & Monica's album Systa, which was released on Epic in 1993. During this period, Breeze remembers his elder brother bringing him to industry events and meetings at Uptown Records, so they could introduce themselves as the Juggaknots. (Breeze also remembers attending parties held in Pete Rock and CL Smooth's pre-production basement while he was still in high school.)
The Juggaknots made their official debut on the soundtrack to the 1994 drama flick Jason's Lyric, recording "This City Needs Help" with blues guitarist Buddy Guy. They were subsequently courted by the Elektra/East West label, and soon became familiar with the notorious industry tension between commerce and creativity.
"I guess we had an identity that we were—I don't want to say 'stubborn,' but there was definitely a conviction that we wanted to present a certain type of hip-hop," recalls Breeze. At one point, he remembers being asked to add a catchy hook to their song "Clear Blue Skies," which was a thoughtful and nuanced commentary on mixed-race relationships and intergenerational racism. "For some reason, the stuff that we dug and was popping for us was not out-and-out commercial," he says. He cites A Tribe Called Quest's "Bonita Applebum" and the Jungle Brothers' Straight Out The Jungle as releases that, "weren't commercial, they were just good, and felt so organically hip-hop." As Breeze puts it, they entered the scene at a turning point: "This is when they started to make those records that were unabashedly commercial in purpose, and we just had no interest in doing that."
Parting ways with both their manager and Elektra, the Juggaknots retooled their approach, and went on to become an integral part of their home city's independent hip-hop scene. When not recording, Breeze could be spotted manning the counter at the iconic Fat Beats record store in Manhattan, and furthering the reputation of the Juggaknots at open mic nights and cipher sessions. The group also connected with EL-P and Big Juss from Company Flow, plus the MC J-Treds, to record as the Indelible MCs, adding another facet to their indie credentials.
Over 25 years on, we take a look back on the albums and solo projects that helped establish the legend of the Juggaknots.
Re: Release serves as an exhaustive introduction to the Juggaknots. The project dates back to Buddy Slim and Breeze Brewin's days recording tracks for a debut album intended to be released on Elektra/East West Records in the '90s. When that relationship soured, they repackaged nine versions of the songs from that period into an eponymously-titled vinyl-only release on Bobbito Garcia's cult label Fondle 'Em in 1996. With production based around hypnotic mid-tempo drum loops laced with moody jazz piano samples, the pressing promptly sold out, and turned Juggaknots into an elusive (and financially pricey) indie rap essential for a number of years—until it was made widely available in an expanded format as Re: Release in 2003.
The project's two most revered tracks both hail from the original Juggaknots release. "Romper Room" is a cautionary commentary about lost innocence, inspired by Breeze seeing the kids he grew up around getting caught in, "various things like drugs, assault, gun charges," and going away to the Spofford juvenile detention facility in the Bronx. When they returned home six months later, he'd notice how they were often, "bragging about it, like how the kid's changed to the point where you're like, 'I'm worried about him.'" Having originally written the song when he was 15 years old, Breeze laments that, in his present role as a school teacher, he still sees, "the continuum of that" cycle playing out.
Adding to the Juggaknots' sterling reputation for penning conceptual songs is "Clear Blue Skies," on which Buddy Slim plays the role of a white father disapproving of his son's Black girlfriend; the two MCs trade a series of escalating opinions. The song was prompted by a teenage Breeze hanging out and playing Atari with a friend, only to hear their mother ask, "When are you going to bring home a girl with blue eyes?" Breeze says the situation, "stayed with me" to the point where, "when it was time to do a song, I threw the hyperbole on it, so I was like, 'I'm a change this to a father and present it in a way where the extra gets the point across.'" Rhyming back and forth over rueful piano and slowly chugging drums, Breeze's character ultimately decides to leave home—a move that prompts the father to wish him good riddance.
UsE yOuR cOnFuSion from 2006 marked Queen Herawin's official enrollment in the Juggaknots. It was a decision the MC says came about organically, even if it might have altered the group's standard creative process. "It was a challenge, because Breeze and Slim were used to the dynamic just being them," she says. "The nucleus was always them. So when you add me in, just like any other chemistry experiment, it's another element."
Along with expanding the group's lineup and ushering in a cast of guests—which include Slick Rick on the Oh No-produced "Vows," Sadat X on the middle-aged-crisis "30 sUmThAng," and gruff-voiced Bronx native Nine on "nEvER"—the album also shifted into more musically expansive terrain: The track "hEy" pairs Breeze and Herawin's vocals with a beat that opens with fuzzy, disorienting tape loops; "sTRip jOinT" jitters along, with glitchy drums and percussive laser effects; and the Buddy Slim-produced title track brings live guitar and ominous synths to the fore.
"I love the fact we tried to do something different," says Breeze. "It was dope but it was different—and there was no musical compromise."
"It was really like a hip-hop diary for me," says Queen Herawin of the recording of Metamorphosis, her solo debut. Having recently given birth to a daughter, the album became an experience in learning, "how being a mother affects artistry." She recalls that while recording in the studio, her daughter, "would lay on the egg crate-looking sound absorbers while she would wait on me."
Metamorphosis opens with a fanfare of bittersweet soul loops layered over crunchy boom-bap-inspired drum patterns. "God is my witness/ If not through my eyes/ Then through my offspring reciting my lyrics/ On some mini-me, mini-tree/ Branching out," Queen Herawin deftly flows on opening cut "Welcome." As the album widens its sonic ambit, "Push" draws on sultry club influences, the electronic-hued "Getaway" is powered by a gnarly, twisting synth line, and the raucous "Trouble" co-stars Breeze Brewin over a glorious backdrop of cacophonous funk.
Most revealing of all, the cornerstone title track details Queen Herawin working through her inner thoughts about personal transformation and her shifting life circumstances. "In here it's lonely/ Isolated, dark and moldy/ Can't flee, frustrated and fading slowly," she confesses over a backdrop of anxious hi-hats, laced with dashes of backwards tape loops. On the hook, she embraces the potential of that change: "It's bliss to be in this cocoon state."
Queen Herawin wrote her 2019 follow-up to Metamorphosis while she was living in Chicago for work—a situation that separated her from her daughter. "I was teaching there, and my daughter was in New York," she explains. "Without getting into too many details about what happened, I was forced to be separate from my daughter, and it was a really difficult situation in my life. There was physical space between us. So on that project, I was being extremely transparent about who I was, what was going on at the time, and how physical space and distance can create types of other space, emotionally, mentally and with guilt."
Exploring how physical space can affect a person's emotional space became the crux of the project, which Queen Herawin recorded in Chicago while flying back to New York every month to cram in time with her daughter. The burden of balancing full-time teaching work while being separated from family also spilled over into Queen Herawin's relationship to music, which she addresses on the track "Want It," over a backdrop of fuzzy synth lines and trap-style snapping snares.
The Space Between Things also allowed Queen Herawin to broaden the sort of production she was writing to. "Sonically, I chose beats where I felt, 'This is what I like,'" she says. "Some of it is straight boom-bap, but some would say parts of it even sound a little trappy." Case in point: Closing song "100 Pills" twists sinewy synths around demonic, glowering bass tones as the MC channels her frustration and anger to vow, "Intense, intense, intense, intense, intense, I know I am/ But I'm busy working on my fuckin' masterplan."
Breeze Brewin's 2021 debut solo album charts a period of his life that began back in the days of recording UsE yOuR cOnFuSion. The MC says the first song he recorded for the project, the güiro-spiked Sebb Bash-produced "Gotta Love It," signaled the end of his tenure working at the Fat Beats record store, and documented the start of his career as a school teacher. Recording at a workspace in Manhattan's East Village—a setup he recalls as, "a dope, grimy spot, nothing pretty, just the basics"—Breeze wrote the song in a single day. "I never do that," he explains. "So after that, I was like, 'This is different.' It's a different approach, so if I do a record, it ain't gotta be how I've always done records." In the years that followed, Breeze kept, "putting joints in the safe" until he'd amassed a big enough stash to sequence them into Hindsight.
Breeze found the process of writing and recording as a soloist to be "liberating." Shrewdly showcasing his conceptual chops, on the bluesy and ruminative "Taking Notes," he gives first-hand insight into his experiences as a public school teacher, while on "The Uninvited" he grapples with the fluctuations of a personal friendship over Black Milk's hazy, psych-tinged backdrop.
"I wanted to be fairly transparent about the 'looking back' portion of it," explains Breeze of the album's title. "For instance, I start talking about George Bush [on "Gotta Love It"] and I finish talking about that other guy [on "Devil's Advocate"]. So that little stretch, just looking at all the things that happened there, I wanted to be able to use that as the content to show people kinda where I am now."