LISTS
Jazz For the Holidays
By Dave Sumner · Illustration by Natalie Foss · November 24, 2021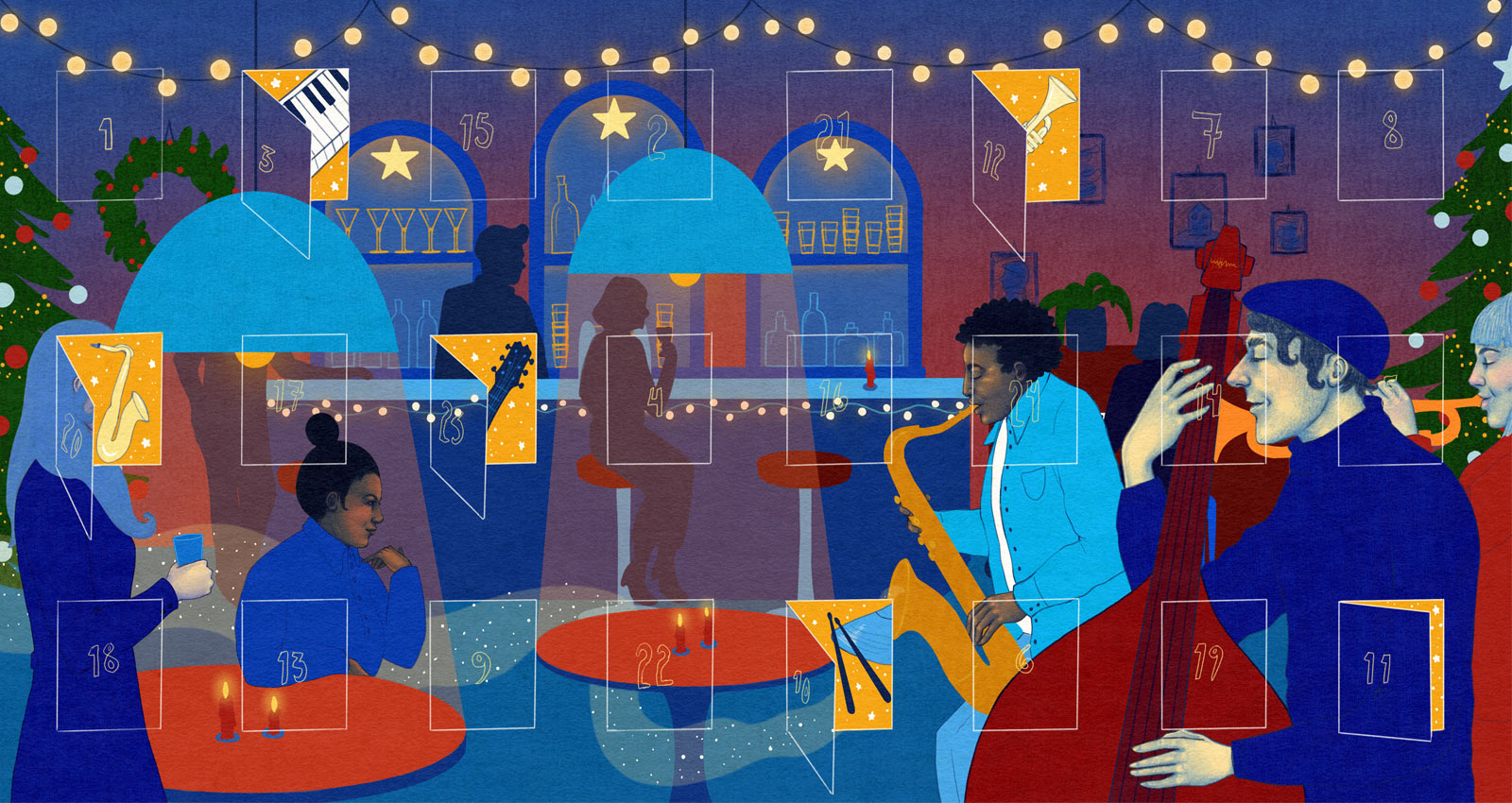 The holidays aren't just a collection of traditions and rituals—they are also the collective experiences, memories, and ways in which individuals engage with the season across the decades. It should come as no surprise, then, that the sounds tagged as "holiday music" would reflect that diversity. And while there are albums in this year's holiday jazz list that land in conventional territory, there are many more that challenge our own ideas of what the holidays mean—and the expectation of how they materialize in sonic form.
---
On Dark Is Light Is, Elsa Nilsson celebrates the Swedish holiday Lucia. Over the course of that 15 years that the flutist has resided in New York City, the Gothenburg native has fought homesickness by creating arrangements of traditional Lucia tunes for live performance. This recording came about during the pandemic, when the ensemble was prevented from performing them in front of live audiences. The simultaneous influences of traditional folk and modern jazz combine, creating a kind of timeless quality. And speaking of timelessness: I highly encourage you to check out Nilsson's album notes for the recording; They provide some history on the holiday and its music from the perspective of a person who is experiencing the bittersweet emotions of reliving cherished memories that feel so close, yet so far away. It's a gold standard for album notes in a digital era where they seem to rarely play much of a role anymore. Also, be sure to check out Nilsson's 2020 release Hindsight, and get a further glimpse into the full breadth of this musician's gifts.
The work of the DC Improvisers Collective is often a match-meets-gasoline event. Drummer Ben Azzara, bassist Christopher Brown, guitarist John Kamman, pianist Jonathan Matis, cellist Natalie Spehar, and trumpeter Patrick Whitehead remind us on Holiday Ruminations that free improvisation need not be a tribute to chaos, and that holiday music can be expressed with all the creative abandon that can fit under a tree. The ensemble's pattern is to make a return to familiar melodies after taking them places far beyond recognition. Sometimes, they hover tantalizingly close to the originals, always a little bit familiar and a little bit not. Be sure to check out their 2014 release In the Gloam of the Anthropocene for a different kind of DCIC traditional.
Merch for this release:
Compact Disc (CD)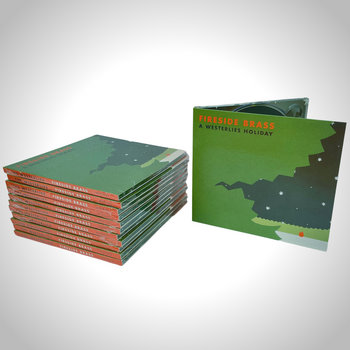 Brass quartet The Westerlies made a huge opening statement with their debut album and its embrace of the Wayne Horvitz songbook. Since then, they've expanded their reach to include original pieces and collaborations on intriguing themes. With this upcoming release of holiday tunes, the quartet brings the same harmonic warmth and inspired melodic perspective to traditional pieces as they have to modern works.
This live set from the 13-piece jazz-pop ensemble Queer Songbook Orchestra presents the stories of the holidays from the perspective of the queer experience. The torch that lights their path are big melodies and a whimsical sense of humor. I recommend checking out their 2018 release Anthems & Icons, where the musical breadth of the ensemble really shines, including thick streaks of chamber pop that make the session something special.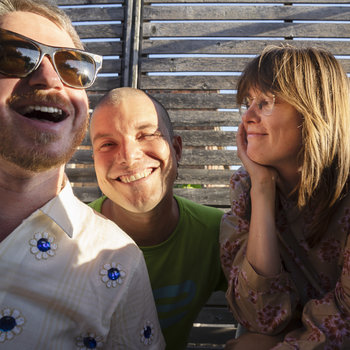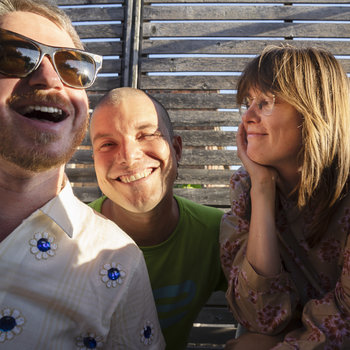 Though the song "Silver Bells" is most closely associated with Bing Crosby and Bob Hope, the tune's history has managed to wriggle free from the tight grip of pop culture and make its presence felt elsewhere. This haunting rendition by the ensemble Bernice perfectly captures the duality of the holiday season, and how it can inspire sublime joy and poignant reveries. Bernice has a number of holiday-themed pieces on their Bandcamp page.
Bonus rec: Daniel Fortin, the bassist on this session, released an intriguing duo session with vibraphonist Michael Davidson, and while there's no holiday theme, it still captures the distant, captivating beauty of icicles melting on the other side of a frosted glass window.
Guitarist Steve Masakowski is something of a giant on the New Orleans scene, having played with musicians like Harry Connick Jr., Nicholas Payton, Woody Shaw, and Ellis Marsalis Sr., as well as releasing recordings both under his own name and with Astral Project. This delightful set of holiday tunes with his son Martin (on bass) and daughter Sasha Masakowski (on vocals), and joined by drummer Jamison Ross, pianist Shea Pierre, and vibraphonist Jason Marsalis, takes a playful approach to holiday classics, but still turns up the heat. It's also an opportunity to mention my introduction to Sasha Masakowski on the excellent 2013 Cliff Hines release, Wanderlust. It is thoroughly modern, embraces the crosscurrents of genres and influences, and delivers a number of melodically stunning moments.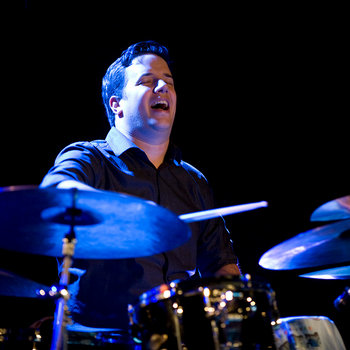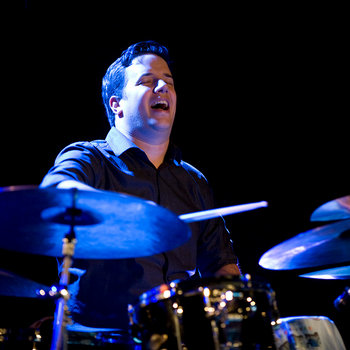 The Toronto-based group Turboprop is steeped in the modern jazz sound. They take eccentric turns of phrase on old-school sayings and turn them into the language of today. They are just as likely to stomp as to bop, as comfortable with a Radiohead arrangement as one by Keith Jarrett, and possess the wild abandon to swing back and forth between eras. On their holiday recording, they take a heartfelt approach to the classic A Charlie Brown Christmas. And since gift-giving is a holiday season kind of thing, give yourself a present and scoop up the group's solid 2015 eponymous release.
Portara Ensemble, Jeff Coffin, Ciona Rouse
The Longest Night
Considering the diverse array of holidays celebrated on the winter solstice, it only makes sense that an album with the solstice as its theme would incorporate a broad spectrum of influences, mediums, and communities. From the music side of things, The Longest Night is helmed by the chamber choir Portara Ensemble, saxophonist Jeff Coffin, and spoken word artist Ciona Rouse, and with instrumentation such as harmonium, djembe, marimba, flutes, guitar, electric bass, and percussion counted among its numbers, the ensemble's reach extends as far and wide as that of moonlight on the longest night of the year.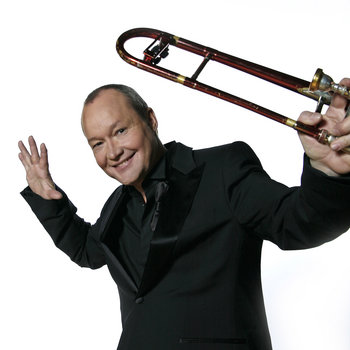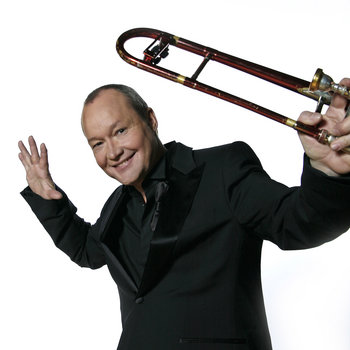 Nils Landgren, whose jazz is as likely to incorporate funk as it might swing or chamber, offers up this mix of traditional folk tunes from the trombonist's Swedish roots and classic tunes that transcend geographic borders. The trombonist's quartet with saxophonist Jonas Knutsson, guitarist Johan Norberg, and bassist Eva Kruse is joined by an array of vocalists, and together they offer up pieces with solemn, reverential tones and elicit the imagery of snow falling peacefully to the earth beneath a starry sky. It's an approach well-suited to the exquisite sound quality one would expect from the ACT Music label.