LISTS
A Guide to Imaginational Anthem's 10 Volumes of Stirring American Primitive Guitar
By Jim Allen · July 31, 2020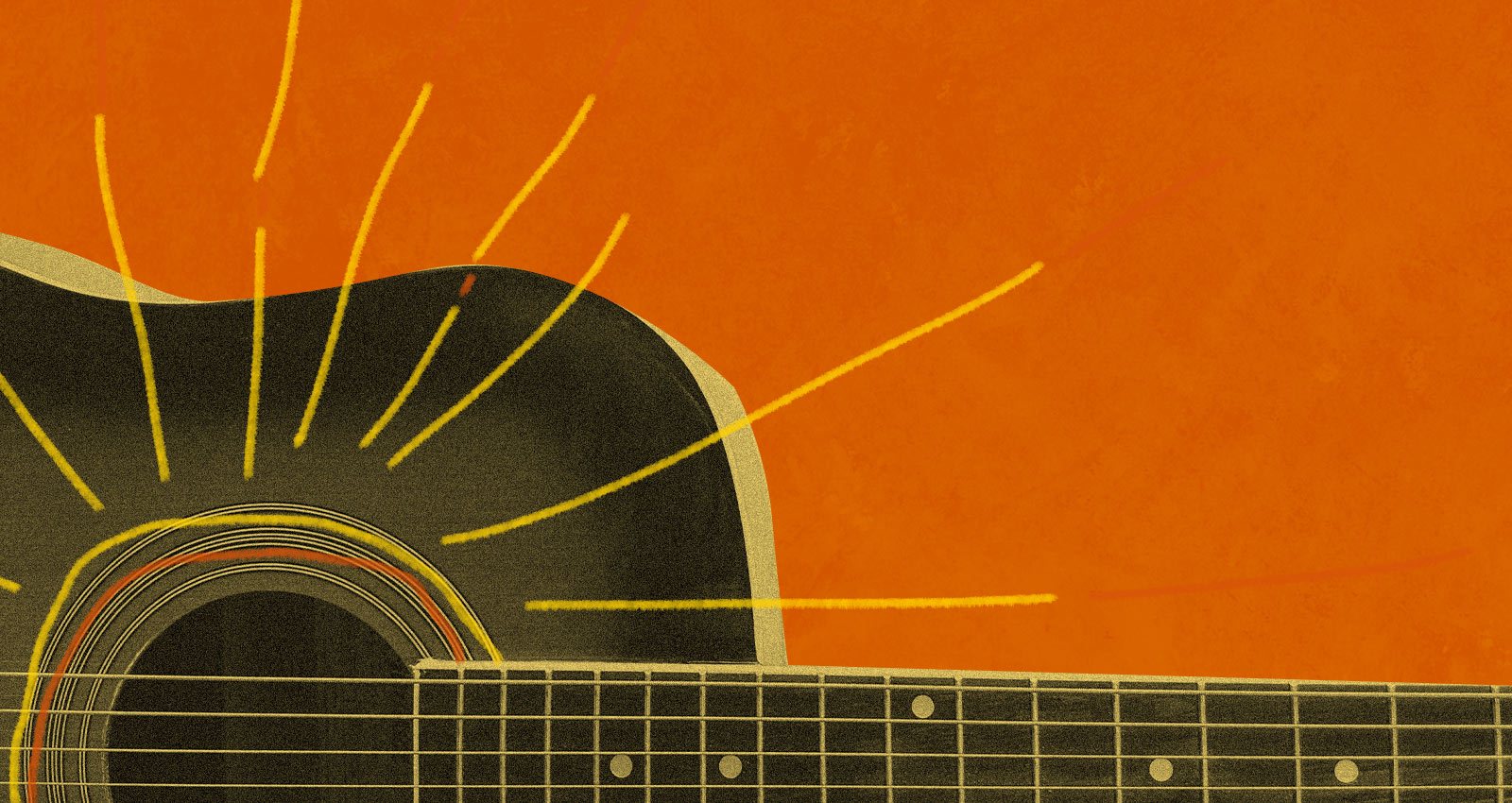 "'Imaginational' is probably in the bottom 20 percent of all words," says Tompkins Square Records owner and Grammy nominee Josh Rosenthal, "It's not in the parlance. But it's on an upswing." Rosenthal's too modest to concede that part of the reason for that might have something to do with Imaginational Anthem, his label's series of all-instrumental acoustic guitar compilations, which reached its 10th volume last month.
Since its launch in 2005, Imaginational Anthem has reintroduced old acoustic guitar heroes to young audiences, has birthed new ones, and has shed light on more than a few shadowy corners of history. The music on the albums encompass raga-like rhapsodies, folk- and blues-derived fingerpicking, abstract impressionism, avant-garde improv, acoustic ambient textures, and a slew of other idiosyncratic innovations on six steel strings and a hunk of wood. Moonlighting indie rockers, experimental jazzers, weathered folkies, and mysterious outsider artists all found a place at the table.
But the core of the IA universe is the American Primitive school, in which '60s innovators like John Fahey and Robbie Basho filtered traditional American roots music through their own offbeat outlook and spawned a movement that's still evolving. "By and large the American Primitive diaspora is what's represented in this series," agrees Rosenthal, "If you have to call it something, that's where it comes from."
Youthful hours spent soaking up Led Zeppelin records had led Rosenthal to acoustic guitar stylists. "'Black Mountain Side' was the first song that got me interested in solo acoustic guitar," he remembers, "that spectral acoustic guitar sound. Then learning Jimmy Page was influenced by [UK guitarist] Bert Jansch, I really got into him…and then getting into Fahey. Then I learned that Pete Townshend was influenced by Basho, so I listened to Robbie Basho. It was through the classic rock portal that I learned about old folk and blues guys."
Before embedding himself in the indie world, Rosenthal had spent 15 years at various labels under the Sony umbrella. The idea for the first volume arrived while he was still there. He started Tompkins Square to release the first Imaginational Anthem, but had no intention of turning it into a series. "The concept was to frame some of the older guys with the younger people," he recalls. "In 2005 I guess it was the start of another wave, because Jack Rose had been on the scene for a year or two, and I think that was pretty exciting. As a leader of the next generation Jack was pretty influential."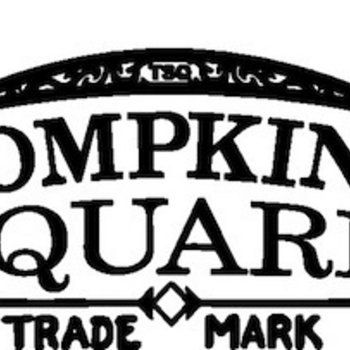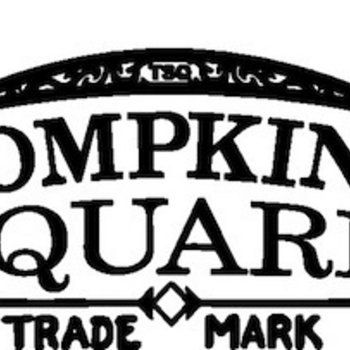 Merch for this release:
Compact Disc (CD)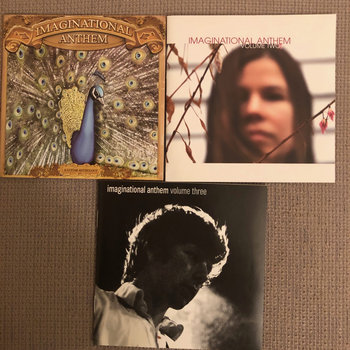 Playing detective, Rosenthal uncovered some near-forgotten figures in hiding. "I wanted to get some of the hardcore guys I was listening to at the time," he says, "people like Bob Hadley, who's this forgotten Canadian player who made three really amazing records on Kicking Mule, and Harry Taussig and Max Ochs [cousin of folk legend Phil]…they were originally on this Contemporary Guitar – Spring '67 Takoma record with Fahey and Robbie Basho. They're what I consider first-generation American Primitive guitarists."
Ochs's song "Imaginational Anthem" bookends Vol. 1 in both a rare 1969 recording and a new bespoke version, giving the album—and eventually the series—its title. Ochs says the piece originated in the mid-'60s after he, "did a bit of metaphysical exploration via psychedelics—mainly hash and acid—and yoga. I kept notebooks filled with sumi ink gestures and poetry. One of these notebooks had the phrase 'Nations of the Imagination' painted on the front with a sumi brush. Some trips I spent playing the guitar for hours. Possibly 'Imaginational Anthem' emerged in one of those sessions. Nations of the imagination might exist up above the clouds."
Harry Taussig composed "Dorian Sonata" in 1965, at a time when, he says, "I was going from being a physicist working in the military-industrial complex to being an artist and teacher. So I decided to compose my music in another mode in reflection of the changes in my life. This is the result from exploring the Dorian [mode]. However, old habits—and studies—are hard to erase completely, so I retained the sonata form from my classical studies."
Rosenthal's investigations weren't limited to the living. The family of Sandy Bull contributed an untitled, previously unreleased piece by the late psych-folk pioneer. "The Sandy Bull track was recorded towards the end of his life and it has such a sweet, plaintive melody," says Rosenthal. "It sounds like somebody who's being very reflective; it sounds like a coda to me."
Among the more fresh-faced participants, Brad Barr of Montreal indie-folk band The Barr Brothers contributes "Bouba's Bounce," full of Eastern-tinged drones and modalities. Kaki King—who Rosenthal had helped to get a record deal while she was still with Sony—contributes the moody arpeggios of "Night After Sidewalk." Trendsetter Jack Rose steps up with the shape-shifting tour de force "White Mule III."
Merch for this release:
Compact Disc (CD)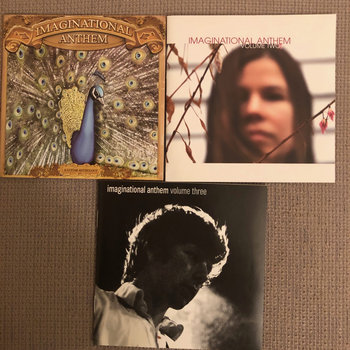 The response to Rosenthal's opening salvo emboldened him to keep going. "I got tremendously lucky," he recalls, "because NPR picked it up, and I sold a ton. At that time, in 2005, if you were on NPR you could sell a lot of records…It was very impactful, and it gave me the confidence to do more."
Released in 2006, Vol. 2 followed a similar old sages/young bucks format. Fred Gerlach's 1962 recording of folk/blues standard "Gallows Pole" was the basis for Zeppelin's version, and so Rosenthal tracked Gerlach down, returning with the frenzied "Devil's Brew." The film noir feel of "Leaving the Apple" comes from British '60s/'70s cult figure Michael Chapman, who would go on to release albums for Tompkins Square. "That's one of my favorite things he's ever recorded," says Rosenthal, "and I'm a huge fan of his. It's got this really cool elliptical pattern." Snagging an unheard live version of Robbie Basho's bittersweet "Kowaka D'Amour" was also a coup.
Young Brit James Blackshaw would soon become influential on the acoustic scene (with aid from Tompkins Square) but he was largely unknown when he opened the album with the dazzling, hypnotic flurries of "River of Heaven." Christina Carter of Houston psych-folk crew Charalambides contributes the cubist avant-garde moves of  "Ascend Mem." And celebrated singer/songwriter Jose Gonzalez was only just becoming known outside his native Sweden when he offered his Nick Drake-ish instrumental "Suggestions."
Merch for this release:
Compact Disc (CD)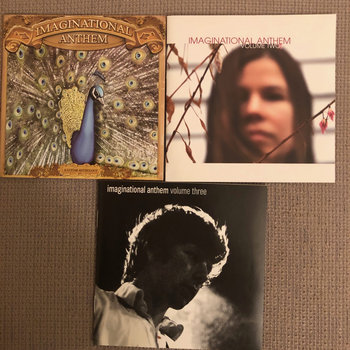 Vol. 3 appeared in 2008, and it is directly responsible for the career of one of the most respected acoustic guitarists around: Nathan Salsburg's country/blues-influenced "Bold Ruler's Joy" is one of his first solo guitar recordings. Looking back, Salsburg says, "Without the opportunity to contribute to the IA series, I figure I'd have lacked the gumption to approach the prospect of solo guitar playing with any seriousness—at least 'til it was too late to convince anyone to listen."
This set also unearths yet another mystery man from the past. In 1969, Vanguard Records released George Stavis' Labyrinths, which Rosenthal calls, "the most out-there, weird banjo record probably of all time." Soon after, Stavis slipped out of sight, but Rosenthal ferreted out the elusive acid-banjo visionary so he could interrupt the guitars on Vol. 3 with the speedy but supple licks of "Goblins."
Merch for this release:
Compact Disc (CD), Vinyl LP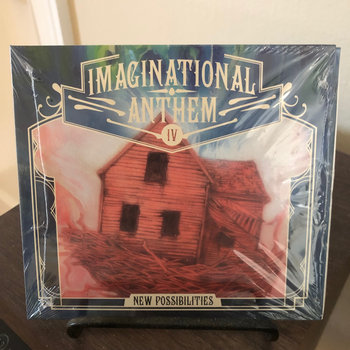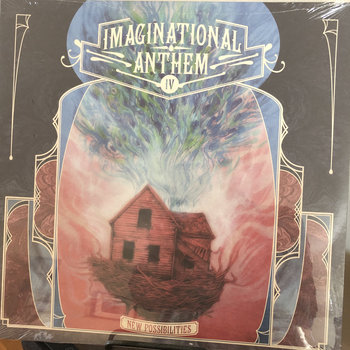 As its title suggests, 2010's Vol. 4 was given over exclusively to newer artists. Chris Forsyth would soon become known for his psychedelic six-string blowouts, but he unplugs to open the album. "I still think of 'Paranoid Cat' as one of my most complete compositions," says Forsyth. "Certainly, it was a turning point for me—a clear point of transition from the explicitly experimental/abstract areas that I'd been exploring to a more lyrical approach. It synthesized a lot of things I'd been reaching for but hadn't fully realized prior to this track." William Tyler had been playing for years with the likes of Silver Jews, Lambchop, and Bonnie Prince Billy, but he was still a newbie to solo statements when he unfolded the sweeping, romantic gestures of "Between Radnor and Sunrise." Suffice to say, Tyler's talent wouldn't remain a secret for very long. 
Merch for this release:
Compact Disc (CD)
Barring a couple of special projects, from here on in the series mostly focuses on rising guitarists rather than legacy artists. Vol. 5 also marks the end of Rosenthal's curator duties. "I felt like I wanted to know something new," he explains. "I wanted to have the same sense of exploration and discovery that the audience would have." Boston singer/guitarist Sam Moss took up the mantle for this one, coming up with a crew bound for big things. "IA 5 is much more a personal mixtape than any kind of authoritative statement on the acoustic guitar," admits Moss. "The identity of the solo guitar can't be summarized neatly on one or even several discs, and I'm glad Tompkins Square has continued the series as a way to explore the varied possibilities of the instrument."
Steve Gunn and Will Stratton would both earn lofty reps as singer/songwriters, making records for Matador and Bella Union, respectively. But their reflective instrumental sides shine here. Daniel Bachman's subsequent status as one of America's finest fingerstyle guitarists isn't exactly a head-scratcher when you hear the bewitching arpeggios of his early cut "Confederate Rose." Bill Orcutt had a longer history, having played with confrontational noise rockers Harry Pussy in the '90s, and his in-your-face approach translates to an acoustic format surprisingly well on the no-prisoners slash-and-burn of "John Fahey Commemorative Beer Can."
Merch for this release:
Vinyl LP, Compact Disc (CD)
For the 2013 installment, Rosenthal says, "I thought it would be cool to take a little bit of a left turn." He reached out to musicologist, obsessive 78rpm collector, and Grammy-winning producer Christopher King to raid his archives for early solo acoustic guitar recordings from the '20s and '30s. The rags and blues represented are the roots of the American Primitive style that is the IA bedrock. "You've got to think a lot of this stuff was the template for Fahey," reckons Rosenthal. From the weeping slide of Lemuel Turner's "Way Down Yonder Blues" to the rubber-knuckled fingerpicking of Davy Miller's "Cannon Ball Rag," it's tough to disagree.
Merch for this release:
Compact Disc (CD)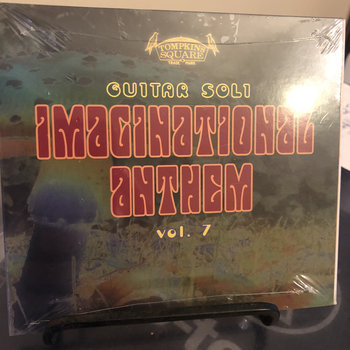 Young Texan guitarist Hayden Pedigo took the reins for the 2015 edition, and he assembled one of the series' headiest entries. The twinkling harmonics and gentle sprays of reverb-soaked chords on Kyle Fosburgh's "The Great North American Wilderness" are as close as you can come to ambient music on an acoustic guitar. Wes Tirey's "My Grandfather's 12 Gauge" sounds like a country blues 78 remembered through a psychedelic haze. Rosenthal's lone pick was an unexpected one. Turns out Simon Scott, drummer for British shoegaze heroes Slowdive, had been doing some moonlighting. His "Trees Return to Soil" shares the dreamy feel of some of its neighbors here. "It's got some of those ambient sounds to it," says Rosenthal. "I think people will be able to draw some kind of line between Slowdive and this track, it's got this really nice plangent, echoey vibe. It's one of my all-time favorites in the series for sure."
The 2016 volume is devoted to guitar stylists who released small-batch DIY (aka. private press) records, mostly in the '70s and '80s. Hardcore record geeks Michael Klausman and Brooks Rice curated, except for the melding of traditional blues with raga inflections that is Perry Lederman's "One Kind Favor." "Perry Lederman is supposedly the guy who taught Bob Dylan how to finger pick," says Rosenthal, who sourced the track by the late guitarist. "Jorma [Kaukonen] was a big fan as well."
Klausman calls Gary Salzman's 1968 single "Secret Forces of Nature" (his only release) "one of the more inscrutable yet exceedingly lovely entries in this compilation. Printed in an edition of 500 copies, the piece spans both sides of the [original] record, and features Salzman gradually overdubbing parts before culminating with a passage of musique concrete-like sound collage at the end. We've reunited both halves of the song here as Salzman originally intended." The pastoral delicacy of Tom Armstrong's "White Pines" and the misty mountaintop impressionism of Rick Deitrick's "Missy Christa" compelled Rosenthal to reissue the original albums on Tompkins Square in all their hoary glory.
Merch for this release:
Compact Disc (CD), Vinyl LP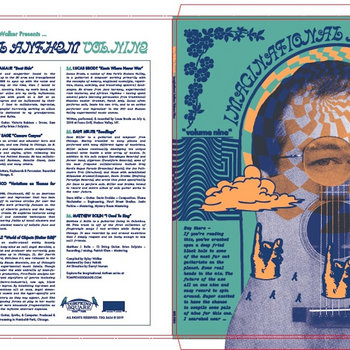 The IA rulebook was gleefully thrown out the window on this 2019 collection. About half the tracks fit the acoustic instrumental mode, but the rest allow for all manner of intriguing anomalies. Singer/songwriter Ryley Walker got his start on Tompkins Square Records, and he returned the favor by overseeing the series' most unexpected outing. Dida Pelled's "Walking My Cat Named Dog" is a cover of folk-rock pioneer Norma Tanega's lovably loopy 1966 tune, complete with vocal. Angel Marcloid, aka Fire-Toolz, adds oceans of electronic processing to the sonic shell game "World of Objects" 'til the actual instrumental sources become indistinct. Dave Miller's "Seedlings" is straight-up skronk, arriving at a space somewhere between Thurston Moore and Lou Reed's Metal Machine Music. But amid the strident experimentalism, meditative cuts like "Om Ah Hung" by Mosses (in-demand drummer Ryan Jewell unleashing his multi-instrumental abilities) should still appease the faithful.
For the tenth anniversary, Rosenthal wanted to try another kind of experiment: taking the "American" out of American Primitive. He called on Marcus Obst, founder of the German blog and label Dying for Bad Music, to curate an album of European players. An unpredictable wrench entered the works in the form of a pandemic you might have heard about. "Most of the songs were recorded during lockdown when people were in their house," Rosenthal explains, "so that kind of marks time and probably informs the mood of the record." Whether the spacious, ruminative sounds of Finnish guitarist Niko Karlsson's "Reversal Curse" and Danish artist Anders Holst's "Past Winds, Swept Past" are isolationist or simply minimalist, there's a gentler vibe here than on almost any other entry in the series. Vol. X was rushed out as the first digital-only IA release. "It felt very DIY to just flip it out there and see what happens," says Rosenthal.
Imagining the Future
After 15 years and 10 albums, Rosenthal—who has a whole stable of artists to look after—would be well within his rights to call Imaginational Anthem a job well done and put the series to bed. But he says IA will keep going as long as he continues to find compelling reasons for it. "This music's rooted in something that's very traditional and timeless," he says. "The contemporary people on Vol. 1 sound just as contemporary as the people of Vol. 10. It's always gonna sound fresh."