LISTS
For Fans Of: King Gizzard and the Lizard Wizard
By Max Savage Levenson · July 14, 2021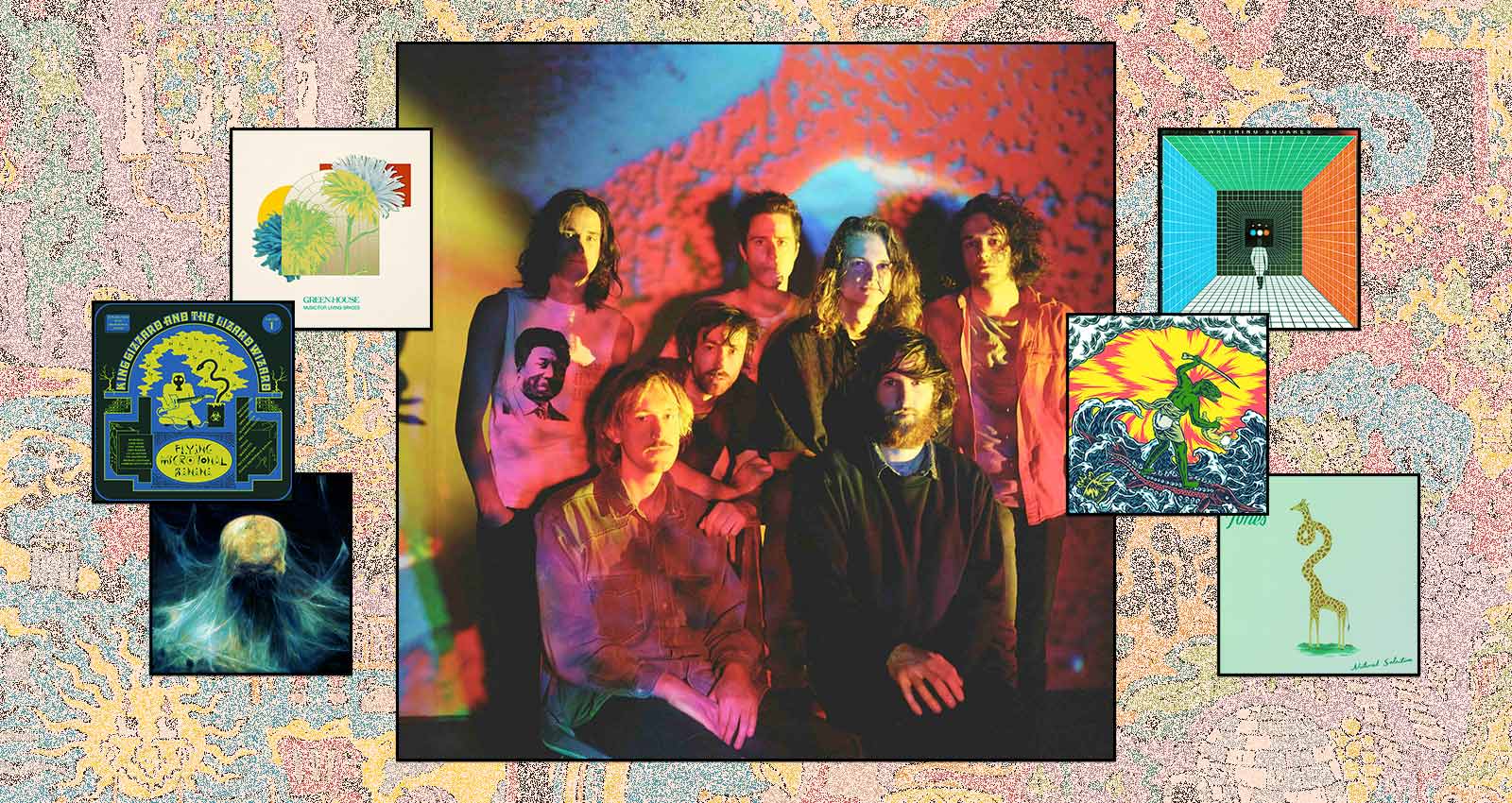 To be a fan of the hyper-prolific Australian band King Gizzard and the Lizard Wizard is to be constantly on the lookout for a new album. After forming in the coastal city of Melbourne in 2010 and releasing their lo-fi debut LP 12 Bar Bruise in 2012, the band has treated their ever-growing army of devoted fans—known collectively as "the Gizzverse"—to a total of 18 absurdly consistent records; they released five albums of new music in 2017 alone. And while it's fair to describe KGLW as a rock band, each of the six-piece's records explores new sonic territory, from frenetic punk to prog, and from sludge metal to sunny psychedelia; the group's most recent release, Butterfly 3000 (their second album of the year, after the dazzling and wide-spanning double record K.G. / L.W.), offers up their most major-key, synth-heavy, and poppiest music to date.
Merch for this release:
T-Shirt/Apparel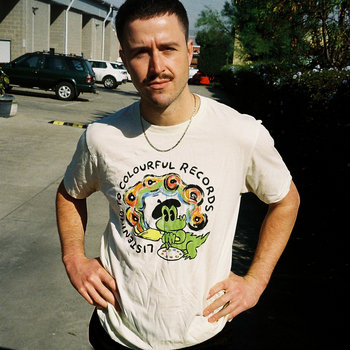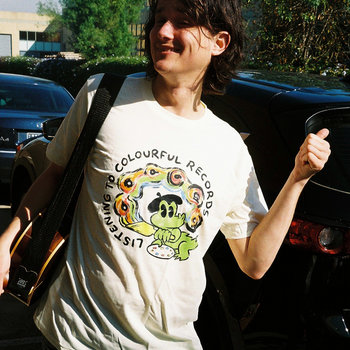 Although the band has covered so much ground that the following list might as well be titled "For Fans Of: Music," there are nonetheless styles and motifs that dominate their chameleonic sound. Read on as we connect the dots between some of our favorite elements of KGLW's immense body of work and other thrilling artists in the Bandcamp galaxy.
A Wild Collage of Sounds
Merch for this release:
Compact Disc (CD), 2 x Vinyl LP
Beyond their eagerness to explore new subgenres from one album to the next, King Gizzard also has a tendency to squeeze disparate styles into a single track, like the Middle Eastern guitar melodies interspersed throughout K.G. / L.W. highlight "Automation," or the dazzling MIDI keyboard and acoustic guitar mashup of Butterfly 3000's "Yours." The inventive and daring Philadelphia duo Writhing Squares has a similar knack for musical alchemy. On their 2021 album Chart for the Solution, Kevin Nickles and Daniel Provenzano toss jazz saxophone, throbbing synths, howled punk vocals and hallucinatory phase shifters into a sonic stew that is as bizarre as it is gripping. Standout track "Rogue Moon" uses an arpeggiated riff as a launch pad for an eleven-minute freakout opus, and later, "Resurrect Dead on Planet Whatever" pares back the duo's manic energy to highlight Nickles' acrobatic saxophone riffs as they dance on a sonic bed of delightfully unidentifiable sounds.
Punk for a Party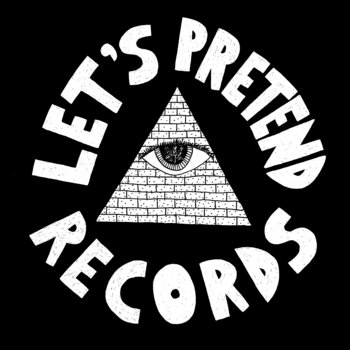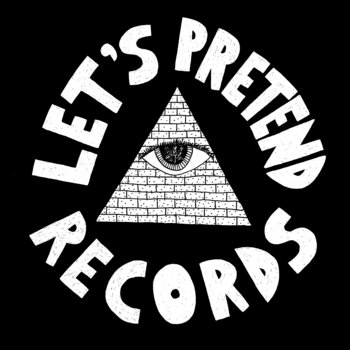 Despite its fatalistic title, Dear God, Bring the Doom, the 2016 release from the Chicago punk trio No Men, is a really good time. Full-throttle tracks like "W.A.B.D.M.Y.C." (featuring the endearing count-in "One, two, one, two, fuck you!") and the Krautrock-infused "Stay Dumb" are utterly infectious and seem built to fuel mosh pits, while the menacing churn of "Hell is Real" is nonetheless as ecstatic as Led Zeppelin at their fiercest. And like King Gizzard's own forays into punk, No Men have crafted a record with enough variety to keep it engaging from start to finish: "Brut," for instance, leans into a brutal wallop before shifting into stadium-size riff territory, and the creepy "Deeper" highlights the band's ability to work an earworm into an otherwise clobbering composition.
Feel-Good Garage Rock 
Merch for this release:
Vinyl LP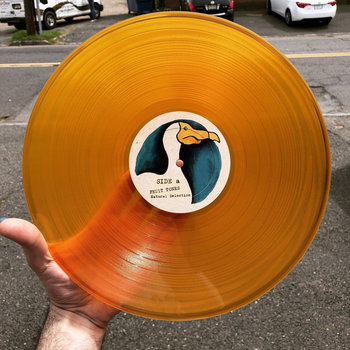 Natural Selection, the most recent release from the Manchester, UK trio Fruit Tones, has all the makings of a feel-good garage rock classic: chugging major-key guitars, sunny melodies, endearingly whimsical melodies, and a dash of surf rock. In other words, a shameless embrace of 1960s trailblazers like the Kinks. Fans of King Gizzard's Willoughby's Beach EP may similarly enjoy tracks like "21st Century Boy," the laconic "Frontline" and the Chuck Berry-indebted "I'm Allergic!"
Playful Synths
Merch for this release:
Vinyl LP, Cassette, Compact Disc (CD)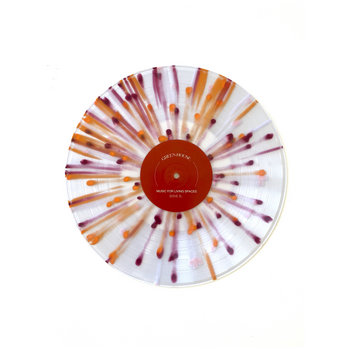 Although Butterfly 3000 is certainly King Gizzard's most synth-centric work to date, the band's use of the instrument is nothing new; tracks like the aptly-named "Cyboogie," "Supreme Ascendency," and "Open Water" all embrace synths to add another dimension to the band's material. While the L.A.-based musician Olive Ardizoni, who crafts "environmental music" as Green-House, utilizes synthesizers with a very specific, yet different goal—to emulate and evoke the natural world—the two artists share a penchant for using the instrument to paint vivid sonic colors. Throughout Green-House's 2021 debut LP Music for Living Spaces, Ardizoni's synths burble, glimmer, shimmer, and soothe, bringing the titular subjects of tracks like "Royal Fern" and "Bird of Paradise" to life.
Full-On Guitar Mania
Merch for this release:
Vinyl LP, Compact Disc (CD)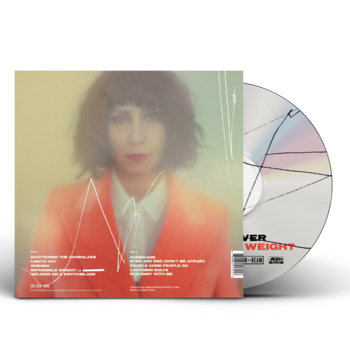 As anyone familiar with King Gizzard's discography can tell you, it's one thing to be really good at playing guitar, and quite another to make a guitar sound really good. Jessica Dobson, the frontwoman of Seattle's Deep Sea Diver—and a former touring guitarist for the Shins, Beck, and the Yeah Yeah Yeahs—checks both boxes: she's a virtuosic player with a gift for picking captivating tones and effects. On the group's third LP, 2020's Impossible Weight, her guitar alternately erupts into technicolor fireworks ("Lights Out"), crunches through taut riffs à la Spoon ("Impossible Weight"), spins off into lurid, glimmering jams in the vein of Stephen Malkmus and generally serves to drive her indie rock anthems to epic heights. (For more evidence of Dobson's masterful playing, check out the band's recent, Twin Peaks-indebted Tiny Desk Concert.)
Heavy, Heavy Metal 
Merch for this release:
Vinyl LP, T-Shirt/Apparel, Compact Disc (CD), Cassette, Vinyl Box Set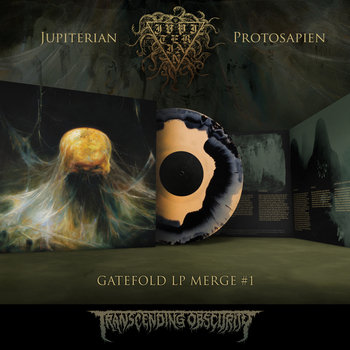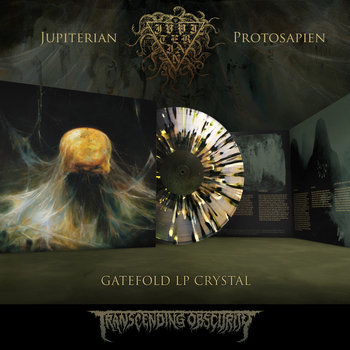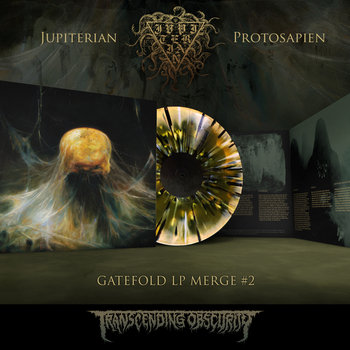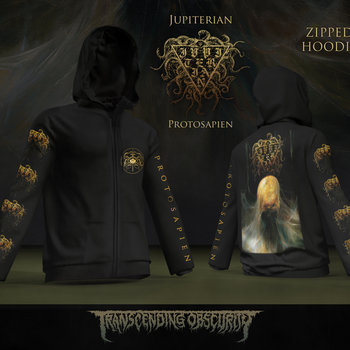 The extremely heavy metal band Jupiterian sounds like they emerged from a dystopian, smoke-choked hellscape. The four-piece's 2020 LP Protosapien showcases an unrelenting flood of monstrous, distorted vocals (courtesy of a man identified only as V), seething guitars and thundering drums; tracks like "Mere Humans" and "Voidborn" surge out of your speakers like a tidal wave of mud. Those partial to King Gizzard's metal-inspired highlights ("Superbug," "The Great Chain of Being," "The Hungry Wolf of Fate") may take similar pleasure in this captivating colossus of doom.