LISTS
The Untouchable Sound of the Legendary De La Soul
By Marcus J. Moore · June 22, 2023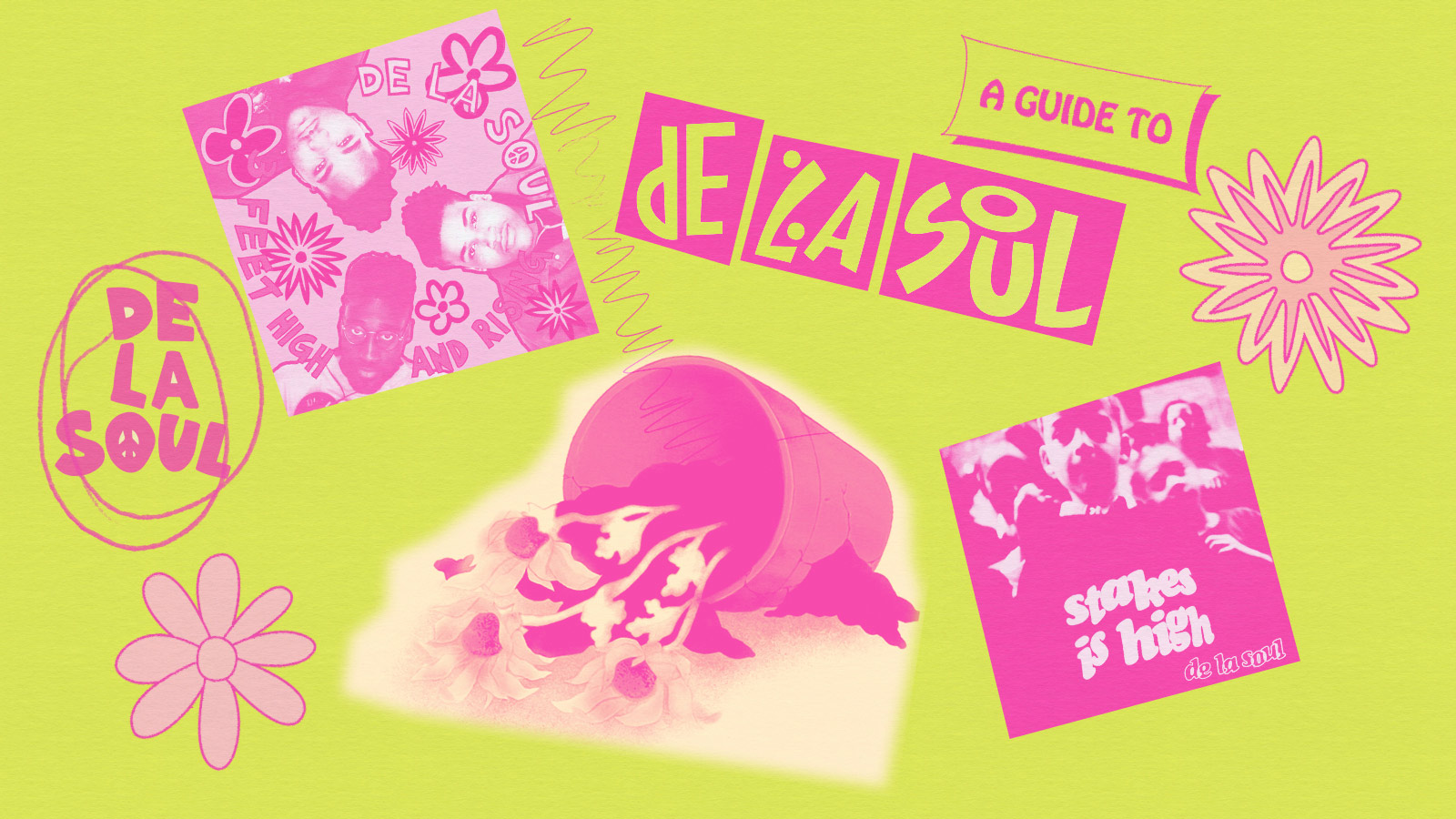 Kelvin Mercer, David Jolicoeur, and Vincent Mason weren't your average high school kids. They were considered quirky—Mercer, a former DJ with an ear for old funk records; Jolicoeur, a budding rapper who liked action figures; Mason, a Brooklyn-born DJ who cut his teeth playing block parties in Bushwick. Sporting wild high-top hairstyles, and wearing peace sign medallions, colorful dashikis, and flower-patterned shirts, the trio even had a weird name to go with its left-of-center aesthetic: De La Soul.
Their names were also eccentric: Mercer called himself Posdnuos, or "sop sound" spelled backwards, because he liked the way the two words looked together; Jolicoeur went by "Trugoy," or "yogurt" in reverse, because he just really liked yogurt; Mason, or P.A. Pasemaster Mase or Maseo, was the most straightforward of the three, a kind boy with a big laugh and a no-nonsense attitude. In the late 1980s, they formed De La Soul in Amityville, Long Island, a world away from the burgeoning hip-hop scene in New York City, and represented the counterculture of a counterculture. Their music—with all its wry humor, witty banter, and 1960s nostalgia—was far removed from gangsta rap, a reality-based strain of hip-hop full of brash, profanity-laced lyrics and searing social commentary. They weren't big and bad like N.W.A, and they weren't smooth like Slick Rick and Big Daddy Kane. De La Soul was somewhere in the middle, a laid-back, fun-loving group rhyming about love and tranquility. Through their mix of psychedelic soul samples and intricate rhyme patterns, De La Soul spoke to the Black alternative, to fans who loved rap but also dug their parents' old gospel and rock albums. With the release of their debut album, 3 Feet High and Rising, in 1989, the world was introduced to the band's flair for the unusual.
De La Soul thrived because they didn't sound like anyone else: Where others repurposed Clyde Stubblefield's drums, they sampled old tracks by Johnny Cash, Hall & Oates, and Steely Dan, and the lyricists rapped about, well, everything—new love, body odor, and hippie culture, among many other topics. De La embodied creative freedom, a shining example of all the good that happens when you stick to your lane and eschew what's popular. For the past 30 years, they've lived by their own rules, crafted the music they wanted to make, and forced the culture to bend to them. By opting for the road less traveled, the group gave rise to a segment of hip-hop that was equally vital, and paved the way for like-minded artists to do the same. Without them, who knows if Madlib would have felt free enough to pair random Blaxploitation footage with obscure underground jazz. Maybe the Roots would feel cagey about their esoteric mix of soul and hip-hop, and Mos Def wouldn't have a blueprint for his vast blend of rock, Afrobeat, R&B, and rap. Singer Renée Neufville, of the '90s R&B group Zhané, took it a step further. "Without De La Soul, there is no Kendrick Lamar," she said in the 2016 mini-documentary De La Soul Is Not Dead.
Their struggles with the music industry have been well documented. Fame hit them fast, and they likely weren't prepared for the public attention they received. Record label execs marketed them as hippies; others figured they were soft (and found out the hard way that they weren't.) As they wrestled with prescribed imagery that didn't match their true sensibilities, they were besieged with bigger problems. In 1991, Howard Kaylan and Mark Volman—of the '60s rock band The Turtles—sued the group for a staggering $2.5 million, citing copyright infringement for using their song, "You Showed Me," without proper clearance. The lawsuit increased tensions between De La and its then-label, Tommy Boy Records. The guys said they included the song on a sample clearance form for 3 Feet High; the label insisted they didn't. A decade later, sample issues kept De La's music off streaming sites—until 2019 when the group parted ways with Tommy Boy. Two years later, the catalog was purchased by Reservoir, who worked with De La to get samples cleared and ready for streaming.
The band's golden-era albums are now available on Bandcamp. Here's a guide to their cornerstone work.
---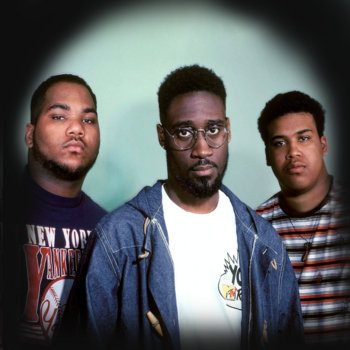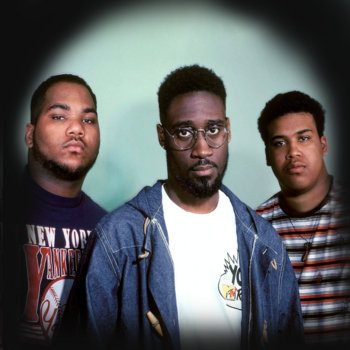 With the release of 3 Feet High and Rising, listeners were introduced to the idiosyncratic sound of De La Soul, hip-hop's flower children, even if they resented the classification a short time later. But the imagery of De La did suggest they were hippies: All flower petals and peace signs, the media likened the group to late '60s folk music, and to the freedom and love movements of a bygone era. Then there was the name De La gave their music: The D.A.I.S.Y. Age—an acronym for Da Inner Sound, Y'all. They were thought to be the conscience of hip-hop, the well-meaning good guys who'd never shoot up a car or beat up other crews. Powered by the songs "Potholes In My Lawn," "Plug Tunin'," and "Me, Myself and I," 3 Feet High and Rising was a commercial hit that broke the glass ceiling of what so-called alternative rap could achieve.
Compiled using just two pieces of production equipment—an Eventide harmonizer and a Casio drum machine and sampler—De La manipulated sounds in ways that hadn't been done in hip-hop culture. "We could put [Hall & Oates singer] Daryl Hall's voice over a Sly & the Family Stone record," Pos once said. "It was amazing." They tried all sorts of musical tricks, repurposing old Barry White instrumentals, putting thicker drums over popular funk breaks, and freestyle-rapping over vocal drums like the rap trio J.J. Fad had done four years prior. Under the aliases Plug One, Plug Two, and Plug Three, they were rapping about fish and whatever else came to mind, leaning into their creativity without regard for how people would take it.
With its dusty drums and obscure vocal samples, 3 Feet High felt distant yet alluring, like a forgotten masterpiece from a bygone era of Black experimentation. From the beginning, the trio rebuked any sort of classification that tethered their sound to rap music alone. It was clear that De La was just De La, the friendly avant-garde trio with a golden ear for unconventional themes and concepts. Thirty years later, it's tough to say whether or not they achieved the goal—even the staunchest De La fans admit the album took some getting used to—but you don't become legendary by being basic. The LP was fearless, and the culture was far better for it.
Once off the road and back in New York City, Pos, Trugoy, and Maseo were physically and mentally exhausted. It was the longest they'd stayed away from home, and the wear and tear of performing had taken a toll. Plus they were growing frustrated because they no longer had time to create. The idea of De La Soul had swelled beyond the actual music, and there was concern they were straying away from why they got into it in the first place. There was also pressure to build upon the success of 3 Feet High and Rising with a new album that mimicked the first one.
One day during a meeting, Trugoy—in a moment of good-natured unrest—erased all of De La's obligations and wrote four words that would become a rallying cry for both the group's mental health and the tone of their music going forward: "De La Soul is dead." As in dead tired. As in had it up to here with the industry and sorely needing a reset. "We just started dying laughing," Pos once said of the joke. "Because we were just tired like, 'Yo, I wanna stay home, I don't wanna go out on the road.' In that very moment, it resonated with us like, 'This could be a dope album title.' Then it all started from there."
On De La Soul Is Dead, the group mocked their image with a storyline centered around school children who find their cassette in a trash can. Compared with the jovial nature of 3 Feet High, De La Soul Is Dead is a bleak and acerbic response to the industry and the band's mounting frustrations, a kiss-off to those who had crossed them over the previous three years. Arsenio Hall, who'd called "the hippies of hip-hop" on his late-night TV show, got dissed here. Vanilla Ice, who was pretty much slandered by everybody, also caught heat from De La. Where the first album was centered around being fun and creative, De La Soul Is Dead found the group taking stock of what they'd seen and not liking the view. It was also incredibly personal and serious. On the song "My Brother's A Basehead," for instance, Pos took his brother to task, unpacking a visceral tale of drug abuse that put a strain on the family and fractured their relationship.
Then there was "Millie Pulled a Pistol on Santa," a song about a young woman who's sexually abused by her father. From the outside, it seems her dad is a good man: He dresses up as Santa Claus to entertain kids at the local Macy's; at night, he assaults her. But Millie's friends don't believe her. Left with no choice and wanting the mistreatment to stop, she shoots her father dead in front of the children, leaving them horrified by the occurrence. The song unpacks a persistent plight affecting women: Society has a tendency to blame the survivor when these instances occur, leaving them with no recourse. When she inflicts her own justice, she's villainized by those who never considered her plight in the first place. Equally courageous and controversial, De La Soul Is Dead was full of creative risks. It was also a lot musically and conceptually. If there was a subplot to the album, it was this: De La can and will put hands on you if needed. Just because they spoke peace didn't mean they couldn't blow no joints.
By 1993, jazz had become a big part of rap music. Groups like A Tribe Called Quest, Digable Planets, and Gang Starr had started sampling old jazz records, which gave the music a smoother sound. De La Soul did as well, resulting in the band's most experimental album at that time: Buhloone Mindstate. Where other groups repurposed old jazz, they actually brought in saxophonist Maceo Parker (a former James Brown collaborator) to play on the song "I Be Blowin'." Yet it wasn't just a straightforward jazz-rap release; the mood was slightly off-kilter, and it resembled psychedelic free jazz. For a group who'd made it their mission to make sonically challenging art, it took a while for even their staunchest fans to decipher what was happening on Buhloone Mindstate.
"I've had fans who will come up to us way after Buhloone Mindstate had come out, and they all say, 'You know what? I remember when that came out and what you guys had already given us previously, I didn't really get it,'" Pos told NPR in 2013. "'You know, but, 'When I had my first kid,' or 'When I got a little older,' 'Yo! When I went back to that album, it really appealed to me more than when it first came out.'"
Buhloone Mindstate also got lost in the shuffle of what was coming: It dropped two months before the Wu-Tang Clan released their debut album, Enter the Wu-Tang (36 Chambers), and Dr. Dre protégé Snoop Doggy Dogg released his highly anticipated debut album, Doggystyle. Also in November, De La Soul contemporaries A Tribe Called Quest released their third and arguably best album, Midnight Marauders. So Buhloone was seen as an afterthought, as if their sound had become too heady. Compared with the Wu's hardcore grit and Snoop's laid-back ease, De La Soul was starting to make their fans think too much. "We really didn't even know where we stood in the industry," Pos said in the 2016 mini-doc De La Soul Is Not Dead. "Then to have Tribe put out this phenomenal album, Wu-Tang comes out, B.I.G., everyone, and we had this really jazzy album that stood on its own."
The album also marked a transition for De La themselves; they were starting to break away from Prince Paul. Compared with his involvement on the previous albums, he was pretty much hands-off on Buhloone Mindstate, taking more of an adviser's role, making the calls to get legends like Parker and trombonist Fred Wesley in for recording sessions. Paul was still very much a producer, just in a different way. Pos, Dave, and Maseo had a clear vision and knew what they wanted to convey. The Native Tongues, a loose collective featuring De La, Tribe, Queen Latifah, Monie Love, Black Sheep, and the Jungle Brothers, had also splintered. On the song "I Am I Be," Mercer lamented the broken state of the crew, holding himself and others accountable for letting it falter due to ego. "Or some tongues who lied and said, 'We'll be Natives to the end,' nowadays we don't even speak," he rapped. "I guess we got our own life to live/ Or is it because we want our own kingdom to rule?" The rest of Buhloone Mindstate wrestled with the notion of blowing up but not going pop. It embodied a certain reflection, when the late-night partying suddenly isn't so cool, and eating food served from behind a bulletproof shield at two in the morning doesn't feel like the move. The album exemplified De La's awakening, a coming-of-age in the truest sense. Still, the album didn't sell well and both the group and label started getting nervous. There was a lot of pressure on the next album.
Three years after Buhloone Mindstate, De La Soul had some tough decisions to make. Now a high-profile act with three acclaimed albums to its credit, the group was at a crossroads: For the first time ever, De La and their producer, Prince Paul, were beginning to clash over creative decisions. If their next album failed, there was a chance the group wouldn't be heard from again. With tensions rising, De La and Prince Paul decided to part ways for good. The group produced much of Stakes Is High themselves, aside from the title track, which featured a young, up-and-coming producer named Jay Dee (later known as J Dilla), who had an incredibly fresh sound that hip-hop didn't yet know it needed. Released as a single in June 1996, the title track found the group attacking all things popular in hip-hop. To them, the genre had become too formulaic, too driven by monetary excess. It didn't have the same heart. This was the era of Sean "Puff Daddy" Combs and the multimillion-dollar budget. A young Brooklyn rapper named Jay-Z was just beginning to come up in the industry. Fed up, Trugoy—just Dave at this point—fired a warning shot toward hip-hop culture as a whole:
I'm sick of bitches shakin' asses/ I'm sick of talkin' about blunts/ Sick of Versace glasses/ Sick of slang/ Sick of half-ass awards shows/ Sick of name brand clothes/ Sick of R&B bitches over bullshit tracks/ Cocaine and crack/ Which brings sickness to Blacks/ Sick of swoll' head rappers/ With their sicker-than raps/ Clappers and gats/ Makin' the whole sick world collapse/ The facts are gettin' sick/ Even sicker perhaps.
It was no longer enough to be a good rapper with strong content, it seemed you had to wear shiny suits and drink expensive champagne in your music videos to be noticed. And, for whatever reason, other New York rappers were infatuated with organized crime. On the song "Itzsoweezee (HOT)," a Dave standout, the rapper derided mob cosplay. "See them Cubans don't care what y'all n—s do, Colombians ain't never ran with your crew," he rapped. "Why you acting all spicy and sheisty, the only Italians you knew was icees." Stakes Is High eschewed the sarcasm of years past. With straight faces and furrowed brows, they asked hip-hop a simple question: What the hell is wrong with you?
Hip-hop got dark in the years following the release of Stakes Is High. Tupac Shakur was shot and killed in 1996; the Notorious B.I.G. a year later in Los Angeles. In turn, the music also became bleak and violent, displacing a group like De La. But in 2000, they returned with Art Official Intelligence: Mosaic Thump, the first of a promised trio of AOI albums. Unlike the serious-minded Buhloone Mindstate and Stakes Is High, Mosaic Thump had this unbridled joy to it, a high-key fuck-it-ness that had been missing from the band's work. If there are flashpoints on the album, it's "Oooh," featuring the rapper Redman, and "All Good?," featuring the soul singer Chaka Khan. The former was a high-wire call-and-response that quickly became an anthem, thanks mostly to Redman's off-the-wall, all-caps prompting. "All Good?" was a not-so subtle shot at those who abandoned the group once its sales dropped and commercial appeal dissipated. "We were certified hot, then dropped to lukewarm/ Now we back up in the spot, claimin 'never been gone,'" Pos rapped. "N—s who cut us off wanna reattach us now/ Them girls who brushed us off, say they want some numbers to dial."
A year later, De La Soul released AOI: Bionix as a follow-up. While the title track presented a clever side of De La, with Pos making considerable use of double entendres, songs like "Held Down," "Trying People," and "Peer Pressure" were the album's strongest. Perhaps on purpose, the best songs on Bionix were somber, and the album as a whole pulled back the curtain on how De La felt about aging. At its best, it unpacked the push-n-pull of loving and resenting the journey, of still feeling like a student while sharing space with rappers you inspired. Though the third installment never came—Tommy Boy hit the skids financially following the release of Bionix—the AOI series foreshadowed where De La was headed conceptually. Now full-fledged adults with nothing left to prove in the business, they leaned into the fun of making albums and confounding listeners globally. In the wake of Dave's untimely passing, it's unclear where De La is headed next. If history holds, the next iteration will be challenging, intriguing, and rewarding all the same.
Marcus J. Moore, a former senior editor at Bandcamp Daily, is the author of the forthcoming book High and Rising: A Journey Through Life and Sound with De La Soul.