LISTS
A Guide to CunninLynguists' High-Minded, Concept-Driven Discography
By Christina Lee · June 22, 2021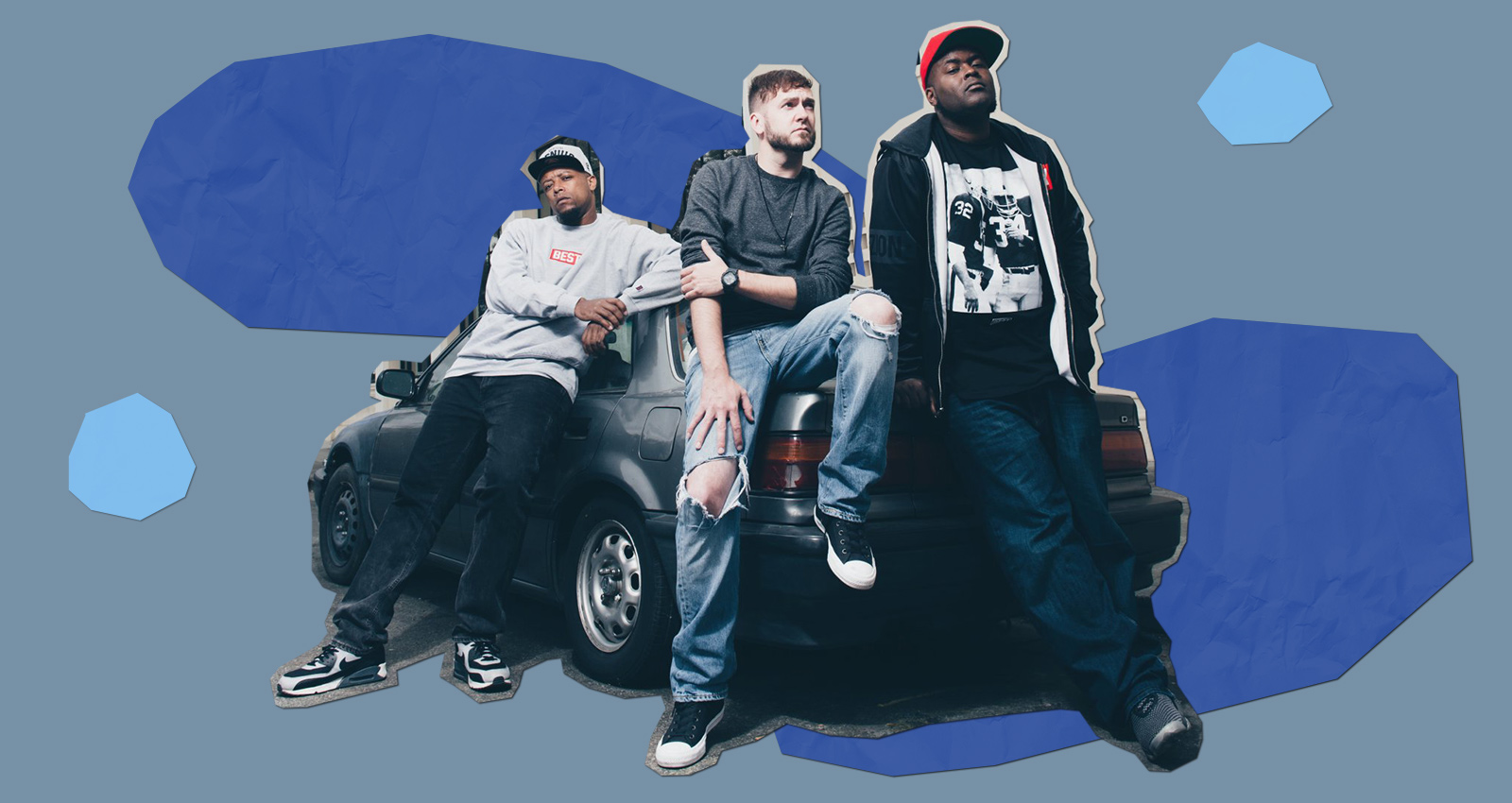 CunninLynguists have always found a captive audience in unexpected places—from East Coast transplants new to Atlanta, where the group was based; to the internet before it became music's de facto marketplace, allowing the indie hip-hop group to reach fans in Spain and Sweden. But CunninLynguists began flourishing once they realized this unusual reach could be a major asset. "There came a point where I felt like we had something to offer that not a lot of people can pull off, because we're so self-contained," says rapper and producer Kno.
Similar to the Roots, CunninLynguists' music transitioned from being scrappy and self-deprecating to high-minded and concept-driven. Past album themes include CunninLynguists' ancestral roots as Southern rappers (Dirty Acres), how dreams reveal hidden corners of our psyche (Oneirology), and how Black music counters what textbooks teach us about American history (Rose Azura Njano).
"If you approach the music from a cinematic and emotional standpoint, you'll end up connecting with a lot more people than you maybe would have expected," Kno says. "I can't tell you how many times we've played a show somewhere and the best English fans can manage is, 'Hello, I love you.' But they do their best because the music makes them feel something, and not just, 'Oh, I love hip-hop.'"
As the group prepares its next album, and ahead of the 10-year anniversary reissue of 2011's Oneireology, Kno reflects on how that creative journey unfolded in the group's ambitious catalog.
In Will Rap for Food, founding members Deacon the Villain and Kno busk to passersby who couldn't care less. In reality, CunninLynguists were surprised to find that actually, there is an audience for backpack rap out of Atlanta where the Kentucky-born Deacon was attending Morehouse College and Georgia-bred Kno was at the University of Georgia. "I just remember literally opening the first box of CDs and selling them hand-to-hand at a Halloween show for Sub Verse," Kno says. The folks buying them were people who had relocated from New York and Philadelphia, searching for what sounds like home: "The whole, even halfway boombap scene was mostly transplants," Kno says.
CunninLynguists quickly realized that fans interpreted WIll Rap for Food's poking fun at Master P as a diss. "We'd have fans come up to us at shows and be like, 'Fuck that Dirty South shit,'" Kno says, referencing how Southern rap's mainstream ascent was branded back then. After Florida native Mr. SOS joined, CunninLynguists decided to set the record straight, starting with their next album title. "People in the South were still listening to everything East Coast, West Coast," Kno says. "We just made a concerted effort to say, 'Yeah we make backpack rap, but this is where we're from.'"
CunninLynguists have always sold their music online, though in the beginning, since the iTunes Music Store wouldn't launch until 2003, it wasn't yet a part of the scene. "If you're selling records on the internet, the mood was still, 'Oh, it's a nerdy thing,'" Kno says. The online response to A Piece of Strange—on which Natti replaces Mr. SOS—predicted another aspect of how music would be received today. The goal was to create a "hip-hop Pink Floyd album" about the path to sin. While fan discussions started on forums hosted by Tonedeff's label QN5, they soon were distilled into a single website to explain how Strange told another story when songs were played in reverse order. "What Genius is now, where you can go in and annotate lyrics, that's what [fans] did," Kno says.
In 2004, Kno followed bandmates Deacon and Natti to Kentucky, where they grew up. Will Rap for Food had songs about Kno and Deacon's tumultuous family histories. Southernunderground pointed more explicitly to their Bible belt upbringing. But as Kno observed Deacon and Natti among childhood friends, he realized that listeners also needed to see them "in their element." Dirty Acres fleshes out what they've previously hinted at, through songs about generational trauma (the title track, "K.K.K.Y," "Georgia"). "Dirty Acres is definitely more of a representation of who Natti, Deacon, and I are as people," Kno says.
Oneirology confirmed the group's M.O. going forward: see where their curiosity leads them, then figure out a compelling story that makes good use of their newfound knowledge. For six months in 2008, Kno was having terrible nightmares. He attributes them to anti-seizure medication he took while being tested for multiple sclerosis, though he and his bandmates couldn't help but wonder what such dreams could mean. After reading several chapters from "paperbacks that you can find online for $5 that you'd read at a junior college," CunninLynguists released the dream theory-inspired Oneirology. In the first half of the record, these hidden corners of our psyche are to be feared. But with "Dreams," featuring Tunji and BJ the Chicago Kid, Oneirology ends with the optimism that comes with a new day.
While exploring the legacies of Black musicians like Muddy Waters, Jimi Hendrix, and Andre 3000, Rose Azura Njano argues that America doesn't live up to its reputation as "land of the free." To keep their critiques as broad as possible, CunninLynguists challenged themselves not to call out then-president Donald Trump by name, sticking instead to sneak disses like Deacon's "Let's be great again/ Forget the salient struggle of each alien." "In 30 years this record is still going to be poignant," Kno says. "Being in the game for 15 years at that point, we knew what it was like to date our lyrics by mentioning shit that, ten years later, sounds corny."