LISTS
"I've Found My Home In Hell": A Guide to Cloud Rat
By Colin Williams · April 05, 2022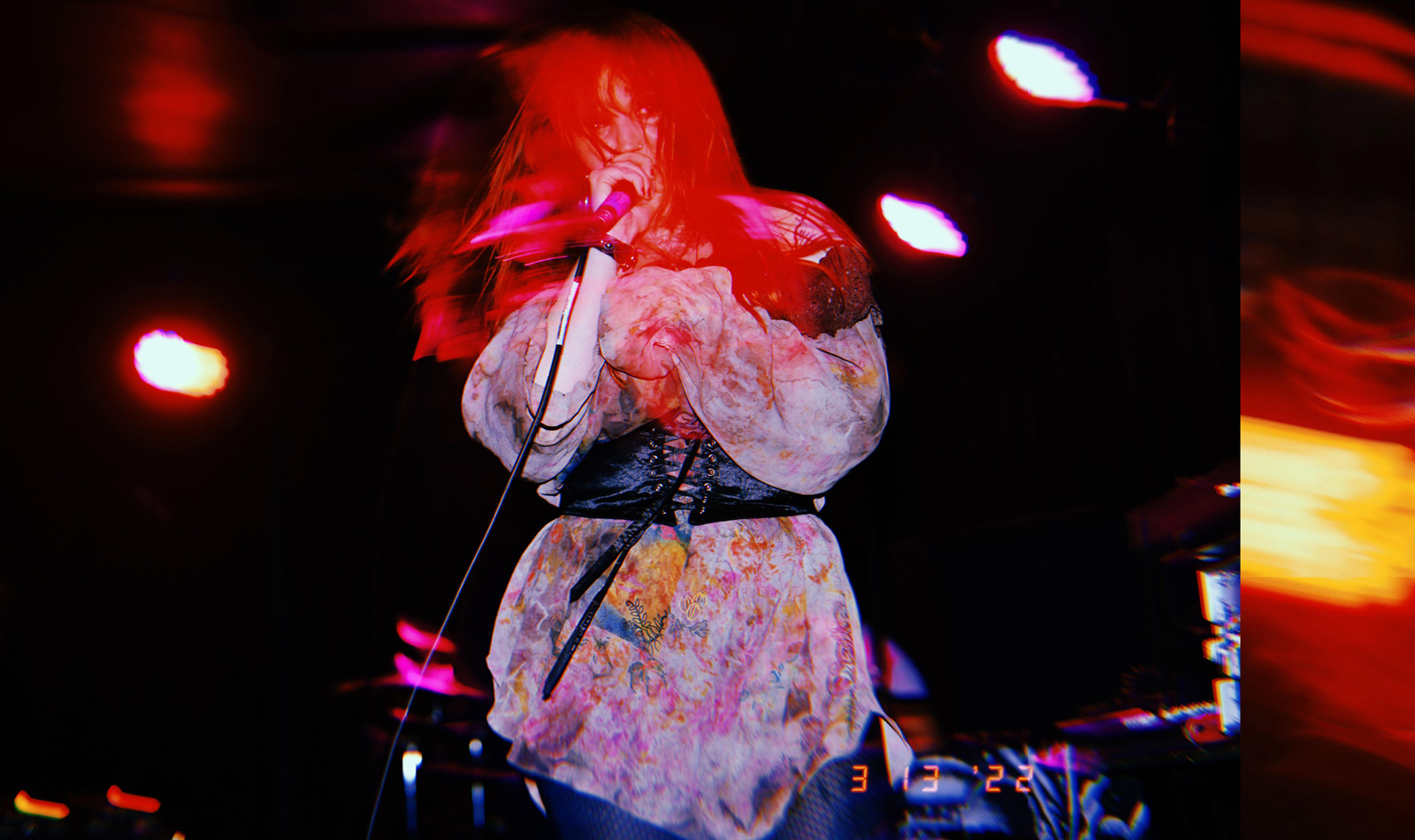 It makes perfect sense that a band as full of piss and vinegar as Cloud Rat started at a party. "[We were] basically just drunk and joking around about starting a grind band akin to Shitstorm, Insect Warfare, or Pig Destroyer," says their guitarist, Rorik Brooks. The Michigan-based act came up in a tight-knit punk scene characterized by "lots of creative energy blooming alongside heaps of addiction shit and everything that goes along with it."
Since that fateful night in 2009, Cloud Rat has become one of the most respected and prolific grindcore bands on the scene. Though their punk roots show in a DIY approach and raw delivery, an increasing share of their output ventures into metal, art rock, and experimental electronic music. This trend is more prominent in recent releases, but its seeds were planted on their first release, a self-titled EP.
"It all happened pretty quickly and collaboratively," Brooks says of Cloud Rat. "Even though we wrote all of those songs and recorded it in such a short time, with zero budget, in a basement, it all turned out pretty neat." This first EP has gotten a remaster for its 12th anniversary via label Artoffact; a new full-length is currently in post-production. Drummer and electronics specialist Brandon Hill says the three-piece has "lots of hopeful little projects and even solo stuff from each member of the band" in the works for 2022. Noting the state of the world, Hill says, "if we indeed get to play some songs and make some noise, then I'd say that's making it even further than I thought we'd be after all this!"
On the occasion of Cloud Rat's re-release, let's take a look back through the band's whiplash-inducing, grief-stricken, middle-finger-in-the-air discography. These Rust Belt punks have refashioned the genre in their own image with a series of splits, compilations, and LPs that each bend the forces of extreme music to their will.
---
Merch for this release:
Vinyl LP, Compact Disc (CD)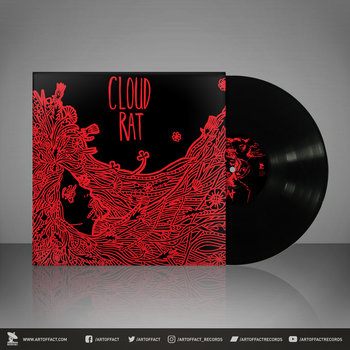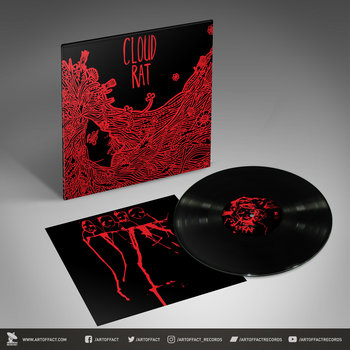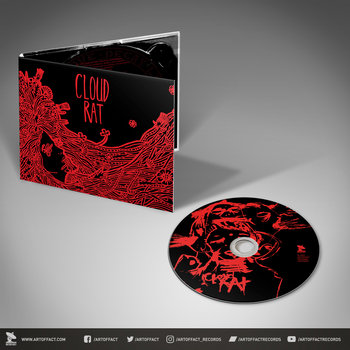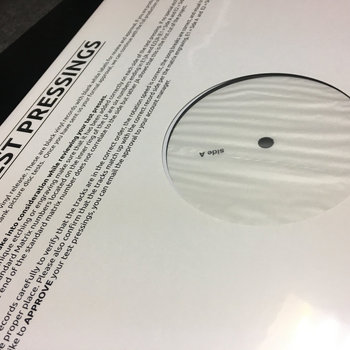 Cloud Rat's eponymous debut set a clear precedent for the band's scorching sound, switching fluidly between hardcore, grindpunk, and metallic rage. "We straddle those lines fairly intuitively," Brooks says. "We've always tried to walk the line, trying to have a good balance…some of it is production as well—[that's] not necessarily intentional, but it's worked in our favor, I think." This first record also introduces vocalist Madison Marshall's violent delivery and introspective lyricism. "I don't need a cloud to tell me I'm alright with the space in between/ Dead, buried in the ground / That's it, there's nothing else," she howls. Throughout the band's discography, similar poetic motifs of rot, betrayal, and self-abuse abound.
As far as the volatility in Cloud Rat's lyrics, "I think our environment has seeped into everything we've done," Brooks says. "I grew up out in the country in a tumultuous household and got into a bunch of trouble as a kid." Brooks dropped out of high school. Marshall grew up in Midland, Michigan, a town Brooks quips is "basically owned by Dow Chemical and Jesus." Drummer Hill grew up not far away in Grand Rapids, where the country's income inequality and opioid crisis is on full display. These themes of violence, madness, and despair crop up in Cloud Rat's samples and spoken word passages, as on "Yama."
Like many other punk and metal bands, Cloud Rat's past is dotted with split releases, typically recorded during tours undertaken alongside their fellow Michigan punks. Unlike other bands, however, Cloud Rat have compiled most of their split-release tracks into standalone albums, the first two of which are Fever Dreams and Blind River. Fever Dreams is the rawer of the pair, but both similarly reflect the band's early frenzy of activity. Brooks and Hill note that the band worked on some material individually, trading tracks back and forth, and other tracks together when it made sense or everyone had time to convene. "Different things came from different batches of material being worked on in different combinations," Hill says. "It all seems to work out into these expressions of whatever is going on at that time."
Brooks says these compilations add organization to an otherwise crowded list of releases. He's the one with the most hours put in on these anthologies, according to Hill. "They do work like full lengths, and I like to think of them that way," says Brooks. Blind River, which features art by vocalist Marshall, closes with the excruciating "Astronomy." "Dealing/ I'm always just dealing," Marshall screams, the visceral lyrics reflecting the band's tenuous life at the time.
Cloud Rat's first LP, Moksha, "was written during a particularly volatile time," Brooks says. "I'd survived a suicide attempt the year previous, we'd lost some friends to addiction, and our relationship as a band was straining."
Moksha's production leaves Marshall's lyrics painfully clear, taking the listener everywhere from a bathtub full of gray water to "the winded pathway out of the womb." "At the same time [as our difficulties], Madison was growing exponentially as a lyricist, while our sound expanded overall," Brooks says. "Our first LPs lyrics are pure, vile rage soliloquies." Additionally, Moshka features a chilling cover of Neil Young's "Needle and the Damage Done."
Although Moksha features passages of clean vocals on tracks such as "Infinity Chasm," Cloud Rat's second LP Qliphoth opens with singing and whirling synthesizers (although, given the fury that follows, this is perhaps some intentional misdirection). First track "Seken" is indicative of the band's drift away from punk sensibilities, musically speaking, and sees Hill, who joined the band during Qliphoth's recording, add layers of electronics among the grindcore gusts.
Hill initially joined Cloud Rat on tour with his solo project Plagues, and the band asked him to come on as a fourth member soon after. "I think we always wanted to add weirder, more electronic and diverse elements to the music as we all pull from such a wide range of things we dig sonically," he says.
The band unleashed another flurry of split releases between 2016 and 2019. During these three years, the band went on tour with acts like Wolves in the Throne Room and Thou which kept them inspired. Also, Hill notes, "Rorik is a riff machine." He credits Brooks with assembling the band's material and sharing it with other members, allowing them to freely bounce ideas back and forth in between gigs and rehearsals during the band's most frenetic years to date.
As before Moksha, the group wound up compiling their many splits into two discrete compilation albums, Clipped Beaks and Silk Panic. The latter feels especially like a cohesive full-length. Tracks such as "Refraction" show a band delving ever further into hardcore and metal territory without shedding the concision and fury of grindcore.
Merch for this release:
Vinyl LP
"Our label Artoffact is rather unique in that we are one of the few 'metal' bands on the imprint," Hill says, noting the label's electronic and post-punk roster. "They wanted a possible extra EP of bonus material…Through a brutal week of insanely hard work, Rorik and Madison formulated what I believe to be one of the band's most unique and perhaps one of the most personal [releases]," Do Not Let Me Off the Cliff.
From the opening seconds, it's clear this is anything but a conventional Cloud Rat record. More Zola Jesus than Napalm Death, this record gathers up the band's previous experiments and magnifies them into a lumbering industrial doomscape. D-beats and propulsive riffs are replaced with trip hop-laced kicks; Marshall croons with reverb-cloaked vulnerability. In spite of the different toolkit the band deploys, songs like "Keep Flies" are no less menacing than any of the band's one-minute grind assaults.
Merch for this release:
Vinyl LP, Compact Disc (CD)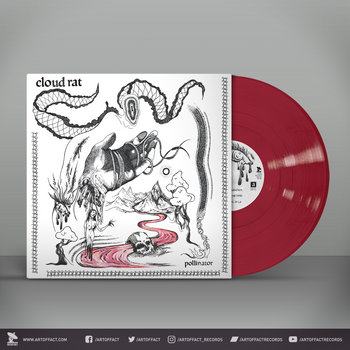 In 2019, the band released their most recent full-length, Pollinator. Full of wanton aggression, pick scrapes, and Marshall's versatile harsh vocals, Pollinator picks up where the band left off on Moksha, albeit with just a touch more noisy ambience and a final production polish more common in metal than punk. "I'd been experimenting with recording for a few years, working on little demos here and there," Brooks says.
After injuring his back in 2018, Brooks spent time constructing an early version of the LP from songs the bands had honed on the road and scraps of electronic noise inspired by Hill. The finished product then came together quickly at a studio in Toledo, Ohio. "Pollinator felt like the first time in a long time we got to really practice a lot of the songs live and learn them well before recording," Hill notes with a laugh.
On 2021 single "Mother Tongue ~ Glitter Belly", there are melodic sections, giddy flashbacks to old-school grindcore, and a long fadeout of skronky electronica. Marshall uses every vocal weapon in her arsenal. Brooks, who also handled production on the single, breaks out some of his most metallic riffage to date; Hill does yeoman's work on the drums. The band's second album is awaiting release; they're about to hit the road for their reissue for the first time since COVID.
With all the songs in their abundant discography, Brooks says, "putting together setlists for upcoming tours is hard."
"It's wild to look through it all," he says of Cloud Rat's oeuvre. With the reissue of their initial EP, he's considering going back to revisit more old material to capture their newer sound. "Maybe that's a fool's errand, though—fucking with older material often ends with fans just wanting to go back to the OG stuff." He laughs. "I should know better!"