LISTS
Chicago Rapper Chris Crack Has Been on a Creative Bender
By M. T. Richards · November 12, 2020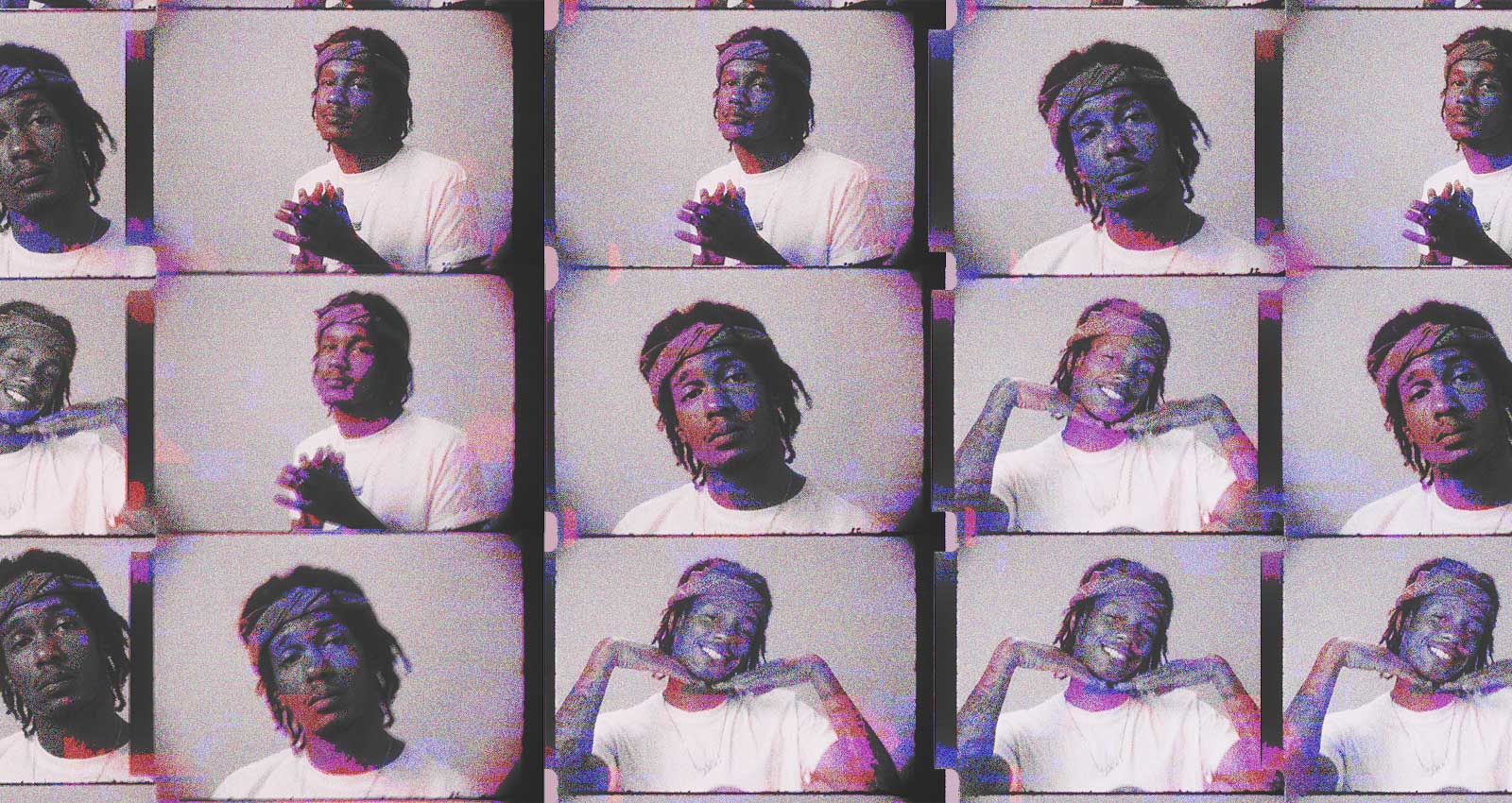 Chris Crack, 31, wasn't previously known for "making things political." A high-strung, whimsical Chicagoan who raps in his drive-thru voice (somewhat yelly), he keeps a low profile for someone with so much personality. He's unsigned by choice; his stable of collaborators (Cutty, U.G.L.Y. Boy Modeling) could fit in a small utility closet.
To the extent that Crack is well-known, it's for five things: abundant self-mockery, dad jokes, Morrissey-esque song titles ("Cows Are Friends Not Food"), jejune singing excursions, and a dedication that completely bodies the Calvinist ethic. He never stops making music.
But even in his hometown, the West Sider doesn't get the recognition you might expect. The local press covers him sparingly, the exception being the reliably underground-focused alt-weekly Chicago Reader, and that can't be blamed on a lack of material for music reviewers—Crack dropped four albums in 2018 alone and he's only improved since then. Maybe his maturation was predestined, but the pandemic and the uprising for Black lives seems to have lit a creative fire under the MC. He challenged himself musically like never before on June's Cute Boys (The Rise of Lil Delicious), on which tracks like "White Lies Cost Black Lives" and "Sex Workers Over Cops" speak to the street actions sweeping the city, the nation, the world. Then came July's Good Cops Don't Exist, a soul-purging howl of protest.
Chris Crack has never made the same record twice. Right now he's nobly giving hell to unaccountable cops, but before long he'll be challenging some other status quo. Every album of his is distinctly different from the last. Read on for a truncated guide to the rapper's vast discography.
Remember the hapless sketch comic from Biggie's "Kick in the Door?" Crack repeats his grievances, mantra-like, on "Introverted Extrovert" ("This my fourth album, b! This my fourth album!") Crack has a chip on his shoulder too, constantly griping on Let's Just Be Friends about his finances, poor diet, and less-than-optimal living arrangement. Hardship befouls the soul, of course, but Chris Crack has never been one to succumb to cynicism.
A love letter to Chicago soul music, co-penned with some of the city's finest rappers (Tree appears on "Bitch Ima Do Me," Vic Spencer on "Bulletproof Bonet"). Without exception, Crack's albums are fastidiously produced, but This Will All Make Sense Later deserves extra dap for sheer symphonic grandeur. The strings weep and swoon; the trumpets belch from up high. It's almost too beautiful to bear. Just don't expect four-on-the-floor madness from "Juke Parties & Mild Sauce": It's half-rap, half-soliloquy, with drums lighter than cellophane.
Crack will always be a chatterbox, but Just Gimme a Minute is laconic by his standards. The trippy beats do the loudest talking here; they're scratched, chopped and mangled to perfection. "Sophisticated Gossipers" is more claustrophobic than a closed MRI; on "Hug Me Till I Smell Like You," Crack throws TLC's "No Scrubs" into a fit of discombobulation. The album's title is suprisingly literal: Every song but one is less than two minutes long.
Call it a showcase for hip-hop's dirtbag left. On Thanks Uncle Trill, Conway the Machine, Your Old Droog, and Guilty Simpson trade verses like weed dabs. In a way this constitutes a defeat of sorts, or at least a failure for vision, for Crack, who has pretty much always done his thing independent of the prestige economy—he doesn't really hobnob with famous rappers from outside Chicago. But Thanks Uncle Trill is righteously uncompromising. Crack is not trying to make a Conway album. There's no tape hiss or vinyl crackle, just the quavering voices of bereaved soul singers.
If there were ever a Chris Crack album for fans of the wah-wah pedal, this is it. If there were ever a Chris Crack album for cruising the litter-pocked side streets of Chicago's West Side, this is it. Gzus Piece, a West Side rapper who has always embraced pimping culture much more explicitly than Chris, may steal the show on "Women Cum First," but he has competition: An irrepressibly lustful soul sample.
Cupid's fingerprints are all over Pretty N****s Only. Very seldom does Crack explore his softer side—more often he's riffing with puerile glee on his sexual misadventures—but here he revels in the formative stages of a relationship, too blissfully paralyzed to wake from his love-struck stupor. The cookie-cutter R&B choruses aren't the greatest look, but in a way such mishaps are to be expected (love warps our judgment, after all). And the instrumentals? Talkbox funk worthy of Roger Troutman.
Well, that was quick. On Pretty N****s Only, Chris was gazing devotionally into a woman's eyes as they barrel down the interstate at sunset. On White People Love Algorithms, he reverts to type, reprising the role of oversexed gross-out comic (there's a song called "Chipped My Tooth Eating Pussy"). The album is remarkable not so much for what Chris says, but for how well he acclimates to the music. The way he finesses these easy beats, you would think he's been rapping over Muzak for years.
The genre-blurring rap side project has a very troubled history; there are dozens of cautionary tales for every Foreign Exchange. But Chris Crack, music doyen that he is, excels at virtually everything he puts his mind to, so it's not cause for concern if he departs from his natural resting place. Cute Boys is top-shelf R&B, a sudsy, nourishing lather that feels great to the ears. And when Crack raps, he's fully on-point, his punchlines connecting with targeted precision.
The perfect culmination of a two-year creative binge. This probably would've been a great album regardless, but certain events had to happen in a particular sequence before the wellsprings of indignation could truly burst forth. How would Chris Crack be different on a parallel continuum where the killings of George Floyd and Rayshard Brooks didn't overlap? He'd still be angry, of course (police barbarism is not a new phenomenon). But that anger wouldn't be nearly so raw. The beats on tracks like "Reparations Not Decorations" might not be rapid-fire, but Crack's palpable fury burns incandescently.