LISTS
Andy Bell's Other Ride
By Elle Carroll · June 28, 2021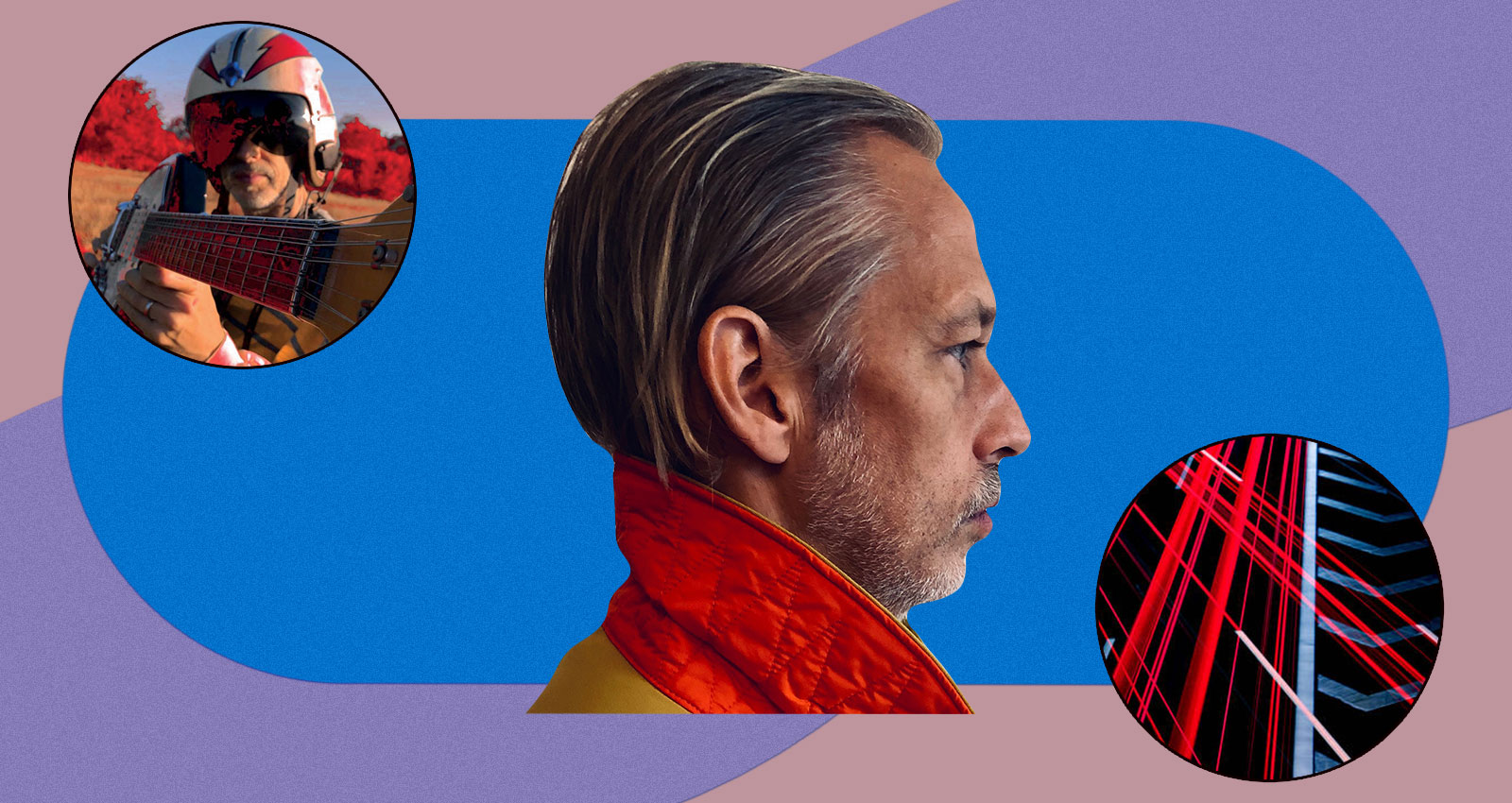 Andy Bell doesn't seem like an unusually morbid person, but he can't explain why he's "gone solo" without talking about death.
"There's a couple of things that happen at the same time when you become aware of your own mortality," he says. "You feel the clock ticking on life and you also care less about what people think. Those two things together have really fired up the engine of me making and wanting to release a lot more of the music I make."
Since his late teens, Bell has been something of a guitar-toting journeyman within distinctly British genres of music; first through insular, early '90s shoegaze and bombastic Britpop, then through heady electronica. As one of the main songwriters in Ride, Bell rode the cresting shoegaze wave into Creation Records and acclaim on both sides of the pond. That lasted until the band's breakup in early 1996, and by 1999, Bell was a full-fledged member of Oasis, where he would remain until Noel Gallagher permanently (if abruptly) recused himself from the band backstage at a festival in Paris in 2009.
Bell landed on his feet by following fellow now-ex-Oasis members Liam Gallagher, Gem Archer, and Chris Sharrock into Beady Eye where, with Noel absent, he shouldered a significant amount of songwriting duties. A few weeks after Beady Eye's uneven run ended less with a bang than with a tweet in October 2014, Ride publicly buried the hatchet with the announcement of a pair of reunion shows.
Ride's initial 2015 live reunion—accompanied by tongue-in-cheek pull quotes like "More bands should beat the crap out of each other"—went so well that two positively-received records followed: 2017's Weather Diaries and 2019's This Is Not A Safe Place. Ride's reputation had only improved in the intervening years; no self-respecting 'Best Shoegaze Albums' listicle this side of the millennium dare omit 1990's Nowhere and 1992's Going Blank Again.
This band-to-band-to-band-and-back-again trajectory made it easy enough for Bell to nod agreeably to journalists who asked if he would ever consider releasing a solo project. After all, it was something he genuinely wanted to do, and he would surely get around to it. You know, eventually.
"I've always been a band person until quite recently, but there's no reason to say that you have to be in a band and nothing else," he says. "But that's always been more the way that I've operated."
Perhaps Bell surprised himself when he decided to light the fires under some solo ideas that had been on the back burners, fueled, at least partially, by the unexpected memento mori of David Bowie's death in 2016. He spent periodic breaks from Ride's reunion fiddling around with Logic. Early sonic doodles turned into initial singles for his electronica project GLOK, which he declined to attach his name to as a litmus test to see if the music could go anywhere meaningful without it. (It didn't, then it did, but more on that later.)
"I was just feeling like, I'm an old guy. I've been in bands. I'm a guitarist. And you might think, 'Why are you taking up space in the world,'" he says. "To see if it had the right to be there, I wanted it to exist on its own first."
Bell did opt, however, to attach his name (and a blurry photo of his face) to his other solo project, the scuzzy jangle-psych record The View From Halfway Down, a process which began with a handful of casual sessions in former Oasis bandmate Gem Archer's basement studio immediately after Bowie's death. Pulled away by Ride-related demands for months at a time, Bell returned to and finished the record in earnest only when lockdown took a sledgehammer to his and everyone else's schedules. The album arrived in October of 2020.
Now his musical identity is a balancing act—Ride, GLOK, Andy Bell himself—that excites him precisely because it's the sum of its parts. "When I'm working on a new piece of music, I can feel, 'This is heading towards the Ride area.' Now I can feel that something is heading towards the GLOK area," he says.
And anyway, just like everyone else, he's not getting any younger. Not that he minds.
"I don't mind being 50. I like it. I've certainly got no complaints about the way things have panned out."
Although the process that would culminate in Bell's debut solo album, The View From Halfway Down, started in 2016, his first solo single didn't arrive until 2019 (and, ultimately, didn't make it onto the record). On something of a whim, Bell went into a London studio in late 2018 to record "Plastic Bag" and its B-side "The Commune," both of which he describes as "very personal" and "an atmospheric, late night, intimate sound." The recordings collected dust until Sonic Cathedral chief Nathaniel Cramp approached him to contribute to his label's subscribers-only 7-inch singles club. Bell didn't hesitate: "I had been waiting for a serendipitous moment to do something or a chance meeting that would make it happen and this was it."
Merch for this release:
Compact Disc (CD), Cassette, Vinyl LP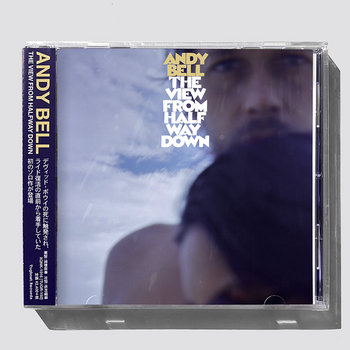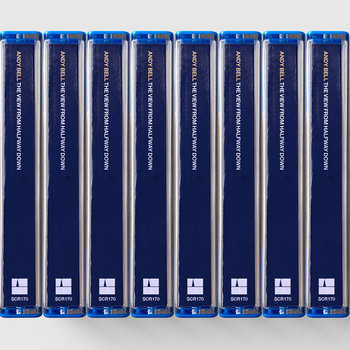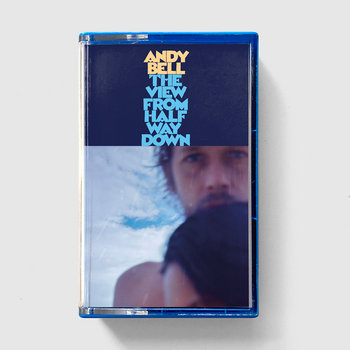 "Over the years I'd been asked a few times, 'Will you ever do a solo record?' And I always said, 'Yeah, of course I will.' In my head at one point, I felt like it might be a folk album," he says. (It didn't end up being a folk album, although "Cherry Cola" has a folksy pluckiness to it.) The View From Halfway Down is an expectedly guitar-forward LP that pulls from the best of both of his banner-name bands, albeit with a sense of tongue-in-cheek, seen-it-all contentment: on ebullient album midpoint "Skywalker" Bell sings, "You're blinded by the light of the sun/ When you tell me there are no more songs in the world left to be sung."
Merch for this release:
Compact Disc (CD)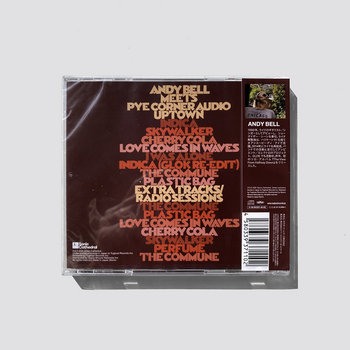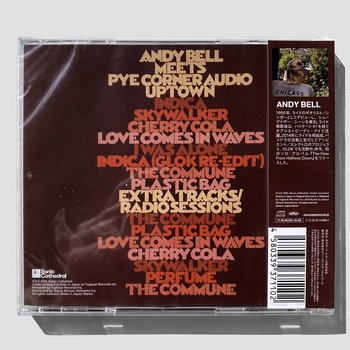 Another View is exactly that: a compilation of the remixes and acoustic versions of The View From Halfway Down tracks. Released initially as a series of EPs called Ever Decreasing Circles (a reference to the 1980s BBC sitcom of the same name), most of the remixes are the work of Pye Corner Audio's Martin Jenkins. Jenkins and Bell met at a Sonic Cathedral party and, an indeterminate number of drinks later, declared mutual admiration. Still it was Cramp who suggested Bell enlist Jenkins to rework a handful of The View From Halfway Down songs. Shortly after they started, "Martin asked if he could extend it and do more, and then it became pretty much an album." Particularly notable: Jenkin's acid house-ification of "Love Comes In Waves" and Bell's own thudding rework (as GLOK) of Jenkin's take on "Indica."
Merch for this release:
Vinyl LP, Cassette
The first major Glok release is, technically speaking, a compilation. Bell had been recording and releasing GLOK tracks individually, averaging one or so a month. "They just hovered in the Spotify ether for a while and then faded out. They didn't really get noticed," he remembers. That changed when Joe Clay, head of independent electronic label Bytes, found "Pulsing" somewhere down a Spotify wormhole. Clay loved it, subsequently found out it was Bell all along, and offered to compile and release GLOK's collected works thus far as Dissident, named for the ambitious 19-minute nod to Kraftwerk that opens the record. For the record, Clay has predictably good taste: at nearly nine minutes, "Pulsing" is the EP's unhurried but engrossing highlight.
The Citadel EP is a peculiar entry in GLOK's catalog. It opens with a remix of "Cloud Cover" by the late great Andrew Weatherall, who characteristically flips it into a kinetic dubwise techno cut. The rest is Bell's own reworks of "Pulsing," which he bends into both dancefloor-primed tech-house and necessarily Ride-referencing gaze-y ambientronica. Particularly interesting is the "Citadel GLOK vs GLOK Keith Tenniswood Bootleg," the product of a serendipitous file-layering accident that's technically mid-tempo but irresistibly hyperactive.
Merch for this release:
Vinyl
Bell cites Fatima Yamaha's 2004 underground classic "What's A Girl To Do" as the primary inspiration for "That Time of Night," the first of his 2021 releases. A longtime DJ, Bell played the track at a party and arrived home afterwards intent on making a song that tapped into a similar feeling of "melanphoria," a term he coined to combine "melancholy" and "euphoria." ("Melanphoria" was going to be the title until a Google search revealed "I was like the one hundredth person to think of it.") The vocal sample, a first for GLOK, is "a bit of speech from Lost in Translation [2003], I think," but originated at the kitchen table during a conversation with his wife about what they missed about pre-pandemic life. Never one to clear a dancefloor, Bell includes a remix by former Underworld member Darren Emerson who scraps the meandering melancholia and cranks the BPM. And it's fabulous.