LISTS
A Guide to Amadou & Mariam's Eclectic Discography
By Megan Iacobini de Fazio · August 02, 2023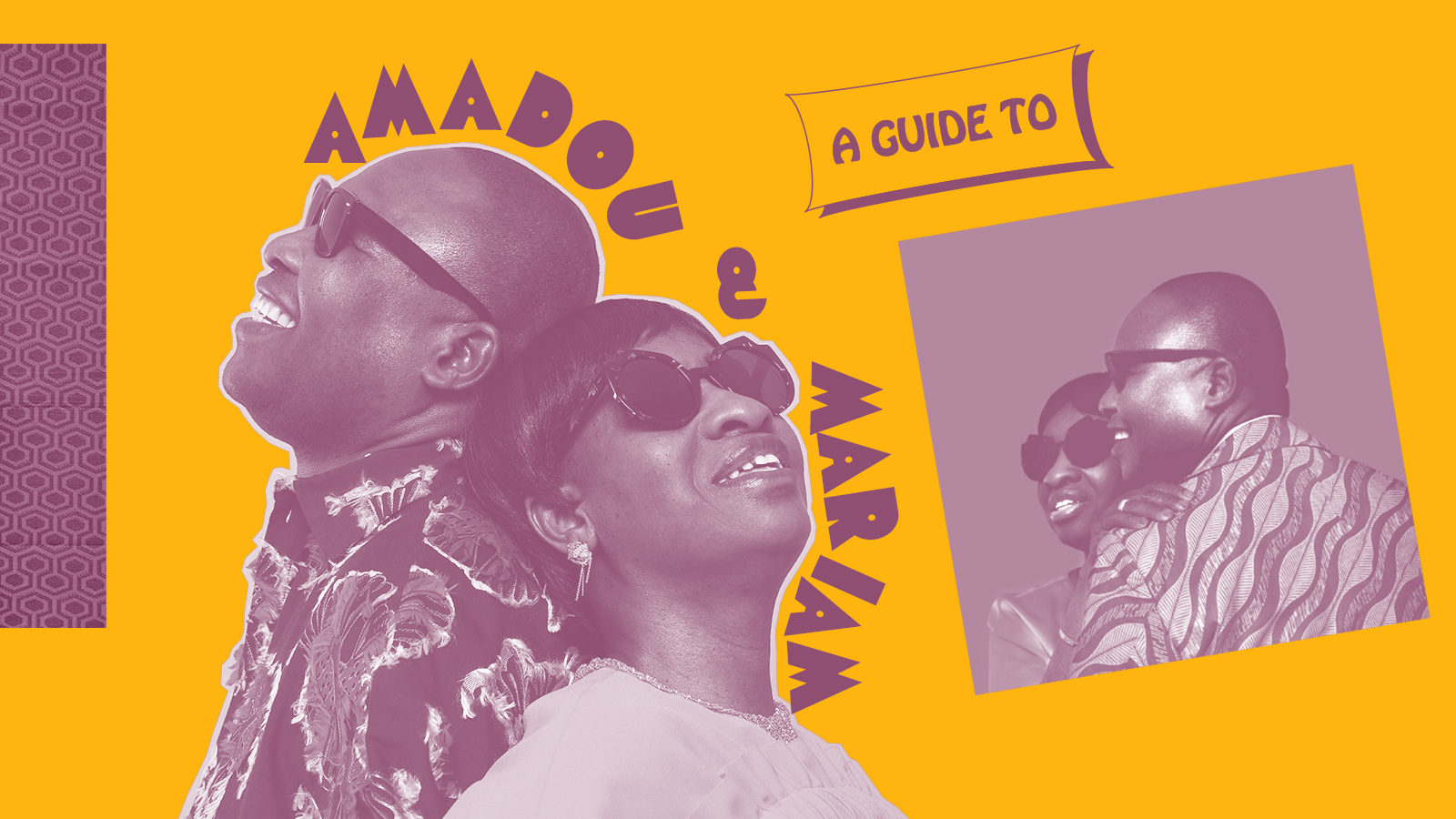 Amadou & Mariam are one of the world's great husband-and-wife duos, known for their thought-provoking lyrics and distinctive style, which blends her sweet vocals with his gutsy guitar playing. Where Mariam Doumbia was influenced by Mali's ancient jeli tradition, Amadou Bagayoko found inspiration in Jimi Hendrix, Pink Floyd, Led Zeppelin, and Eric Clapton. The duo's music lies at the mesmerizing intersection of rock, blues, and Bambara traditions.
Doumbia, who lost her sight as a young child after a bad measles infection, had been attending the Institute for the Young Blind in Bamako for a few years by the time Bagayoko, who was blind due to untreated cataracts, joined in 1975. She'd been performing at weddings and baptisms since she was a child, and he was already a well-known musician, playing guitar in Les Ambassadeurs du Motel, a cosmopolitan band with members from Côte d'Ivoire, Senegal, Mali, and Ghana. One of the group's singers was a young Salif Keita, who had just been poached from competitor band Super Rail Band of the Buffet Hotel de la Gare, Bamako, more simply known as Rail Band.
Les Ambassadeurs and Rail Band were Bamako's biggest entertainers, and a storied rivalry developed between them. They each played nightly and famously raucous gigs in their respective venues, mixing Mandingo and Bambara traditions with Cuban rhythms, Afrobeat, Congolese rumba, and American funk, blues, and jazz. This was a transformational time in Malian music, as the newly independent country soaked up international influences and sent its musicians to study and tour abroad, especially in Cuba.
One of Bagayoko's bandmates in Les Ambassadeurs was Idrissa Soumaoro, a keyboard player and singer who joined him at the Institute for the Young Blind as a teacher. Together they formed L'Eclipse De L'Ija, a band of blind and seeing musicians from the Institute, and in 1978 they made Le Tioko​-​Tioko, a record that was originally released in the German Democratic Republic (which funded it) and distributed for free to staff and students of the Institute. Although  Amadou & Mariam had started singing together only months after meeting for the first time, this was one of the first recordings they made together. The record is a powerful mix of Malian rhythms, funk, and rock—listen to the fiery organ riffs, driving guitar, drum breakbeats, and ardent vocals on the opening track, "Fama Allah."
Amadou & Mariam married in 1980 and began performing regularly together as a duo. Though their music was becoming popular across the country, Mali's dire economic situation and lack of a musical infrastructure led the couple to leave for Abidjan in Ivory Coast in 1986, alongside scores of other Malian musicians (including the members of Rail Band and Les Ambassadeurs). During their years in Abidjan, which at the time was Francophone Africa's cultural beacon, they produced a series of tapes that would later be remastered and reissued as the box set 1990-1995 L'Intégrale des Années Maliennes, toured widely across West Africa, and began catching the attention of French producers and record labels.
Already popular among the vast West African community in France, they began traveling to Paris to play in the mid-'90s, but their first international breakthrough came in 1997 when they played in Rennes's TransMusicales Festival. Around this time, they met  Marc-Antoine Moreau, a Polygram exec who has been their manager and producer ever since. In 1998 he produced Sou Ni Tilé,  the couple's first album to be recorded and released outside of Africa and which included the lush love ballad "Je Pense à Toi," one of their biggest hits to this day.
Sou Ni Tilé, which alternates moments of joyful intensity and deep melancholy, was followed soon after by Tje ni Mousso in 1999 and Wati in 2002. Since then, Amadou & Mariam have become international superstars, released several more albums, and collaborated with a host of musicians, including Bagayoko's childhood heroes Robert Plant and David Gilmour.
---
.
00:10 / 00:58
For their 2004 album  Dimanche à Bamako, Amadou & Mariam teamed up with French-Spanish singer and activist Manu Chao, who co-produced, co-wrote, and sang on the record. His presence is definitely felt across the album—the urban field recordings on "Senegal Fast Food" and "Taxi Bamako," the regular harmonica interjections, and what sounds like a didgeridoo—but it never overshadows Amadou & Mariam, just adding a touch of pop sparkle to their organic sound. Doumbia's subtle and smooth vocals and Bagayoko's bluesy, elegant guitar playing shine throughout.
.
00:10 / 00:58
While Amadou & Mariam's collaboration with Manu Chao marked a significant shift in their musical direction, their album Welcome to Mali was an even more substantial departure. Despite the title, this is their most global-sounding record, featuring collaborations with English star Damon Albarn, Somali-Canadian musician K'naan, Ivorian reggae artist Tiken Jah Fakoly, and Nigerian singer-songwriter and guitarist Keziah Jones. The difference is obvious within the first few seconds of the Albarn-produced opener "Sabali," which starts off warm and vintage-sounding but quickly develops into a dreamy, twirling electro-pop track, carried by Doumbia's heavily filtered vocals and bleepy electronics. It's gorgeous but a very far cry from the Amadou & Mariam people were familiar with until this point. But while it might sound different, Welcome To Mali is at its core a very "Amadou & Mariam" record, the product of two talented, open-minded artists who were never limited by genre or geography.
.
00:10 / 00:58
One of the Malian duo's strengths has been their openness to collaboration, and the list of people they've made music with is a pretty eclectic one. Here, a mixed bag of artists offer their take on Amadou & Mariam's songs, with varying results. Welcome to Mali's "Masiteladi" gets a percussive workout by Mo DJ, while the electro-pop ballad "Sabali" gets a soaring housey spin by Vitalic and a more spacey-pop rework by Miike Snow. A disco remix of "Coulibaly" by Ashley Beedle's Afrikanz On Marz is a highlight, as is the dancefloor-ready version of "Je Pense A Toi, Mon Amour, Ma Cherie" by DJ Alix Remix.
.
00:10 / 00:58
On Folila, Amadou & Mariam double down on the collaboration formula of their previous three albums, this time working with artists including Santigold, TV on the Radio, Jake Shears of the Scissor Sisters, Amp Fiddler, and the excellent Tuareg artist Abdallah Ag Oumbadougou, among others. The electronics are stripped down compared to Welcome To Mali, and the feeling is one of true "fusion." The record was, in fact, partially recorded in New York, partially in Mali, and mixed in Paris, and somehow all these different worlds come through equally. Mali comes through strong with the djembe, ngoni, and kora on tracks like "Sans Toi" and "Chérie," while opener "Dougou Badia," which features vocals from Santigold and the Yeah Yeah Yeahs's Nick Zinner on guitar alongside Bagayoko, is a compelling blend of their different styles.
.
00:10 / 00:58
On La Confusion, Amadou & Mariam go back to basics—at least in terms of lineup—enlisting only a handful of ngoni and kora musicians on top of their usual band, rather than the long list of international artists they'd worked with on previous albums. But that doesn't mean La Confusion is in any way traditional: after all, the duo has been masterfully blending different regional and international styles since long before their international debut Sou Ni Tile. Opener "Bofou Safou" sounds a bit like the early electronics experimentations that first got the folks at Awesome Tapes from Africa excited, while the funky, bouncy rhythms of "Diarra" are infectiously joyous. Amadou & Mariam have been playing together for almost 50 years, but La Confusion doesn't feel like some sort of magnum opus—it's just the latest step in their journey, but not yet the end.