LISTS
A Guide to the Essential Al Green Deep Cuts
By Andy Beta · Illustration by Camille Célestin · March 23, 2020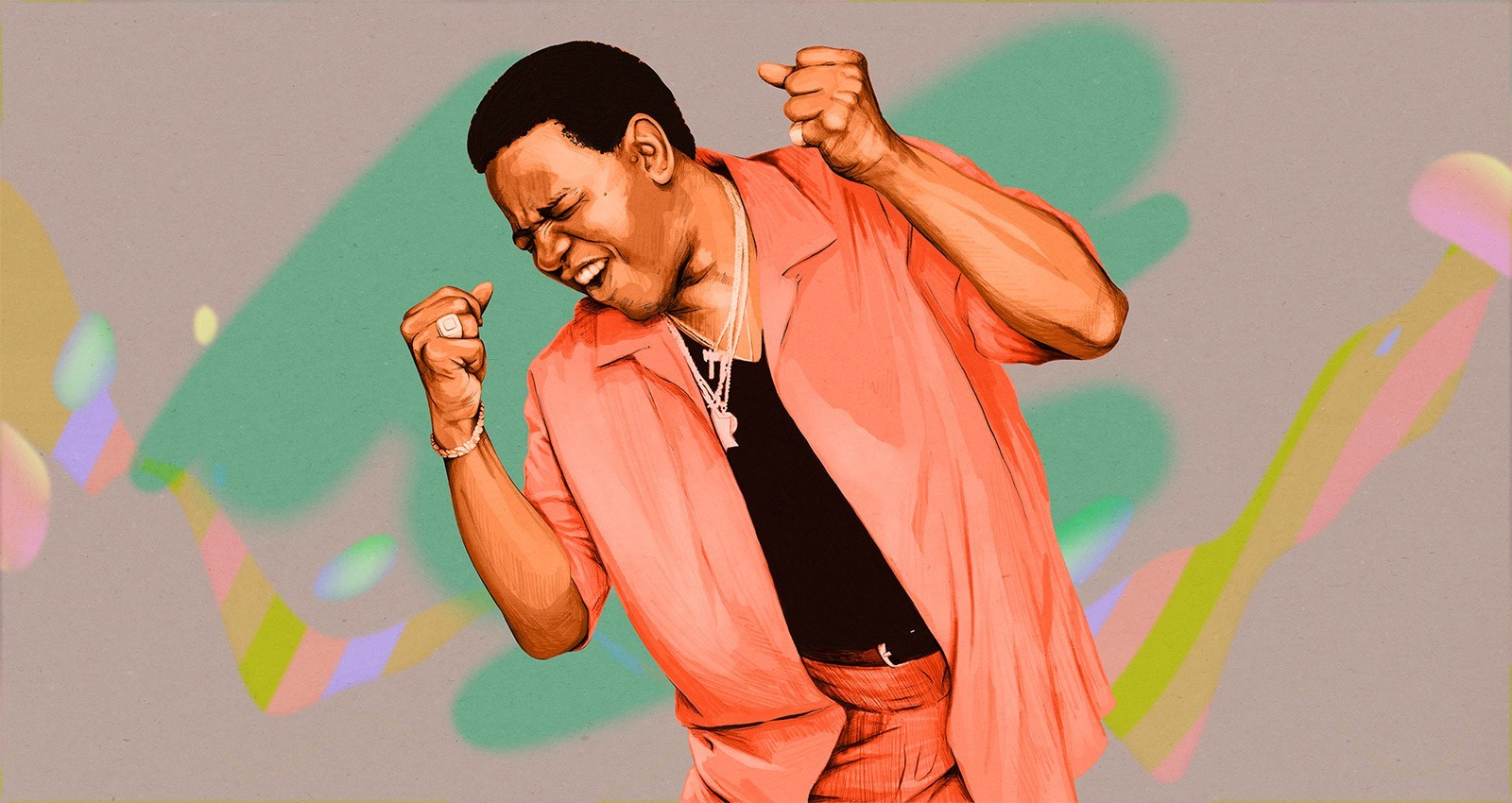 In the 1970's, no soul singer was quite as seductive as Green. His superlative run of albums during that decade remain unmatched in terms of craft, sound, and commercial success. You could launch an entire sociological study into the ways Green's music fueled the population growth during that time period.
Equally versed in Mahalia Jackson and Elvis Presley, Al Green's signature style was there from the jump, from when he was still being credited as Al Greene on his 1967 debut and recording for a label his friends from high school set up. But in 1969, he met trumpeter, bandleader, producer, studio owner, and record label executive Willie Mitchell and wound up on Mitchell's Hi Records label. Pairing him with the Hi Rhythm Section—the Hodges brothers: Charles (organ), Leroy (bass), and Mabon "Teenie" (guitar) and Stax drummer legend Al Jackson, Jr. (and after his tragic death in 1975, Howard Grimes)—Green and Mitchell defined soul music for the new decade. It's telling that tours of Memphis included stops at Sun, Stax, and Mitchell's Royal Studios—the holy trinity of 20th century pop and soul.
Green made seriously sensuous music, but the fascinating, evergreen quality of it all is in how he embraces and wrestles with both the carnal and spiritual manifestations of love. As the decade wore, Green did the inverse of the greats like Sam Cooke before him: songs about earthly love gave way to songs that give all of that love unto God. The friction between the sacred and profane can be heard in nearly every note, alluring and manic in equal measure. Al Green is as suave and silken as he is shattered.
But at this point, you're probably tired of being told to listen to "Tired of Being Alone," "Let's Stay Together" or any of his other sterling, ubiquitous chart-toppers. Fear not: Al Green's genius extends well beyond his Greatest Hits set (though that is as fine a packaging of an artist's sheet-wrinkling singles as you'll find, and well worth investigating). Instead, this guide is for those who wish to delve even deeper into the enigmatic Green and—as one of his album titles puts it– explore his mind.
---
"I Want to Hold Your Hand"
Merch for this release:
Vinyl Box Set
As giddy and seismic as the Beatles' original—or it might have been, had Al Green's rare first single for Hi Records made it to the charts. But all the elements of his future success are here: the crackling energy of the band, the sweet punch of the Memphis Horns, the synergy between singer and producer transforming a well-worn song into something thrillingly new. Green's voice can barely contain the sheer ecstasy of contact with his betrothed, and that piercing high wail at the chorus sends the song to a precipice the Beatles could only imagine.
"Right Now, Right Now"
Merch for this release:
Vinyl Box Set
The B-side of "Tired of Being Alone," and tucked deep into Al Green Gets Next To You, this is the closest Green ever got to the murky psychedelia that George Clinton's Funkadelic perfected during the early '70s. Thanks to a nasty bit of wah-wah guitar courtesy of "Teenie" Hodges and some reverb-soaked production from Mitchell, "Right Now" slowly rises from the mud and builds into a soul stormer.
"So You're Leaving"
Merch for this release:
Vinyl LP, Compact Disc (CD)
Eclipsed on an album featuring Al Green's first #1 hit and a smoldering take on the Bee Gees' ballad "How Can You Mend a Broken Heart," this deep cut finds Green in begging and pleading mode. It also features percolating hand percussion paired with the crisp drums of Al Jackson, its uptempo groove capped by a nod at the song's end to Bo Diddley's "Who Do You Love."
"Simply Beautiful"
Merch for this release:
Vinyl LP, Compact Disc (CD)
A stunning hushed turn from Green and band. Teenie's turn on acoustic guitar is a rare treat, Charles keeps his organ chords close, and Mitchell brings in the strings at just the right moment so as to not overwhelm this subtle, simmering number. Every close mic'd purr and exhalation is perfectly captured as Green whispers vows of devotion to his lady. You feel like your head is on the pillow next to his.
"I'm So Lonesome I Could Cry"
Merch for this release:
Compact Disc (CD)
Like Ray Charles before him, Al Green could transform a country music chestnut into something completely his own. Over the course of the decade, Green took a number of such songs penned by Willie Nelson and Kris Kristofferson and remade them in his image. But his take on this Hank Williams classic stands apart. Listen into the innumerable vocal takes from Green that Mitchell punches in and layers like a mosaic, suggesting a lonesome mind nearing the breaking point.
"Beware"
Merch for this release:
Compact Disc (CD)
Known for being more ballad heavy than its predecessor, Livin' for You also finds Green painting the front cover art. Tucked into the end of the album, "Beware" moves from slow dance territory to stinging extended jam. Green murmurs a paranoid chorus in "Beware of what you listen to/ Beware of what you believe" and urges his band to dig deeper into the groove, calling out each player by name. There also exists an even longer version on Love Ritual.
"I Didn't Know"
Merch for this release:
Compact Disc (CD)
By the mid '70s, Al Green grew more wary about (and weary of) his loverman persona, especially in the wake of being assaulted by his lover, Mary Woodson. Such doubt creeps into the slow, haunted soul of "I Didn't Know." The strings send chills, the percussive shakers sound more like coiled rattlesnakes. Green seems of two minds about the very idea of seduction, his delivery revealing a Romeo at war with himself.
"Strong as Death (Sweet as Love)"
Merch for this release:
Compact Disc (CD)
On this eerie 1975 B-side, Green sees the urges for love and death as one and the same. Teenie Hodges delivers a bittersweet guitar solo, Mitchell's string arrangements make the song shudder with a great ache, and the introduction of some well-timed vibraphone makes for Green's most heart-rending and haunting number.
"Love Ritual (Bwana remix)"
Merch for this release:
Compact Disc (CD)
For the most part, Al Green danced around the disco trend when it flooded all pop music genres in the mid- to late-'70s. But on the original version of "Love Ritual," he gives in to a heavy backbeat and sumptuous disco strings. This version (which went unreleased until the Love Ritual compilation of rare and unreleased songs) strips out the strings and instead focuses on the body-moving mix of drums and congas.
"Georgia Boy"
Merch for this release:
Vinyl LP, Compact Disc (CD)
By the time of 1977's The Belle Album, Green had parted ways with Mitchell, the Hi Rhythm Section, and was about to make a break with secular soul music. Taking on production duties himself, he foregrounded his own acoustic guitar accompaniment on this mesmerizing biographical number. Deftly mixing shimmering keys and crisp hi-hats, Green moves this song down dusty Georgia backroads towards a pulsing, hand-clapping climax.