LISTS
A Guide to the Discography of Ismael Rivera, Salsa's Most Fearless Singer
By Marcos Hassan · January 04, 2021
Ismael "Maelo" Rivera's impact on salsa can't be overstated. The legendary singer was one of the first soneros, a type of vocalist within the genre who delivers fast, energetic, and often improvised verses to get the crowd going, making up stories, punchlines and even nonsensical words that fit with the rhythm. Rivera also helped put Puerto Rican salsa on the map. His work with Rafael Cortijo's combo uplifted Puerto Rican music at a time when Cuba's son, guaracha, and mambo were still the most popular forms of Caribbean music. This came at a time crucial to Puerto Rico's history; in 1952, the island officially became a United States commonwealth, and there were a number of uprisings against colonialism throughout the early 1950s. Rivera brought in heavily percussive Afro-Latinx rhythms like bombas and plenas to the fore of salsa, accentuating the black influence on Latin rhythms early on. As an Afro-Latinx person himself, Rivera didn't shy away from lyrics about social injustice, racism, Black spirituality, and Black pride.
Rivera was born October 5, 1931 in Santurce, Puerto Rico. He started his career singing in San Juan dive bars, often with his friend Cortijo, as a young teenager—when he was not working as a shoeshine boy, carpenter, or on construction sites. After being drafted and then discharged from the U.S. Army for not knowing the English language, Rivera dedicated himself to music, fronting Orquesta Panamericana until he was kicked out. Soon enough, he and Cortijo moved to New York, gaining notoriety by playing venues like the Palladium and the Manhattan Club alongside stars of the era like Tito Puente and Tito Rodríguez. Unlike their Cuban contemporaries, they dispensed with sheet music, tight arrangements, and melancholic feelings, replacing them with wilder, off-the-cuff, fast and loose rhythms. They rode their fame to the top until Rivera was jailed for drug possession in 1962.
Rivera was released after spending almost four years in jail; during this period, he found himself trying to recapture the magic of his musical career. Suffering a backlash from club owners for his criminal record, Rivera reunited with Rafael Cortijo y Su Combo, trying to fit in with the boogaloo wave to a lukewarm reaction. His influence, however, had only gotten bigger. Artists from the Fania label—Puerto Ricans who played vibrant salsa with an edge—looked up to Rivera and adopted him as their own. Hector Lavoe asked Rivera for advice on being a good salsa singer, pianist Charlie Palmieri handled the arrangements on his records in the late '60s, and he became a regular on the label's All Star live performances.
Rivera made inspiring albums with his own group Los Cachimbos for the Tico label in the late '60s and early '70s, adopting newer sounds into salsa, emphasising improvisation, and making the music more sophisticated without diluting it. Yet he couldn't translate this brilliance into commercial success. Reunited once again with Rafael Cortijo, he became a career musician on the touring circuit, occasionally collaborating with younger artists like Rubén Blades and making exploratory yet exciting solo albums.
The '80s saw Rivera gradually retiring from the stage due to health issues, religious beliefs, and after the death of Cortijo in 1982, depression. Rivera died in 1987 due to a heart attack. His life inspired songs like Bobby Capó's "Las Tumbas," about Rivera's time in prison. Although not a prolific songwriter, he authored such salsa classics like "El Incomprendido," "Arrecotín, Arrecotán," and "El Que No Sufre No Vive," recorded by many Latin music stars. As a vocalist, his influence can't be overstated; he set the bar for delivery, energy, skills, and charisma. There's no doubt about his status as El Sonero Mayor. Here are a few selections from Rivera's timeless discography.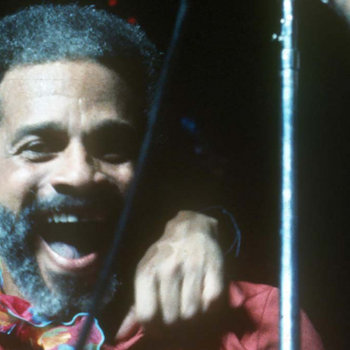 .
00:10 / 00:58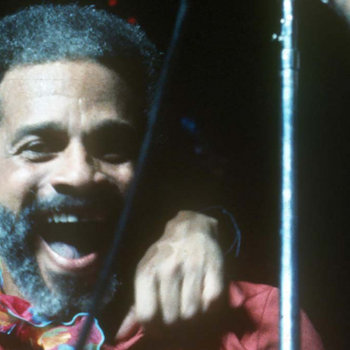 Composed of songs recorded between 1955 and 1959, this is perhaps the best document of Ismael Rivera's early style. The music here is raw but festive, rhythmically simple, and easy to sing along with. Yet it's also intricate in its arrangements, as heard on some of the oldest tracks, like "Maquino Landera," which references Cuban rhythms but clearly has its own flavor. Rivera's voice booms with an almost nervous energy as he spins tales of love and tragedy in the streets of San Juan. "El Negro Bembón" tells of the framing of a young Black man and his subsequent murder by the police. "Besito De Coco," later covered by Celia Cruz, has a romantic festivity to it, while cuts like "Chóngolo" are desperate to get the crowd moving. It's easy to hear, listening to this compilation all the way through, the evolution of the genre from the more simple and fast style of the older recordings to the reassured and intense sound of the later ones. This is an essential historical record, with plenty of standards like "Déjalo Que Suba" and "Calypso, Bomba y Plena."
.
00:10 / 00:58
After his time in jail, Rivera struggled to make his comeback, and on Bienvenido!, with Rafael Cortijo y Su Combo, he was aiming for reinvention. While songs like "Simbad El Marino" and "Fuerza E Cara" hark back to his early energetic sound, boogaloo's shadow looms large here, from the smooth production and performance to the easier-paced tracks like "Bomba Ae." It doesn't always mesh well with Rivera's intensity. But he gave the challenge his all, demonstrating a newfound control over his voice without sacrificing its power—incidentally, this stylistic shift paved the road for later stars like Hector Lavoe. In the end, the tension between the easy-going arrangements and Rivera's singing style fuels the heat of songs like "Borinquén" and "El Que No Sufre No Vive," real precursors to the classic Fania sound.
.
00:10 / 00:58
Controversia opens with one of the rawest, minimalistic yet explosive salsa songs of all time, which bears the album's title. The first half of "Controversia" reduces the genre to its bare elements: hard-hitting percussion and Rivera's melodic howling give way to an explosion of horns to announce the beginning of the party. Produced by Tito Puente, Controversia is perhaps Rivera's most intense album; he plays to all of his strengths here, and it's no surprise that it found a revered spot in the Nuyorican musical revolution taking place during the time. Intense yet inventive songs like "Jala Que Jala," "Guliver," and "Tambores Africanos" showcase arranger Charlie Palmieri's talent for the craft while slower numbers like "Lo Que Dijo La Gitana" and "Amá" establish a sound away from son. Controversia should truly be considered an essential salsa record.
.
00:10 / 00:58
Four years after Controversia and a year before his next reunion with Rafael Cortijo y Su Combo, Rivera surprised fans with an album that makes its first statement a religious one. Opener "El Nazareno" reflects Rivera's new found devotion—and it's one of his greatest lyrical narratives, delivered as no one else could. The sonero mellows a bit throughout Traigo Con Todo, finding power in other parts of the music. There's more improvisation here, and the songs get longer than on previous records, giving the music a different kind of intensity. Indeed, Rivera's verses sometimes don't sound so far from rapping, a vocal style that was forming contemporarily not far from the studio where the album was recorded. Thanks to the inventive arrangements of Javier Vásquez, virtuosic trumpet playing from Alfredo "Chocolate" Armenteros, and just plain great songs like the title track and "Ya No Quiero Piedras En Mi Camino," Traigo de Todo remains a landmark.
.
00:10 / 00:58
After years of playing on his own as well as with the reunited Rafael Cortijo y Su Combo, Rivera was still honing his solo sound, continuing the quest for inventive music fueled by improvisation. Opening Esto Sí Es Lo Mío with the seven-minute epic "Las Caras Lindas," Rivera makes a strong statement of Black pride; it's an anthem that brims with hypnotic joy. The album is a masterclass in jamming. Rivera produced Esto Sí Es Lo Mío himself with arrangements by Vasquez, helping make a transition to an uncomplicated sound that's still plenty fiery, especially with the integration of influences like Cuba's son montuno, which is subtly incorporated to aid the underlying boricua rhythm. After many years on the road, Rivera's voice resonates with more character than ever, adding subtlety to the melodic shouting of the past. Lyrically, there's more melancholy than ever, as on songs like "Comedia" and "A Medias No." This is the sound of a veteran artist finding new depths.
.
00:10 / 00:58
One of Rivera's final albums, Maelo is a confident one; he sounds as if he's brimming with happiness to perform on record one more time. Rivera brings his intensity a few notches down here to settle into a familiar and enjoyable groove (arrangements are by longtime collaborator Javier Vásquez). Featuring a roster of legends in the backing vocal department (Hector Lavoe, Adalberto Santiago, Ismael Quintana, Nestor Sánchez), Maelo doesn't strive to reinvent salsa but to celebrate it. In turn, it gives us historic performances from El Sonero Mayor, featuring some classic songs like "Suena El Bongó," which he originally recorded in the 1950s. Revisiting his roots, Rivera sounds effortless and full of charisma, and Maelo remains a joy to listen to.