LISTS
A Guide to Alessandro Cortini's Exploratory Electronic Music
By Ned Raggett · July 28, 2021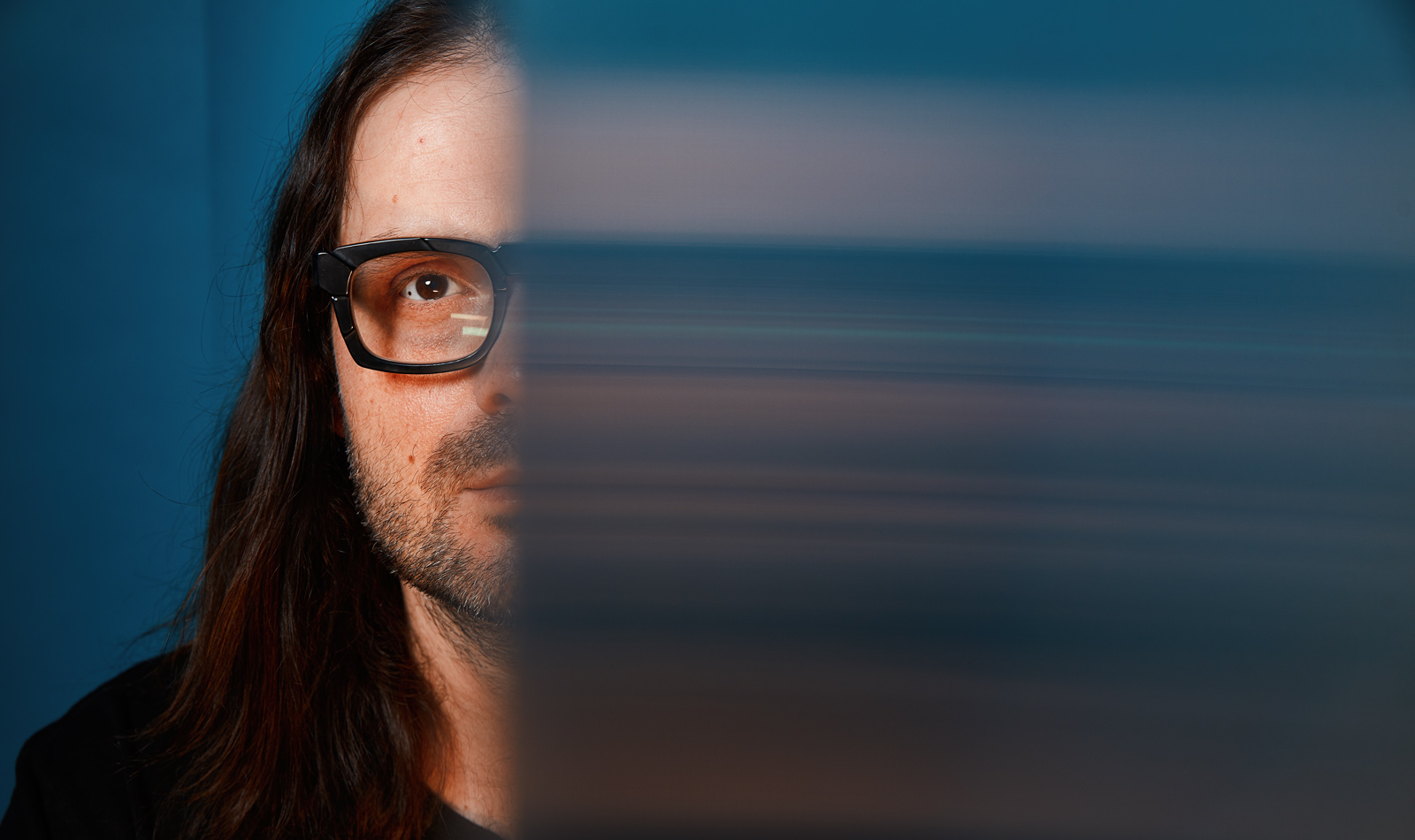 To say that Alessandro Cortini sounds excitable in conversation is an understatement. More than once during a recent chat he mentions "running on a lot of coffee." But there's also the well-earned satisfaction he gets from his work: "I work every day and record stuff, so I know that there will be an output from this phase of my life, probably a little brighter than usual, even."
His use of the phrase "brighter than usual" is key: Cortini is well-known for both his dark-hued electronic compositions and, since 2005, his participation in various iterations of Nine Inch Nails. First recruited by Trent Reznor for the tour supporting With Teeth Cortini, a few years' break aside, continues in this role on keyboards, bass, and other instruments as well as contributing to the group's studio work.
He'd been recording, performing, and teaching music well before that, starting in his native Italy and continuing in America. He began releasing solo albums in the late '00s and has continued ever since, leading up to his newest album for Mute, SCURO CHIARO. As prolific as he is, Cortini admits his creative process is free flowing. "I never know what I am going to do," he says. "There might be a catalyst—certain songs or pieces of gear occasionally dictate the loose direction I'm going to take, which will take form as I go on. For SCURO CHIARO, I didn't have the idea of the title or anything, I just had a few tracks that were part of the team that was going to be [2019's] VOLUME MASSIMO, but they didn't fit. So you just basically chisel, paint, and make the pieces work together."
Now living in Portugal with his wife Emily Elizabeth, a visual artist who regularly collaborates on his work, Cortini describes himself as having reached a level of all-around grounding he hopes will underscore his continued artistic drive. "With the move from the city to the countryside to a more connected relationship with nature, and expecting a baby, with a new studio that I built to properly work and keep a balance between the bedroom vibe and the professional listening environment, I think what I can tell you is that obviously whatever comes comes," he concludes. "But I definitely am looking forward to being more creative in this space."
Here, we take a look at a few notable titles from across Cortini's discography.
blindoldfreak
1
With his work on NIN's Ghosts I-IV under his belt, Cortini began his solo career in 2009 with this release, originally offered as a limited edition CD-R under the blindoldfreak moniker. One of Cortini's most tactile releases, 1 features six instrumentals in which you can almost feel the parts of an old Buchla 200e synth interacting, resulting in serene tracks with a crackling, almost nervous undertow. Cortini singles out the lovely closing song "Everything Ends Here," a quiet melodic hook that turns into a vast anthem, as a key track in his creative history: "It's such a container for what I am emotionally," he says. "To this day [when] I listen to it, it's like, 'Well, yeah, I could have stopped there.'"
Alessandro Cortini
Forse 1
The start of a trilogy of similarly-titled releases on Important Records, 2013's Forse 1 is Cortini's full debut under his own name, following a few early '10s releases under the name SONOIO. Cortini had recently returned to the NIN fold via Reznor side-project How to Destroy Angels, but what makes Forse 1 and the albums that followed so striking is the way Cortini clearly establishes his own voice, separate from those efforts. Songs like "Carta" and "Resta" have a familiar moody edge but operate in a sonic universe that's less dramatically stark and extreme. It's the sound of mysterious, shadowy presences pulsing and murmuring.
Alessandro Cortini
Avanti
One of Cortini's most expressive and fascinating projects, 2017's Avanti—available in two live variations: a 2016 'pre' version from Berghain and a 'Berlin Atonal' version from an appearance at that festival—utilizes a number of Super-8 films from his youth. The combination of the audio samples featuring Cortini as a boy with his modern musical textures brings a further depth to his work, blending moods of nostalgia and melancholy that evolved as he continued to experiment with the presentation. "It all came from a technical point of view, from falling in love with the EMS Synthi," Cortini remembers. "I knew my grandfather had converted some old Super-8s to VHS; I just never could find the VHS. When I found it, it was actually inside the VCR—the only place I didn't look when he passed away."
Alessando Cortini & Lawrence English
Immediate Horizon
Cortini also explores collaborative efforts beyond his work in NIN. "The essential thing that I have to say," he says, "is there has to be a connection that's not just linked to the music." Australian Lawrence English, a notable musician in his own right as well as the founder of the excellent label Room40, and Cortini had become mutual admirers of each others' work, leading first to an exchange of emails, and then to this recording from a live appearance at the Berlin Atonal festival. They met in person for the first time a few days beforehand for rehearsals, and the end result is a striking blend of sounds that contains familiar compositional elements from both artists woven into a new, dramatic synthesis. "It was a great experience," Cortini remembers. "We became great friends from there."
There's a newfound sense of confidence to VOLUME MASSIMO, Cortini's 2019 debut for Mute Records. Even if the opening track "AMORE AMARO" has the same sense of low-key tension and haunted flow that characterized his earlier work, the fast-paced central melody and the careful addition of further layers of sound—including carefully sculpted feedback—turns the song into a gradually building epic. It's a smart way to live up to the album's name from the get-go, and from there, VOLUME MASSIMO carves out compact explorations of his pulsing electronic arsenal. One track in particular, "BATTICUORE," recalls Depeche Mode at their most compelling.
Daniel Avery, an English electronic musician, is also signed to Mute, so it's perhaps little surprise that he and Cortini would find each other and collaborate on this 2020 joint release. Unlike the collaboration with Lawrence English, Cortini and Avery recorded their efforts remotely before finalizing the album during some New York dates when Avery opened for NIN. Yet like Immediate Horizon, Illusion of Time finds a new sweet spot where distinct aesthetic visions result in new forms. Even something as seemingly simple as a lightly treated electric piano on the title track adds a striking new element to Cortini's sonic universe, while the long floating warmth of "Water" is remarkably beautiful. "[Collaboration] enriches you a lot from an artistic point of view, because it gives you time to learn," says Cortini. "Working with Daniel is a great example. Daniel's attention to detail was very different from the way that I work."
Cortini's latest album, with a title playing off the familiar visual art term 'chiaroscuro,' feels like a natural progression of his work in recent years, as well as a new example of his approach to placing a new piece of gear at the center of his work. The instrument in this case, Strega, a Make Noise-manufactured 'music making box,' became part of SCURO CHIARO's creation. Pieces like "CHIAROSCURO" and "LO SPECCHIO" demonstrate the way Cortini has beautifully refined his compositional abilities to create emotionally affecting music that's both uplifting and suffused with a serene sadness. "I knew that I was going to go back to those pieces [I'd left off VOLUME MASSIMO], and they basically became the seeds for what SCURO CHIARO became," Cortini notes. "The job at the end is to basically make everything work together. When I listen to it, I don't feel, 'Oh, this is something I did 10 years ago.' Or, 'This I did yesterday.' It never feels that way, because those pieces now exist as part of a bigger entity."