LIFETIME ACHIEVEMENT
Lifetime Achievement: Tashi Dorji's Expansive World of Experimental Guitar
By Marc Masters · October 22, 2018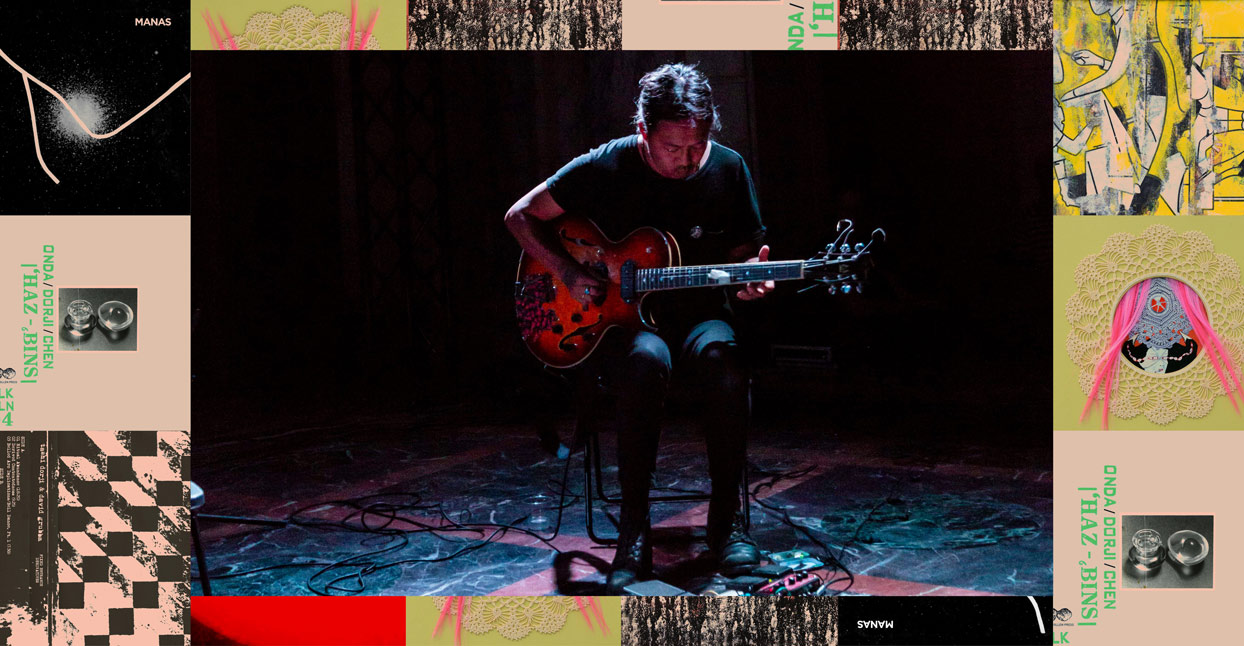 Growing up in Bhutan in the '90s, guitarist Tashi Dorji discovered lots of different music. But playing it wasn't so easy. "We didn't own amps; we didn't even know how to acquire one," he says of his various short-lived high school bands. "A friend of mine had to build one. We had a cover band that played everything from classic rock to Nirvana to hair metal. Anything we heard, we wanted to play."
Things changed when Dorji moved to America in 2000 to attend college. Seeing so many people play their own music inspired him to set off on his own path. "I met punk rock kids at college who took me to DIY shows, and it was so mindblowing," he recalls. "That led me to everything else." Self-taught on guitar, Dorji at first wrote his own music, then veered toward improvisation. "When I first heard people like John Coltrane and John Zorn, I was profoundly affected," he says. "I was like, 'Whoa, these guys just play?' I had always been a very anti-authoritarian kind of person, and that idea was really appealing."
Since then, Dorji has built a impressive catalog, both as a solo guitarist (switching between acoustic and electric) and in collaboration with many of today's most interesting improvisers. He's delved into the outer reaches of abstraction, but his musical heritage—his father sang, his mother played flute, and his cousin is a famous folk singer in Bhutan—is always part of his work. "The way I approach improvisation comes from way back," he says. "It's hard for me to trace it; it kind of moves backward and forward and disintegrates. But I think there's a specific style that always sticks with me—some sense of melody due to my cultural memory."
Ask him to explain more about his process, though, and Dorji insists it's more intuitive than conceptual. "There's no really deep story behind it," he admits with a laugh. "With a lot of the stuff I've done, it happened in the moment, and I didn't really think about it much afterwards. It's not like I don't care about what I'm doing, but everything I've done feels imperfect, and that makes it impermanent." Still, Dorji was happy to chat about some of the highlights in his extensive Bandcamp discography.
In 2010, Dorji self-recorded All This World Is Like This Valley on a laptop in his Asheville, NC home. "I was getting really inspired at that point," he recalls. "I saw people's stuff on Bandcamp and I thought, I should record some stuff too." The tape's six tracks are more melodic and less dissonant than Dorji's later work; most bear touches of folk traditions from both the guitarist's homeland and his adopted country. "It was purely experimentation, to see what I could come up with," Dorji says. "It's nice to hear now because it's so early. I don't think that one even sounds like me anymore."
Dorji has released three self-titled recordings, all of which are worth hearing. But this 2013 cassette is particularly noteworthy due to its influence on Dorji's work since. "That recording was an eye-opener for me, because it was recorded so close with high density mics," he explains. "I had never heard that kind of sound from my guitar before, all the clinks and clanks of my fingers and fretboard and strings. I'm always trying to create sound that has that kind of visceral physicality." All six tracks on Tashi Dorji are improvisations, and some include rapid-fire playing and repetition that make them sound, as he puts it, like "amped-up Gamelan."
Merch for this release:
Vinyl LP
Dorji had been playing solo shows for a few years when he met drummer and fellow Asheville resident Thom Nguyen. "I was interested in making more rhythmic music, and playing off of a percussionist," Dorji remembers. "Plus Thom is Asian, and I was also wanting to collaborate with a brown brother." The pair formed the duo Manas in 2012, and released this self-titled debut in 2015, launching into high-wire improvisation that overflows with ideas and energy. At points, the pair lock together so tightly it feels like Nguyen's sticks are striking Dorji's strings. "We were both fairly new to playing improvised music when we started," Dorji recalls. "I think this project is something we both needed."
When he saw Indiana-based drummer Tyler Damon play with Ken Vandermark in Louisville a few years ago, Dorji was immediately impressed. "He's one of those people that brings a lot beautiful dimensions to playing music, not just as a drummer but in pure sound experimentation," Dorji enthuses. "There was an instant kinship, and we became really close friends." On 2016's Both Will Escape, their first full-length album together, Dorji and Damon prove adept at subtle tones and tension-filled minimalism. But it's when they explode into sonic assault that their music truly flies into the stratosphere. The result is some of the most aggressive and hair-raising work in Dorji's discography.
Tashi Dorji & Shane Parish
Expecting
Though Dorji has collaborated with many different musicians, pairing with another guitarist has been somewhat rare. So when he recorded with fellow Asheville resident Shane Parish, he was a bit intimidated. "Shane is an accomplished guitar player, in both the experimental and traditional sense," Dorji explains. "I have no training whatsoever—I'm very much self-taught. So I was nervous, and not sure I could pull this off." But Dorji more than holds his own with Parish, as the pair wind their acoustic guitars together through eight songs—half recorded in a studio, half in Dorji's basement—that mix the immediacy of sharp improvisation with hints at woodsy folk forms.
In 2017, Che Chen (of the duo 75 Dollar Bill) invited Dorji and Japanese-born/New York-based sound artist Aki Onda to play with him in Brooklyn at him at the Sunview Luncheonette. The trio recorded this first-time meeting, with Chen on guitar and sax while Onda used electronics and manipulated cassette tapes. "I was the only one playing guitar the whole time," Dorji remembers. "It was very challenging—I had to restrain myself to fit and match what they were doing—but I think it was a good challenge." The result is two 19-minute improvisations that travel from electronic drones to twangy, desolate chords. The digital version also includes two shorter pieces recorded at the same venue for a small-run lathe-cut record, a more immediate work of bracing musique concrète.
In 2017, Dorji played with Danish saxophonist Mette Rasmussen in Montreal as part of a festival put on by Godspeed You! Black Emperor. During that meeting, they recorded this tape, a rousing set in which Rasmussen doles out relentless blasts while Dorji responds with some of his noisiest guitar playing to date. "Mette is super playful and has no inhibitions—she's just fearless," Dorji says. "Playing with her really opened me up to be more confident. We opened on a Godspeed tour for a few weeks, and she would come up on stage and just start like fire. I had to fit in and navigate, and it was one of the most exciting and scary things." Dorji and Rasmussen also released a similarly energetic record as a trio with Damon, suggesting multiple future possibilities in what is already a fertile partnership.