LABEL PROFILE
We'll Always Have Paris
By Andrew Jervis · April 23, 2013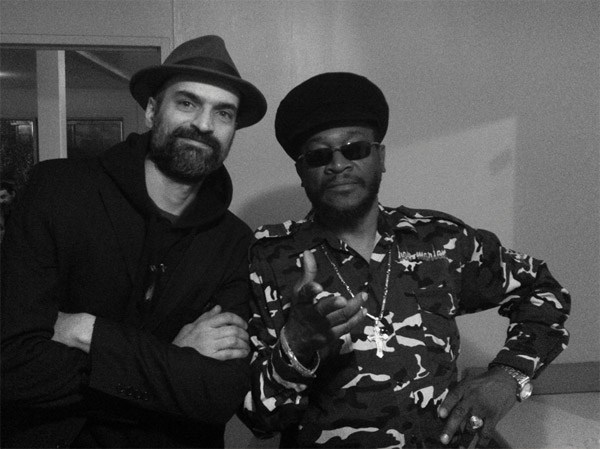 "The labels I used to talk to would laugh and say, "Oh, here comes Mr. Internet," says Lakshmanan. "How wrong they were!"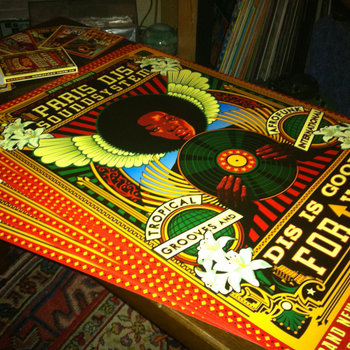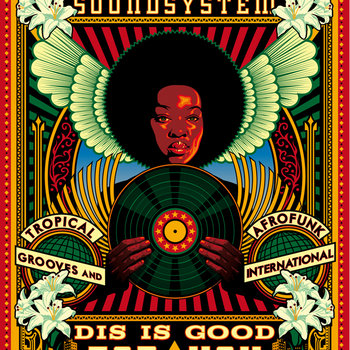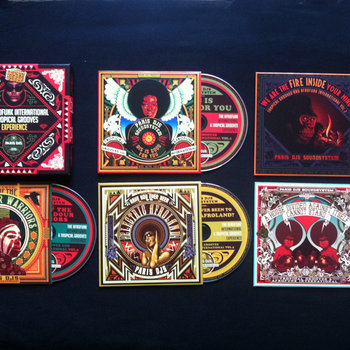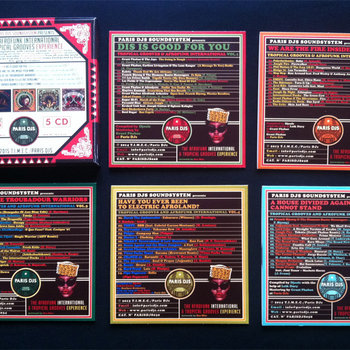 .
00:10 / 00:58
Merch for this release:
Poster/Print,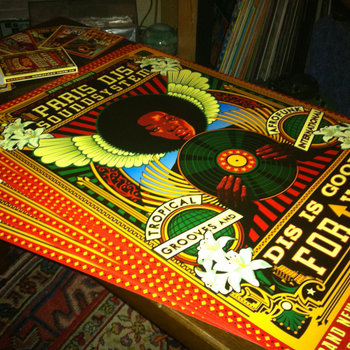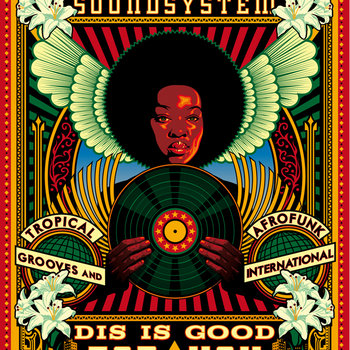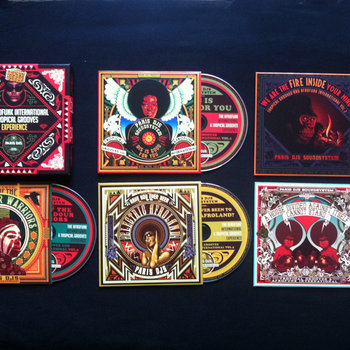 The Paris DJs release a new single or album via Bandcamp each week, including tracks by Jamaican musical heroes Horace Andy and the Lone Ranger (pictured with Lakshmanan, above), and London-based multi-instrumentalist Shawn Lee. They also run a consulting service, carrying out promotional activities on behalf of artists like funk legend George Clinton, revered Ghanaian musician Ebo Taylor, and hip independent labels like Tramp of Germany and Tru Thoughts out of England. On top of that, they created a series of over 400 musical podcasts that were downloaded close to 3 million times. With a staff of only four, all of this has us wondering: are these the hardest working Frenchmen in show business? And why are they are thinking of leaving the French capital?
Back in 1999, Julien "Djouls" Lakshmanan (now artistic director/editor in chief at Paris DJs) founded djouls.com with the mission of "promoting music you don't hear on the radio." He wrote about the jam band scene, and discussed the discographies of artists he felt were otherwise missing from the French music internet press: Frank Zappa, Sly Stone, Herbie Hancock, Phish, Parliament/Funkadelic, Eumir Deodato, Medeski Martin & Wood, Ninja Tune, Mr. Scruff, Kid Koala, Mo' Wax, Warp, and more. Back then he felt sure that the future of the music industry would be on the web. "The labels I used to talk to would laugh and say, "Oh, here comes Mr. Internet," says Lakshmanan. "How wrong they were!"
Lakshmanan picked up a couple of years of major label experience at Universal Music starting in 2000, but quit when his responsibilities evolved into working on the French equivalent of American Idol. Putting the best of his newly acquired label experience to use, he teamed up with producer Grant Phabao to launch T.I.M.E.C. Records – releasing thematic compilations like Time To Relax, and Electronic Bossa & Psychedelic Soul Samba, along with Phabao's first reggae album Kulchaklash.
By 2005 Lakshmanan had built a reputation as a music consultant and advisor and had built numerous French websites, but had let his own dwindle. Longtime friend Loik Dury, once the programmer at the renowned FM station Radio Nova, a music supervisor for films, and head of the Kraked record label, joined Lakshmanan and Phabao to start fresh with a new brand and reinvigorated purpose. "We realized that we were neglecting T.I.M.E.C.," said Lakshmanan. "And coincidentally Willie Hutch, the famous Motown producer, had just died and nobody was talking about it. At least not here in France."
The new Paris DJs site was launched with a tribute mix to Hutch, and over the next few years covered a wide spectrum of Black music through themed mixes.
With an eye for detail, and a passion for music history, the Paris DJs set themselves apart from other music blogs. Their podcasts featured original artwork, detailed track listings, and a display of the cover art for each of the tracks played in the mix. Soon their site was tapped to promote some of the best shows and parties in Paris. And they merged sites they previously managed separately (like ninja-obsession.net which covered all things Ninja Tune, havanito.com which reviewed compilations, and tru-thoughts.net which focused on the Tru Thoughts label and emerging deep-funk/nu-jazz underground scene) to expand their editorial coverage and the network of labels they connected with as the Paris DJs.
Next came flirtations with short-lived ideas like a Paris-based record store, and a digital label called Colored-Inc. "Those were experimental years for us. We were prolific – releasing 16 albums in 18 months – but didn't get much attention," explains Lakshmanan.
2012, however, was a breakthrough year for the Paris DJs. After scoring promotional work for resurgent Ghanaian musician Ebo Taylor, and starting a social network consulting arm, they were hired to rebuild the website belonging to George Clinton, Parliament, and Funkadelic. Lakshmanan also appointed Ben Hito as their designer, and his strong graphic skills have subsequently set the tone for the brand and completed their team. "With Grant Phabao recording, mixing, and mastering in our studio, Ben Hito handling artwork, and Loik and myself on artistic direction, we're fully equipped to be an amazing production unit," says Lakshmanan excitedly.
.
00:10 / 00:58
By the end of last year, the Paris DJs had racked up 400 thematic mixes which were downloaded close to 3 million times. But the mixes have been put on hold in order to focus on the lofty goal they set for their record label. "We'll be releasing a new single or album on Bandcamp every week," explains Lakshmanan. "From the Tropical Grooves & Afrofunk International album to full–length releases from The Lone Ranger, Carlton Livingston, Franck Biyong, The Jays, and the Grant Phabao Afrofunk Arkestra."
So far so good: their Bandcamp page is filling up quickly (and, as promised, weekly). So what's next? "Eventually we would like our production ace Grant Phabao to have the opportunity to work with legendary artists like Stevie Wonder and Prince," says Lakshmanan. In the meantime, they have a long pipeline of collaborations with multiple Jamaican artists, as well as works with Ebo Taylor, Antibalas, Grupo Fantasma, Alice Russell, and Truth and Soul all on the way.
Formers members of the Owni.eu development team are working on the next version of the Paris DJs site, which Lakshmanan describes as being a blend of "media, label, distributor and artist agency." They'd also like to take the Paris DJs outside of Paris. "To somewhere in the country or even to another country, because the music vibe is too chic here, it's all made to sell perfume! And outside of Paris is where reggae, Afrobeat, and funk is really happening."