LABEL PROFILE
Where to Begin With Three One G Records' Noise-Rock Insanity
By Caleb R. Newton · November 21, 2019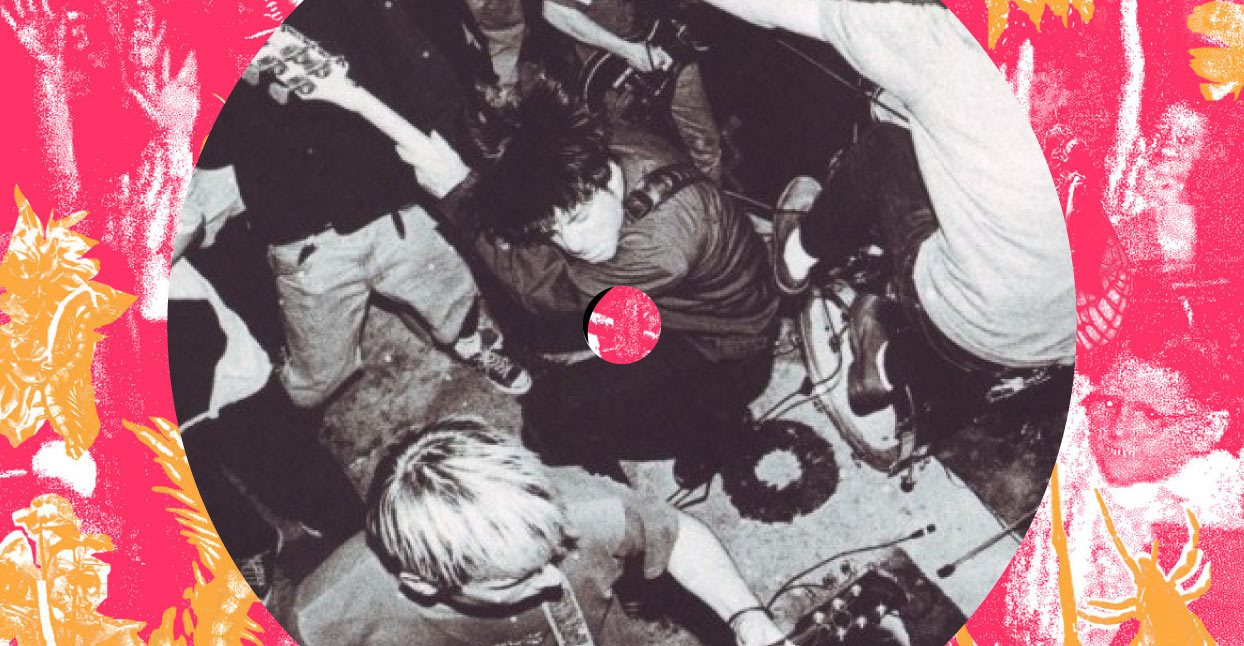 On top of the dizzying number of musical groups he's been part for over more than two decades—Swing Kids, The Crimson Curse, The Locust, Holy Molar, Some Girls, Head Wound City, Retox, the list goes on—southern California's Justin Pearson also helms Three One G Records. The label turned 25 this year and has put out over 100 releases (and counting), from grindcore to hip-hop to noise rock and back again. Pearson insists: "Everyone on the label is weird, and that is a beautiful thing."
He founded the label out of a sense of "necessity," he explains, aiming for quality control with releases from his early bands. Soon, he realized the music chronicled a "family" that was both artistic and practical, thanks to how many artists were connected to his scene via sharing members or touring together. "In retrospect, I started to see that from the start of Three One G, seeing that it functioned like a family or community rather than a label," he says.
Although that family proves musically diverse, with just a quick perusal of Three One G's records, emotional honesty unifies the whole endeavor. "The stuff that has been released speaks to me," Pearson explains. "I realized that music is the only form of communication that isn't limited to language, age, gender, class, geographical location, et cetera. It saves people, and it is a necessity to survival."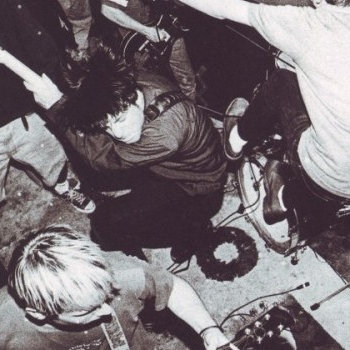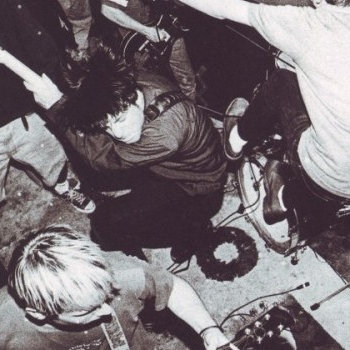 The original version of the Gems Of Masochism LP, from the San Diego band Antioch Arrow, was released in 1995, around the time Three One G first got going; it was reissued in 2003, its colorful '90s artwork intact (just look at those color tones!). The band plays energetic post-punk on the album, which was their last. They maintain the energy of the more straightforward punk music from their earlier releases, but here, they add more dynamic and twisted elements like somber synth. The serious album's second track "Too Bad You're Gonna Die" straight-up feels like a punk band playing in a legitimately haunted house, and overall it's quite a paradigm-shifting experience. By parlaying punk and goth styles into a fresh-feeling, unified hybrid, Antioch Arrow easily hit their mark.
The Swedish band Asterisk* have an all-out grindcore meltdown on their early 2002 compilation album Dogma. Their vicious, caustic jams contain so many diverse ingredients that you never know what you're going to get on the next (generally quite short) song. Will the following track careen wildly around, with sputtering guitars? Will it have a mucky noise segment? Will it make you wonder how on earth a human being can play their guitars and drums so fast? Who knows! The sense of surprise ensures that the music stays captivating.
On their 1998 "Writing Kodak" b/w "We Talked Midi" single, the San Diego band Camera Obscura capture a feeling of getting swept away into musically-expressed anxiety. Their relentless music includes a fierce and continuous hardcore-esque rhythm section; with a prominent synth component with firmly grounded, low tones. More than 20 years after their music first came out, Camera Obscura still feel like they might as well have carved out a space for themselves just yesterday.
On their 2016 LP A Self-Help Tragedy, the Rhode Island group Doomsday Student make noise rock mania a bit more directly catchy. They combine a classic sense of abrasive musical angst with more wistful feelings of intense musical experimentation. The band employs currents of unsettling noise punctuated with rock beats, all warped by psychedelia. Their track "Johnston Tar Pits" packs unsettlingly snarling vocals and lyrics about ending up in an operating room where fog comes out of chests, while the relentless music includes a repetitive, confrontational drum beat and a barrage of twisting guitar and bass accompaniment. That track exemplifies the sense of disorientation and absurd playfulness that Doomsday Student pull off so well.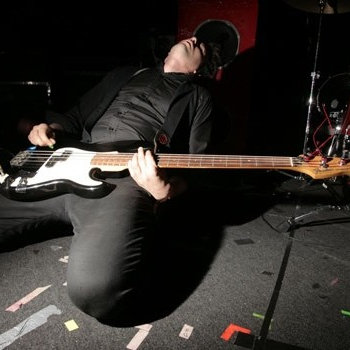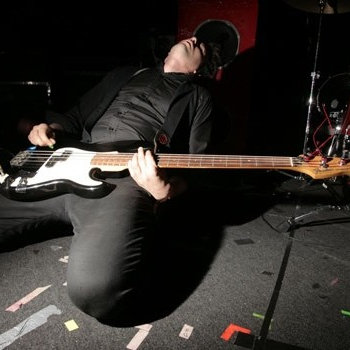 The Los Angeles-area band The Festival of Dead Deer's summer 2001 album, The Many Faces of Mental Illness, feels like a time capsule capturing the moment these musicians first got together. Their music packs an enthralling mixture of styles from hardcore to noise rock, with a desperate emotional earnestness that manifests in haggard shouts and yelps. The subtly immersive melody that the band delivers alongside those fierce components makes their whole mixture uniquely gripping. This group features Mike Crain, who went on to collaborate with Pearson himself on projects like the intense Retox, which has its own music out via Three One G.
The southern California group INUS are one of the numerous Three One G artists connected to The Locust; the two groups share guitarist/vocalist Bobby Bray. With INUS, on Western Spaghettification, Bray and his bandmates pair a jagged urgency with complex math rock rhythms for a contrast even more jarring than that might seem, and the discordant feel that results helps drive home an apparent "point" of this record—absurdity is everywhere. On their track "Time Is A Person," the group include tightly wound, complicated rhythms, surprisingly high-pitched vocal work, and even an audio clip of a horse neighing at one point!
"Here lies the body of Jaks," Three One G proclaims in the title of this 2005 release, a compilation of songs by the since-disbanded Midwest punk outfit Jaks. The group plays their own unique form of noise rock with an incessantly caustic edge here. Even after all these years, their music sticks out because they turned some of noisy punk music's most intense elements into a dynamic, personally accessible experience. The instruments shriek, and much of the vocal work sounds tortured, but the incessant melodicism lurking beneath the surface draws listeners in easily. (Members of Jaks went on to the equally excellent Love Life and Celebration.)
The D.C.-area band Orthrelm deliver a crash course in wildly-intense, technically-flourishing metal on their late 2002 LP 2nd 18​/​04. Right away, the musicians behind this project plunge into manic riff-mixtures full of nooks where abrupt bursts lurk. No matter how incomprehensible-feeling that these musicians get, their energy keeps their mixture propelling endlessly forward. They have the clear technical prowess of bands like The Dillinger Escape Plan and Car Bomb at their wildest moments, while Orthrelm push their own overall intensity to barely imaginable limits. Listening to this record leaves craziness more exciting than it was before, and who couldn't use a boost?
The 2017 self-titled LP from the Portland act Panicker delivers gritty but danceable beat-driven electronic music. Listening feels like a step into a club where the atmosphere is off—but it's hard to tell why. The music never stops shifting—the moment it settles into a danceable sequence, the bottom drops out, and the project's mastermind Brent Asbury starts building new disjointed soundscapes so that the antsy energy truly never lets up. Pearson admiringly says he's "in no way capable of creating" something like Panicker, but works to "connect" as a listener and label head in "a way that shows camaraderie."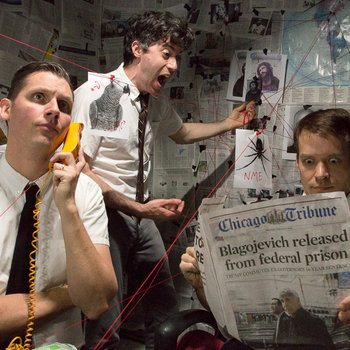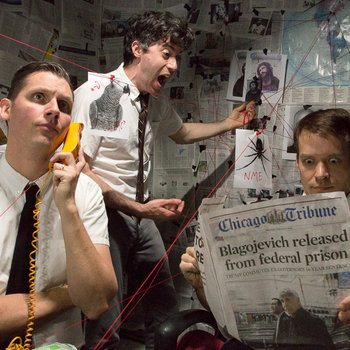 Merch for this release:
Compact Disc (CD)
On their 2012 full-length release The Funny Papers, Chicago's intense math rock band Paper Mice make musical craziness fun. They pack just about as many angular riff patterns as possible into this album, but they keep the music going with continuous unpredictability. On tracks like "Big Blank," they balance captivating rhythm with unsettling energy, for instance. Even with all the record's oddities, it's strangely easy listening, at least if you're used to music like this. On their Three One G profile, the record is described as "eleven tracks about canine heroes, fast-food and financial meltdowns, and Dolly Parton," and—sure, that captures their sense of adventurousness and humor. The Funny Papers feels like a musical laugh in the face of absurdity that still lands nearly a decade after its release.