LABEL PROFILE
The Transportive Psychedelia of Moon Glyph Records
By Ben Salmon · February 02, 2022
When Steve Rosborough moved to Minneapolis after college, he did so knowing he wanted to start a record label.
He'd grown up in a small town in Illinois, discovered underground and experimental music via websites like Pitchfork, and then became that one guy in the dorm with an iTunes library full of songs and an itchy file-sharing finger. "I was somebody who would spend at least a few hours every day reading about music and trying to listen to new stuff," he says. "So I was usually the one pushing weird shit onto other people."
At some point, he self-released a tape of "a noise thing" he'd made with a friend. That's when Rosborough got bitten by the label bug, and knew he'd have to go to a bigger city and meet like-minded people to bring his modest dream to life. "That tape in college gave me just enough experience to think I could do it," he recalls. "So I just started Moon Glyph, and then I slowly tried to gain the nerve to talk to other people about it," he says with a chuckle. "That was definitely the hardest part."
Thirteen years later, Rosborough lives in Portland, and Moon Glyph is coming off its biggest and best year yet, with 14 releases in 12 months, ranging from a live session by New York City electro-beat band Nuke Watch and an album of psychedelic synth-and-beyond jams by Mark Tester to a set of gorgeous ambient music by Charlatan, aka Brad Rose (of Digitalis/Foxy Digitalis) and three albums by French indie pop duo Grand Veymont. "Moon Glyph released a lot of music [in 2021] and a good number of folks listened to it," Rosborough says. "I think a decent number of folks discovered the label for the first time, too."
Merch for this release:
Cassette
Despite new parental responsibilities, Rosborough shows no signs of slowing down. He just released a new album from longtime Moon Glyph associate Parker Sprout, and is preparing to release some collaborative ambient jazz by Iceblink's Lynn Avery and saxophonist Cole Pulice.
The Sprout album, in particular, brings Moon Glyph full circle; Sprout's band Velvet Davenport was the first act Rosborough signed to the label in 2009. Since then, he has more or less steered Moon Glyph according to what he calls a "very loose vision" that has evolved over the years as his taste and interests have changed and his connections have expanded. "It still ultimately boils down to what resonates with me," he says. "Since I do this myself, I'm the only one I have to please when it comes to what the music should sound like and what artists I want to work with."
Over the years, Moon Glyph's releases have bounced across a few adjacent stylistic neighborhoods: jangling indie rock, synthesizer grooves, epic drones, outsider pop, ambient drifts, organic electronica, avant-garde jazz, percussion compositions, and so on. Describing the label's output succinctly is a nearly impossible task; Rosborough uses two words when he tries. "I still call Moon Glyph a psychedelia label, which I think is sort of accurate, but I use it as a very, very loose umbrella term," he says. "Ultimately, I like the music to be transportive. I like it when it takes you to a place, and I think the dreamy, psychedelic stuff can do that, and I also think the weirder electronic percussion stuff can do that, too."
These days, Rosborough is putting most of his professional time and effort into running Moon Glyph, including designing the artwork for most of the label's releases—another detail that helps create a cohesive aesthetic. He does all of it, he says, because he still believes in that idea he had all those years ago in college, and because he believes in the art Moon Glyph is putting out into the world. "I just think I'm releasing cool, interesting music that other people would enjoy if they had the chance," he says. "It's really as simple as that."
In an effort to trace the history and evolution of Moon Glyph, we asked Rosborough to do a deep dive into six of the label's releases. Here they are:
---
Moon Glyph's first two releases are music made by Rosborough, and there is a reason they aren't available on Bandcamp: "They're not good." (Moss King, his 2020 album under the name Omni Gardens, on the other hand, is excellent.) Velvet Davenport's Lemon Drop Square Box is the label's third release, and Rosborough remembers being "blown away" by the band's "Syd Barrett-esque" psychedelic pop. They had a sound I wasn't hearing from other Minneapolis bands," he says. "It was just very distinctive, like they had a vision for what they were doing and it was their own—it wasn't some pre-existing thing they'd seen somewhere else. It just clicked with me, and I feel super grateful that Parker [Sprout] was into it and he let me release some of his music."
Merch for this release:
, Vinyl LP
Food Pyramid was a well-regarded psychedelic drone trio from Minneapolis that released its first three albums on Moon Glyph, and Roy Orb D.MT. was the alter ego of Collin Gorman Weiland, an adventurous musician who played in many bands around the Twin Cities. Together, they recorded Arp Navigators, which was released in 2012 and, Rosborough says, represents both where Moon Glyph was at the time and where it ended up going. "I think it shows the blend between the kosmische stuff they were doing and the more ambient sound, which I think Moon Glyph has done more of as the label has progressed," he says. "This record is a good middle ground among all those sounds and I think more people should check it out."
Halasan Bazar & Tara King th.
8
Merch for this release:
Vinyl LP
Released in 2015, this album is a collaboration between two bands who actually met each other through their association with Moon Glyph; a "musical blind date" arranged by Rosborough, according to the Bandcamp description. Tara King th. is from Lyon, France, Halasan Bazar is from Copenhagen, Denmark; they all met up in a French village with a few song ideas exchanged over the internet. The result of their creative entanglement is an album of elegant and unhurried baroque pop that stands out as a bit more oriented toward the traditional concept of a song than much of the Moon Glyph catalog. "As you can see, the network is very sprawling and there's a lot of connections I've held onto for a long time," Rosborough says. "This is a pairing made possible by the internet. There are a lot of people on my label that I've never had the chance to meet in person. I'm not exactly jet-setting around the world."
Merch for this release:
Cassette
While Lynn Avery is featured on an upcoming Moon Glyph release, the label also released an album of her cozy, homespun bedroom pop under the name Iceblink in early 2020. It's a lovely set of songs centered around a combination Rosborough finds particularly appealing: electronic instruments and acoustic sounds made by both strings and horns. "This marked another record that brought more people into the label and it resonated with folks. It got people to check out other things I'd done as well," he says. "Also Lynn is just somebody that I've worked with for a long time and I'm going to be working with more and more in the future. I think she's just incredibly talented."
Merch for this release:
Vinyl LP, Cassette, Compact Disc (CD), T-Shirt/Shirt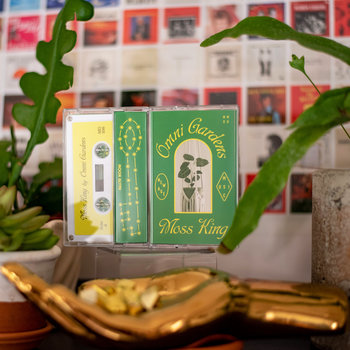 Rosborough struggles to believe in his own music as much as he believes in other people's, and he feels awkward talking about Moss King, his most recent full-length album of floaty New Age synthesizer music under the name Omni Gardens. But he knows it resonated with people (it made Aquarium Drunkard's best of 2020 list, for example) and he figures if more people know about it, more people will find music they love. "I just thought, 'Well, I made this. I'll put this out and then we'll move on.' And I was shocked, honestly, at people's reaction to it," he says. "I've since pressed it on vinyl and I even made a CD! God knows why."
Merch for this release:
Cassette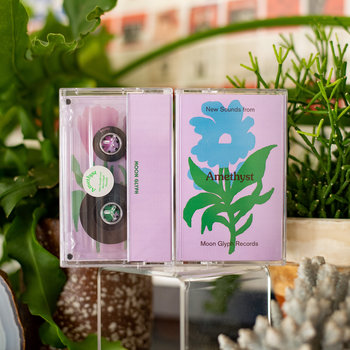 "I'd done a compilation years ago called Opal, and it was a digital-only thing that I was giving away for free on my little website. This was before the label was on Bandcamp," Rosborough says. "Moon Glyph had evolved a lot and there were a lot of new people paying attention, so I thought it would be cool to see if I could put together a compilation and get people to contribute to it." Amethyst features established bands and newer acts, as well as artists that are both part and not part of Moon Glyph's roster, including SiP, Starbirthed, Pulse Emitter, Lee Noble and more. Radically different songs sit next to each other, but Rosborough hopes the sequencing of the compilation can bridge those gaps and reveal the thread that runs through the whole thing. "Sonically, I think it says a lot about where the label's at and the general breadth of what I'm hoping is the Moon Glyph umbrella," he says. "It's a good primer for what the label does, and I think if someone likes the compilation, they'd find a lot to like in the catalog."