LABEL PROFILE
The Digital Resurrection of Chicago's Trax Records
By Joe Muggs · March 16, 2017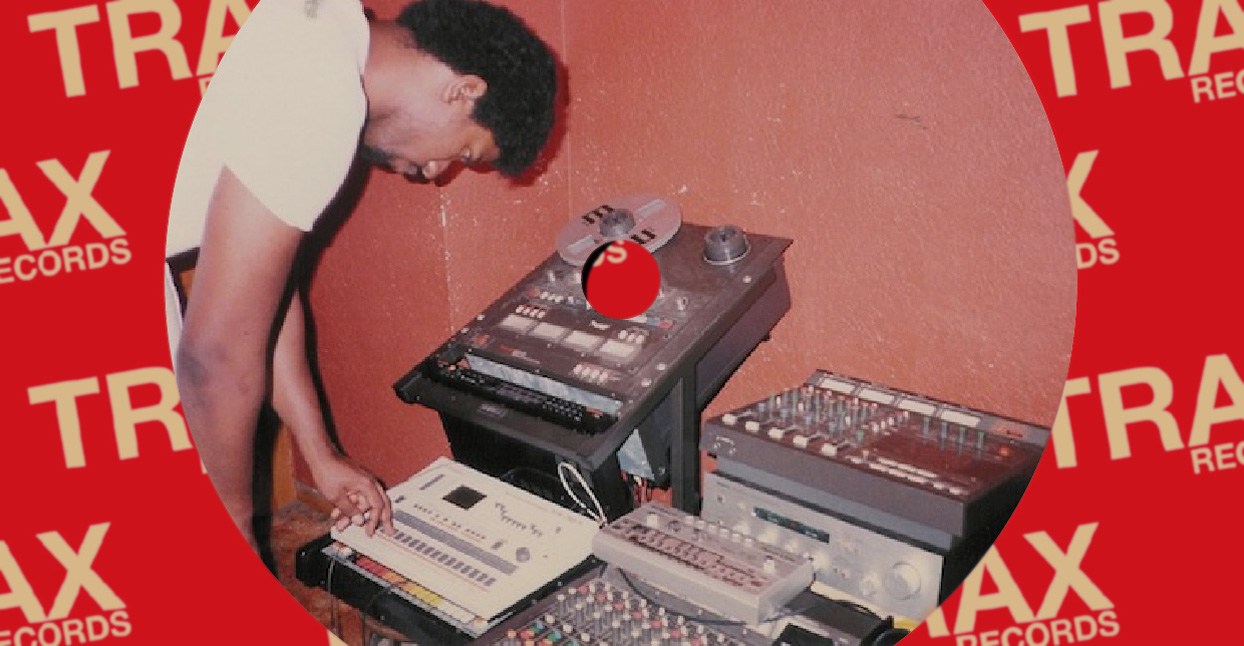 There are many labels that were vital to the initial explosion and global spread of house music: DJ International, Nu Groove, Strictly Rhythm, KMS, Nervous: all names that can still make a house-heads ears prick up from a hundred miles away. But none of them can claim the centrality of Chicago's Trax, founded by Larry Sherman in 1983.
Trax had everything that made house what it was—the disco feel, the raw acid (including the magna carta itself, Phuture's "Acid Tracks"), the percussive jams, the strong Latinx influence, the deep and soulful vocal heartbreakers, and the iconically simple design of its labels. And it had everyone: Frankie Knuckles, Joe Smooth, Jamie Principle, Armando, Phuture, Marshall Jefferson, Ron Hardy, Jesse Saunders (arguably the first ever house producer), Larry "Mr. Fingers" Heard… Again, names to get clubbers of a certain age swooning, and who still continue to inspire generation after generation of young producers, now more than ever.
It was also shambolic, to say the least. The simplicity of its visual identity was less deliberate minimalism and more a reflection of the bare-bones nature of the operation. As was standard in the haphazard club music industry of the time—particularly in Chicago—untold releases were rushed out with dubious attribution, often with poor mastering and low-quality vinyl. Rarely, if ever, were proper contracts signed–ensuring that when house music blew up big internationally, confusion and hostility reigned over who rights holders were, and how they could get paid.
Feuds continue to this day over certain parts of the label's history. However, ever present in the Trax story was "Screamin'" Rachael Caine: an associate of Sherman's and one of the label's early recording artists who joined the dots between punk/new wave and the nascent house scene (she avidly talks about  "that primitive freedom and the idea that you did not need fancy equipment or big studios to make great music" which she sees as common to punk and early house). In 2007, Caine resurrected Trax and, as president and owner of the brand, has managed to steer it through choppy waters since then. In 2009, the young, radical transgender artist and photographer Jorge Cruz joined as creative director, giving its visuals a technicolor re-rub and bringing yet more new house music into the fold.
As you can see from the Bandcamp page, Caine and Cruz approach is anything but corporate or encyclopaedic. Old releases and new, singles and compilations, are jumbled together with simple design. In stark contrast to the 2013 UK-licensed Traxbox CD box set, which remastered and even re-edited tracks to even them out to make them fit in DJ sets with today's high-production-value house, the Trax label itself makes a point of presenting the audio, warts-and-all: "the original, not the boring remasters which some licensees did on their own!" as Caine puts it.
And somehow this approach—chaotic, but done with love and a bit of gumption—seems a much better way of bringing the spirit of house music into the modern day than any number of slick reissues or DJ mix compilations. Just like house music's eternal four-to-the-floor pulse, it remains always different, always the same. Speaking to Cruz at home in Beverly Hills, we tried to find out how this fine balancing act is conducted.
How much responsibility is it continuing a legacy like Trax's?
Well, you know I've left the label twice, and honestly each time I came back for the same reason: I do feel a huge responsibility on my shoulders all the time when it comes to Trax—and not only Trax, but house music, Chicago, and so many of the unsung voices that so many people have yet to acknowledge, as well as all the artists that I continue to work with and herald to this day. I just feel that the good thing about Trax, house, etc. is that it's still independent, and so many of these people are still alive and talented as ever, so I know how easily a larger company can just come in and change the rhetoric or point of view, for easy marketing or a 'Time Warner-ing' of house music as a whole.
The responsibility Rachael and I both really passionately defend is to keep everyone's voices heard and honored, and to prevent people from romanticizing or washing away the true narrative of this scene, culture, and community. The weight is enormous, mainly because I honor and acknowledge that the main part of what I do is to keep this space for the people who created it, and for those who feel empowered and emboldened to continue making art in the electronic spectrum. And I do feel happy to say that I've done that. But I also have a deep understanding that so many sharks swim around us waiting for me to get a leg cramp so they can come and eat me, along with the community that we are trying so hard to keep whole.
House music has gone a long way around the world, but many say it has lost touch with its black and Latin roots in Chicago – what do you say to that? 
I don't think this is true in the sense that you could say black and "Latin" house music makers aren't there. In fact, from living in Mexico City last summer, and going clubs like Patrick Miller or to one of these raves in La Roma, I saw that the spirit is still there—and it's alive! In fact people like AAAA continue making music in the same way, but what hasn't changed is that so many people in journalism tend to only write about what they either know, or are told will get clicks.
I don't think there's many risks [taken] when it comes to covering or signing artists anymore, and in so many ways I feel it's much more insular than before… and I think that comes from the fact that dance music is a billion-dollar industry that tends to stick to doing things one way because it pays. But what's lost is the sense of risk, and that same notion is what art is about, and what has pushed innovation forward time and time again. It's like we're living in a stagnant world where nothing really changes. And it's maddening. It's debilitating because as we know, there is a huge problem with how many people are allowed to "come in." Let alone how many people of color, or women, or LGBTQ, and basically non-white males are allowed to come into the rooms without people wanting to change them or simply not respecting their differences.
But no, I don't think it's not there. In fact, all the music I've always signed has been from people everywhere. I don't look at their [social media] followers, I don't look to see their past work, I take them for what they send me that at that moment in their lives. And my only real rule is that It has to move me. And that's it. I don't follow conventions or rules, even if they are costly and sometimes don't pay off immediately–but what I've fostered, and will continue to foster, at Trax and within my own career is a creative liberty that isn't bound by what money might or might not be made.
What do you try to represent through the label now? 
I know Trax has had a past. And and Rachael and I both are supremely, supremely sensitive to artist's rights. So we have done a lot on both our ends to keep that fostered at Trax today. For example we don't outright buy remixes. Every remixer will forever and always receive publishing for their mixes. And outside of the publishing and rights, we're always looking out not only for the artists I bring, and I try to look out for them in placing them in places or with people who might advance their careers.
But outside of that I'm not really trying to represent anything outside of awesome music [laughs]. Maybe what I'm trying to present is that there doesn't have to be be a lot of frills around our ethos, or how we base our decisions. I'm just trying to listen to the earth, and not letting too much of myself get in the way to how the pendulum is swinging.
What is it about the original Trax tunes that still have power now? 
I think that certain music just doesn't have any expiration date. I think that so much of it just has an intoxicating power and beauty that it's impossible not to love it once someone is introduced to it. I don't think it's a formula. I just think there's a beautiful intoxicating magic that infects the ear and body.
A lot of those original tracks were recorded and pressed with very primitive equipment—and now producers actually deliberately emulate that lo-fi quality. What do you think of that? 
I came up as photographer originally, in documentary, and actually only shot color 35mm for a long time (before it became too expensive)—and I think that digital still doesn't have a sense of warmth that just appeals to our ears and bodies the way analogue does. And I think that has a lot to do with it. But the other side of it is that digital, for so long, was inaccessible to so many people, and "lo-fi" was less about aesthetic and more about accessibility. And I just hope that people remember that before criticizing too harshly why so many songs and records sounded poorly in the beginning. Check your privilege!
Trax Essentials
We asked Jorge and Rachael, and also some of the original house generation—Joe Smooth (OG house producer, singer, songwriter, most famously of "Promised Land") and Chuck Roberts (responsible for the spoken word vocal on Fingers Inc's "Can U Feel" it, and as such one of the most enduringly sampled voices in all of dance music)—to suggest the most important tunes in Trax's history.
Joe Smooth
Adonis, "No Way Back" (1986)
.
00:10 / 00:58
No Way Back by Adonis is my favorite classic Trax record. It captures the rawness, energy and vibe that is what Chicago House Music is all about. "No Way Back I'm too far gone" is the Mantra of losing yourself in the music, on the dancefloor, controlled by the DJ. It is 100% Chicago House and a timeless classic.
Chuck Roberts
Marshall Jefferson, Move Your Body (aka "The House Music Anthem") (1986)
.
00:10 / 00:58
Move Your Body by Marshall Jefferson would have to be one of my favorite Trax recordings. This song truly captured the essence of House Music, because the melody and the arrangement of the song will attract a true house head, but also move anyone who has a rhythm in their soul. Let there be house!
Screamin' Rachael
Screamin' Rachael, "Fun With Bad Boys" (1987)
.
00:10 / 00:58
I'm going to pick my cut "Fun With Bad Boys," because it's both timeless and timely right now. When it first came out, it rocked the house world, because it was the first hip house cut. I produced it with Farley "Jackmaster" Funk and Afrika Bambaataa. People thought the worlds of hip-hop and house could never come together culturally back then, but this cut brought these two factions together on the dance floor. It was favorite of the leading hip-hop dancers The Rocksteady Crew no less!
Pour Le Plaisir + Emskee + Screamin' Rachael, "Some Other Time" (2017)
.
00:10 / 00:58
Now since Kanye sampled Mr. Fingers on "Fade," that sound is becoming bigger than ever, and Trax is back with it again on our new cut "Some Other Time." Start with this leading cut and dive deep into this sound!
Jorge Cruz 
Picking music for me is daunting, mainly because I obviously love it all. But out of all the releases the ones I feel have not hit entirely yet are the last album I curated, TransTrax (2016), and well as "I Want You" off of the Last Day On Heart E.P. by Angelo Raguso/FAW9 and Tone Control (2016).
Angelo Raguso/FAW9 & Tone Control, "I Want You" (2016)
.
00:10 / 00:58
"I Want You" is a great example of the label today, tomorrow, and hopefully forever. Just go listen to it!
From the Author, Joe Muggs:
By the time I started going out to clubs and seriously collecting dance music at the age of 16 in 1990, the first and most influential phase of Trax was already over, but its influence rippled through everything that we knew as "acid house culture." For years, I would hear the classics woven into DJ sets and endlessly sampled and re-sampled on rave records. Only gradually did I come to know their names, but as I did, they stood as lasting cornerstones of my understanding not just of dancefloor tracks, but of the more experimental electronica of the '90s, too. And Trax kept popping up with new releases, dropping some surprisingly tough tunes through the decade, reminding us all that Chicago was still vital.
Jorge & Carmelo Carone, "Athon" (2017)
.
00:10 / 00:58
The EP title here, Warehouse, tipping its hat in the title, perhaps, to Frankie Knuckles's club that was first responsible for the name "house music," is a glorious rebuilding of house from first principles. It doesn't attempt to be retro or lo-fi, but goes right back to what's important—beats, bass, funk and trippy noises—to deliver fantastically weird dancefloor dynamite. Where Trax could easily be remaking their old tracks or signing hip names, the fact they're putting tracks this deranged out is a great tribute to their legacy.
-Joe Muggs