LABEL PROFILE
LOM is a Home for the Eastern European Avant-Garde
By Andra Nikolayi · August 24, 2021
A working class student from the former Eastern Bloc in The Hague, Netherlands, Jonáš Gruska quickly began to notice the lack of visibility for experimental artists from his region. "I was studying at the Institute of Sonology, which is this school for experimental electroacoustic music and suddenly I realized that there is no connection between what's going on in my home country, Slovakia, and the broader experimental music scene," he says. "I felt like it would be nice to export these musicians from Eastern Europe to the West, because I could still perceive this divide in terms of how much is covered in the international magazines. I saw this inequality and I thought it would be nice to have a label that is outside-facing."
Thus was born LOM, a Bratislava-based experimental label. A composer, field-recordist, microphone designer, and amateur mycologist, Gruska started LOM as a netlabel in 2011 while studying abroad, together with two other friends. Inspired by Gruska's left-leaning politics and in particular his time spent in antifascist groups, LOM evolved out of necessity rather than a romantic, abstract notion of community. This underlying materialism remains at the core of the label. Gruska may be the most visible person in the collective at the moment, but his current position is more of a choice dictated by circumstances. "We work in a kind of a meritocratic principle, so when you want to be active you are active and you decide on things, and for the moment most of the deciding power is delegated to me," he says.
When faced with financial limitations in developing his projects, Gruska began to experiment with building his own devices. "I think it was 2014—I was in The Hague when I did the first Elektrosluch, this electromagnetic listening device inspired by several musicians I saw using these induction coils for telephone recording," he says. "I wanted to make my own, so I modified a tape head from an old cassette player and made an amplifier for it, and it was the first Elektrosluch, which started the whole audio venture." His friends and colleagues soon began to take note and started commissioning his services, growing into a small-scale audio manufacturing company dedicated to producing affordable microphones, instruments, and other specialized gear.
The LOM model is the perfect example of turning precarity into opportunity, using a mix of government grants and smart decision-making to create an autonomous, self-sustaining operation. Since 2019, Gruska's team has been leasing a space in the Petržalka area of Bratislava, one of the largest residential neighborhoods in Central Europe; the building is made up of predominantly grey, prefabricated panel concrete blocks, now covered in colorful Styrofoam insulation. Besides hosting the small manufacturing business, this physical space functions as a multi-purpose community venue hosting workshops, small concerts, and other multi-disciplinary events, as well as a dedicated sound-related library, one of Gruska's personal pet projects.
On the small virtual tour I got during our video call, I could spot the care that Gruska puts into his endeavors reflected in the space; plants and various elements of decorations, together with his BioLOM research into fungi, algae, and fermentation were basking into the afternoon sun flooding through the large windows. Most of the workshops and concerts are funded by applying to yearly contemporary art government grants. Gruska keeps a curator on the payroll, as well as three friends who work in the audio manufacturing business, which usually pays their rent. "We usually don't offer the artist a fee, because the whole label is a separate organization without funding," Gruska says. "What we do is we send a certain percent of the physical copies to the artists, which they can sell and get their share of the income, but with most releases we just cover the production costs and some fees. We don't take any fees for ourselves, it's a self-sufficient thing. With some releases the microphone manufacturing part has to cover the production when it's not something super popular that would cover its own costs."
Musically, LOM is interested in promoting a wide array of sounds, from the DIY work of elusive Bratislava noise artist VooDooMan to delicate field recordings and absurdist full-blown operas. The sole guiding thread is Gruska's desire to highlight innovative takes on sound. "We were really going for experimental music," he says, "which was not a specific genre in a sense that it has to be improvised, or it has to be electronic or modern synthesizer, but we were more interested in picking up people that are trying to do something new and it doesn't matter how."
Between the label and the microphone business, LOM is almost a self-contained ecosystem, artists often buy the equipment then go on to submit demos. "We have a network because of the instrument manufacturing, so that brought a lot of fans to the music as well. Our approach was also to merge these two communities of people who are interested in music and are making music," Gruska says. Another essential aspect of LOM's community-first mission is their LOM+you outreach program, through which they do open calls to sponsor artists with audio equipment.
It is this very pragmatism that helped the label become fully autonomous and provide not only opportunities for artists in a highly-competitive and often financially prohibitive field, but also instill a sense of solidarity between members of the fragmented former Eastern Bloc. Here are some highlights from their growing catalog.
Merch for this release:
DVD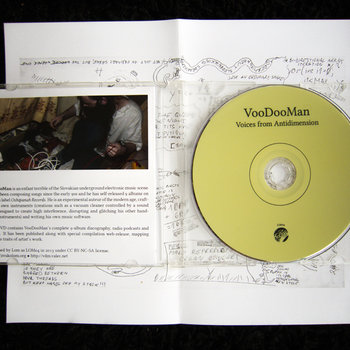 One of the first big LOM projects was "this multimedia artist which was living completely secluded from society, basically, called VooDooMan," Gruska says. "We did an anthology of his work, because he released like nine albums and nobody in Bratislava knew about his work. He was an experimental auteur of the modern age—crafting his own instruments and writing his own music software. His music was challenging traditional concepts of melody and rhythm with abstract compositional processes, musique concrète, or harsh-noise attitude. "
Voices from Antidimension contains everything from psychedelic generative harsh noise (''Template of the intergalactic panic"); pitched down, distorted vocal-synth wailing ("Virovnavanie zavitou [feat. Tereza95]''); and almost serene toytronica moments ("Gentle bell from Tibet"); as well as melodic spoken word ("The rose of eternity").
Merch for this release:
Cassette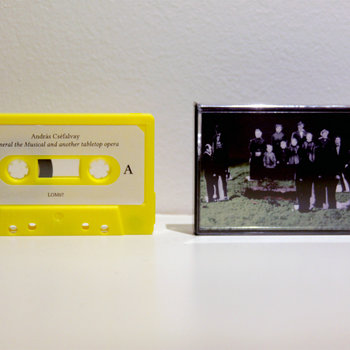 LOM certainly isn't afraid to subvert expectations, as this extremely campy and outré full-blown opera demonstrates. Gruska describes it as "a set of intimate bedroom recordings by an award-winning visual artist, András Cséfalvay, telling us captivating stories about worms, love, and graveyards. Danse macabre atmosphere mixed with humor and opera." Imagine a Hungarian Robert Ashley work set in Shūji Terayama's circus-centric Pastoral (1974).
Merch for this release:
Cassette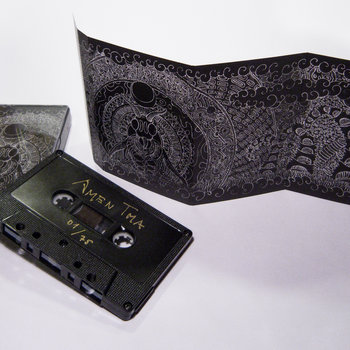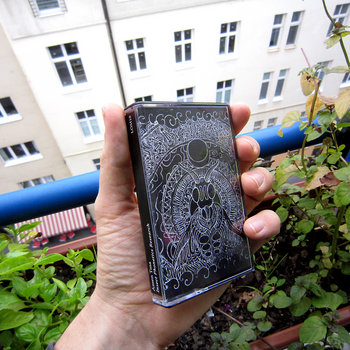 "Insect Phonetics Research is a carefully crafted opus by a Slovak duo, inspired by sounds of insects intertwined with polyrhythmic techno, industrial influences, Balinese gamelan, and psychoacoustics," Gruska says. Amen Tma is the project of musicians ::.: and acidmilk, both known for their own solo work, for an innovative listen. Check out the syncopated muffled bass with trance bursts on "The Rules of Dung Beetle Traffic," or the playfully sparse, slow-building electro track "Loyu – Trickster Mantis Remix.''
Merch for this release:
Cassette
Czech musician, curator, and medieval enthusiast, Tomáš Knoflíček creates on this debut LP "a homegrown organic blend of field recordings, experimental ambient works, playful ideas, improvisations, and rhythms," as Gruska puts it. Using everything from a modified sewing machine and acoustic instruments to field recordings and synths, Knoflíček builds a tessellated network of drones, whispers, and painfully romantic melodies. "The Averted Face of the Lagoon" has a gothic beauty, with strings wrapped in undulating noise, while the ludic ''Icecream Mustache (Metaphysical Tyler)" features delicate flute and mechanical, glockenspiel-like sounds. "Brain Riot" delves into the claustrophobic depths of the 2020 lockdown with moody aquatic sounds and pulsating bass.
Merch for this release:
Cassette
Gruska's own sophomore album Žaburina explores the kaleidoscopic polyphony of algorithmically generated music with surprising grace. There's a certain warm yet celestial quality to this album of highly intellectual yet randomized music, which gives it somewhat of a spiritual feel. "Slávnosť" soars like a digital comet, while "Rybacie spevy" plays on cosmic sine wave modulations. There are also beautiful remix contributions from fellow ambient synth travelers Broshuda, from Germany, on the weighted blanket of drone "Broshuda remix / meditation,'' and Max Eilbacher, from the U.S., on the chaotic yet heady "Max Eilbacher – Narrative Arc Library (remix)."
Merch for this release:
Compact Disc (CD)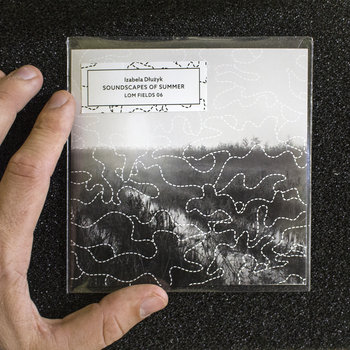 "Through recording of the natural world, Polish recordist Izabela Dłużyk is trying to understand the mystery of life and fleeting moments, of sadness and hope brought by changing seasons," Gruska says. An underlying melancholy runs through Soundscapes of summer, as Dłużyk carefully assembles her sharp, clean field recording samples into evocative tableaux seeping with emotion. The gentle, fluttering percussive crescendo of tracks like "Dawn with the white storks" can easily make me cry on a good day, just as a more classical field recording piece like "Little June shower," featuring gentle rain drones and discreet birdsong trills, has an instantly soothing effect.