LABEL PROFILE
The La Souterraine Label Keeps French Pop Freaky
By Ned Raggett · September 01, 2016
"There's all these great artists and musicians in France, but they're just never portrayed anywhere, because they're kind of odd compared to the normality so enforced upon us. You're not allowed to be a freak in France."
These words were spoken to me last year in an interview with Laetitia Sadier, cofounder and leader of the legendary band Stereolab. The topic came up when I asked her about La Souterraine, a French music collective that released a compilation on which she appeared. Founded by Benjamin Caschera and Laurent Bajon, precisely to give a voice to all those "freaks," La Souterraine's now-extensive catalog documents the French underground (its name literally means "the underground") through smooth variations on classic French pop, tweaked with odd arrangements. Lo-fi recordings rub up against elegant, precise performances; solo projects sit side-by-side on the label with avant-garde groups. The one constant is that all lyrics are written and sung in French. (One of my favorite recent discoveries was listening to one of the label's releases and realizing the artist was delivering a melodramatic version of "Hotel California"—in French, of course.)
"La Souterraine isn't a label," Caschera says. "It's a network of artists and activists, pro or not, who wants to cooperate for a week, a year or more." According to Caschera, the seeds for La Souterraine were planted three years ago. "I co-run a music company with Baron Rétif called Almost Musique—we're a record label, a publisher, and we also provides PR, sync, and licensing. I also have a radio show, Planet Claire, with Laurent, about indie music. In 2013, when the radio station which hosted our show was collapsing, we decide to start a free download compilation series about the Franco pop underground. Our growing network started with the few bands I already worked with, in one way or another. We wanted to support our cause: non-standardized 'chanson'."
La Souterraine's digital offerings are offered up as 'Name Your Price,' and they've occasionally experimented with physical releases where there's perceived demand. For Caschera, the real benefits from their work are interpersonal. "Meeting new people. Talking to major companies and in the same time to the anarcho-autonomous scenes—it's a real emotional gap," he says. "Booking a band like France for one of the biggest festivals in Europe, Transmusicales de Rennes—it's amazing. They never played with more than 220 people in the room, and then they played in a 5000 person venue at 3 am."
Caschera chose eight releases from La Souterraine's rich catalog as an introduction to what they're all about. If you're wondering what the term 'mostla,' which pops up in a number of titles, means, Caschera is happy to explain: "Mostla is 'Almost' in 'verlan,'" he says, "and 'verlan' is a French version of slang."
La Souterraine, vous-et-nous
The latest in the label's regular series of compilations, Vous et Nous agreeably captures the multifaceted nature of the label as a whole, ranging from the clipped synth/rock drive of Ben Kerber's "Azaka" to the scrabbling clatter of PoulainJars' "Le Calme."
We're trying to become sharper and sharper in theming our compilations. But we also have so many tracks to premiere, and to feed the bands' own PR campaigns, so it's not that easy. We have stockpiled tracks and wait for a good fit—it could be from six months to a year. There are so many rhythms to handle—it's a big machine. But hopefully, we will soon be able to have a franco folk volume, a franco psych pop volume, and so forth.
Requin Chagrin, REQUINCHAGRIN
Originally a one-person project by Marion Brunetto, Requin Chagrin gradually evolved to become a full band. Their songs have an ear-catching ease that recalls classic indie-pop with surf and psych touches.
Brunetto liked some songs we'd released. [He sent us a demo], we listened to it and both decided "Adelaide" was a hit. So we made some room on Vol. 5 [another of La Souterraine's many compilations] to include it. Then, I told her I wanted to work with her. We hosted her first radio show, her first show—we pushed her to build a band—then her first French tour, since it's not that easy for a Parisian band to find shows by itself. There was a sold-out limited edition LP on Objet Disque, which we remastered and released officially on Almost Musique. It's a very young band—less than one year old!—and they have a lot of work to do to become pro, but they're doing good. Her sound instantly reminded me of the Canadian band Shimmering Sars, by whom we released two albums on Almost Musique. DIY bedroom pop with a rock'n roll / garage mood.
Maud Octallinn, Mostlamouratée
Octallinn's high, slightly-swooping vocals are set in a classic chanson style, but the bubbling keyboards and squalling guitar jams, the in-a-room feeling of the recording, and unexpected twists like "Si…," a lovely translation of Pink Floyd's "If," exist in another dimension entirely.
France doesn't have a wide-open underground tradition. There's always been an underground, but it was isolated. On the other side, we've always had a long tradition of classical chanson, focused on the lyrics. Now, everything is blurred; there's a lot of creativity everywhere. Most of these artists are influenced by the US DIY scenes (K Records, for instance) in the music and the aesthetic, but also in the process of creating music. Underground bands mostly sang in English for the past 20 years. Now, we have a rising scene of 'chanson française expérimentale'—indie pop vs. chanson, a unique mixture. Maud is in this tradition, but she also has a versatile profile. And she's one of our babies—her first single was on Vol. 5, too.
Barbagallo, Amor de Lonh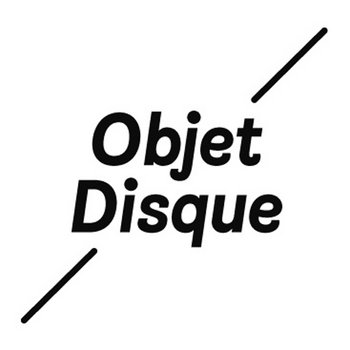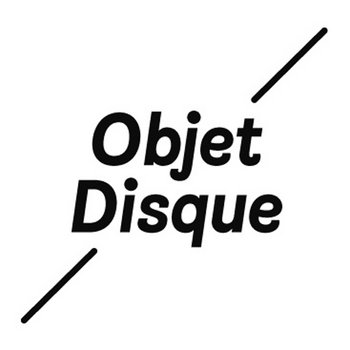 Merch for this release:
Compact Disc (CD)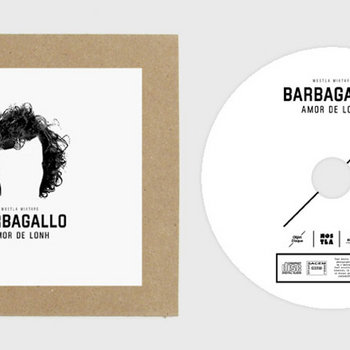 Julien Barbagallo maintains a high profile job as Tame Impala's drummer, but he also is part of La Souterraine mainstays Aquaserge. And then there's his solo work, which indulges in summery, West Coast late '60s vibes, with modern touches.
I started working on PR for Aquaserge back in 2009, on their Ce Très Cher Serge album. One of the reasons La Souterraine was to be a tool to grow their profile—they're so unique, idealistic and talented, it couldn't not work. Step by step, we became their record label and their publisher. When Julien sent me his first nine demos in French, he was living in Australia, apart from the scene. He didn't have any expectations or ambitions, and a couple of French labels had rejected his music. I proposed releasing it and making a limited edition CD-R through Objet Disque so we could sell some stuff, and I could also have promo copies to send to journalists. It worked really well, and his sophomore album will be released by Arista/Sony Music, under exclusive license from Almost Musique. So yeah, it's a big step and he's a figurehead for us.
Eddy Crampes, La MOSTLA de Noel d'Eddy Crampes
Feeling like a chilly afternoon somewhere—in Crampes's case, Toulouse—this collection showcases his easy, ruminative singing and sometimes energetic, but often understated accompaniment—a chanson singer for the after-echoes of the rock era.
Eddy is a friend of Aquaserge's members. He's not an indie guy; he's only into popular music. In summertime, he could tour on the beach and make money. Or he could play a live performance on France Inter, the biggest NPR-style channel here. That's one of the ways the label works—friends of friends send us music, and we can include the more random songs on our comps. We also regularly dig on Bandcamp for all bands with the 'french pop' or 'chanson' tags. We also suggest bands who sing in English to try to record a French song, so we can have them on board.
La Nòvia, LA NOVIA mostla 
A collective group—this release is a compilation as much as anything else—La Nòvia works with older, traditional instruments and styles to create something new: a dreamy flow that could be called acid folk, but which exists in its own universe.
Sing Sing, singer-songwriter for the group Arlt, first talked to me about La Nóvia. In France, traditional folk music is perceived as cheesy. La Nòvia are building a bridge between popular folk music and experimentation—in a punk rock, DIY way, they bring this oral tradition somewhere else. This compilation was an attempt to put all the bands from the collective on the map. They told me it helped them to be conscious of what they are. I'm psyched. We'll have a second volume in spring 2017, and this time, we'll manufacture a vinyl version."
Rémi Parson, Précipitations
Merch for this release:
Vinyl LP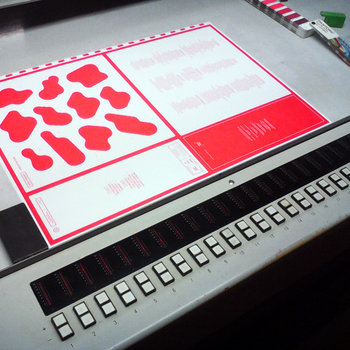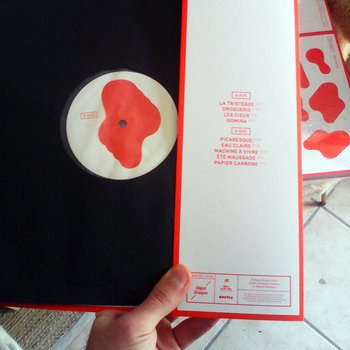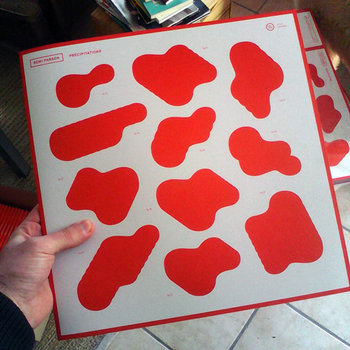 Parson's cool, shadowy singing and perky, understated electronic arrangements are reminiscent of the early '80s movement now known as 'minimal wave.' Dancefloor fillers for bedsitters.
When we first listened to "La Tristesse," the album's opening track, we thought it was a smash hit. A great, sad bastard pop song, with great lo-fi synth wave production. Rémi is a great lyricist, which is very unique in this genre in France. He lives in London, but he sings in French. We love that concept, how to grow and spread the language abroad. We also asked an Italian artist, Stop the Wheel, to sing in French, and he made a great Yves Simon cover. It's fun being francophone.
Baron Rétif & Concepcion Perez, disque d'or
An instrumental duo that feels like what would happen if a funky political thriller needed a good soundtrack: There's shadows where some sort of government agent is lurking but at the same time the bar's lit up, the vibe is warm and maybe the heroine just wants to dance a bit.
Baron Rétif is my business partner on Almost Musique. We had to find a way to include him in the family! I love their music, because it's nowhere and everywhere—live and organic, well-produced with its own aesthetic, I'm pretty sure they'll grow their profile in the coming years.
La Souterraine's network is only francophonic and instrumental music from France, but we're also open, at some point, to any kind of minority languages. We tried to bring the "mixtape" concept which is huge in the hip-hop scene, but not in the indie rock one at all, to France.
— Ned Raggett