LABEL PROFILE
The Diverse Disco DNA of French Label Favorite Recordings
By Jordan Ryan Pedersen · December 07, 2018
By summer 1979, Chicago DJ Steve Dahl's pro-rock army—mostly young, straight, white men—had had enough of disco. Disco—the ebullient, throbbing form of dance music born in black, Latino, and Italian clubs in Philadelphia that came of age in members-only gay dance parties in New York—had strutted its way to widespread ubiquity thanks to John Travolta and the Bee Gees—not to mention four-on-the-floor innovators like Chic, Gloria Gaynor, and Barry White.
Dahl's "anti-disco army" called Insane Coho Lips—which boasted 7,000 members, according to The Washington Post—spent much of 1979 carrying out their crusade: thousands of them mobbed a club that changed from rock to disco in June, they cornered a disco promotional van in a parking lot later that month, and it took 50 police officers to stop hundreds of "Cohos" from rioting when they couldn't get into a sold-out promotional event. And then on July 12, Dahl drove a Jeep onto the field at Comiskey Park in front of 50,000 fans, and detonated a six by four foot box of disco records. Fans rushed the field. The damage was so bad that the Chicago White Sox had to forfeit their baseball game. By the end of the next month, there wasn't a single disco song in the Billboard Top 10. Disco was thought to be dead.
At least in America, that is. As the disco backlash gobbled up record sales and radio play in the States, the genre thrived in Europe. ABBA sold 400 million records worldwide, and Giorgio Moroder and Kraftwerk provided disco with a positive critical imprimatur that American disco mostly lacked. "It wasn't a clash like in the U.S.," says Pascal Rioux, founder of the Paris-based Favorite Recordings. It wasn't a political statement either: "[In France,] it was to make money firstly."
Favorite's catalog runs the gamut—from reggae to Brazilian soul to hip-hop, but much of it finds its DNA in the pulsing rhythms of disco. (Indeed, Favorite singles come emblazoned with an all caps tag that reads "DISCO" in case you had any doubt.) Rioux ran the deep-house label Disques Rotax from 1997 to 2006—and released a smattering of house singles of his own, many in collaboration with soul combo Mr. Day.
But in 2006, Rioux made a contact that inspired him to change directions: producer/keyboardist Ron Foster had heard Rioux and Mr. Day's cover of Lee McDonald's "Gotta Get Home" on the Park Hyatt Tokyo Airflow compilation that the hotel had released to capitalize on the success of Lost in Translation (the hotel was featured prominently in the film). Rioux wanted to reissue McDonald's cover of The Carpenters' "We've Only Just Begun," but Foster—who had produced the song and still had the master tapes—was reluctant to hand over the masters to someone he'd never met.
So Rioux flew to New York, took a train to Philadelphia, and met Foster himself at the station. Rioux's visit coincided with that year's Soul Patrol convention in Philadelphia, where Foster introduced him to several forgotten Philly soul luminaries—including singer Barbara Mayson, soul group Mandrill, and Gene Chandler, a favorite of collectors who specialize in esoteric soul sides. "I was like in a candy store," Rioux says with a big grin. Rioux flew back to France with the masters—and an origin story for his new record label—in tow.
Rioux continued the shoe-leather approach when it came to getting Favorite's records in stores: he loaded up his van with all the records he could fit and took the ferry from Calais to Dover.
He visited record stores in Brighton, London, and Manchester—some of which he'd visited as a collector in his early 20s and which still served as the best marketplace for classic soul sides—and sold his new label's wares out of the back of the van. "I was doing the invoices by hand," he recalls. "Everything was old-school."
Asked about the importance of labels like Favorite—whose roster reflects the reality of a multi-ethnic modern France in the age of Marine Le Pen and Donald Trump, Rioux demurs. He grew up hating Le Pen's father Jean-Marie—"a fucking fascist," according to him—but Rioux's M.O. is less political than musical. The provenance of Favorite's artists—past and present—spans the globe, from a Lyon soul chanteuse with Burkinabese/Senegalese roots, to a modern post-bossa nova composer based in Rio, all the way back in time to a forgotten early '80s gospel disco pioneer in Los Angeles.
But Rioux gets less excited about his label's role as a corrective to the rising nationalist tide than he does about, say, the '70s analog sound he wants for his records—go-to producer Bruno "Patchworks" Hovart deserves much of the credit for capturing the organic, lived-in sound that Rioux is looking for. This is the music that Rioux fell in love with as a kid, that he discovered on day trips to London and Brighton while digging through the crates at Mr. Bongo.
But regardless of Rioux's intent, the impact of labels like Favorite is vital. Favorite helps to correct the historical record, to remind us that disco isn't a dark spot in American music. It informs house, hip-hop, the early electro of Prince, the post-modern dance euphoria of LCD Soundsystem, and the wayfaring boogie revival of Dâm-Funk. Favorite envisions a kind of alternate history, where Steve Dahl never played militia dress-up, where disco was never demolished. Here are the label's essential records.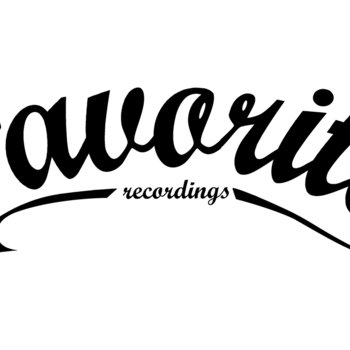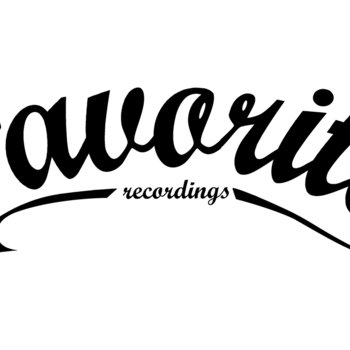 Merch for this release:
Vinyl LP, Compact Disc (CD)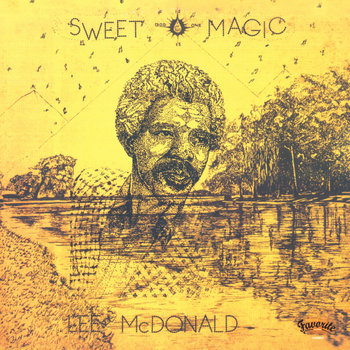 The record that started it all. Actually, it was a single of "We've Only Just Begun," but you'll find that here. The soaring melodies and singalong soul of Sweet Magic stands as a riposte to anyone who refuses to hear the link between Motown and disco. McDonald's band is tight and inventive—the extraplanetary sax solo on "Show Me" is a highlight—but this is McDonald's show: he's defensive but heartfelt on "Gotta Get Home," he yearns for a return to the simplicity of childhood on "Let's Play Luck," and he's endearingly, pathetically desperate on "I'll Do Anything for You." McDonald has the same kind of shouty braggadocio that made superstars of Levi Stubbs and David Ruffin. If music were a meritocracy, he would've been as famous as they were. Alas.
Merch for this release:
2 x Vinyl LP, Compact Disc (CD)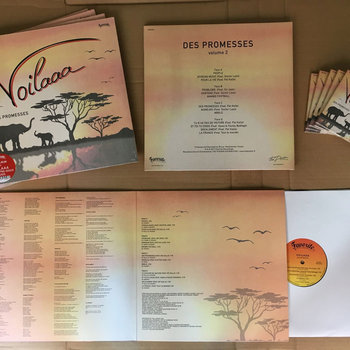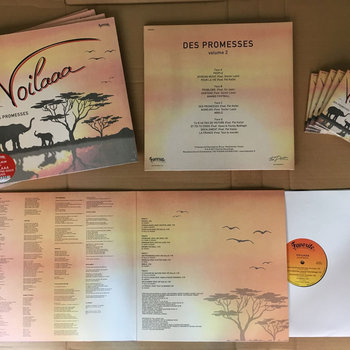 More than anything, Pan-African disco pop project Voilaaa—with three a's—is a showcase for the talents of in-house producer Bruno "Patchworks" Hovart. 2015's On te l'avait dit is uniformly strong, but last year's Des Promesses feels even more locked-in. Pascal Rioux's glowing endorsements of Hovart seem like hyperbole until you hear how much this guy can do; just check the diabolically tight horns on "Pour la vie." The bass-and-wah pedal spy movie soundtrack of "Mbele" has a sound throughout that is organic and unfussy. You can hear immediately why Rioux found the perfect man to lead his analog revolution in Hovart.
Merch for this release:
Vinyl LP, Compact Disc (CD)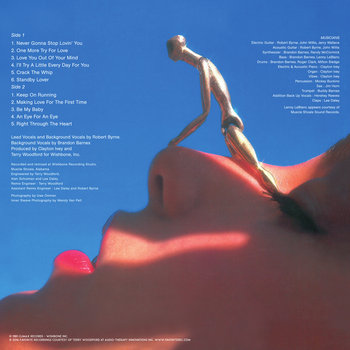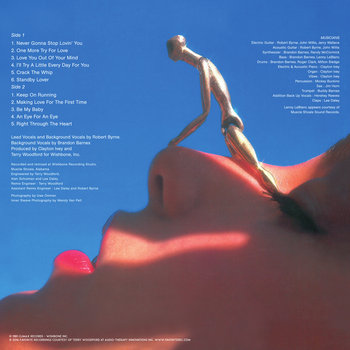 On Eye for An Eye, Byrne & Barnes' tight ensemble metes out exquisitely controlled grooves in the tradition of c'caine lovers Steely Dan and the cool-because-Thundercat-said-so Doobie Brothers. The poolside bounce of "Never Gonna Stop Lovin' You" could be an outtake from Minute by Minute. The lothario lilt on "One More Try for Love" would make a perfect soundtrack for giving your mistress a cubic zirconia promise ring. A forgotten West Coast/AOR classic—originally released only in Japan!
Merch for this release:
2 x Vinyl LP, Compact Disc (CD)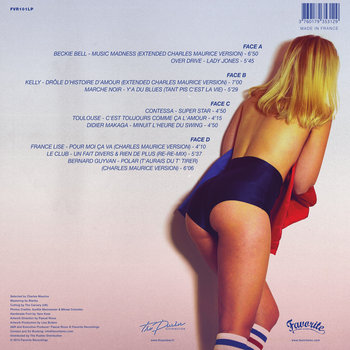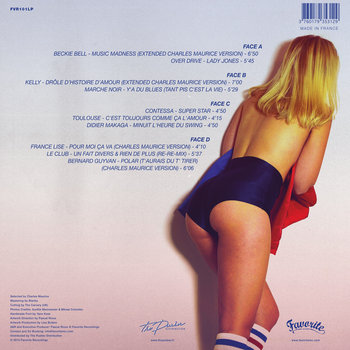 The French Disco Boogie Sounds series is the sound of the best party you can't believe you got invited to. All three are excellent—the third one, out this year, might actually be the best—but you always remember your first: Vol. 1 starts the night off with the frenetic Afro-disco of Beckie Bell's "Music Madness," rises to a thrilling crescendo with Toulouse's ecaststic shout along "C'est toujour comme ça l'amour," and eases you into the end of the evening with Le Club's slinky "Un fait divers et rien de plus," which sounds like it was written to soundtrack an '80s heist movie.
Merch for this release:
Vinyl LP, Compact Disc (CD)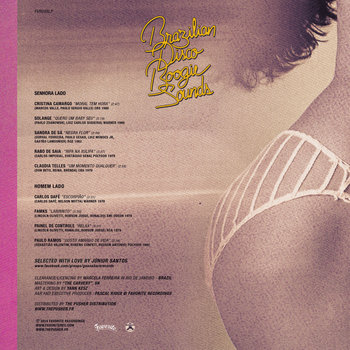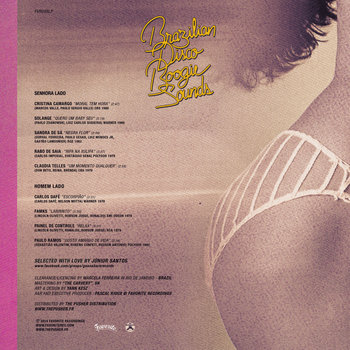 Júnior Santos—a drummer turned crate-digger based in Rio—aims to recapture the ecstasy of the height of Brazil's samba rock movement in the late '70s and early '80s. Samba rock—much like American disco—started small, at block parties in the favelas of São Paulo. Pioneers like Jorge Ben eschewed the European restraint of bossa nova in favor of black American styles like funk and soul.
It was a virtual inevitability that samba would eventually unite with its spiritual brother to the north. Brazilian Disco Boogie Sounds, Vol. 1 transports us back to those halcyon days, when samba groove and disco melodrama made for utopia on the dancefloor. Cristina Camargo's furiously insistent "Moral Tem Hora," Carlos Dafé's blaxpoitation soul scorcher "Escorpião," and Rabo De Saia's triumphant anthem "Ripa Na Xulipa" would burn up dancefloors as effectively today as they did when they were released.
Pat Kalla & Le Super Mojo
Jongler
Merch for this release:
2 x Vinyl LP, Compact Disc (CD)
Favorite's latest release is a dark horse album of the year contender. Pat Kalla, a Lyon native born to a Cameroonian father and a French mother, cut his teeth as a member of the Voilaaa family—his tracks are some of the best on the aforementioned Des Promesses. But his debut LP heralds the emergence of a truly monstrous talent. Jongler modulates between at least half a dozen genres of African music—including Ghanese high-life, Angolan Semba, and Cameroonian makossa—but Kalla's voice never gets lost in the fray. Here, he sings, barks, and raps with equal agility.
The lo-fi lope of "Laissez-moi danser"—which recalls the brutalist ballads of Angolan singer Bonga, the most successful Semba artist of all time—and the rumba rave-up of "Jongler (mathématiques)" are two standouts, but there are few fallow periods on these 12 songs. Pat Kalla emerges fully formed.