LABEL PROFILE
Dancing Cat's Slack Key Guitar Masters Series Preserves Hawaiʻi's Musical History
By Shy Thompson · February 24, 2021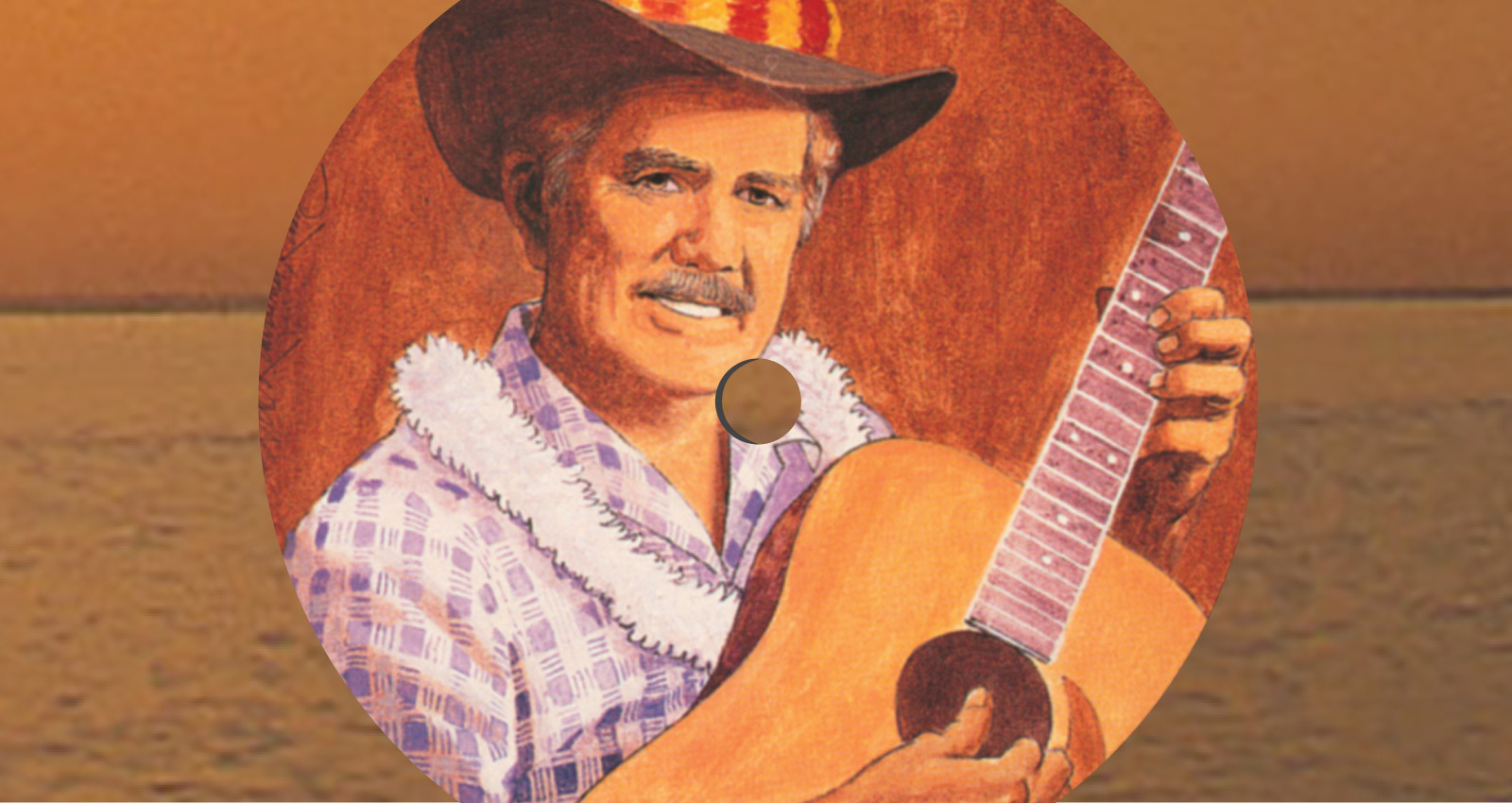 The first time American pianist, composer, and Dancing Cat label founder George Winston went to Hawaiʻi to play a concert in 1982, he hit up the legendary—and unfortunately now shuttered—record store House of Music and loaded up on Hawaiian records to ship back home to California. "I went next door to the grocery store and got two shopping carts," he says, knowing he'd stumbled upon a veritable mountain of treasures. "It was just some kind of intuition; get two of everything, whether I know them or don't know them."
Winston ended up bringing over a bunch of records that couldn't be obtained on the mainland at the time. "Even 'Honolulu City Lights' wasn't here," he notes—a song that is a popular touchstone of Hawaiian culture and which swept several categories at the Nā Hōkū Hanohano Awards, Hawaiʻi's premier music award show, in 1979. His collector's instinct helped deepen his love for the music of Hawaiʻi, and Winston soon developed a reputation as the guy with loads of Hawaiian records who occasionally helped source material for reissues on other labels—chief among them HanaOla Records, producing reissues of the oldest recordings from Ray Kane and Leonard Kwan.
Winston had learned of slack key—the indigenous fingerstyle guitar from the Hawaiian islands, so-called because each string of the guitar is tuned down, or "slacked"—from a 1975 article by Hawaiian music scholar Keith Haugen in Guitar Player Magazine that functioned as a comprehensive primer, listing players, tunings, and select recordings. Winston's interest was piqued and he wanted to hear everything. "This felt like scratching the surface," Winston says. "I was sure there was more."
Winston returned to Hawaiʻi in 1985, and began seeking out slack key players by looking up names in the phone book. "The first person I got hold of was George Kuo," he says. "George introduced me to Leonard Kwan, Ray Kane, Sonny Chillingworth, Dennis Kamakahi—that started with the phone book." Everyone Winston spoke with would put him in contact with someone else, until he had a sprawling network of connections—and he'd ask each of these artists to record their own unique flavor of slack key guitar.
"All the records were with trios and accompaniment, but I knew that all the players play on the porch at home all the time," Winston says. Understanding that there was a more solitary element to slack key, one of intimacy and appreciation for home and culture, Winston thought it essential to preserve that aspect. "Slack key tradition began around 1830, but the first notes of slack key playing on record were not until 1946 with Gabby Pahinui. So it was this deep part of the culture, but it wasn't the recorded thing."
Dancing Cat's Slack Key Guitar Masters series proved invaluable in preserving Hawaiʻi's musical history, the documentation of which had been on the decline before Winston had even begun his work. Slack key greats Gabby Pahinui and Atta Isaacs had already passed away before he'd even stepped foot in Hawaiʻi, and only six of the artists he'd recorded are still living. "It was all such a privilege," he says of being able to meet these artists in the right place and at the right time.
Despite the incredible work he's done, Winston prefers not to talk himself up, referring to himself as a simple librarian. "If I know something, I want to make it so somebody else can find that and not have to do what I did," he says. "You need photographers, but the photographer is not it." Dancing Cat Records is a roll of film, and each release is a snapshot in time framed by someone with the persistence to point the camera at as many things as he could. There are, to date, 39 recordings in the Slack Key Guitar Masters series—let's take a look at some highlights of that vast photo album.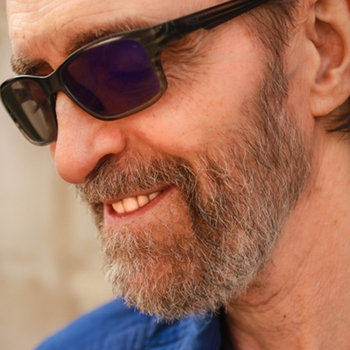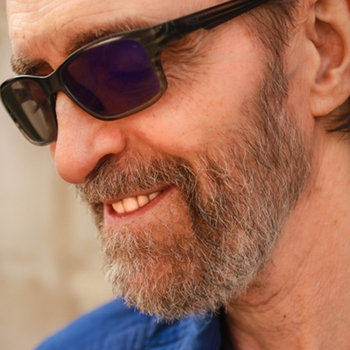 Merch for this release:
Compact Disc (CD)
One of the earliest recorded slack key greats, Ray Kane learned his style of playing from some old guys at the age of nine. "This fella from Makua Ranch, he brought his guitar down on weekends," Kane recalls in Punahele's liner notes. "It was hard to convince the old folks to teach me. They liked their fish and I was a good diver to catch the fish, so we traded. I caught the fish and they taught me slack key."
Kane took a break from playing the guitar to serve in the military in the '40s, but would be inspired to pick it back up upon the release of Gabby Pahinui's "Hiʻilawe," the first pressed recording of slack key guitar playing. Kane would be the first artist to perform a solo slack key concert—in 1973, at the University of Hawaiʻi in Honolulu—and he was also the first artist to record for Dancing Cat. Winston recorded at Kane's home in 1985, when he was so gravely ill that those around him were unsure how long he'd survive.
Kane would, fortunately, make a recovery and live on as an ambassador of the slack key style, playing and teaching others as he had been taught at a young age, until his passing in 2008, at the age of 82.
Keola Beamer comes from a family with a long and storied musical tradition. His great grandmother, Helen Desha Beamer, was a songwriter responsible for several Hawaiian standards; his grandfather, Pono Beamer, was a noted composer; his grandmother, Louise Beamer, was a renowned hula teacher. Keola has quite a lot of accomplishments in his own right, having written the aforementioned hit "Honolulu City Lights" and performed it alongside his brother Kapono (who also had a massive solo career), among others too numerous to list. "That's part of being in the Beamer family," he says, "trying to live up to your own heritage."
Beamer is skilled in adapting Hawaiian standards into the lens of contemporary popular music—as he did on his first album with Dancing Cat, Wooden Boat—but he's no slouch as a solo guitarist either. He explores a gentle, saccharine style of playing on Moeʻuhane Kika that focuses on making the unique timbre of his custom guitar really sing. You can see the unusual design of his guitar on the cover; there are two sound holes placed high up on the instrument, rather than one in the center. "This frees up six more inches of sound board to vibrate and produce sound," Beamer says.
These days, Beamer pays it forward by offering lessons. He's written a book regarded as a foundational text for any aspiring slack key player, and considers preserving the "old style"—as slack key is sometimes called—to be one of the greatest joys of his life.
Merch for this release:
Compact Disc (CD)
Cindy Combs, unlike most slack key masters on the Dancing Cat roster, was not born in Hawaiʻi. Combs's parents, homesick for the island of Oʻahu where they once lived, jetted to Honolulu from where they'd settled in the Canary Islands and never looked back. Attending Honolulu's historic Royal School, Combs was inspired by her music teacher to pick up the ukulele, and also learned guitar by borrowing one from a neighbor.
The defining moment for Combs that set her on the path for slack key was a fateful day in 1971, when she saw an ad for lessons, taught by none other than Keola Beamer. "I could hardly believe the synchronicity of it," she said. "You know that feeling that this was meant to be. I got on the phone right away and wound up taking six lessons in six weeks."
Still in love with slack key and still playing to this day, Cindy Combs has only deepened her relationship with the old style since taking those lessons, and composes her own music mostly paying homage to her current home of Kauaʻi, where she has lived since 1985. She is especially proud of Slack Key Lady, a record that puts her love of the place she calls home and of the music she's lived with for most of her life front and center.
Merch for this release:
Compact Disc (CD)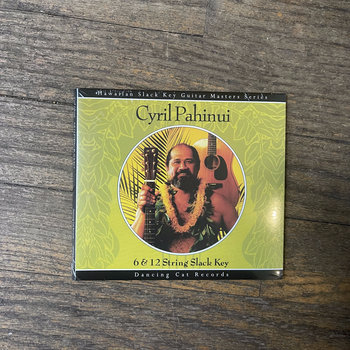 Cyril Pahinui, son of the legendary Gabby Pahinui, seemed destined to become a slack key player from birth. Music was always around him, and he first held a guitar in his hands at the age of seven. One of Gabby's closest friends, the equally venerable Atta Isaacs, was just as much a mentor to Cyril as his father was. Isaacs, known for being a great improviser, inspired Cyril to develop his own ability to pull beautiful music from the air around him.
Like Ray Kane before him, a call to military service in the '70s got between him and the style of music he loved, but he returned with a drive and passion for slack key that was stronger than ever. He performed on four of his father's studio albums along with his brothers Bla and Martin, both of whom have also recorded with Dancing Cat.
6 & 12 String Slack Key Guitar is his first unaccompanied solo recording—it shows he could hang with his father in terms of skill, and establishes the individualism in his own technical and disciplined style of slack key. Cyril would pass away in 2018—a year after Martin and a year before Bla—but the Pahinui family has left a legacy behind that will live in the Hawaiian consciousness forever.
Sonny Chillingworth
Sonny Solo
Merch for this release:
Compact Disc (CD)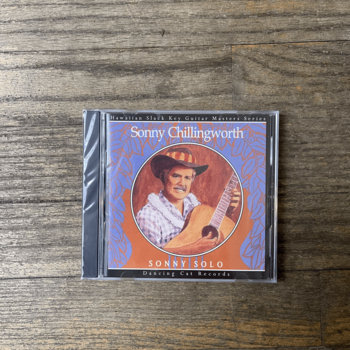 Sonny Chillingworth is one of the greatest guitarists to ever live—slack key or not. Chillingworth was affectionately dubbed by those that knew him as the Waimea Cowboy due to his signature song, a rendition of a tune bearing that name by Hawaiian hula crooner Bill Aliʻiloa Lincoln. He harbored a deeply personal respect for the paniolo (Hawaiian cowboy) tradition. He learned many of his favorite tunes from family friends, his grandfather, and his uncle Harry Purdy, Jr.—a paniolo from the famous Parker Ranch who bestowed upon Chillingworth knowledge of the oldest style of slack key inherited from the Mexican vaquero. A paniolo through and through, he was rarely ever seen without his cowboy hat.
Chillingworth had a wide range of musical influences, playing everything from bossa nova, Mexican standards, and numbers by Elvis Presley in addition to Hawaiian slack key. One of his most famous songs, a Portuguese folk song—sung in Chillingworth's distinct bone-chilling baritone—is one of the only known examples of traditional Portuguese music played in a slack key style. Chillingworth learned the song phonetically through one of his uncle's poker partners, shadowing the lyrics repeatedly until his pronunciation was spot-on. He'd often lead into the song at shows by asking "How many Portuguese we got in the house?" People in attendance at Chillingworth's shows have noted that this gesture helped many of the Portuguese diaspora in Hawaiʻi feel at home.
Late in his life, when Chillingworth started to become ill in a battle with cancer, he searched for students to pass on what he had learned. He took on several protégés, including George Kuo and Ozzie Kotani—both of whom would grow into great slack key players in their own right. "I'll never forget the patience and kindness Sonny showed me," Kotani says. "There's no question why I'm so committed to teaching." Kotani, now an instructor at the University of Hawaiʻi, had that spirit of sharing the tradition of slack key instilled upon him, at least partially, by Chillingworth. The Sonny Chillingworth heard here on Sonny Solo, recorded for the first time with no accompaniment, is the Sonny heard by his friends, collaborators, and students—the Sonny who loved what he made, what he'd become, and above all, where he came from.