LABEL PROFILE
The Many Chapters of Chapter Music
By Jude Noel · November 29, 2022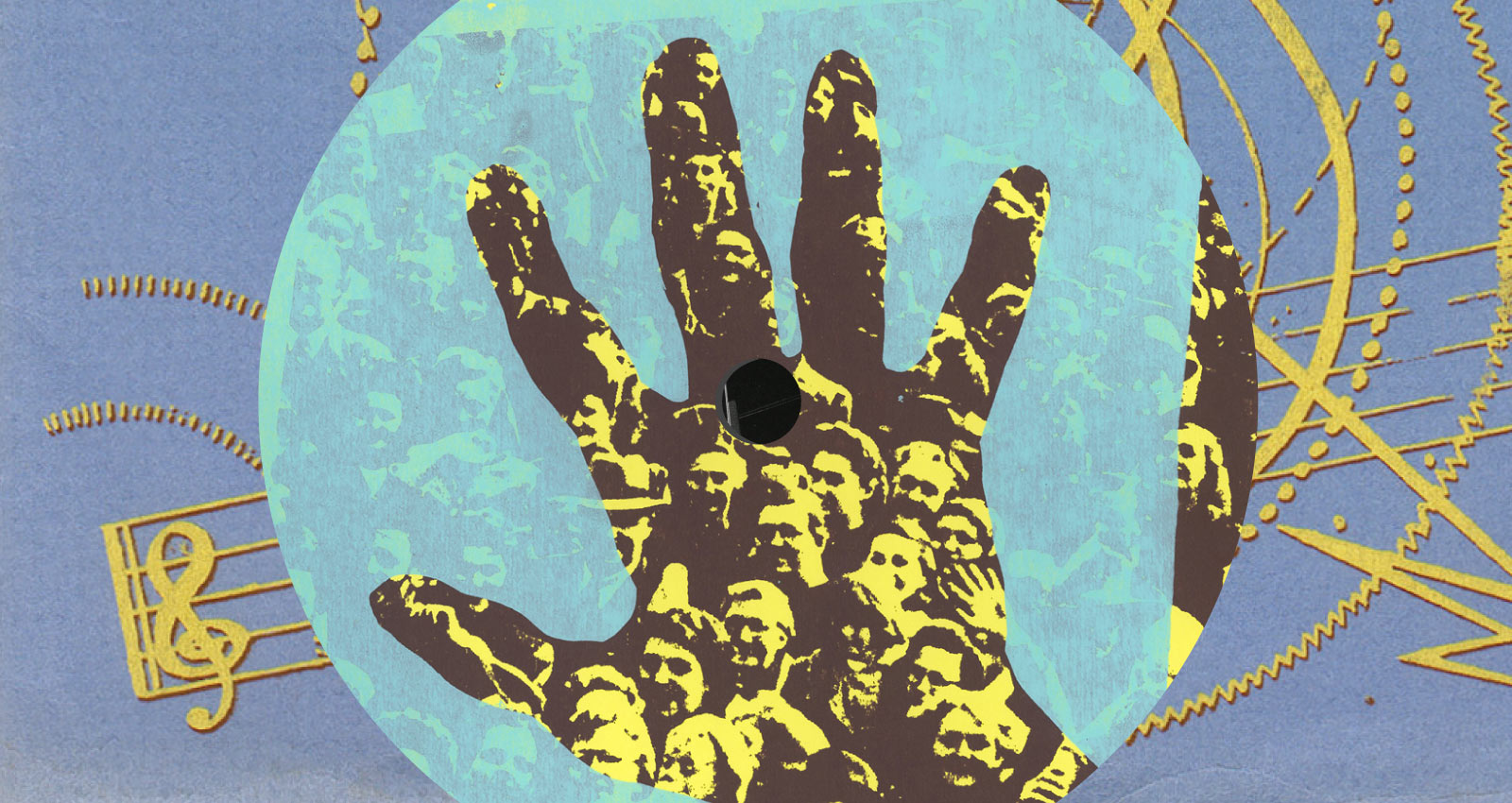 Founded on a whim in 1992 by a teenage Guy Blackman, Melbourne, Australia's Chapter Music label has grown into one of the country's most prolific and influential purveyors of independent music, introducing artists like Twerps, Kath Bloom, and The Goon Sax to an international audience. Though perhaps best known for incubating a local movement of shambolic indie pop marked by jangling melodies, deadpan wit, and glimmers of psychedelia, Chapter's rich catalog offers so much more than scrappy guitar pop. Over the past three decades, Blackman and his partner Ben O'Connor have championed a wide range of artists and styles, curating a compilation of the first wave of openly gay songwriters, reviving the surreal punk ethos of mutant disco, and pressing the occasional house record.
"At the start, Australia was really kind of a rock culture, super masc. Both of us being queer, the wider alternative could be pretty alienating," says O'Connor. "Part of the appeal of the label then, even before I knew Guy, was that it didn't seem masc or overly rockist. There were more interesting things going on. There were women in most of the bands."
"I guess we kind of shied away from bro culture," says Blackman. "I loved Nirvana and Mudhoney, but I didn't really like what came after those early grunge bands like Pearl Jam. I guess we were pop kids and twee kids at heart, showing the softer side of music and innovative new ideas. And from the outset, we were very much about avoiding music made just by all men."
Chapter was originally conceived as a Syd Barrett fanzine called Chapter 24, named for the ninth track on Pink Floyd's The Piper at the Gates of Dawn. Blackman, who was 17 years old at the time, planned to bundle a cassette compilation of bands that had formed in his native Perth with the zine's fourth volume. Though issue four never saw the light of day, the tape, titled Bright Lights, Small City, dropped in a small edition of 100 in 1992.
"There was a really strong response," says Blackman. "Perth was such a small town that if anyone got off their ass to do anything, people took notice. And I enjoyed it so much that I wanted to make it into a real thing."
Grunge and shoegaze were both in full swing at this point, and thus this brief snapshot of Perth's scene was coated in a thick layer of grime. Bands like Mustang! and The Violet Slide emulated the scorched timbres of My Bloody Valentine or Dinosaur Jr., though flashes of mellow twee pop broke through the crust. This Side of Bearable's "Simple World" and Glum's "Edward's Day Out," for example, culled things back to the trebly acoustic guitar and keyboard that would soon define Chapter's first batch of releases.
The next year, Chapter released its second compilation: a collection of Sonic Youth covers by local lo-fi bands.
"I was thinking about what I could do to grab people's attention," says Blackman. "Tribute albums were such a big thing during the early '90s, and I knew everyone liked Sonic Youth, including me. I actually got to meet Sonic Youth because of that. When they came to Australia on tour, I was introduced to them to play some of the songs on the tape. I was still 18, so I was pretty shy and green. I'm not sure if they liked them but it was pretty fun."
---
Chapter One: The Early Years
After pressing the label's initial handful of cassette compilations, Chapter made its first forays into vinyl, usually releases from groups composed of Blackman and local friends.
"I guess it was a pretty small scene in Perth," he says. "If I wasn't in the band, I'd be playing guest keyboard. At that time, nobody had jobs in Australia. The country went through this idyllic period where you could be on unemployment and make music. I was basically doing music, fanzines, and student radio full time."
"Everyone considered it a sort of government arts grant," adds O'Connor.
Blackman's first band, the short-lived quartet Sulk, made their debut on the aforementioned Kill Yr. Idols with a cover of Sonic Youth's "Kissability" that transformed the squealing noise rock song into a cozy slice of chamber pop, with flute and violin weaving through acoustic fingerpicking. The band would release its lone Dog Swamp EP in 1996 after parting ways when Blackman relocated to Melbourne.
Sulk shared its barebones ethos with the stripped-down amateur pop put out by Blackman's beloved K Records around the same time, albeit with a folksier twist. Joined by string-playing siblings Bernard and Vivienne Langham and singer Gayle Marshall, Blackman set an unabashedly saccharine tone for Chapter releases to come. Opener "Stubblerash," an ode to facial hair, is a brisk stroke of pop brilliance, adorning its jittery rhythm section with ridiculous cartoon sound effects, a searing guitar solo, and a final burst of chord organ over the course of 90 seconds.
The Cannanes / Sleepy Township
Split
A collaboration between Blackman's Sleepy Township and Australian indie pop pioneers The Cannanes, who'd existed for almost 12 years by the time of this release, this untitled 1996 split single features some of each band's rawest work. The Cannanes' three contributions to the 7-inch each explore wildly different sounds. "Price You Pay" is a deep-fried blend of bass and keyboard; "Tennyson" wrings heartbreak from electric guitar chords and drums; and "Platypus" pairs digital bleeps and bloops with crunchy hi-hats for a final boost of manic energy. On the flip side, Sleepy Township lay down three tunes driven by frenetic power chords and melodic basslines: simple, but incredibly catchy.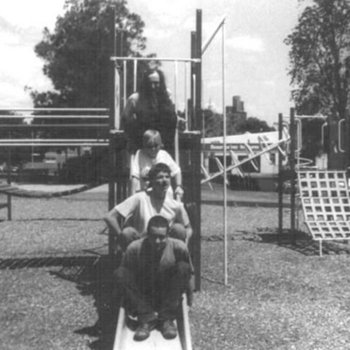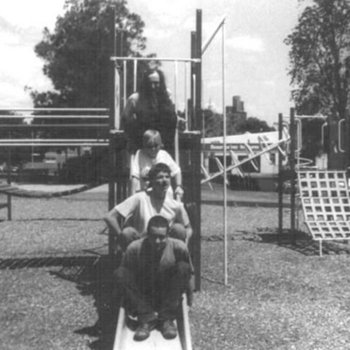 Fronted by the late Bek Moore of self-proclaimed "kiddy punk" band Clag, Above Ground Pool specialized in droning garage rock that seemed to phase in and out of focus like a malfunctioning camera, treating the rules of music theory as a mere suggestion. Woozy songs like "Bolger Cupcake Dynasty" and "Alien Invasion" toy with dissonance and tension like early Sonic Youth but with Beat Happening's sloppy rhythmic abandon. There's a surplus of charm buried beneath the sludge.
Merch for this release:
Compact Disc (CD)
Chapter got into the reissue game early on, pressing a retrospective compilation of recordings by Sydney post-punk legend Andrew Wilson and an expanded edition of Essendon Airport's 1978 EP Sonic Investigations of the Trivial, a cutting-edge collection of lo-fi jazz music that fused lounge music's comfy timbres with the madcap experimentation of the no wave movement taking place stateside.
"Living in the '90s, it was this golden age before eBay," says Blackman. "Your old records would turn up in record stores for a dollar. We discovered that there was a history of Australian post-punk music in the late '70s and '80s that just had no value placed on it. It was rare and revelatory music that we thought deserved an audience."
"I distinctly remember the day that I bought the Essendon Airport record," says O'Connor. "It was just crazy to know that that kind of music could come out of Melbourne, and we hadn't heard about it before. We wanted this culture that had been forgotten or ignored to have its place in history."
The 2002 release kicked off a partnership between Essendon Airport and Chapter Music that continues to this day. The band briefly reformed for a few live performances the following year, and co-founder David Chesworth has released three archival records under his own with the label since then. The duo's most recent recording, a 7-inch single written alongside vocalist Anne Cessna, dropped in September 2022.
---
Chapter Two: Guy Blackman in Japan
After celebrating Chapter's 10th anniversary with the label's 2002 Double Figures compilation, Blackman and O'Connor put the label on a brief hiatus, relocating to Tokyo on a whim.
"We were inspired by this psych folk music we were hearing in Japan, and I'd been there a year or two before on the way to America to play a show, so I think that was part of it," says Blackman.
The couple taught English part-time for four hours a day to make money but spent most of their time engrossed in the local pop underground, catching as many shows as possible.
"It was this magical, psychedelic folk world where these bands would have shifting lineups," says Blackman. "Every show would be different, the instrumentation and arrangements always changing. It had a really lasting impact on us."
Though Double Figures was originally slated to be Chapter's final release, Blackman and O'Connor were so inspired by their surrounding D.I.Y. subculture that they re-launched the label in 2005, starting with Songs for Nao: a compilation of the Japanese bands that they had grown to love over the course of their two-year stay.
Merch for this release:
Compact Disc (CD)
Not unlike the music Blackman made with Sulk back in the mid-'90s, many of the bands featured on Songs for Nao specialized in minimalist, deconstructed chamber pop, decorating their shambling songcraft with horns, strings, and melodica. Yumbo's "Cake" recalls Belle & Sebastian with its cute harmonies and jazzy piano, while bands like Eepil Eepil and Puka Puka Brians take things in a more surreal direction, employing distorted garage guitars and dissonant riffs.
The final and most famous group featured on Songs for Nao, Tokyo duo Tenniscoats released their first compilation of live recordings, Live Wanderus, in 2005 on Chapter Music. Featuring a revolving cast of backing band members, the record demonstrates the band's ability to maintain a constant state of flux without sacrificing their music's tranquil beauty. Excerpts from seven different shows over the course of three years appear on Live Wanderus, ranging from motorik dream pop ("Rapid Rally") and scuttling free jazz ("So Simple") to amorphous drones ("The Ending Theme") and solo piano improvisation ("Aurora Curtains").
"In Melbourne, there definitely was a crossover between what we were doing and more experimental scenes in Melbourne," says O'Connor. "But in Japan, I don't think I'd ever seen this kind of meshing of live experimental music with traditional songwriting and pop sensibilities."
Merch for this release:
Vinyl LP, Compact Disc (CD)
Blackman and O'Connor returned from Tokyo in 2004 with renewed energy and gradually resumed putting out new material emerging in Melbourne's scene, including records by Lakes, Pikelet, and Crayon Fields. The latter's 2006 debut album Animal Bells is a well-constructed work of '60s bubblegum pop revivalism, chiming guitar riffs cutting like sunshine through an overcast organ. Dripping reverb and densely layered, the record's rich harmonies are warm and nourishing: soul food for psych aficionados.
---
Chapter Three: Enter the Blogosphere
By the mid-aughts, Blackman and O'Connor were both in their thirties and ready to take running their label a bit more seriously.
"Ben and I have been a couple since 1995," says Blackman. "Ben has been involved with running the label since then, when I moved to Melbourne, but we officially started becoming partners in the label in the late 2000s. It made a big difference. Suddenly, it wasn't just me by myself. Having two people working on things opened up all of these possibilities."
At the same time, indie rock's blog era was in full swing, helping expand Chapter Music's reach across the globe.
"I think [music writer] Marc Hogan came out to Australia and saw some bands at a festival. Crayon Fields was one of the ones that really took his fancy," says Blackman. "It was a kind of golden era where there was a real music media, and being from Australia added a little bit of exotic allure to what we were doing. We'd stay up until three in the morning emailing all of these blogs in the U.S. so they'd receive our emails when they woke up. A lot of our bands started touring overseas as well."
The transition from the aughts to the teens produced some of Chapter's most beloved bands, like Dick Diver, Twerps, and The Stevens. This wave of droll, jangly guitar groups inspired by The Go-Betweens and their Flying Nun forebears was affectionately dubbed "dolewave" by the Australian press: a term Blackman and O'Connor found funny but ultimately off the mark. Beneath their lo-fi surface, there was more to these bands than their perceived slackerdom.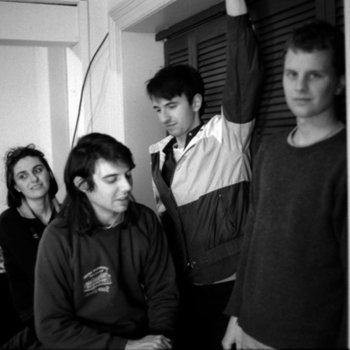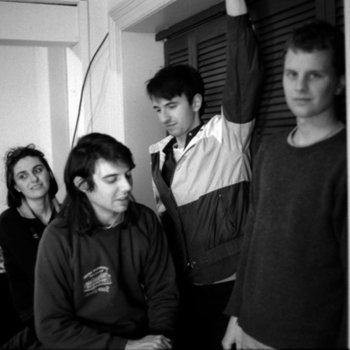 Released as a 7-inch EP with 3 extra tracks on a bonus CD, the debut release by Melbourne quartet Dick Diver threads jerky surf rock guitars over loose-mid tempo low-end—an unassuming default palette that makes the record's scuzzy crescendos hit all the harder. "Tender Years," Arks Up's longest offering, kicks off with laid-back rhythm guitar and dreamy spoken word vocals before making an extended instrumental detour. A solo quietly surfaces, building to final throes of feedback and distortion that seem to rip through the mix. Dick Diver may jangle, but their instrumentation can bite hard when it needs to.
Stripping guitar rock back to its simplest elements, the first full-length record by Melbourne's Twerps feels indulgent in its sense of ease, its breezy chord progressions and staccato riffs as alluring as a mid-afternoon nap. Each element of the quartet's sound is slathered in its own treatment of echo, reverb, and delay, forming an aqueous, droning sound that ripples and warps with each beat. Songs like "Bring Me Down" and "Who Are You" center around chummy full-band sing-alongs you can't help but join in. Even when the prevailing mood is glum, Twerps make you feel as though you're not alone in your angst.
Hit the Jackpot
Holiday
Based in Adelaide, Hit the Jackpot spent the better part of the 2000s making twangy, impassioned indie pop in the Beat Happening mold. 2011's Holiday was the band's final full-length album and their only outing as a quintet. Though a bit louder and more expansive, the band's sound retains its rough-edged charm—chords clanging haphazardly, bells jingling in step with the drums, and coy vocals peeking out from the crest of the mix. From an unenthusiastic Christmas carol to the snarling rock 'n' roll of "I Don't Know," Holiday succeeds at creating brilliant pop music through brute force alone. Forget theory or polish: Hit the Jackpot strum and drum with enough frenetic energy to override the rules.
---
Chapter Four: Strong Love
Entering its third decade, Chapter continues to release a diverse array of music at a steady clip, putting out manic garage rock, minimalist synth-pop, and acid-washed prog amid their usual brand of twangy post-punk.
"We've never wanted to have a signature Chapter sound," says O'Connor. "In the '90s, we were going to jangle pop shows, [but] we were also going to raves or to see experimental musicians. It's really just about music that we like or what speaks to us."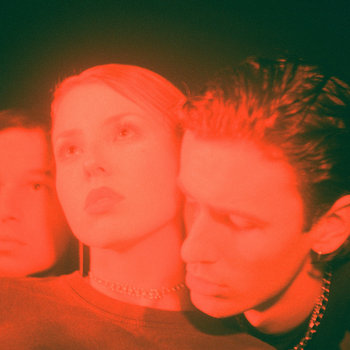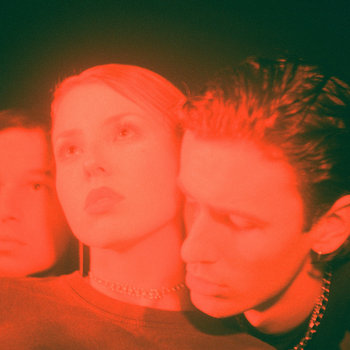 Merch for this release:
Compact Disc (CD), Vinyl LP
Brisbane trio The Goon Sax were the first band to ever sign to Chapter Records after submitting an unsolicited demo: a feat that's all the more impressive considering that each of its members were still in their mid-teens at the time.
"We were blown away from the moment we pressed play on the two tracks they sent us," says O'Connor. "Kids that young from Brisbane were writing fully-formed songs and just seemed to know what they were doing."
"From the minute we heard it, we knew 'Boyfriend' was an all-time pop classic," says Blackman. "Straight away, we needed them to do an album."
Mixed cleanly and instrumentally uncomplicated, Up to Anything's brilliance lies in the band's understated lyricism, which largely revolves around adolescent ennui. There aren't many opening lines as immediately gripping as "Couldn't work at Target; the only color shirt I wear is blue." The band has a knack for turning mundane imagery—work uniforms, haircuts, convenience stores—into heart-wrenching metaphors that seldom sound cloying or overwrought.
Merch for this release:
Vinyl LP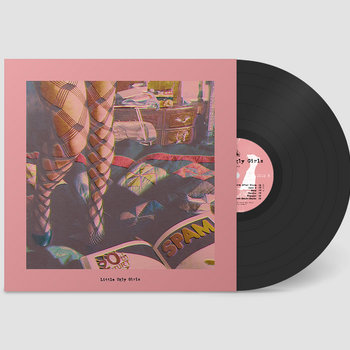 Formed in the early '90s, Tasmanian riot grrrl outfit Little Ugly Girls developed a cult following for their punishing, feedback-laden sound, yet never managed to release an official studio album until 2018, when Chapter Music released the band's self-titled debut. The LP was written and recorded sporadically over the course of two decades, but its anarchic energy remains consistent throughout, anchored by frontwoman Linda Johnston's barked, run-on rants.
"We saw them live a lot in the '90s and early 2000s," says O'Connor. "That album is an extremely important Australian record. Linda is a frontperson on par with Nick Cave, Robert Forster, or any of the great Australian frontpeople. If somebody picks it up in 50 years' time, it's still going to have the same kind of power and visceral heft."
Merch for this release:
Compact Disc (CD), Vinyl LP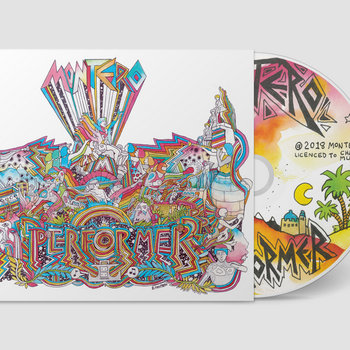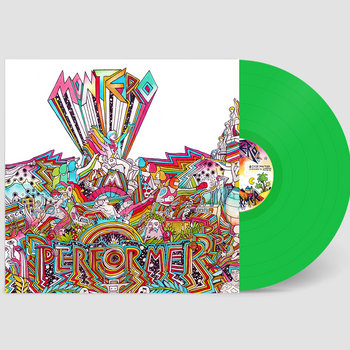 Best known for his heartfelt cartoon art that prominently features anthropomorphic frogs, songwriter Ben Montero is a master of psychedelic songcraft, penning ambitious and colorful epics in the vein of Todd Rundgren or late-period Beatles. Chapter Music released his sophomore album Performer in 2018, but he and the label go back much further.
"He used to live here in Melbourne," says Blackman. "We met him on the tram. He was wearing a Beach Boys t-shirt or something, and we started chatting. We've been friends ever since. I ended up playing as a keyboardist in Montero, and the first album came out on another label with me in the band. When it came to making the second record, we put our hands up to be involved."
Merch for this release:
Vinyl LP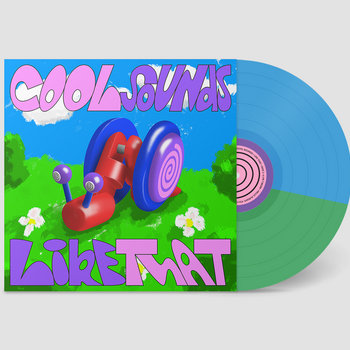 True to their name, Melbourne's Cool Sounds have never shied away from exploring whatever new musical idea sparks their interest, dabbling in dream pop, classic country, and jagged new wave over their prolific eight-year career. Like That, their sixth album and first with Chapter, indulges the band's funkiest instincts, riding jerky dance-punk rhythms that recall Talking Heads at their silliest.
"It's such a bright, fun, infectious record," says O'Connor. "The arrangements are actually quite unusual, and it's lyrically quite avant-garde as well. Nobody could have made that record apart from [frontman] Dainis Lacey."