LABEL PROFILE
Canary Records Preserves Sounds from Early 20th Century American Immigrant Communities
By Liz Ohanesian · January 07, 2021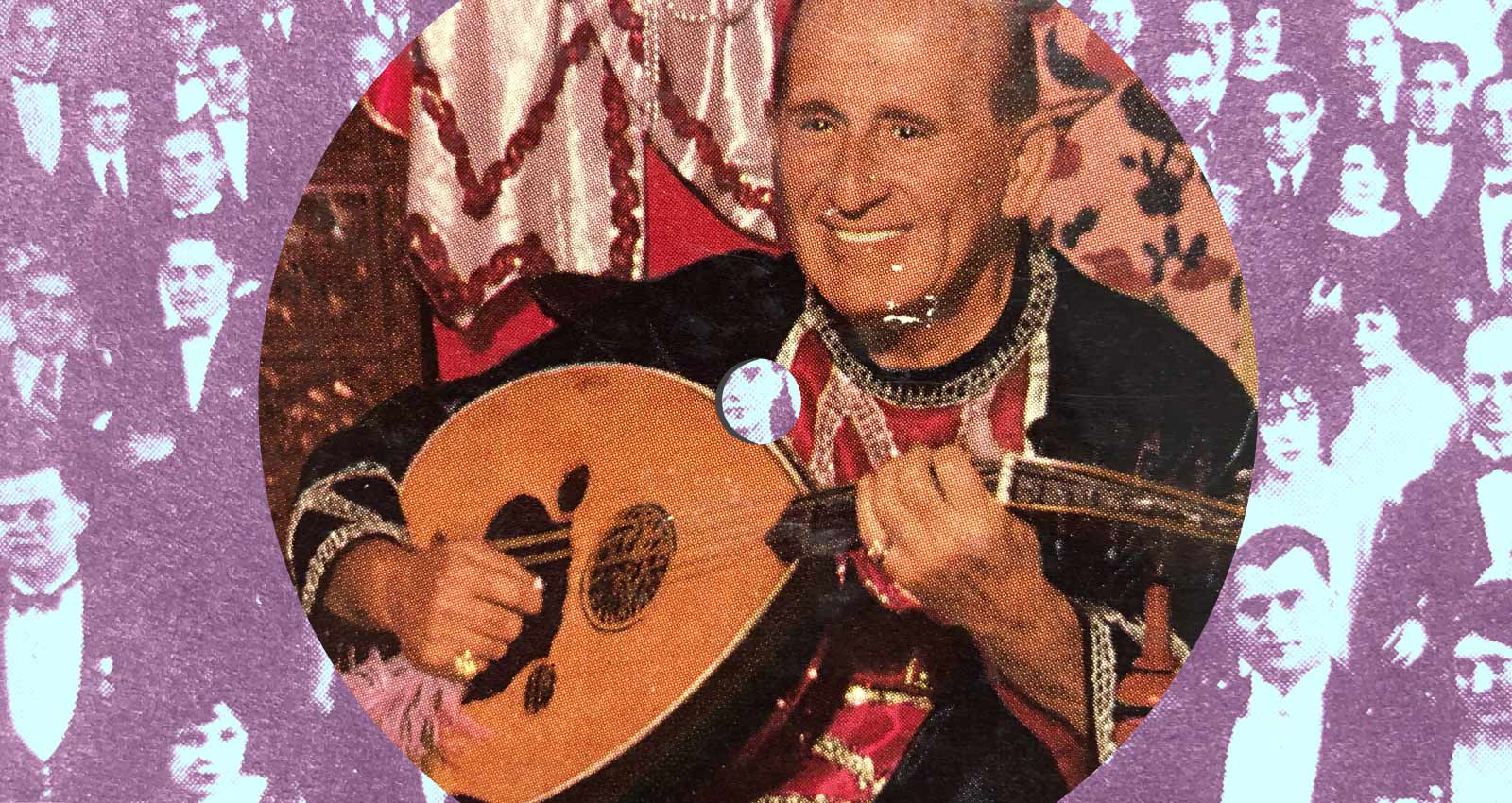 Back in the 1990's, while picking through stacks of 78 rpm records at flea markets and garage sales, Baltimore music aficionado Ian Nagoski came across loads of albums recorded in languages other than English. "I knew nothing about them, and there was no way to find out anything about them, it seemed," he says. Eventually, he would learn a lot—not just about the artists recording in the first half of the 20th century, but about the history of immigration to the United States.
Canary Records, which Nagoski launched in 2009, focuses on vintage U.S. recordings, some of which are now over a century old. He takes a historian's approach to releasing music, researching the lives of artists and the eras in which the music was made, often in collaboration with others who share these musical interests.
Much of the label's emphasis is on music made by, and for, the immigrant communities that formed in the country between the late 1800's and early 1920's. Notably, the label's releases dig into the music of artists who came from what was then known as the Near East (today, the Middle East or South West Asia and North Africa, aka SWANA) and Eastern Europe. Over the years, Nagoski has spotlighted artists like singers Marika Papagika and Zabelle Panosian and oudist/singer Marko Melkon, presenting their biographies and music. 
Artists on these records often represent communities who were uprooted by traumatic events—war, persecution, genocide—and were later impacted by the wave of anti-immigration sentiments that took hold of the U.S. in the 1920's. In some instances, there is an activist angle to the artists, either through their lyrical content or documented performances at political events.
While Nagoski's initial interest sprung from easy accessibility (these were records that, while rare, were often found at very low price points), Canary ultimately coalesced as a historical project contextualizing America's musical heritage heading into the 20th century. There are stories in Canary's catalog about world events that shaped the country's growing population, musicians who were preserving their linguistic and cultural heritage in a new country, backed by a then-emergent network of independent labels. Outside of releasing the music, Nagoski has also written articles and given lectures on the artists and the history behind their work. He's currently working on a biography of Zabelle Panosian with co-authors Harout Arakelian and Harry Kezelian, intended for release later in 2021.
As Nagoski notes, there was a considerable amount of music recorded and released in the U.S. in languages other than English through the early 20th century, though that fact is not widely known in American music history. "America has such a weird relationship to the idea of immigration, that all this stuff got left behind," he says. "None of it got written into the story of who we are as Americans."
Here are ten releases on Canary which, quite literally, set that record straight.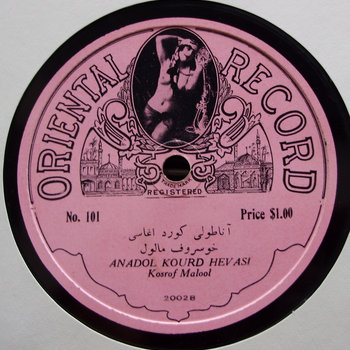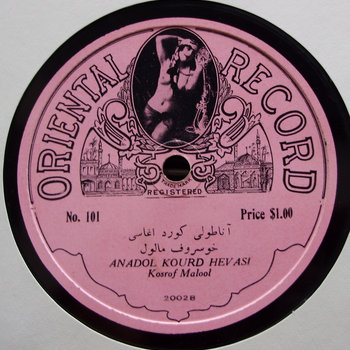 "With some people, you just find out whatever you can, and then you publish that and then you let it go," says Nagoski. That wasn't the case when it came to Marika Papagika. In the mid '00s, when Nagoski first began looking into the life of the Greek singer Marika Papagika, he found a three-sentence Wikipedia entry that said she died of heartbreak. "What does that mean, right?" says Nagoski. Over the years, he kept digging, as did other researchers. In between the release of Canary Records first Papagika compilation, The Further the Flame, The Worse It Burns Me, in 2010 and the recent collection, What Makes You Happy, they've found out a lot about her, like information on gigs she played in Egypt and performances at Greek political events in the U.S. Moreover, Nagoski got an answer to that question from his initial reading on Papagika: She died of heart disease at the age of 52.
Merch for this release:
Book/Magazine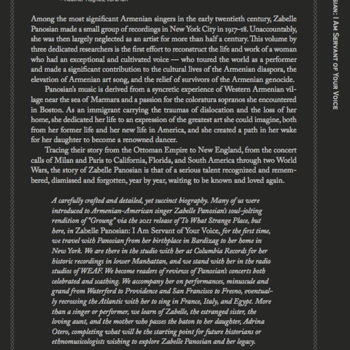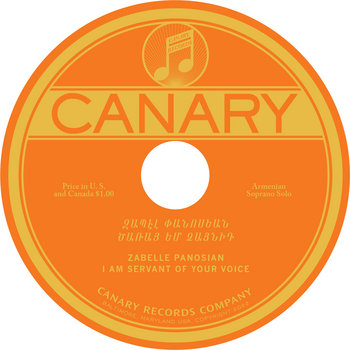 I Am a Servant of Your Voice, Canary Records' collection of work from Armenian-American soprano Zabelle Panosian, opens with "Groung (Crane)," a rendition of the song by composer and musicologist Komitas, a crucial figure in the history of Armenian music. Also known as "Krunk," it's a song that has been performed by many artists over the years. (Most recently, Zola Jesus released a version of it.) The biggest highlight, "Groung," was also her biggest hit; Nagoski surmises that it sold about 100,000 copies in its time. Panosian, who sang primarily in Armenian, had a powerful soprano voice with the ability to hold notes for so long that she could make songs sound as if they were carried through wind. The mournful tones in her voice, coupled with the vintage quality of the recordings, add ethereal layers to this handful of songs.
One name that comes up often in the Canary Records catalog is that of Marko Melkon. Not only is the oudist and singer the subject of two releases, he also appears as a side performer for other artists. Melkon (born Melkon Alemsherian) was an ethnic Armenian raised in Smyrna (today Izmir, Turkey) and lived and worked in Athens before immigrating to the United States. At the time of Hi-Fi Adventure in Asia Minor—an energetic, highly danceable album released just five years before his death in 1958—Melkon was a nightclub performer who frequently recorded with local musicians. "He just didn't make bad records," says Nagoski, describing Melkon as "the definition of a strong, solid player." For more insight into Melkon's work, give I Go Around Drinking Raki: ca. 1942-51 Recordings a listen as well. The singer has since became a point of fascination for Canary Records's founder. In addition to learning details of Panosian's life—we now know that she she toured Europe, and met Komitas—he's tracked down all of her releases, making I Am a Servant of Your Voice the most definitive record of her work to date. 

For the past decade, Nagoski has been working on an extensive compilation of music from the Me Re/Balkan/Metropolitan family of labels, which existed roughly from the late 1930's through the late '50s and released songs recorded in Turkish, Greek, Albanian, and Ladino. Since he's been trying to collect everything those labels released, there have been a few offshoots of the project, including No News From Tomorrow. The compilation includes the recordings of three women. Amalia Bakas was born into a Romaniote Jewish community in Ioannina, Greece, moved to the U.S. as a teenager in 1912 and spent decades working as a nightclub singer. Victoria Hazan was from Turkey, immigrated to the U.S. in 1922, and primarily sang at her synagogue. Sarah Behar, meanwhile, is a bit of a mystery; the two songs on the compilation are the only ones that she's known to have recorded. Nagoski says that there are three people with her name on census records of the time. "We just have no idea who she is," he says. "Five minutes of her voice, that's the sum total of the recordings in her life."
Merch for this release:
Vinyl LP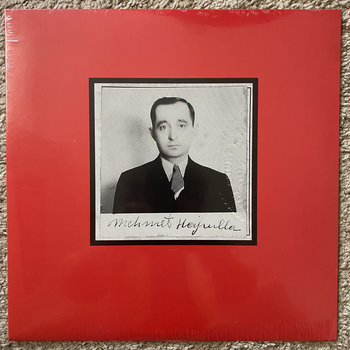 Quilted Flowers is another offshoot of Nagoski's work documenting the Me Re/Balkan/Metropolitan family of labels, specifically their output during the 1940's. Ajdin Asllan, himself an Albanian immigrant, was the founder of these labels. In addition to working with U.S.-based artists, he also released music from Albanian performers who would never release recordings in their home country. "They only got released in the United States for the tiny, Albanian immigrant community because it mattered to him," says Nagoski. This compilation includes music that originates in both Albania and northwestern Greece. "There's a lot of back and forth between Albanian and Greek music in that region," says Nagoski. Plus, he notes, the music is considerably different from what was played in and around the region's ports at the time. "It's really special because it evolved in its own geographical world. It lives in its own time," he says. "It's very peculiar and special. These records are not easy to get. I've been on the hunt for some years." The styles represented on Quilted Flowers are varied from vocal tracks like "Lule Sofo Djale Lule, gjinokatrite" by Z. Sadik that give an example of Albania's iso-polyphonic tradition to Z. Sabri Fehimi's violin-heavy instrumental "Kaba Me Violi, leskovikut." Throughout, you'll want to listen closely for drones and trance-like melodies.
While Victor and Columbia, the two major labels of the early 20th century, had released a lot of music in languages other than English, this practice was winding down by the 1920's. Columbia, Nagoski notes, had stopped releasing music in languages like Turkish, Arabic, and Armenian. The reasons for this are unknown, but, he says, "probably those records weren't selling like hotcakes." Meanwhile, the equipment needed to make records was becoming more accessible. That made it possible for some businesspeople to start their own record labels. These were small, independent labels that catered to specific ethnic communities. 
Very Sweet is the second in a two-part series dedicated to Armenian-American independent labels and focuses specifically on Pharos, an institution of East Manhattan's Murray Hill neighborhood, then known as "Little Armenia." One significant track on here is "Ouskeh Gukas (Where Do You Come From?)" by Nishan Keljikian with Gulazian's, which is a protest of the anti-immigration Johnson-Reed Act of 1924 that barred émigrés from Asia and greatly limited immigration from everywhere else. (The first part of this series, Oh My Soul: Armenian-American Independent Releases vol. 1: ca. 1920-25 includes work from several other indie labels located in or around New York and is also available on Bandcamp.)
Earlier this year, online radio station Elara.fm tasked Nagoski with making a mixtape, which he later decided to revise and release as I'm Gonna Give You Everything. The compilation picks up where his previous collections of independent records ended. He explains that, following the stock market crash in 1929, indie labels focusing on specific immigrant communities's music disappeared. By the 1940's, though, there was a resurgence. Not only were people releasing their music, he says, but they were importing (and sometimes bootlegging) records made outside the U.S. The result was a "huge proliferation" of music released during the '40s and '50s. Here, you'll find music recorded across the United States, from Watertown, Massachusetts, to Fresno, California. Where many of Canary's compilations are organized around specific recording locations, labels or performers, I'm Going to Give You Everything offers a bigger cross-section of recordings and ranges from dance-oriented pieces like "Mijwiz Dabka" from Sam (Semi) Sheheen and His Utica Ensemble and "Raks Araby" from Naim Karacand, to ballads like Waheed Karam's "Adishe Hiloo Lebanon" and Yenovk Der Hagopian's "Bulbuleh (Nightingale)."
Send Me the Bones is a compilation of recordings from Syrian-Americans who immigrated to the U.S. between the late 19th and early 20th century. Still, there's another common denominator connecting much of the music here, and that's violinist Naim Karacand. "He's the person that I fell in love with and it turns out is central to the story," says Nagoski. Karacand was born in Aleppo and immigrated to the U.S. in 1909. "He just played with everybody and he was one of the best violin players America ever had," says Nagoski. Karacand did receive accolades in his time, but his legacy faded with time. Nagoski compares him to Sami Al-Shawwa, the Syrian violinist who relocated to Cairo, became world-renowned as a pivotal figure in early 20th century Arabic music. The two had similar repertoires and styles of playing, Nagoski says, but in the case of Karacand, "America wouldn't remember."
One of Nagoski's ongoing interests is the music of Eastern Europe. "Where I live, you find heaping mounds of Polish and Ukrainian and Lithuanian and Ashkenazi Jewish records," he says, adding that it's not just in Baltimore, but in cities like Cleveland and Pittsburgh that are only a handful of hours away from him. The music here isn't what you might think of when you hear the world polka. While a common perception of polka is of accordion-driven music, on Canary Polka, the fiddle takes the center stage. Pawlo Humeniuk, a prominent fiddler of the 1920's and 1930's, plays on much of the album and has such an exuberant style that, at times, it sounds as if his instrument is laughing.
With a focus on early 20th century recordings, Canary Records has occasionally delved into novelty releases of those times, spotlighting old time trends like whistling and bird songs. He is especially proud of A Better Cure, which includes "Okeh Laughing Record," a hit release in 1922 that centers around three minutes of laughter. "A lot of people don't like it. It weirds people out," says Nagoski, "but it is a masterpiece." The compilation also features records that stemmed from the success of "Okeh Laughing Record," like "Okeh Crying Record" and "Contagious Coughs."