HIGH SCORES
"Assassin's Creed: Valhalla" Score Brings Two Video Game Music Giants Together
By Casey Jarman · January 12, 2021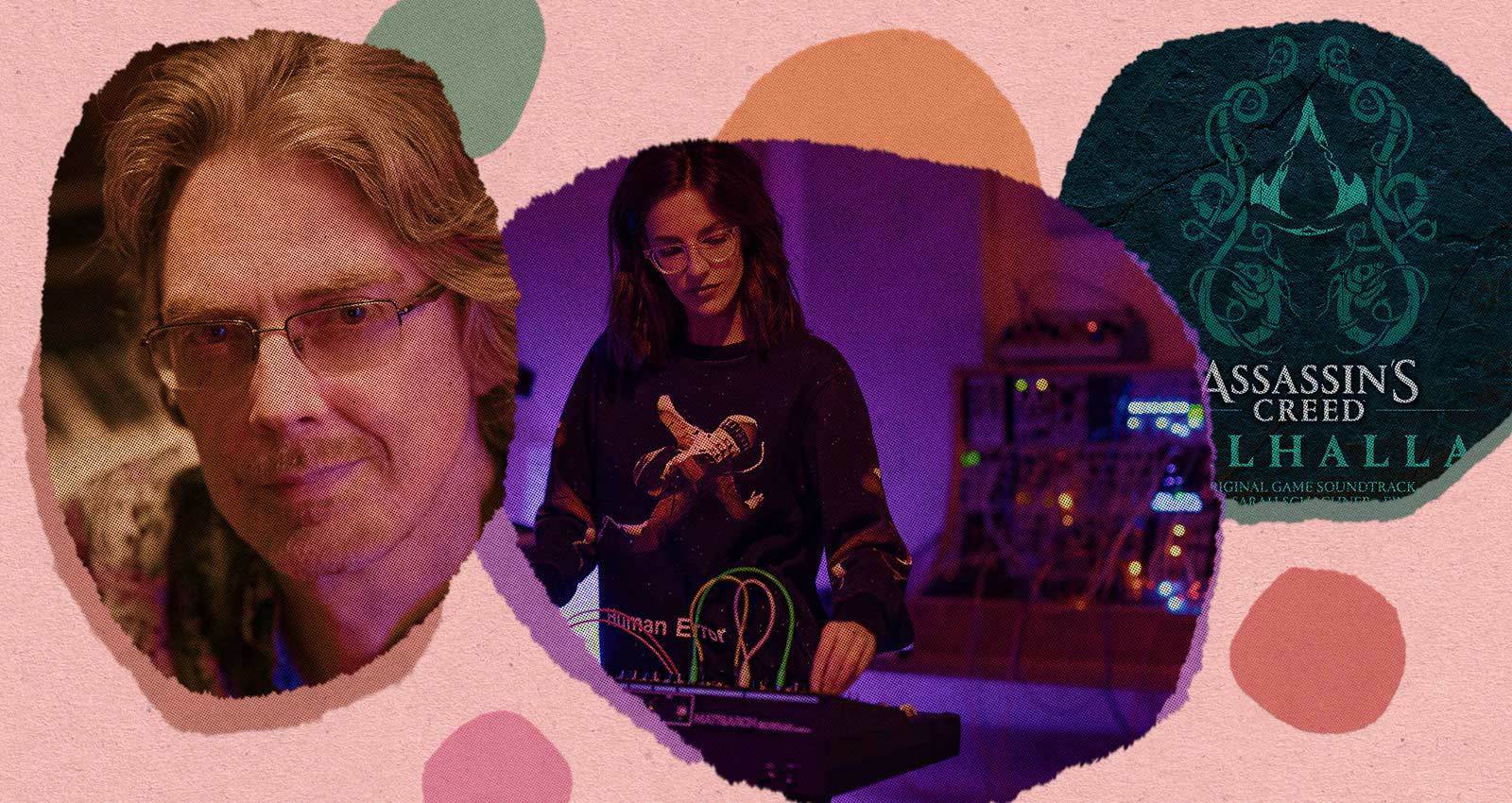 Few video game franchises have been as ambitious as Assassin's Creed. Across almost two dozen games in 13 years, it's taken players around the world—and across the centuries. And, because an epic game demands an epic soundtrack, the music is always big. Veteran Danish composer Jesper Kyd, an industry icon who has also helmed music for much of the Hitman and Borderlands franchises, pioneered the expansive Assassin's Creed sound across the series's first four entries. American Sarah Schachner, who has worked on four and helmed three Assassin's Creed titles (including an ambitious, globe-trotting score for the 2017 fan favorite, Origins), is also known for blockbusters like Anthem and Call of Duty: Modern Warfare. Both are known for bringing emotional depth and extraordinary production value to some of the biggest-ticket releases in the video games industry.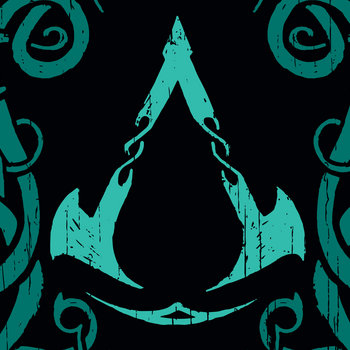 .
00:10 / 00:58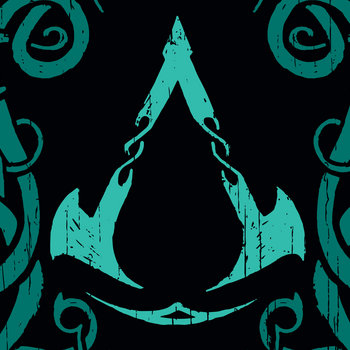 It tells you something about Ubisoft's ambitions for the recently released Assassin's Creed: Valhalla that it brought two composers synonymous with the series together to collaborate on the game's music. Set primarily in Viking-era Norway and England, Valhalla is a technically and narratively complex game that attempts to tie many of the series's story arcs together in a massive environment. Its music, which Kyd and Schachner created alongside collaborator Einar Selvik (also of the traditionally rooted, Nordic folk act Wardruna), reflects Valhalla's grandiosity. From Schachner's ethereal and soaring "Frozen Lands" to Kyd's haunting reinvention of the series's marquee song "Ezio's Family," the score—which is deployed in-game with admirable restraint that makes it all the more effective when it hits—is a blockbuster. It was also an incredible workload. Kyd notes that Valhalla, which was a global collaboration between 16 of Ubisoft's studios, features around eight hours of music in total.
We spoke with Kyd and Schachner via email about working on an iconic series, collaborating during a pandemic, and growing up with a viking ship in the backyard.
It seems like the Assassin's Creed series would be a dream in that each entry is so different, that the series's larger conceit (The Animus, a sort of meta VR layer on top of the games) provides a pretty good excuse to not feel 100% tied to traditional music. How did you find the sound of this game?
Sarah Schachner: The merging of old and new, ancient and modern is so interesting to me and I never get tired of it. Taking an ancient war horn that's thousands of years old, and smashing it through distortion on top of a bed of analog synths feels perfectly at home in the world of Assassin's Creed, and that's why I love it. Each time period and setting provides a totally new backdrop to play around in sonically. It's like getting to remix history.
Jesper Kyd: I set out to come up with a few rules to help sharpen the impact of the music. First of all, if the music instrument could have been invented in the Viking-era, I would use it. Examples of this are the metal drums, tagelharpa cello, and various percussion instruments like spring drums. I made sure to break this up by introducing the Animus elements, sprinkled in various intensities throughout the score. Also, I used the same type of instruments for many of the tracks and so synths, metal drums, solo string instruments, percussion, Viking horns, musical sound design, Eurorack, and vocals were my go-to sounds to add consistency to the music. I would break this rule here and there, to add more variation, but it was important to find a way to add cohesion to the music.
As a soundtrack, Valhalla is deeply melodic, really beautifully engrossing. Are these pretty faithful to what is actually in the game, or did you build the songs from elements used in the game specifically for the soundtrack?
Schachner: The released soundtrack is specifically curated to be the best listening experience as a standalone album, but the score functions very dynamically in the game. The exploration music had to also be able to function as light combat music, so there are certain instruments and layers that only come in if you get into conflict. It's like writing two pieces in one, because it still has to work and be interesting when half the stems are muted, and work just as well with layers that provide a constant energy across the whole thing that can come in and out at any time.
Kyd: For the exploration pieces, in particular, emotion was very important. I think it would have interfered with the creative freedom when writing three to four minutes of music if I had to think about how all the parts would fit together. I focused on adding a lot of depth to the score, especially the exploration music for the open-world.
I am particularly impressed by how well the synths and traditional instrumentation mesh here. What brand of sorcery is that?
Kyd: I use a lot of filtering FX during and after recording live elements. Almost everything in my score is based on live performances, but there are organic synthesizer elements created with analog synths such as the Yamaha CS-80, original Prophet-10, Roland SH-5, Roland Paraphonic 505, original ARP Odyssey. I use a lot of hardware FX… Reverbs, analog delays and analog sequencers. The Eurorack modular synthesizer also plays a role in gluing things together well. For example, the track "Son of Fjord" uses quite a bit of Eurorack to add an organic feel to the performances. I applied an organic feeling to all the synth performances.
Schachner: I'm always mixing the acoustic instruments I play with synths, so that blending of organic and synthetic sounds is very natural to me. Synthesizers sound and act in ways that acoustic instruments typically can't, so together they can cover a lot of sonic ground. I also like to process organic sounds in ways that are transformative. For example, on this score I recorded an ancient Celtic war horn called the carnyx, and while you do hear it in its natural form throughout the game, it also is used in ways where it's been manipulated into something new.
Can you tell me about a particularly funny, strange, or moving moment you had while recording this music?
Kyd: The score was written in Covid-19 isolation, so I didn't get out much during the writing of the score, but one of my favorite moments was when I decided to play all the instruments myself. It was actually a huge weight lifted off my shoulders, and I really enjoyed that part of the creative process. I would start to write themes and melodies on the actual instrument I was performing on, instead of writing it on the piano, which I'm more accustomed to. So it was, of course, a huge challenge for me. Having to tend to bleeding fingers, tuning instruments, and so on, was a new experience.
Schachner: In the early stages of the pandemic, I decided to order a second Norse tagelharpa, because the first one I got kind of sounded like an awful screeching cat. It was only supposed to take 15 days to make and ship it, but it took way longer. Apparently the guy was absolutely inundated with custom tagelharpa orders. I would never have expected that so many other people would be buying a tagelharpa at the onset of a pandemic!
.
00:10 / 00:58
How else did Covid-19 affect you for this score?
Schachner: Playing live instruments and overdubbing myself is a big part of my usual process, so I leaned into that even more playing all of the string instruments myself at my home studio as well as performing various percussion, synths, and vocals. The only recording I did outside of my place was a remote ancient brass session with John Kenny, in Scotland. It was right at the beginning of March as the pandemic was starting and if we had scheduled the session a single day later, we wouldn't have been able to do it due to lockdown restrictions, so we got very lucky.
Jesper, you began working on game music in the 16-bit era, very quickly moving to arranging 150-member orchestras for the Hitman series. I wonder what it has taken to have a long career in this industry, and what working on games has taught you?
Kyd: Well, I first started writing music for games when I was 15, and my first game score was released when I was 17. Things have changed enormously since then. However, the Sega CD had already arrived, and that's when the switch to start using CD-based scores started and all limitations in music quality were gone. Technology always moves forward, so I was very aware that we would push for better and better music quality in games, meaning less and less limitations. I released my first big live orchestra performance in 2002 (Hitman 2), so for me it's not that different since back then.
Working on games has allowed me to continue to experiment with unusual ideas and unconventional combinations of music styles and instruments. It has ingrained a lot of confidence in my writing, and taught me to always go for it whenever I'm not sure about an idea initially.
You also worked with Einar Selvik of Wadruna on this game. Can you tell me a bit about that relationship?
Schachner: He's such an incredible artist and it was a joy to work with him. The main theme was the first real collaboration between all three of us, as Ubisoft had us working independently in our own lanes up to that point. When Einar sent me back his vocal stems to integrate into the arrangement, he also sent an additional lyrical version where he adapted an Old Norse poem to our melody. It was amazing, and I turned that into a whole separate piece that plays at a very special moment in the game.
Kyd: The attention to authentic detail that Einar brings is inspiring. When I wrote the original "Ezio's Family" [for Assassin's Creed 2] the vocals were an important part of it, and I really wanted the vocals to return in a more masculine way for the viking setting. Einar's voice was a perfect way to achieve this, and I'm so pleased with his performance. For the second part of the track, the Ascension part, I worked with Melissa Kaplan (the singer from the original "Ezio's Family") and focused on creating an ethereal lift in the music, kind of a weightless feeling. For the third part, Einar's voice comes back and is doubled by another singer, Clara Sorace, for the final climax. You can select to play a female or male viking in Valhalla, that was another reason for having both male and female vocals in the new version of "Ezio's Family."
I often speak with artists who work on indie games for this column, and I can't help but wonder about the differences of working on a huge-scale project like this versus a small-team indie game?
Schachner: In talking with friends who have scored indie games, it seems like composers can have a lot more control of how their music is implemented and experienced on a smaller project. On huge AAA titles, you have to let go a bit of that control because there are so many other elements that the music is working alongside and the technical audio systems can be really complex and are often already designed. The pressure of working on a big franchise can definitely be intense, but the best way to handle that is to forget about it as much as possible and just focus on what you think sounds cool—not on trying to chase what you think people want to hear.
Sarah, I did read in another interview that you grew up with a viking ship in your backyard and, I'm really sorry, but I kind of need to know the whole story.
Schachner: When my sister and I were really young, we were obsessed with Vikings and kept begging our parents for a Viking ship. They tried to distract us with a swing set, but we were set on a Viking ship. And then in the most serendipitous turn of events, there was an ad in our small-town paper for a Viking ship for sale. It was a full-sized, realistic replica from the Leif Erikson Society that had been damaged in transit on the highway. The ad said "Buy or we'll burn it at sea in the old Viking tradition."
They were asking $7,000 for the ship, which was obviously out of the question for our parents, so my sister and I saved up $128 in nickels and dimes and wrote them a letter saying how much we loved Vikings and wanted the ship. It got their attention, and after some wheeling and dealing by our dad, the ship was ours for $700. They even made us custom shields and swords. It had a huge mast and sail with a black raven painted on it, and an iconic red dragon head. We pillaged and plundered in our backyard, and slept out under the stars with the neighborhood kids, and it became tradition for the elementary school to bring their classes over once a year to learn about Vikings. My mom [author/illustrator Judy Schachner] wrote and illustrated a children's book about it called Yo, Vikings! and it was even turned into a musical by the same name.
Continuing this chain of events, the guy who sold us the ship randomly sent me a YouTube video a couple years ago of someone playing the carnyx, and that's how I first found out about that instrument, which has made its way into the score for Valhalla. Everything is connected!