FEATURES
Inside The Satanic Satire Of Philly Death-Metal Cult Band Zorn
By Joseph Gentile · October 03, 2018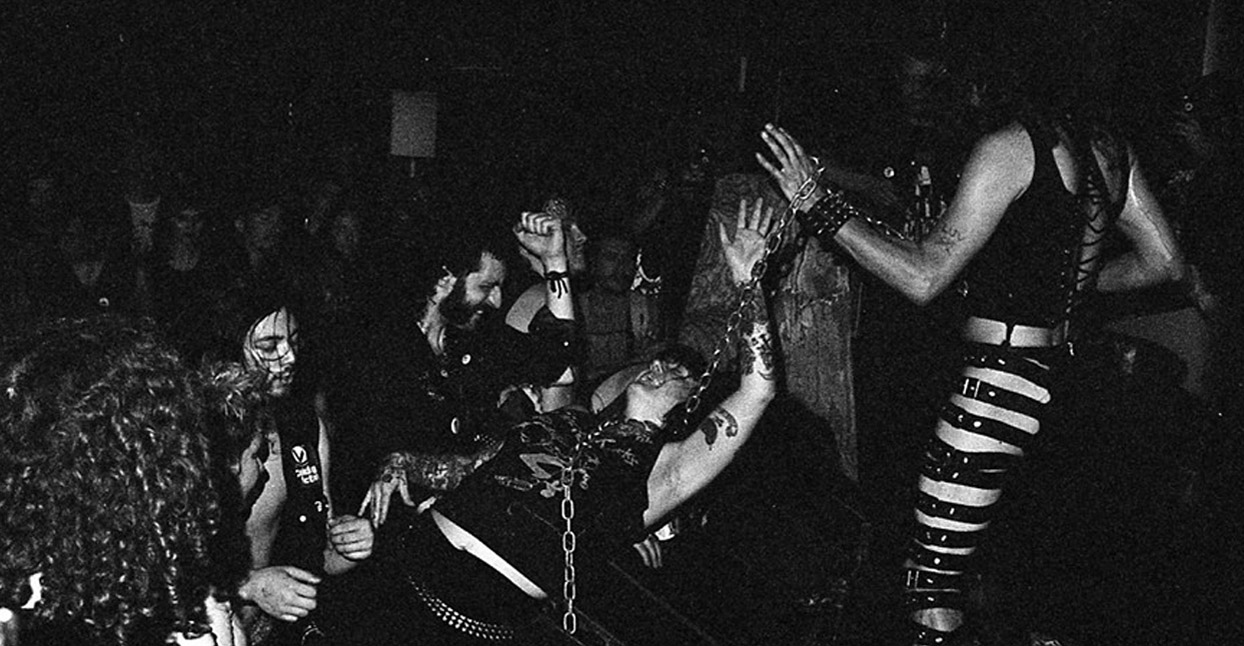 Four men carry a coffin through a crowd, the box hoisted on their shoulders. They work their way through the audience and set it at the front of a stage. Meanwhile, a band has started playing. The guitarist on the left is dressed like a witch, the cartoon kind with a big floppy hat and schoolmarm's black skirt. The guitarist on the right is a dead ringer for a 1800s preacher—stiff black suit, black Stetson hat. The music—a combination of the throbbing wail of Bauhaus and the hothead smash of Discharge—swells to a crescendo, followed shortly thereafter by a snap. 
The lid of the coffin swings open, revealing a scraggly ghoul inside. He leaps out of the box, a chain in one hand, a whip in another. His face is covered in pancake makeup, already sweaty and running, and his hair is greasy and flared. He's wearing a corset, leather S&M shorts, and boots covered in buckles, lending him a striking resemblance to Dr. Frank-N-Furter.
He begins lashing out at the audience with little discrimination, before making his way to the microphone to pay tribute to the great demon Belial. Before the night is done, the ghoul will also toast Rita Repulsa, the evil sorceress intent on killing the Power Rangers, and John Constantine, the demon-fighting protagonist of DC Comics' Hellblazer series, all while hanging from the ceiling, wrapping his legs around the faces of the audience, and generally freaking people out.
.
00:10 / 00:58
The ghoul's name is Eric Teofilak. He fronts Zorn, Philadelphia's creepiest new cult sensation—and for the record, he very much enjoys being carried onstage in a box typically reserved for dead people. "As I'm being carried, it gets me hyped," the singer says excitedly. "I'm in there and I'm like, 'I love my life! It's happening! My friends are here and people are digging this! This is sick!'"
Zorn's ritual doesn't always go as planned. "A lot of the times I'll get in there, and there's technical difficulties, and I'll have to wait and wait in there," he says. "That's when it gets rough." The singer goes on to recall one such disaster, from a 2018 stop-off in Raleigh, NC: "It's summer, it's hot, it's humid, I've got my finger between the lid just so I can get enough air to breathe, and my buddy Jake starts kicking the coffin!" says Teofilak. "I'm like, 'When I get out of here I'm going to punch Jake in the face!'"
Spinal Tap-ish coffin entrapment is something of a metaphor for Zorn. Formed in 2016, the group made their mark on the Philly scene through a combination of disparate influences: some '80s metal here, some hardcore from there, a hefty dose of goth right over yonder. Whereas their peers in the area music scene were dead set on being dead serious, Zorn both saluted and skewered metal tradition—in equal measure.
"I'm actually not a morbid person," the singer admits. "I got a lot of the death stuff out when I was in elementary school." He used to be "petrified" of the inevitable end, until one day, he suddenly wasn't: "Now, I'm a very positive person," he says, "though I'm very anxious. I can't sleep, and I don't know why. I drink beer and take Benadryl to help me pass out."
Teofilak's battles with insomnia helped shape the band's latest release, a self-titled EP released last August. It's loosely centered around the story of an anxiety-ridden man who, kept awake by his thoughts, decides to summon forth a demon in order to attain secret knowledge.
"In occult books, all these people are trying to sell their soul to the devil to get knowledge," Teofilak says of the effort's Faustian themes. "But to me, demons are not going to give you any knowledge—they're demons! I like the bleakness of this. People are trying to do black magic, but you're just a human. You've got nothing against a demon. He's a demon! Hell forever and all that shit!"
.
00:10 / 00:58
Zorn's interest in the occult, coupled with their over-the-top presentation, has caused their shows to get hairy at times. One time in 2017, a fan somehow managed to light a giant bonfire that almost set the place ablaze; Teofilak remembers stomping through the flames. What's more, Zorn fans around the country have begun emulating Teofilak's own hyper-animated performance style from the audience, dangling from the ceiling rafters and crawling across the pit. In an ironic twist, the aesthetic that the band have summoned has actually grown beyond their own control.
"We were at this incredibly small room in Richmond," remembers Teofilak. "Before the show, the coffin lid broke, so I screwed it back together, but I didn't have time to grind down the screws. At the show, this kid started really getting ridiculous, smashing into girls and dancing like an asshole. So I grabbed him and put him in the coffin. Then, I started stomping on the coffin lid. Later, when I took him out, there was blood all over his face! His eye was cut up from all the screws!"
After the set, Teofilak spotted the kid hanging out with his friends, holding a beer up to his face. The kid asked the group if the singer was to blame for his injury, and they responded that he was. But to the frontman's surprise, the rabble-rouser was not only OK, but downright stoked. (Obviously, the kid received some complimentary Zorn merch as a show of apology.)
"'That was so cool!'" Teofilak remembers the young man telling him after the clobbering. "'You guys were awesome!'" Zorn may be horrifying, but they're hard not to love.