FEATURES
Psych-Rockers Wooden Shjips Battle the Apocalypse on "V."
By Jim Allen · May 31, 2018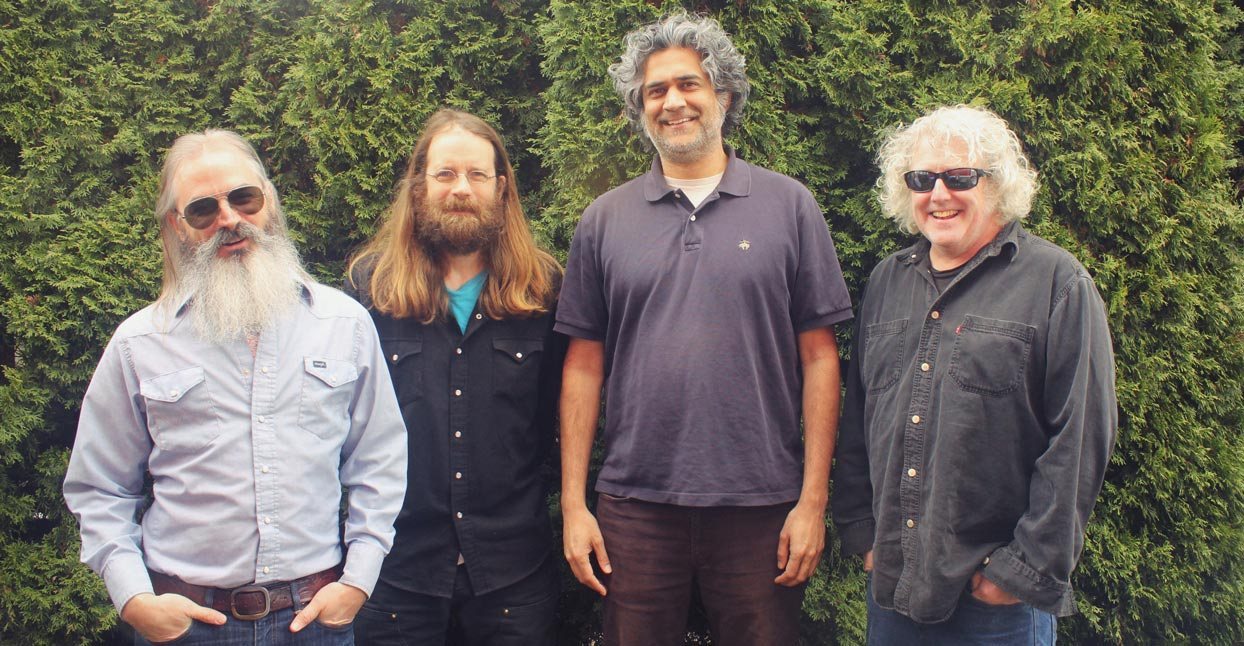 "At first it seemed unlikely to even happen," says Wooden Shjips singer/guitarist Ripley Johnson of the band's fifth album, V. "I actually wasn't sure if we were gonna make another record. Half the band is living in San Francisco; we just sort of fell out of touch." Wooden Shjips hadn't made an album since 2013's Back to Land, and the Portland-based Johnson had subsequently kept busy touring and recording with Moon Duo, the side project he'd started with keyboardist Sanae Yamada in 2009.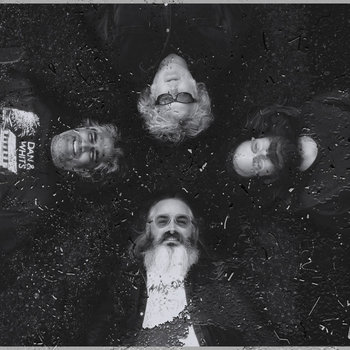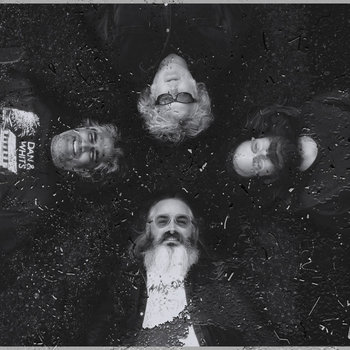 Merch for this release:
Vinyl LP, Compact Disc (CD)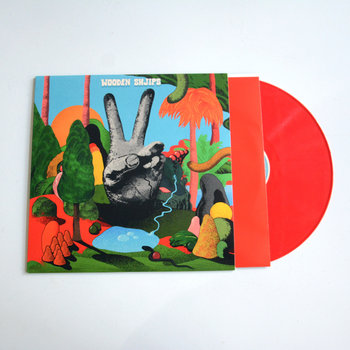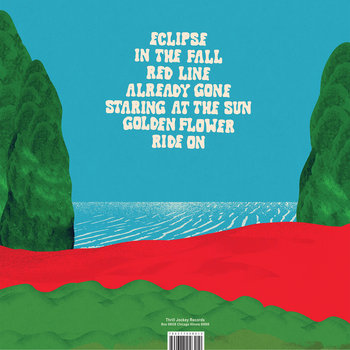 But watching both the political and natural worlds take an ugly turn around him, Johnson reached out to his old bandmates. "The Wooden Shjips stuff just scratches a certain itch for me," he explains. "And there was a lot of negativity going around in the world, and I just wanted to work on something that was positive."
Whether dispelling negativity or just kicking up a ruckus, the band's gritty strain of psychedelic space rock is its weapon of choice, with thick slabs of distorted guitar, shimmering, snake-charmer organ, and hypnotic, minimalist grooves. By now they're both immune to and heedless of the fluctuations in psychedelia's relative hipness.
"People have been saying there's a renewed interest in [psychedelic music] since we put out the first Wooden Shjips record and I'm sure before that," Johnson says. "It definitely is something that goes back to the beginning for us, and the beginning for me, when I started listening to music and I got into psychedelics not long after that. So for me it's all connected on some level, and it's sort of about trying to… get some sort of feeling out of the music that helps you transcend the mundane reality of life."
The scenario surrounding the creation of V. in the summer of 2017 was considerably worse than mundane. "There was this really apocalyptic feeling where we were anyway," remembers Johnson. "There were all these wildfires outside of Portland, and there was the political climate… and this sort of bad vibe that was peaking last summer, for me anyway. I was smoking a lot of weed and just sitting on the porch and thinking about this, and that all filters into the record on some level."
Merch for this release:
Vinyl LP, Compact Disc (CD)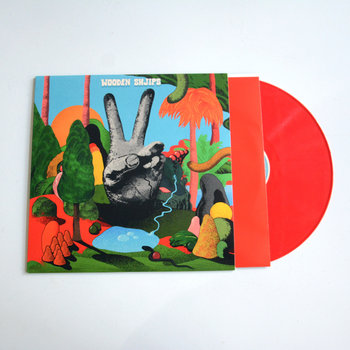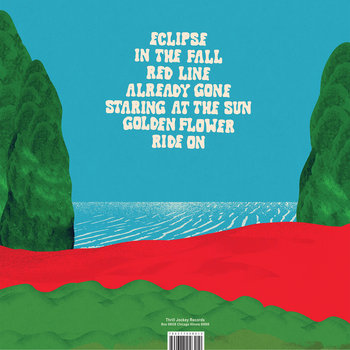 The band found solace in the psychedelic spirit of the '60s on multiple levels.
He continues, "When I was thinking about how to deal with what's going on in politics these days and what's going on with the environment I looked back into the '60s and just delved back into some of the '60s literature and art and films, and thought a lot about how people took what was going on then and tried to create things that had meaning and were beautiful, and to turn that into something rather than just being in a state of despair all the time."
The lambent, reflective "Staring at the Sun" and the almost hymn-like album closer, "Ride On," aren't completely unprecedented in the band's catalog, but they nevertheless extend the album's scope. "Sometimes I just try to sneak things on the record that we wouldn't normally do," Johnson reveals. "I've been writing stuff that's slower and has more of that somber feel. I like that kind of stuff, especially at the end of a record. I think it's nice when you leave something different at the very end, to maybe be picked up on the next record."
Part of the genesis of "Staring at the Sun" goes back to Johnson sitting on his Portland porch during the aforementioned wildfires. "The other thing that was going on last summer was the eclipse," he recounts. "I had a thing about it in the song [about] just sort of sitting on the porch staring at the sun, because there was so much ash in the atmosphere that you could actually look at the sun, and it just looked like a ball of fire. And I was just watching people walk by my porch and I was looking at the sun… and eventually it rained, and I sing about that in the song too, the rain comes and it washes all the ash out of the air. It was actually snowing ash in Portland, it was really weird."
Merch for this release:
Vinyl LP, Compact Disc (CD)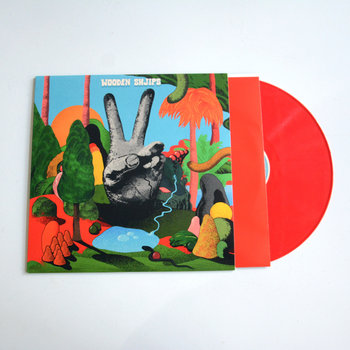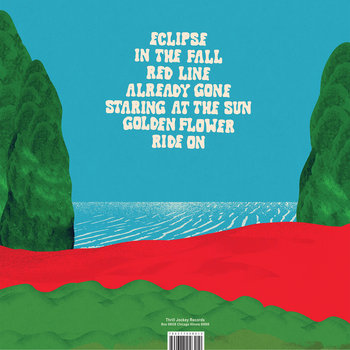 True to the band's rep, the song was basically intended to evoke a stoner vibe. "I was getting stoned and trying to raise myself above all of the stuff that was going on," Johnson says, "and just trying to digest this existential feeling that I was having. Every once in a while, Mother Earth imposes herself on you, and on some level it's good. You get caught in nature… all these things can happen and we don't really have any control over that, and it's good to be reminded of that once in a while."
But ultimately, V. delivers a feeling of transcendence as much as anything. "Transcending the bullshit for sure," Johnson agrees, "and accepting things as they are on a certain level saying, 'That's OK, this is happening, and some of this stuff is just out of our control, but keep your head up.' That's the message."