FEATURES
What Can I Help You With: Making Cassette Tapes with Cryptic Carousel
By Jonathan Bernstein · July 22, 2016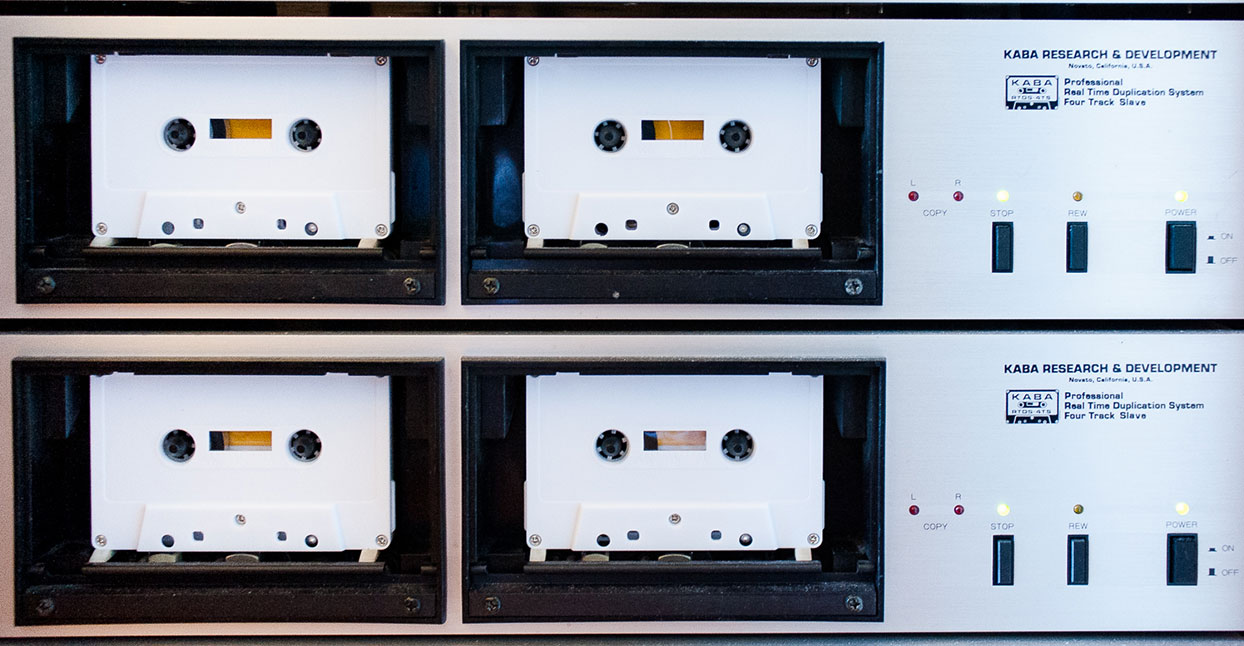 "I just liked tapes. I thought they were cooler than CDR's, and I wanted to stay DIY."
It's Tuesday afternoon at Cryptic Carousel's headquarters in Bed-Stuy, Brooklyn, and Corey Bauer is hard at work, doing what he does on most days: making tapes. Today, it's a batch of 50 cassettes for San Francisco-based avant-folk duo Dire Wolves. The group, who are old friends of Corey's, are putting out their latest release on Cryptic Carousel, which, in addition to serving as an audio and video production company, also functions as a small record label.
Cryptic Carousel has emerged as one of the the most successful DIY cassette tape production businesses in New York, offering a wide-ranging number of services and equipment in addition to cassette and VHS tape dubbing, including products like modified Walkman players, custom microphones, and oscillators. As the website states, the company specializes in the "design, production, manufacturing and distribution of esoteric video and audio related materials." As the only employee, Bauer works with artists directly to produce short-run releases of cassettes in quantities that typically range from 50 to several hundred tapes per order. He runs the business from his apartment and spends most days in a similar fashion: answering emails, designing labels, toying with graphic design in photoshop, corresponding with manufacturing facilities and various companies he partners with and, most importantly, synching, dubbing, and hand packaging tape cassettes.
Apart from a few residencies here and there, including a recent stint at Brooklyn's Silent Barn, Bauer has learned his trade entirely on his own, largely through trial and error and from years of tinkering around with analog gear as a hobby.
At 35, Bauer has spent the last fifteen-plus years working in record stores and playing various roles in noise and experimental music scenes all across the country, from Baltimore to Seattle to Portland to New York. He is laidback, with an easygoing manner, and is not one to brag or wax hyperbolic about his career in the music industry. "I just liked tapes," he says of his company's origins, "I thought they were cooler than CDR's, and I wanted to stay DIY."
Bauer first became fascinated by tapes as a young kid growing up in South Florida. Around the age of 9, he received a toy tape cassette player that told children's stories. "It was essentially a 4-track," says Bauer, sitting in the living room of his Bed-Stuy apartment, "And it came with these tapes that told children's stories. You could basically pick the path of the story by which track you were on, and that blew my mind."
Ever since, Bauer has been consistently amazed by the formal capabilities of the tape cassette. "Whereas a lot of people are into the aesthetic or the nostalgia, I think the technology of tapes is actually really exciting, that process of storing data in analog."
Born in 1980, Bauer came of age during a time when cassettes were the dominant audio format used by consumers and he's stuck with them through the ensuing decades, from the turn-of-the-century CD boom to the shift away from owning physical copies of records and the current fascination with streaming services. He says with a laugh that he's always been "poor enough and weird enough to keep liking tapes." His love for magnetic tape has remained constant, unfazed by external trends and consumer habits.
In recent years, as fans look to own physical copies of their favorite artist's music, cassettes, significantly cheaper and easier to produce than vinyl, have emerged as one of the most popular resurgent retro physical formats. And although it's certainly been good for business, Bauer's personal take on the very en-vogue notion that "cassettes are back" is succinct and sensible: "Tapes never left for me, so I don't really relate to that as much."
Though many bands know exactly what they want when they approach Cryptic Carousel about doing a release, Bauer also spends a lot of his time walking his clients, particularly younger artists who didn't grow up with cassettes, through every step of the process, from the artwork and design to the sequencing and amount of audio allowed for each side of the cassette.
"Corey was immediately supportive of our work and understood what we were trying to do," says Jackson Randall who recently worked with Cryptic Carousel to produce elaborately-packaged tapes for his band Middle Grey. "He made the overall experience feel frictionless, which was a pleasure, and the tapes look great."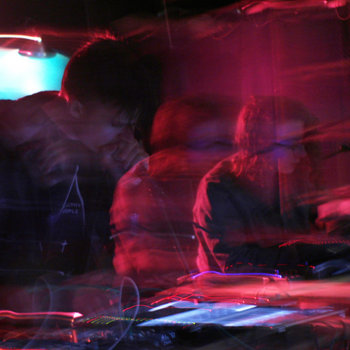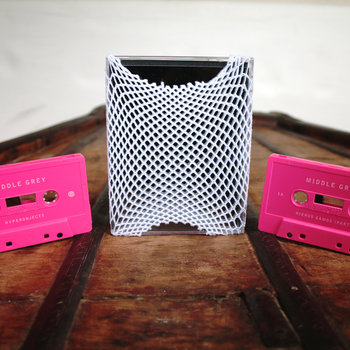 .
00:10 / 00:58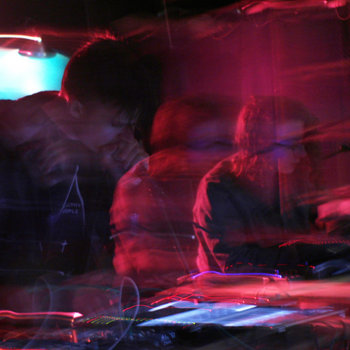 Merch for this release:
Cassette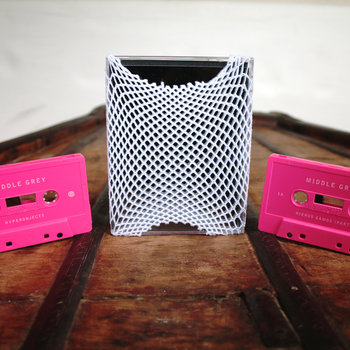 Bauer still relishes the opportunity to work on every aspect of a cassette release when he can, but these days Cryptic Carousel often partners with other companies like Duplication CA in Montreal for cassette shells, National Audio in Brooklyn, where the raw shells are then loaded with tape, and Videopunks when he needs help with VHS dubbing, to name a few.
"For me, I just want to make the best product possible and give people exactly what they want, however they want it," Bauer says. Often times, that means importing tape from other countries and collaborating with the few remaining companies and individuals who still work exclusively in analog audio-visual formats. Cryptic Carousel is thus an integral part of a very specific micro-economy of like-minded small business owners that Bauer likens to a collective. "It's a small community and not a lot of people really know how to do it right, so everyone's working together at this point," he says.
Cryptic Carousel has produced tapes in "every American pop music genre," from twee-pop to black metal to electronic to country-folk to indie rock. The type of music most closely associated with the company, however, is noise and experimental, which Bauer himself has been intimately involved with for several decades as a fan, musician, label owner, and producer. Cryptic Carousel began, in fact, as a noise label in Portland in 2008, right around the time tape cassettes were just beginning to show up again at merch tables. Back then, the label was nothing more than a vehicle for Bauer to put out his friend's music. He would release an album, generally 25-50 copies, on cassette every few months and hand them out for free.
"When I started the label, I wanted to put out vinyl records," he says, "But it just wasn't financially feasible, and I could afford to do tapes. They were the coolest objects I could find and I thought the sound was the best."
Since then, Cryptic Carousel has transformed into a full-fledged small business that has grown through word of mouth and has thrived due to Bauer's devotion to craft and insistence on delivering the highest possible audio quality for his clients. He has worked with bands all over the world and has made tapes for artists as big as Q-Tip and the Dillinger Escape Plan.
"It was a label for a long time for fun, then it turned into a business, somehow," he says. "It wasn't a grand scheme or anything. I just offered to dub tapes for people and put a little tiny link on my old website, and somehow, it worked."
As for the future of Cryptic Carousel, Bauer hopes to introduce more products, including modified instruments, in the coming years. These days, he's particularly interested in analog synthesizers. "Phase Two is going into DIY audio electronics," he says. "For me all these worlds tie together, because it's all esoteric sound art objects. As in artist, aside from me as a businessman, those things all seem to be in the same world, so it's a natural progression."
Bauer intends on handling "phase two" of Cryptic Carousel in the same manner that he has run his business ever since its founding: "Whatever weird thing I'm into," he says, "I'll just do it, and hopefully people like it."
—Jonathan Bernstein