FEATURES
Waxahatchee: The Journeywoman Becomes The Master
By Zoe Camp · July 14, 2017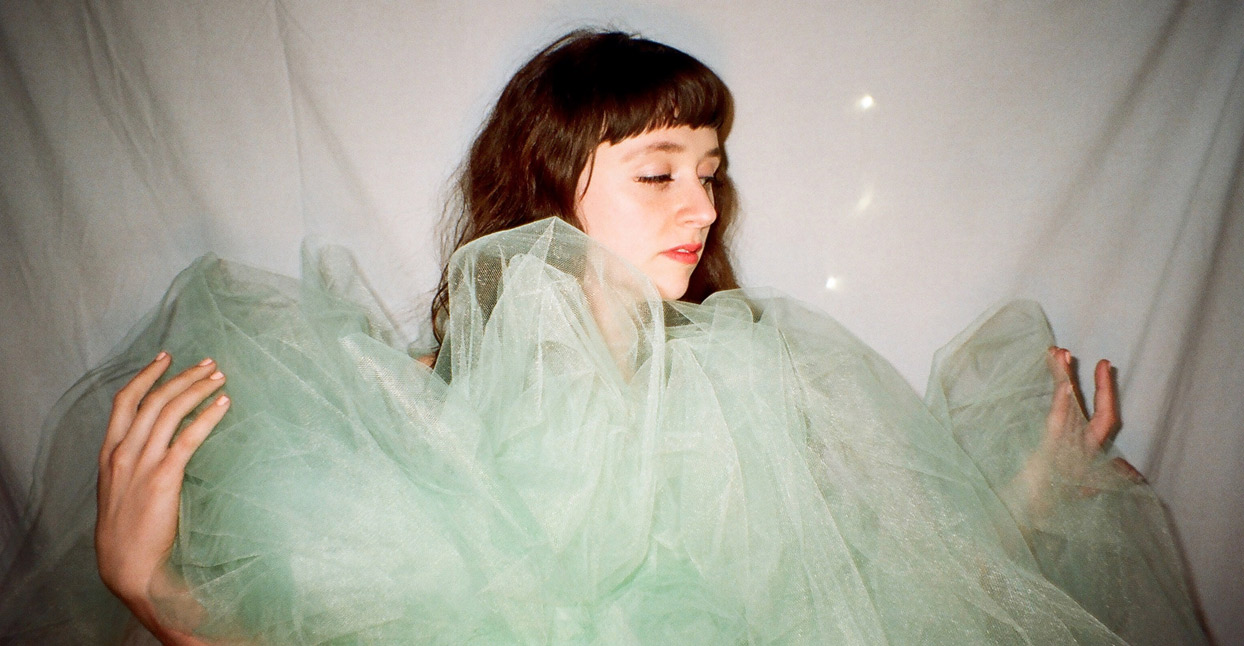 Before we arrive at the West Philadelphia home of Katie Crutchfield, aka Waxahatchee, her twin sister and musician Allison Crutchfield (who is driving me), takes a detour down a tree-lined street three minutes from Katie's rowhouse. She points to a modest, time-worn Victorian—the twins' one-time residence which doubled as a recording space for Waxahatchee, Swearin' (Allison's former band), and other music projects. "All of those albums were made right there," she says proudly, letting the memories hover.
Once we settle in, Katie and I sit across from each other on a couch in the front room: a small, cozy space flanked by bookshelves and guitars (including the acoustic she strummed as a kid). No matter which direction you look, you'll spot something eye-catching: a gallery's worth of paintings and cross-stitches on the walls, nearly all of which depict dogs; Beatles posters on all the doors (John Lennon watches over the main entrance, while George Harrison guards the artist's room); a keyboard over in the corner, just in case an idea pops up.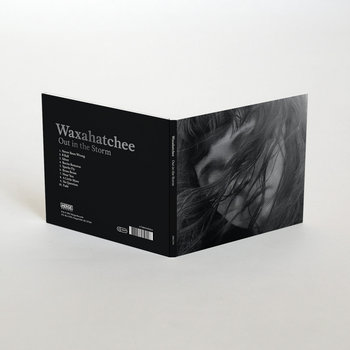 .
00:10 / 00:58
Merch for this release:
Vinyl LP, Compact Disc (CD)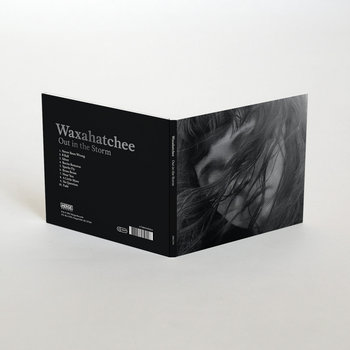 Just like Waxahatchee's music, Katie's décor tells a story: a nebulous, intense, and unabashedly intimate narrative, which taps into her personal past as a means of expressing the present, or even the future. Her heart-wrenching breakup songs represent moments suspended in time, close to the heart, but kept at arm's length. Given the tortured, quaking voice through which she conjures her old pain onstage, it's no surprise that some fans and critics remain oblivious to this conceit. Importantly, it establishes distance between the woman named Katie Crutchfield and the artist known as Waxahatchee.
Even the artist herself had problems separating the two for a while. "I look back now, even just at old videos of me playing, where I feel like there was less of a separation," she admits. "It was just me up there, personifying exactly what I was singing. Now, I kind of have to separate it a little bit, partially because the content of my songs is so heavy," she laughs. "I remember when I started, people would come up to me, like, 'Are you OK? Your music is so sad!' And then people meet me, and I'm not really like that."
Creative independence is of the utmost importance to Katie. It's always been that way: in part because she's a control freak by nature (her twin Allison, a huge astrology buff, says it's the Capricorn in her talking). The performer spent the better part of her career forging her own path in DIY scenes around the country: first in Birmingham, then in New York, and now in Philly, where she intends to stay put for the time being. "I've never had a hard time maintaining my independence," Katie says. "I think a lot of that comes from the fact that I've chosen the people that I work with very carefully, so that I don't ever have that problem."
Until Out in the Storm, Waxahatchee was a lo-fi project, the kind of music that trickles out of the speakers. Katie held fast to that praxis for years, even after moving to the roster of Merge Records, one of the biggest and most well-respected indie labels. Her first album for the imprint, 2015's Ivy Tripp, was a modest, homespun affair, assisted by a small circle of friends, including Kyle Gilbride and Keith Spencer, both of Swearin'.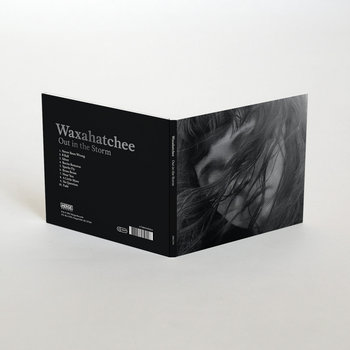 .
00:10 / 00:58
Merch for this release:
Vinyl LP, Compact Disc (CD)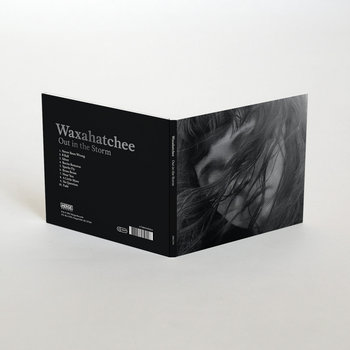 When Merge approached her for the follow-up, Katie decided it was time to break out from the basement and expand her horizons by working in a real studio, with a seasoned producer. "I was like, 'It's my second record with Merge, I have a little bit of a budget. I should maybe move on from that,'" she recalls. "The only reason that I hadn't done it in the past, I think, was because I'd had such a good thing with the home recording—but once I realized that I wanted to do something different, the obvious choice was to work with a producer in a proper studio."
For weeks, Katie struggled to find her studio sherpa. Eventually, she approached John Agnello, a renowned rock boardsmith best known for producing and mixing respectable, red-meat guitar bands like Sonic Youth, Dinosaur Jr., the Breeders, Kurt Vile, as well as Hop Along, the Crutchfields' jangly peers and close friends (the cover art of Hop Along's 2006 album Freshman Year is tattooed on Katie's upper arm).
Agnello was familiar with Waxahatchee's work. He'd seen her open for Kurt Vile, a co-sign in and of itself, he says over the phone (Vile is notoriously picky about his openers). Agnello queued up some Ivy Tripp songs on YouTube, and quickly found himself playing its single "La Loose" on repeat. "I knew at that point that she had me hook, line, and sinker," he says. "I just loved her voice and the way she sang."
The producer remembers flitting through the demos last August in his Hoboken, NJ studio, jotting down any potential sonic reference points. (He won't name specific albums, lest people conflate inspiration with regurgitation, but cites '60s girl groups as one of the album's chief influences, manifested in its warm, full-bodied arrangements.) "I wanted this record to be rock, but girl group-y, fun, quirky," he said. "It was less of a technical thing than it was a feeling."
From a lyrical standpoint, Out in the Storm offers the same cathartic buffet listeners have come to expect: piercing accounts of breakups, social isolation, and twenty-something ennui. Listen a bit more closely, though, and you'll find that the album often skews eccentric, even goofy. There's the flurry of cheeky handclaps peppering the verses on the brisk, blunt "8 Ball," which render the kiss-off verses all the more mighty ("Hey, I'll go away / You let me take my own damn car / To Brooklyn, New York, USA"). "Hear You" pairs delicate harmonies with sunburned stoner riffs and ghostly synths, a playful contrast to underscore the gulf between the speaker and the object of their affection. "I could have lied to you, spineless, shrinking, tried and true," Katie seethes, "My forward paradigm, yeah, you'll have your truth, I'll have mine."
That lyric—"You'll have your truth, I'll have mine"—is a good metaphor for the first time Katie headed into the studio for the Out in the Storm sessions. She and her band—Allison on keyboards and percussion, longtime collaborator and friend Katherine Simonetti on bass, Ashley Arnwine of Pinkwash on drums, and Katie Harkin (Sleater-Kinney's touring guitarist) on guitar—had originally planned on recording the tracks separately, and then assembling them methodically, bit by bit. "When we were rehearsing," Katie says, "I told them, 'We're not going to do this live, so don't focus on getting super tight together.'" Instead, she advised them to focus solely on their individual parts. Since the band wouldn't be playing together in the same room, she reasoned, there was no need to get bogged down by a fear of sounding sloppy en masse.
Agnello had the opposite approach in mind. When he met up with the band, the producer instructed them to do live, full-band takes. Katie remembers reacting with hesitation, and understandably so—after all, since she'd told everyone to split up, the final product might not sound tight. Nevertheless, she obliged, and much to her surprise, her fears soon dissipated.
"We started playing together, and it sounded great," she smiles. "He was like, 'This is great. We should do it this way,' and I'm really glad that we did. I was panicking: this was all in my mind, how this was going to go. I just had to trust him, and just kind of go with it a few times while we were recording, and it ended up working out."
That Katie and her band are united by a profound chemistry only made the process smoother. The most noticeable bond on Out in the Storm, unsurprisingly, is between the Crutchfield sisters themselves. Both in person and on wax, their interplay resembles "twin telepathy": a frequently-reported, but scientifically unproven, form of ESP exhibited solely by those who shared the same womb. Waxahatchee explores this uncanny empathy at length on "Sparks Fly," her account of the Crutchfields' visit to Berlin last year on a press tour, a trip they took while suffering concurrent breakups. "And I see myself through my sister's eyes," she sings, before amping up the shock factor, literally: "I'm raw like wire, electrified."
The song's power all boils down to dynamics: not just between siblings, but also friends, lovers, ideas, even the music itself. As Katie explains, the aforementioned couplet dovetails with "Sparks Fly," and its broader examination into how relationships often devolve into a form of theater: misleading roles adopted at the behest of one's heart, and more frequently, one's partner.
"[With] the relationship that I had been in," Katie says, "there were dynamics that were ironclad: two people filling roles that sometimes feel really constricting, and wrong, and that's one of the reasons why the relationship doesn't work. It's because you're the uptight person, even though that's not how you really feel, or you're the fuck-up—those roles and those dynamics can be really suffocating."
She pauses, and smiles softly. "There was a moment with Allison where I felt like she was seeing me as this happy, fun person," she says. "We're laughing, and we're drinking, and everything's magical in that moment. Those lyrics are about finally seeing myself through somebody else's eyes, and seeing myself as someone I'm more comfortable being, rather than the person I'd felt like for so long in this relationship."
So how does Katie Crutchfield see herself, and Waxahatchee, now? For one thing, it's no longer a hobby, but a day job. "On [2013's] Cerulean Salt and Ivy Tripp, I worked with the same people and in the same setting where we're at home, and there's no real start time or end time to the day—there's no real deadline. On Ivy Tripp, we didn't even have our own record label. We were just making the record with our own money, and we were going to see what happened with it."
"John [Agnello]'s a busy man," she continues. "We had to set aside time, and work within that deadline, and with that framework. I'm kind of a person who thrives in that setting anyway; I kind of need structure, so I definitely appreciated it, and it made me more focused. I was resistant to working in a studio with a proper producer in the past because I didn't want to limit myself."
Katie says she's also getting better at compartmentalizing all of those big, intense feelings—not by choice, but by necessity. "If I were to unpack all of that emotional shit every night when I'm playing, I'd be a mess!" she exclaims. "Writing songs has been an important part of my emotional process. Once I write a song, a lot of times, I'm ready to move on from certain things."
Allison agrees: "Over the last couple of records I've seen [Katie] become someone who is very patient as a songwriter. We are both very cathartic and emotional people and songwriters, and I've seen her be a little more patient and edit herself a little more than she did when she was first starting."
Besides establishing some additional distance, Katie's abandoning her longtime practice of dissecting her favorite albums in search of new ideas, at least temporarily: this time, Katie's muses are there with her in the room. "In the past, when I've made records, I've really sort of picked apart records that I love—'Oh, that synth part, I want that in the record,' stuff like that," she says. "I didn't do that on this record. I leaned heavily on my bandmates. I really wanted to bring their style into the record."
These shifts aren't just with regards to people, either, as Out in the Storm makes abundantly and brilliantly clear. Waxahatchee's latest record is a titanic achievement, not just by her standards, but by the paradigms of indie rock writ large. With their robust production and thick swathes of guitars, "Silver" and "Brass Beam" act as monuments to her emerging power as a confrontational alt-rocker, à la Liz Phair. It's a hard-won, well-thought-out journey, the kind of trip that requires ample blood, sweat, and tears—and Katie Crutchfield is the perfect person to embody it.
—Zoe Camp